Section V Tournament Winners
Section V ran their first lacrosse tournament in 1975 and eleven teams were entered with Rush-Henrietta seeded first. Webster Thomas was seeded second and when fourth-seeded Irondequoit beat them (7-4) in the semifinals, Irondequoit faced Thomas for the championship.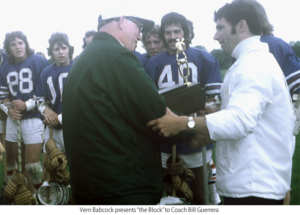 Thomas and Irondequoit had played each other twice during the regular season with each team winning one contest. The Ridgemen won the first game by a goal and the Indians won the second game in overtime. The championship game was expected to be close, but it wasn't.
At the start of the game, Thomas face-off midfielder, Pat Heveron won two faceoffs in a seventeen-second span that resulted in goals in the first period and gave Thomas a 3-0 lead. In the second period he won three straight faceoffs that each resulted in goals to take Thomas from 4-1 to 7-1 before finishing with an 11-6 victory.  It would be twenty years before another Webster team would win a sectional championship.
Irondequoit won the next year, beating Corning-East (who joined Section V that year), 8-7. Corning won five of the next six tournaments (with R-H defeating Corning in 1978)and then moved back to Section IV in 1982.
In 1987 New York State started a second class. Section V only held one tournament, but Penn Yan was the "best" Class B team (making it to the sectional final four) and represented the Section in Class B while Irondequoit advanced in Class A.  In 1988 there was only one sectional tournament and Penn Yan was the only Class B team and so they represented Section V in the NYS tournament. Brian Hobart played for Coach Queener on both teams.
A third class appeared in 2000 and Penn Yan won in Class C while Penfield (Class A) and Canandaigua (Class B) won their tickets to the NYS tournaments. A fourth class was added in 2017 and once again, Penn Yan was the winner in the new Class D sectional tournament.
Over the years there have been eight championships decided in overtime. Last year, Fairport's Joey Giggie won the faceoff and raced up field, sent the ball to Trey Terzo who fed inside to the crease to Jackson Monte for the winning goal over Pittsford.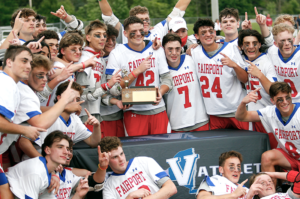 In the 2019 finals, Pal-Mac scored the final two goals of regulation to force overtime with Penn Yan. The Red Raiders had the first overtime offensive opportunity after winning the draw, but Penn Yan moved the ball up field on an errant pass and with 0:05 left in the first overtime period they scored on an inside dodge by Colton Smith.
The 2018 final between Victor and Thomas took two overtime periods for the Blue Devils win. Nick Mabe scored two goals in the last minutes of regulation to take the lead for Thomas, but Alexander Mabbett scored with 1:43 to send the game into overtime where Mabbett scored again for the win.
In 2013, after playing 59:30, Dan LaCrosse scored an unassisted goal to secure an 11-10 victory for Canandaigua over Victor. The Braves became the Class B Champions in the third overtime period, on their tenth shot in overtime.
In 2009 it was Thomas over Fairport 12-11 as Brad Hutton scored his only goal of the game with 2:00 remaining in the first overtime with an assist from JT Hauck.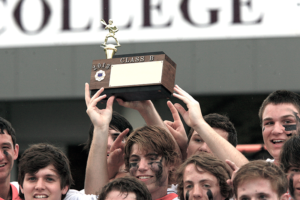 In 2004, Brighton won their only championship in exciting fashion when they defeated Victor 6-5. Seeded fourth in the tournament they beat top-seeded HF-L. They used an overtime goal by MVP and junior attackman, Mike Ryerson for the win.
Earlier overtime wins came before the rules changed to "sudden victory". In 1996 second seeded Penn Yan defeated first seeded Geneva 11-9. Junior attackman Jay Sprague scored the fourth of his five goals with 0:47 left in regulation to send the game into overtime.
Canandaigua won their 1991 game with Penn Yan 16-12 with Greg Schreck scoring 3g-4a for the winners.
As of this writing there have been 102 "Blocks" awarded to Sectional Champions. Penn Yan is the leader in championships having won twenty-three. They have won every year since 1996 except for 2010 when they lost to Aquinas in the finals. All twenty-three were won by Harry Queener (7) or Brian Hobart (16) as coach.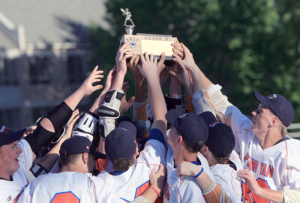 The Mustangs were the first Section V lacrosse team to win a NYS championship when, in 2001, they defeated Manhasset 9-8.
Irondequoit won their last title in 2012, but still comes in second with sixteen championships. In the period from 1975 to 2000 they appeared in the finals twenty times and had a winning streak of nine wins in a row from 1987-1995.
Fairport won their tenth championship last year when they defeated Pittsford in overtime. The Red Raiders have played against Pittsford in the finals seven times and have won four.
Canandaigua won their ninth title in 2013 when they beat Victor 11-10 in overtime. In the 2000's they were on a roll with six championships. The Braves won a NYS championship in 2009 when they beat Niskayuna 10-5.
Tied with eight titles are Geneva and Victor. Both teams won their last championships two seasons ago. While Geneva won their first title in 1986, Victor, the "newcomer" won their first in 2002. Geneva had a three-year streak from 2006 to 2008, but Victor had a winning streak of six championships in a row from 2013 to 2019. They won NYS championships in 2015, 2016 (in Class A), 2017, and 2019.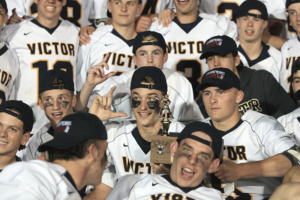 Penfield has six championships with the most recent in 2018. Their first win was an 8-6 win over Rush-Henrietta in 1992. They beat Fairport the next year with the same score.
If we group all the various Webster teams together, they also come in with six championships. The Ridgemen won the very first sectional tournament in 1975. Thomas beat Fairport 12-11 in overtime in 2009 and also beat Canandaigua in 2016 and 2021. Schroeder won a title in 2003 and a combined Webster team won in 1995.
Pittsford has won five championships starting with a thrilling 6-5 win over Fairport in 1994. They beat Irondequoit 9-8 in 1999. They beat Fairport in 2011, Penfield in 2015 and Fairport again in 2017.
Corning East was only included in Section V from 1976 to 1981 and they won the championship four times. In each year they defeated Irondequoit in the finals.
If we group Rush-Henrietta into one group, they have won three championships. R-H beat Corning-East 13-2 in 1978. R-H Sperry defeated Irondequoit 14-11 in 1982 and beat Webster 7-5 in 1983.
Aquinas won a title in 2010, Brighton won in 2004, Pal-Mac won in 2017 and last year HF-L won their first championship with a win over Livonia-Avon.