Jim Andre – A Great Run
There are so many great stories about coaches with long and successful runs, but one story is about a short run with astounding results.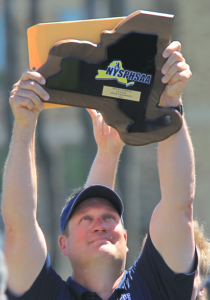 Victor coach Jim Andre, a Gates Chili and Cortland grad, has taught physical education and coached in the district for many years. In 2013 he became the Head Coach, taking over for Mike Gottko. He started out in his first game with a 13-2 loss at home against Canandaigua. That 2013 season saw the Blue Devils finish with a 10-9 record and runner-up in the Class B tournament.
In 2014, Victor won a Section V Championship and had a record of 17-4 and started what would be their fifty-game winning streak. They were 22-0 in 2015 and 2016 but in 2017 the streak was broken by a 10-9 loss to Brother Rice (Michigan). The Blue Devils lost a couple more games before winning their third straight NYS Championship with a 9-3 win over Yorktown. After a 15-1 pre-tournament record in 2018, they suffered a devastating 7-6 loss to Garden City in the NYS finals but bounced back in 2019 with another NYS Championship in 2019.
So, in his seven-year stint as head coach Jim Andre won six Section V and four New York State Championships. His record was 127-23. In 2016 he was named NILCA Coach of the Year.
It is clearly not all about wins and records for Coach Andre. It's about relationships and improvement. "He always told us it's about the relationships with teammates and coaches and people at your school," Chayse Ierlan told Bob Chavez in a 2021 story on Inside Lacrosse.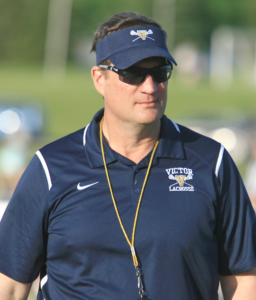 His handpicked assistants of Mark Foeder, Mike Ierlan and Tony Pezzimenti were full of leadership and experience. Mark Foeder started the program in Victor in 1999 and was the head coach through 2008. After a brief absence he returned to the Blue Devils program as an assistant coach. Mark had a 104-96 record and his team won a Section V Championships in 2002 and 2003.
Coach Andre coached six USA Lacrosse All-Americans and two All-Academics: Jamie Trimboli (2015 and 2016), T.D. Ierlan (2015 and 2016), Ryan Maloney (2016), Jack Callahan (AAA 2016), Chayse Ierlan (2017 and 2018), Alexander Mabbett (2018), Mitchell Cain (AAA 2018) and Sutton Boland (2019).
After a year off as the result of COVID-19, Coach Andre announced his retirement before the 2021 season. It was a surprise to many, but the decision was based on family. Jim returned to coaching the modified program which gave him time to watch his children play the game they all love. His son Clark was playing club ball at South Carolina, Will was hoping to play on the club team at Penn State and his daughter Alaina was planning to play at Victor.
  SEVEN-YEARS AT A GLANCE
| | | | |
| --- | --- | --- | --- |
| YEAR | CLASS | RECORD | TITLES |
| 2013 | B | 10-9 | Section V Finalist |
| 2014 | B | 17-4 | Section V Champions – NYS final-four |
| 2015 | B | 22-0 | Section V Champions – NYS Champions |
| 2016 | A | 22-0 | Section V Champions – NYS Champions |
| 2017 | B | 19-3 | Section V Champions – NYS Champions |
| 2018 | B | 22-2 | Section V Champions – NYS Finalist |
| 2019 | B | 17-5 | Section V Champions – NYS Champions |