The Third Team – Officials
Before the 1960's officials were generally selected by the home team. They were most often "retired" coaches or former players who wanted to stay close to the game.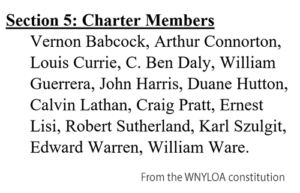 In the early days, men like Bob Cullen were well known officials in the area. He started officiating in the 1930's and continued up to 1958.  After coaching at Cornell University, he returned in the 1970's and, at age 73, his final game was at Homer High School (Syracuse area) in 1983.  Other well-known officials include Herb Fitch (twenty years) and Hobart All-American Bill Dobbins, who was chief referee for many years and Joe Kraus (son of Babe) who was also an AFL football linesman.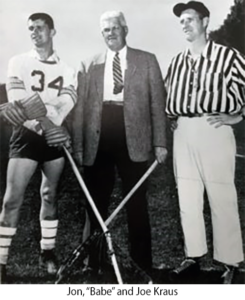 In 1964 a group of men formed the Western New York Lacrosse Officials Association. The founding members included Vern Babcock, Craig Pratt, Bill Guerrera, Ernie Lisi, John Spring and Lou Currie. Jack McDonald helped organize the Finger Lakes area. As a sign of the general respect felt for these men it is interesting to note that nearly all have been inducted into the Rochester Chapter of USA Lacrosse Hall of Fame (noted below with an asterisk).
Vern Babcock* who was a Chief Referee for the organization, started lacrosse in Irondequoit and did almost everything else as he promoted the game and helped to encourage the development of the sport throughout upstate New York.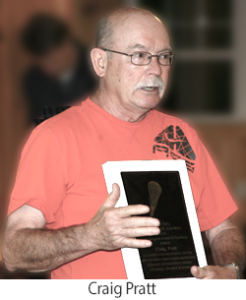 Craig Pratt* officiated for thirty-seven years and held nearly every post in the organization including president, interpreter, and assignor for many years. He officiated the first Section V Championship game in 1975 and worked numerous Upstate championships including seven State Championships.
Bill Guerrera* was the long-time lacrosse coordinator, taking over the post from Vern Babcock in 1977 and continuing until 1989. Bill started the Webster Ridgemen team in 1964 and continued until 1975 when the team was split between the high schools. He led the new Webster Thomas team in the first Section V tournament which Thomas won in 1975.
Ernie Lisi* was one of the most successful coaches in the Section, leading Irondequoit from 1961-1977 and ending with a record of 211-22 with twenty-two championships. Like many of the early coaches, he was an official as well.
John Spring* was a long-time official, who coached at SUNY Oswego and later became their athletic director after which he became the USILA executive director.
In the early years some of the other notable officials included Lou Currie, Ray DeMuth, Karl Szulgit, Frank Shields, and Don Bell.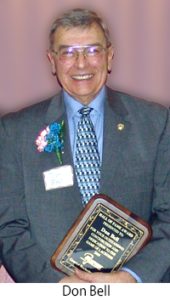 Ray DeMuth* was inducted into the first HOF class after a lifetime of devotion to the game as an official, and coach. At Hobart the SUNY Cortland graduate worked with the Freshmen teams (and was a very successful soccer and wrestling coach as well).
Frank Shields was a Geneva and St. Lawrence alumnus who went on to coach at many schools before settling back in Geneva starting in 1966. He officiated throughout the section. He was Chief Referee for Western New York for a period and earned recognition as "Man of the Year" for his work from Section V.
Don Bell* was an Aquinas and Penn State graduate where he was a captain and an All-American. He was known for his many years at MCC where he started the lacrosse program.
Several GVLOA members had stellar careers before they retired including: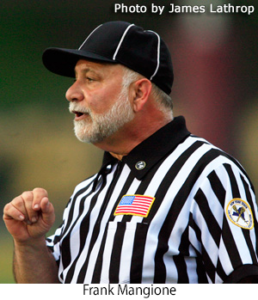 Frank Mangione* held every position possible in GVLOA from president to assignor. He became a member of the WNYLOA in 1973 and officiated for forty-seven years. An award given by GVLOA to a member "who has demonstrated the highest ideals of professionalism, leadership, passion and above all, respect for the game of lacrosse at any level both on and off the field" is named in his honor and he was the first recipient in 2018.
Peter Bourne* was a long-time official who served the organization in many capacities. He was an All-American at Irondequoit and a standout goalie at Alfred University where he set several records and was inducted into their Hall of Fame in 1993.
John Price* joined GVLOA in 1983 and officiated at all levels from youth to international. He became a college official in 1988 (NILOA) and officiated NCAA and NJCAA games including NCAA championships. As a member of the IFL (international) he officiated the 2002 World Games in Perth, Australia.
Steve Lacrosse was a Canandaigua and Slippery Rock graduate and became a member in 1984 and worked many high school and college games.
Bruce Teague Sr.* grew up in Geneva and played lacrosse there and at Cornell where he was on the first national Lacrosse Championship team. He officiated for more than thirty-five years both at the high school and collegiate levels. He worked NCAA D-III finals and D-I semifinals during his tenure and is a Geneva Hall of Fame member.
Some notable retired officials included John Wool who was a great teacher for young officials and Geneva alum Craig Lehr who started in 1988 and officiated games all over the area, often taking out-of-the-way games with inexperienced teams. Other include Harvey Stoler, Pete Burkhardt, Carl Yoder, Bill Lisi John Maloney, Tim Howard, and Ron Patrick.

There are also quite a few members who are still working games including:
Brian Cool played at Auburn and the Nazareth College before he was ordained as a Catholic priest. He has been officiating for over twenty years.
Kevin Curley is a long-time official who has more recently been involved in training both regular members and youth members. In 2010 he officiated at the World Championships in Manchester, England.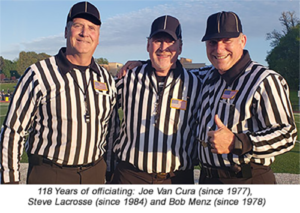 Bob Menz* has been an official for forty years. A Webster Schroeder and Cortland graduate he has also coached at Schroeder, Fairport and in the Roc E6 Youth program.
Let's not forget this group who are still working:
Al Balcaen, Rob Cantabene, Chuck Lamb, Todd Lenhard, Jim Malloy, Scott Maloney, Peter McCabe, Michael Mierzwa, Steve Nims, Dave Scutella, Joe Van Cura, Brian Wing, and Steve Young.