John Pratt – Leader of the Pack
[Editor: As we look at one hundred years, we have the chance to look not just way, way back, but also in the more recent past. This time we look at the accomplishments of both a Geneva alumnus and an Irondequoit great.]
With 431 wins Irondequoit's John Pratt is at the head of the list of most wins within Section V. In fact, at present, he is at number 14 in the state and 34 in the nation for wins.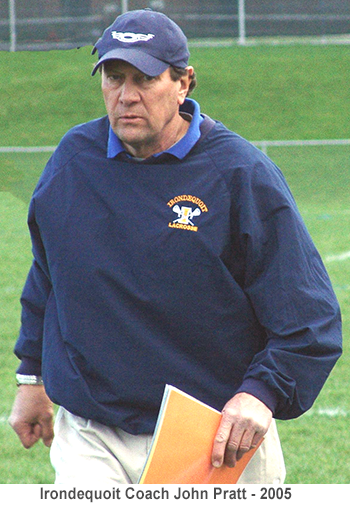 Starting his life-long interest in lacrosse, John played as a defenseman at Geneva under Bob Manners and then Denison under Tommy Thomsen after which he took a job as a history teacher at Irondequoit. For nine years he was the Junior Varsity coach and compiled a 98-4-1 record.
Pratt became the third Irondequoit Head Coach in 1978 and continued for twenty-eight years, compiling his 431-113 record. His teams won twelve league titles and eleven Section V championships including nine in a row from 1987-1995. The Indians went on to make eight NYS final-four appearances and made the finals once, in 1993, when they suffered a 9-6 loss to Yorktown.
Sixteen all-Americans and two All-Academics played for Coach Pratt during his tenure. The list includes Joe Walters, Nick Ballou, Roby Lyng, Paul Cantabene, Andrew Whipple (twice), Nick Lantuh, Jon Schoenweitz, Jim Paris, and Wade Bollinger.  Many players have gone on to join the coaching ranks including Cantabene, Whipple, Lyng, Matt Kerwick, Dave Velepec and Jason Mordaci.
Coach Pratt acknowledges that he benefited greatly with many competent assistants, many of whom were graduates of Irondequoit. Among them were Velepec, Mordaci, Jeff Schwartz, Jay Whipple (class of 1965), and Don Wright (class of 1967) who was with John for all twenty-eight years.
In a 2004 story in the Rondequoit, he was quoted as saying, "There's no one reason why the program has been so successful over the years. I've benefited from having great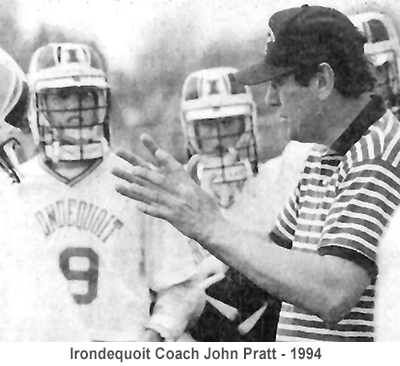 assistant coaches,"
John has always felt that they "organization" of the program led to their successes. Recently he said, "For many years we had three modified (7-8) teams feeding one junior varsity team and the coaches at that level were amazing.  Vern Babcock, "the Father of Irondequoit lacrosse", Ken Ballou, a section 5 Hall of Famer for his contributions, Al Maerz, the Head Varsity hockey coach, and John van Etten and who coached many years at the modified level before succeeding Maerz as the JV Head Coach"… were an amazing group of teachers of the game.
After retiring from teaching at Irondequoit in 2004, he coached his last season in 2005 after which long-time junior varsity coach John Van Etten took over as Head Coach. In 2007 John became the offensive coordinator for the MCC program and in 2011 helped Rocky Delfino start the new program at Roberts Wesleyan and remained until 2016.
John was named Monroe County "Coach of the Year" seven times and in 2007 was inducted into the Rochester Chapter of USA Lacrosse Hall of Fame.