A Strong History at Rush-Henrietta
In the "modern period" there have been a just a few programs that were constantly at the top of the local lacrosse world and one of them was Rush-Henrietta.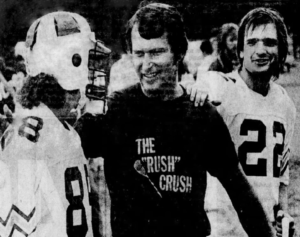 In 1969 there were about a dozen teams playing in the area. Fairport was new and the team played a few Varsity games that year.  Dave Armstrong (HOF '05) and Jim Cox (HOF '97) created the Rush-Henrietta program that started out playing a light schedule that included the Irondequoit junior varsity team which took a 7-2 win that May.
The next year, Dave was the solo coach and with a full schedule led the Comets to a 13-4 record that included wins against Fairport, Eastridge, three city schools and a 4-4 tie with Webster. Junior attackman Rick Calver and senior midfielder Tom Ryan were first team all-league team members in that first year of Monroe County sponsorship.
Mike Welch took over from Armstrong in 1974 for a three year stint as head coach. Mike left town and eventually ended up as the long-time football coach at Ithaca College.
Jim Cox took over from Mike in 1977. After a successful first year (at 17-2), and with help from Dick Young, the team went 18-2 and won a Section V championship in 1978.
Rush-Henrietta had two high schools in 1979 and Dick Young kept the Sperry "Comets" team and Jim started with a junior varsity "Royals" team at Roth. In his fourth year at Sperry, Dick's 1982 team went 19-2 and won a Section V title with players like face off expert Tom Rosa and attackman Tim Cronin. The next year (1983) Jim's R-H Roth team went 18-3 and won their own Section V title with players that included Gordie Mapes and Bill Coons.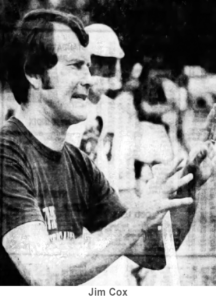 In 1986 R-H went back to one high school and Athletic Director Paul McKee quickly decided that Jim and Dick would co-coach the "Royal Comets" team. They worked together until Dick retired from coaching in 1993. Jim coached three more years, passing the baton in 1997, to former Sperry player Jack Beaney (class of 1982).
"I had a real good group coming back as seniors and I wanted Jack to get off on the right foot," said Jim. Jim did return, however, for one brief moment. Jack's father had passed away in his first year as head coach and he was at the funeral. Jim received a call from Rick Pound who was Jack's assistant.  "He called me and said I need help. We're playing Irondequoit. Will you come with me? I did and we beat them with those kids." Eric Goodberlet, who scored five goals in the game, scored the winning goal in the 8-7 overtime win. Al Terilli added 1g-3a and Shawn Nadelen was demonstrative in the midfield.
Jack coached for two years and then Geoff King coached for two years. Mike Gottko returned to his alma mater and was the head coach for seven years and was Monroe County Coach of the Year in 2006. Jim DeWall coached from 2008 to 2017 and Tom MacMillan became the head coach in 2018.
Jim Cox and Dick Young
For over twenty consecutive years there have been Jim Cox and/or Dick Young leading a lacrosse program at Rush-Henrietta and for seven years they worked together on the same field. Dick Young says, "Jimmy and I worked so well together. We were like brothers. We are still in touch all the time."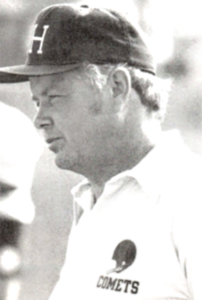 Jim Cox started coaching in Rush-Henrietta in 1975. Over his thirty-three years he coached football, basketball, and lacrosse. His teams won three Section V championships in basketball and two in lacrosse.
As a player, Jim was a football quarterback, in basketball, a shooting guard, and a pitcher in baseball, all "high profile" positions and ones that demonstrated, even at a young age, a desire and ability to lead. He knew what his players were thinking. "I always felt that I had the ability to relate to kids and really find the button to touch each kid. That was always my goal."
Jim retired from teaching in 2001. He is a member of both the Rochester Chapter Lacrosse Hall of Fame and the Section V Basketball Hall of Fame.
Dick Young was one of many local Cortland graduates and started working at Rush-Henrietta in 1967. He had coached track at East Rochester for four years, and coached track for the Comets for a number of years, but then he asked Dave Armstrong to teach him lacrosse. He was the modified lacrosse coach for several years and then moved up to junior varsity from 1979-1986.
During his career at Rush-Henrietta Dick won a Section V championship with his 1982 lacrosse team. He also was a very successful swim coach and Boys Swimming Coordinator for many years. He retired from coaching in 1993 and was inducted into the Rochester Chapter Lacrosse Hall of Fame in 2004. When he left, Dan Gruschow moved up from the junior varsity to assist Jim Cox.
Both coaches had sons who were very successful lacrosse players. Jim's boys, Tim and Kevin were stars at R-H and played for their their father. Dick's boys played at Fairport. Rick, a midfielder, went on to play at Cortland where he earned All-American honors and later became the Head Coach. His other coaching stints included Princeton and Penn State. Steve was an All-American at Fairport and went on to play at Maryland.  Both Rick and Steve are long-time lacrosse officials. Their proud father says, "My two boys have given back to lacrosse, which I love, through officiating. They got a lot from playing and now they have given back."
PLAYERS
There are so many great players from Rush-Henrietta and picking some will leave out many, but among the standouts are:
Tom Rosa was a three-sport athlete and excelled in all three. In lacrosse he was a two-time high school All-American midfielder (1981-82) and a two-time captain. He won more than 200 face offs his senior year as Sperry captured the 1982 Section V championship. At Hobart he was a three-time All-American in football. In lacrosse he played on four NCAA championship teams, was named the NCAA D-III Player of the Year, named an All-American and was awarded Hobart's "Babe Kraus Award" as Athlete of the Year in his senior year. He is a member of both the Hobart and the Rochester Chapter Lacrosse Halls of Fame.
Coach Cox says, "He was unique. A great kid. He was a star football player, a star wrestler and a star lacrosse player. I think Tom is still the number one athlete we had at Rush-Henrietta." Coach Young said, in 1982, "He would never come out of the game unless you dragged him off the field."
Gordie Mapes was an All-American in 1983 who posted 69g-65a in his senior year and helped R-H Roth win a sectional championship. He then was a three-year starter at Syracuse where he played with Brad Kotz, Paul and Gary Gait and John Zulberti. He is a member of the Rochester Chapter Lacrosse Hall of Fame.
Billy Coons played with Gordie on the R-H Roth championship team and was an All-American in 1985. Billy played in the national high school North/South Game and then played at Nazareth where he was a first team All-American and compiled a career record of 138g-174a. He was inducted into the Nazareth Sports Hall of Fame and is also a member of the Rochester Chapter Lacrosse Hall of Fame.
The first All-American from Rush-Henrietta was goalie Mark Bristol in 1976.
Ed Mapes, seven years older than his brother Gordie, was a multisport athlete at Sperry, playing football, basketball and lacrosse and later played at Naval Academy where he was a three-time letterman (1978-1980). He is a member of the Rochester Chapter Lacrosse Hall of Fame.
Shawn Nadelen was a four-year varsity midfielder who scored (25g-32a) as junior 74g-8a in first three years, before being named an All-American in 1997. He then moved on to Johns Hopkins where he was a four-year starter and was named an All-American in 2001. After College he played in the MLL for the Bayhawks and won two championships. He also played in the NLL for the Wings, the Swarm, and the Storm. He then started his coaching career as an assistant at Princeton after which he moved to Towson where he was an assistant from 2004 to 2011.He then became the Head Coach where he has been since 2012. He is a member of the Rochester Chapter Lacrosse Hall of Fame.
Bill Dirrigl was a defenseman and senior captain at Syracuse who played with Gordi Mapes and was later a coach at Loyola.
Defensive player Jeff McKee (1975), whose father was a long-time Athletic Director at R-H, started at Navy where he was an HM AA as a sophomore and transferred to Syracuse where he was a first team All-American and defensive player of the year. He later coached at the U of R (2 yrs) and then Geneseo.
Jack Beaney played both midfield and attack, scoring 43g-34 as a He was a first team All-American at Herkimer and then went on to play two years at Cornell. As a local coach, he started the program at Bloomfield-Honeoye and coached at Rush-Henrietta and is currently at HF-L.
Tim Cronin played with Beaney, scoring 53g-30a in fifteen games as a senior and earned first team all-league honors. He also played at Herkimer and then RIT.
Eric Goodberlet, with over eighty points in his senior year was a first team all-league player who, like so many others from R-H went on to play at Nazareth. Jim Cox quipped, "I once told [Head Coach] Scott Nelson that Nazareth should have been called the University of Henrietta". Eric was a three time All -American, Division III Midfielder of the year and Player of the Year at Nazareth and entered their Hall of Fame in 2010.
Mark Leszczynski was an All-American (1977) for R-H and then played at Cortland (74g-35A) where he was a captain in his senior year. He later returned to R-H and assisted Jim Cox and Rick Young.
Kevin Ward was an All-American in 1978 after 63g in his junior year and 33g as a sophomore. He played on the R-H championship team in 1978 which was the first Section V team to play in the NYS tournament.
Coach Cox fondly recounts that Mark and Kevin were his neighbors, "Mark lived on one side and Kevin lived on the other side".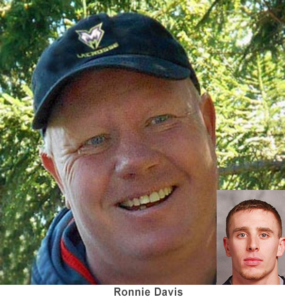 1988 was a big year for Jim Cox who was named Coach of the Year and his son Tim Cox who was a two-time first team all-league attackman and a high school All-American in 1988. After graduation Tim played for two years at Maryland where he was "rookie of the Year" as a freshman. He transferred to Nazareth for his last two years and was a first team Empire Lacrosse League attackman and an HM USILA AA in 1991.
Tim Cox played with Ronnie Davis who was also was a first team all-league pick in 1988 and also went on to have a great career at Nazareth where in his senior year he scored 6g-3a when Nazareth won its first NCAA championship. He was named a first team All-American.
Kevin Cox was a first team all-league attackman in both his junior and senior years and was MVP and captain in his senior year after posting 23g-44a. Kevin also went on to play at Nazareth where he was also a captain, and later an assistant coach for the 1996 and 1997 National Championship. He is a member of the Nazareth Hall of Fame.