Long Time Coaches
In the twentieth century many coaches studied the game and then took over the programs for their own long, noteworthy runs.
Mark Rice – Penfield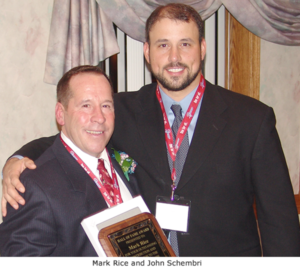 Penfield could have been included in the story about mentors, as there have only been three coaches in the Penfield program. Tom Mutch was the first head coach, who started coaching the varsity team in 1976 and then turned it over to long-time Junior Varsity coach Mark Rice in 1989. Mark finished his tenure in 2008 and long-time Penfield coach John Schembri had his first season in 2009.
A Fairport graduate, Mark also played four years at Ashland University and played in the Midwest College All-Star game after his senior season.
In his twenty years as head coach, Mark Rice won 266 games with the Chiefs/Patriots. His teams won four Section V Championships and they had two NYS semifinal appearances.
During his tenure, Mark coached nine USA Lacrosse All-Americans and four All-Academics: Paul Murphy (1990), Mike Grasso (1991), Brent Rothfuss (1993), Andy Rose (AAA 1999), Nick Allegretti (2000), Chris Stock (2001), Tim Randall (AAA 2003), Dan Clay (2004), Mike Thon (2005), Kelly McKenna (2006), Mike Arvan (AAA 2006), Connor Rice (2008) and Kevin Randall (AAA 2008).
With many years of service to the Rochester Chapter of USA Lacrosse which continue through now, Mark was induction into the Hall of Fame in 2008. He is also a member of the Penfield Hall of Fame.
Paul Wilson – Pittsford
Coach Wilson started the program in Pittsford and was their head coach for twenty-seven years from 1997-2003. He earned 195 wins and his teams won two Section V Championships and made the NYS final-four one time. He was Monroe County Coach of the Year three times, USLCA Coach of the Year three times, NILA Man of the Year twice and USLCA Man of the Year once. In 2013 he received the Genesee Valley Lacrosse Officials Association's first "Achievement Award".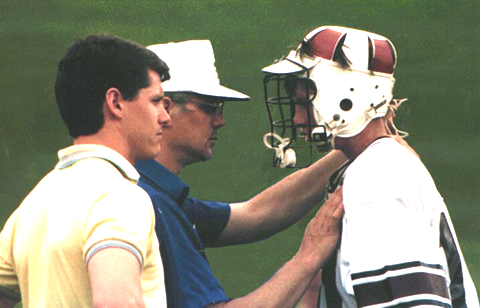 Along with long-tie assistant Scott Bryson, Paul coached seven USA Lacrosse All-Americans: Dave Russell (1987), Dave Chaney (1989), Mike Eckert (1992), Phil Chesler (1994), Ken Yanicky (1996), Andy Copelan (1999) and Mike Levin (2000).
Since 1997, Paul has worked with Section V Boys Lacrosse Coordinator Mike Simon, as the Assistant Coordinator.
For seven years, Coach Wilson compiled and edited the "Senior Profile" program, which listed information for all rising seniors in the Western New York area which was disseminated to college lacrosse coaches. Later he opened the SportsFive.NET web site which for over twenty years has, through BLaxFive.NET and GLaxFive.Net, provided extensive information on high school lacrosse in Section V.
In 2005 Coach Wilson was inducted into the USA Lacrosse Rochester Chapter Hall of Fame.
Ken DiDomineck – Haverling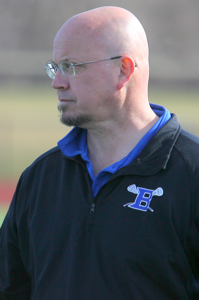 Currently "the Dean" of coaches with 21 seasons under his belt, Ken DiDomineck started with a Junior Varsity team and in 2002 coached the first Varsity team for the Rams.
A member of the century club he has, to date 138 wins and led Haverling to the Section V championship round in 2011 with All-American attackman Zach Reed and defenseman Trevor Lang who was named an All-Academic in 2012.
The Cortland and Nazareth graduate, Ken was named Coach of the Year in 2001 and has been assisted since 2004 by Tom Noteware.
John Natti – Geneva
John Natti led the Panthers for nineteen years between 1980 and 1998. He is a Geneva graduate (1968) where he played football, swimming and lacrosse and was captain in all three his senior year. He then played lacrosse while attending SUNY Brockport, after which he returned to Geneva as a teacher and later as Athletic Director.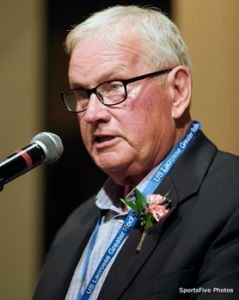 As the Head Lacrosse Coach, he had a record of 243-89 and his teams won seven Finger Lakes Championships, three Section V titles and made the NYS final four twice. He was a Finger Lakes Lacrosse Chairman and was their Coach of the Year many times.
As Athletic Director he started the Geneva girl's lacrosse program and was, for many years an official for the girl's game.
John coached three USA Lacrosse All Americans and one All-Academics: Joe DeMocko (1983), Andy Vogt (1994), Bob Toner (1994) and Amos Heaton (AAA 1995).
He was inducted into the Geneva Hall of Fame in 2015 and the USA Lacrosse Rochester Chapter Hall of Fame in 2019.
Rob Ruller – Webster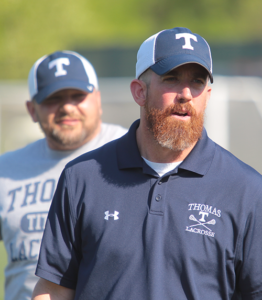 A Fairport/Cortland alumnus, Coach Ruller will start his 20th season as Head Coach for the Titans in 2022.
Currently he has a record of 228-104 and has won three Section V Championships (2009, 2016, 2021). Last year's win was especially exciting as his son, senior goalie, Ethan, was the Class B MVP. The 2016 team made it to the NYS Final Four.
Besides Ethan, Rob has coached four other All-American: Trevor Ford (2018), Kevin Hill (2014), JT Hauck (2011) and Jack Hinderland (2009 and 20110). He also coached four All-Academics: Stevie Kratz (2019), Matt Hill (2018), Joe Vasile (2016) and Kevin Hill (2015).
Rob has been named Monroe County Coach of the Year five times.
Jasson Jobson – Eastridge and Thomas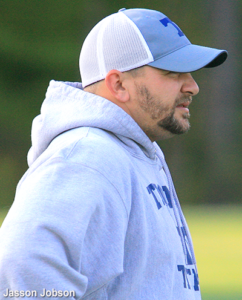 A Webster Schroeder (1997) and SUNY Brockport graduate, Jasson Jobson took over for Paul Burkin in the second year for the Eastridge Lancers. He was the head coach at Eastridge for seven years from 2004 through 2010.
Jasson has been a long-time defensive coordinator working for Rob Ruller and the Webster Thomas Titans.
LJ Russell – Geneva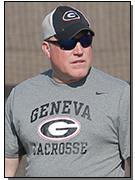 Coach Russell led the Panthers for more than fourteen years from 2005-2019, taking over from Bill Warder. He finished his service with a record of 194-93.
He was Finger Lakes Coach of the Year four times and his teams won four Section V Championships and had one final four appearance.
LJ coached two USA Lacrosse All-Americans and two All-Academics: Mike Warner (2010), Sean Cunningham (AAA 2013), Eddie Eddington (2014) and Pat Mahoney (AAA 2017).
Mark Sweeney – Webster and Gates Chili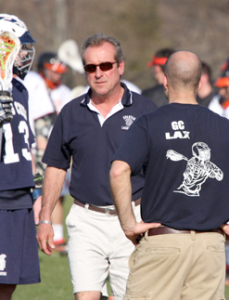 Mark Sweeney was the Head Lacrosse Coach for the Webster Warriors for eight years, taking over for Pete Burkhardt in 1987 and handing the reins over to Fritz Killian in 1995.
In 2005, Mark started the program in Gates Chili and was the head coach there for seven years. He was a two-time Monroe County Coach of the Year (D3) and is a member of the "Century Club".