Stickball In the Street: A Players' Game
Some of the most interesting lacrosse games played in Geneva are staged on the asphalt pavement on the south end of Exchange Street.
– Geneva Daily Times June 4, 1921
In a LAX LINES piece on SportFive.Net, "New Sport for School," Coach Paul Wilson introduced Geneva as the pioneering scholastic program in Section Five nearly a century ago. What was the source of the idea and where did the impetus for the sport's first adoption come from? The Daily Times' "Sports Notes" author continues:
The Exchange Street youngsters have cut crotched limbs from trees. . . . These they have whittled smooth. Ordinary hemp bagging has been sewed over the crotch, making the stick into a fairly decent crosse. With these homemade sticks they play lacrosse in the street (There) is constant traffic . . . and the game is frequently interrupted . . .
According to the author, "Youth must have its sport," and "the boys cannot afford baseball equipment," citing the "practically prohibitive high price of athletic goods." Thus, Geneva's Roaring Twenties version of the seemingly eternal tug-of-war between the two American-born pastimes.
In former years the sandlots of the city grew baseball players, today their only crop is weeds. Geneva at present is lax in sport for youths. (Note: pun likely unintended)

Continuing his indictment of the lack of organized youth sports in town, the writer asserts that street lacrosse "indicates a desire on the part of these boys for healthy sports," noting that without their "crude attempt to play . . . it's highly probable they would be engaged in other afternoon sports . . . the movies and shooting craps.
Coupled with the desire for healthy sports, the influence of the already popular and respected lacrosse program at Hobart College would have been well-recognized by the "street laxters" as exciting and entertaining. "The Fastest Sport on Two Feet" as labeled by a promoter of a later generation must certainly have inspired their crosse-crafting and asphalt activities.
LACROSSE TEAM AT GENEVA HIGH: Much Enthusiasm Spreading to Organize New Spring Sport
– Geneva Daily Times headline, January 31, 1922

. . . the topic of lacrosse has taken a firm hold on the fellows at Geneva High School. It is believed that there would be much more popularity in this sport than baseball.
There's that indictment again. GHS baseball had evidently garnered little success or popularity. 1921's Sports Notes scribe had called that year's loss to Rochester East a "disgraceful debacle" and despite being "given a try-out spring after spring . . . the lads seem unable to develop much of a team." resulting in Geneva not getting "deeply interested in the Red and Black baseball games."
SCHOOL MENTORS FAVOR LACROSSE: Geneva High may make plans for a new Spring Sport
– Geneva Daily Times headline, February 7, 1922
The lacrosse wave of Spring '22 washed across Geneva – Hobart planned for its first ever freshman team – and to the east, Laurie Cox, pioneering coach at Syracuse University, Hobart's closest and fiercest rival, announced sponsorship of a league composed of two nearby high schools, a Native American reserve team and their own freshman team. Geneva's fledgling "stickwielders," as sportswriters referred to lacrosse players of that era, would not lack for opponents and challenges.
Central to have 100 Lacrosse Candidates; C.B.A. Has 40 Applicants:

Cox to Teach School Boys; Start Next week
– Syracuse Herald headline, March 3, 1922
The decision made by the GHS Athletic Association, competition commenced, the first on-field action a 3-2 victory for the high schoolers over the Hobart "yearlings." A contemporary account of the confrontation conveys a scene familiar to anyone who has witnessed a game between novice teams of any age or era.
Both teams slashed as hard as they could for the first ten minutes . . . Most of the time the ball was rolling around on the ground with about a half a dozen men of both teams madly scrambling to get it.
– Geneva Daily Times, April 4, 1922
Both the game and the season forecast an auspicious future for the sport at GHS – "After a while . . .  the men (tired) and the game became more settled." The teams split a pair of later games granting the "Milton Street lads" (i.e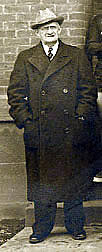 ., the high schoolers) city bragging rights.
The rivalry ignited that first season ultimately became both figuratively and literally a "fraternal" one. Numerous Geneva High players would exchange the school's Red and Black for the College's Orange and Purple over the next two decades and oppose former teammates and occasionally actual siblings.
Geneva could also lay unofficial claim to be scholastic champions of Central New York," based on their undefeated record against other high school teams. Under coach Dr. J.B. Covert, captain of Hobart's first lacrosse team in 1898 and HC coach-to-be in 1923-4, the Red and Black achieved an auspicious genesis for a program with nearly a century – albeit an interrupted one – as the seedbed of Section Five lacrosse encompassing some eighty seasons.