Coach Jack McDonald – Journeyman Lax Man
When Joe Corcoran restarted the Geneva lacrosse program in 1957, freshman Jack McDonald made the team. He had three coaches in his first three years as Joe Kraus (son of the well-known "Babe" Kraus) coached his sophomore year and then Bob Manners started his long run which continued until Jack replaced him in 1970. In his senior year, Jack won the Covert Trophy for the most valuable player. Those four years was the beginning of a life-long love of the sport.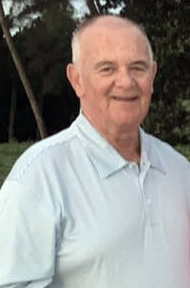 At Hobart College, Jack played some defense and learned goalkeeping from Jeff Weise who had a great collegiate career and was coached by Babe Kraus and Bill Stiles. Jack took over the starting goalkeeping role in his junior year.  He played with Larry Adkinson who led the country in scoring in 1961 and Bill Ferris (who later, started the program at Corning-West) and later Larry Slattery who learned to play midfield for Ernie Lisi at Irondequoit.
With his teaching credentials, Jack started looking for a lacrosse position and after a short stint at Romulus he found one at Mynderse Academy where he started the lacrosse program in 1966. With a limited schedule they finished a 3-1-1 with their only loss to Baldwinsville, which was avenged in the second outing.
When a teaching spot opened at Geneva in 1968, Jack became the junior varsity lacrosse coach the next spring. When Bob Manners finished his 1969 season, Jack became the Varsity Head Coach for the Panthers and he led the program for ten seasons winning eight Finger Lakes Championships.
His last game with Geneva was against Corning East (and his former coach, Joe Corcoran) in the 1979 sectional tournament. The first and only time Geneva has beaten Trojans up to that point was earlier in the 1979 season. Then, having beaten Canandaigua in the quarterfinals, it took overtime for the Trojans  to beat Geneva in the semifinals. Even as a loss it was a highlight for Jack who remembers it today.
"Although we had won the regular season game everyone expected it to be a hard-fought game.   Both teams played very well in regulation time.  It was an evenly matched high level lacrosse game.  Corning was able to win in overtime. Of course, it was disappointing but what made this event memorable was the feeling after the game."

"Both teams certainly respected one another, the parents and fans applauded what they had seen and acknowledged both teams, and the coaches had the deepest respect for each other.  This sticks in my memory as what a lacrosse game should be like."
Jack would later say, "We played a full Finger Lakes schedule but were sure to include larger schools like Irondequoit, Webster, Fairport, Rush Henrietta, Corning, Ithaca and Vestal and we had 47-7 league record. Our goal was always to play our best, we owed it to each other and to the history of Geneva Lacrosse."
"I enjoyed the players, the challenge of getting them to perform at high level, but truthfully I liked the games the best. It was the time to see if all the work would work out.  Game time was a high!"
Coach McDonald had a long list of great players to enjoy. Among them are Fran Shields who became the all-time leading scorer at St, Lawrence with 270 points. At Geneva he was a four-year starter and had 223 career points for the Panthers and was picked as an All-American in his senior year.
Another noteworthy player was Jerry Kraus, who, like Shields was a college All-American. At Geneva he was a three-sport athlete and a unanimous 1st-Team Finger Lakes All-Star his senior year. At Hobart, he was a four-year letter winner and played in the North-South Senior All-Star game. He remained in the game as a coach and referee.
Perhaps one of the best to play for Coach McDonald was goalie Guy Van Arsdale. A first team All-League player in his junior and senior years and earning All-American distinction both years, he helped the Panthers win three league championships, and was named to the All-Section V Tournament team in his senior year. At Hobart, Guy was a three-time All-American and USILA Player of the Year in his senior year. After graduation he has coached many college teams including Jacksonville, RIT, Colorado College, Notre Dame and Colby College. He earned many "Coach of the Year" awards. From 2001-2003 he was Head Coach and Assistant General Manager for the Rochester Rattlers.
G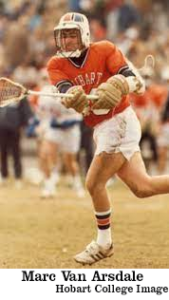 uy's younger brother, Marc, currently an assistant Coach at Loyola has more than thirty years of coaching experience. Also, a high school and college All-American, he played on Jack's last Geneva team and was greatly affected by his mentor.
"I was lucky enough to play on Jack's final Geneva high school team in 1979.  I still try to employ many of the things that I learned from Coach McDonald in my coaching in the sport.  He had an uncanny knack to balance the drive for competitive success with keeping the game fun at all times for those who played for him.  He did so with a both a tremendous sense of humor…and a humility that is not often found in a man of his stature.  He could impart his great knowledge of the game to his players and find ways to motivate both stars and role players alike."
Marc remembered one particular lesson learned as an underclassman:
"When Coach was handing out Jerseys, as the lone Sophomore on the team I was given the last choice.  I made a face of disappointment as Coach Mac tossed me #6 (the last Jersey remaining).  He quickly put me in my place and gave the proper perspective by quipping, 'They don't come famous, Boy.  You make them that way.' "
When the newly minted Eisenhower College decided to offer lacrosse, Jack was the Head Coach for three years and then the college closed. He then went to work for Dave Urick as the coach for the Hobart "B" team for thirteen years.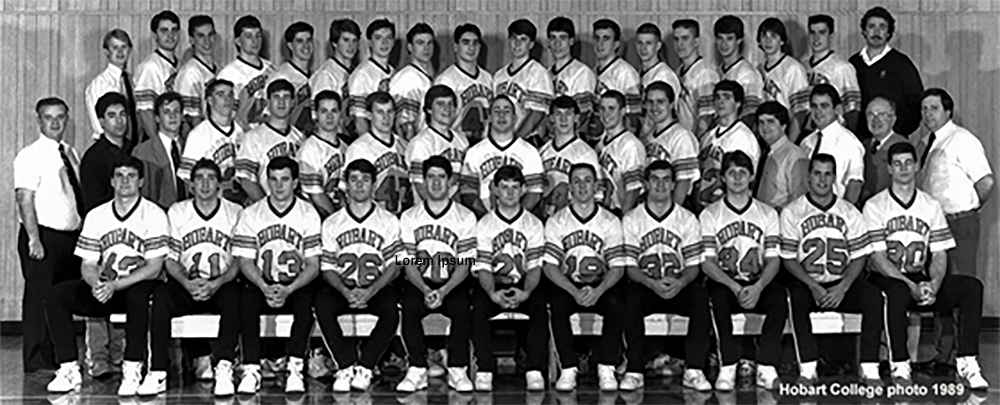 Marc Van Arsdale worked with Jack at Hobart.
 "…his patience and ability to teach the game had a significant impact on the development of many players who not only made the jump from the "B" Team to the Varsity during their careers, but several became instrumental players during the latter part of Hobart's run of championships.  In fact, Eric Stein was the Division III National Player of the Year in 1989 after spending two years on the "B" Team.  Eric's running mate at Long Stick Middie on that team was current Bucknell Coach Frank Fedorjaka (Eastridge High School) who also benefited from learning the game under Jack's tutelage.  Neither Eric nor Frank had ever played lacrosse until they got to Hobart, and I am certain that without someone like Coach McDonald to lead the "B" Team and develop the love of the game in his players … they never would have met with the success in the sport that they experienced."
After he thought he retired, Jack was encouraged to join Terry Corcoran at Skidmore College where he remained for four years.
Jack is a member of the Geneva, Mynderse, Western NY and the Rochester Chapter of USA Lacrosse Halls of Fame.
[Thanks to Terry Corcoran and Marc Van Arsdale for their contributions to this work.]