Coach Joe Corcoran – Geneva and Corning
Many readers might not know that Corning East (and West) lacrosse teams both played in Section V before moving back to Section IV where they are today. From 1976 and through the 1983 season, Corning East was a top contender in Section V. Coach Corcoran started the Corning program in 1967 and they played in Section IV or the Upstate League until 1975.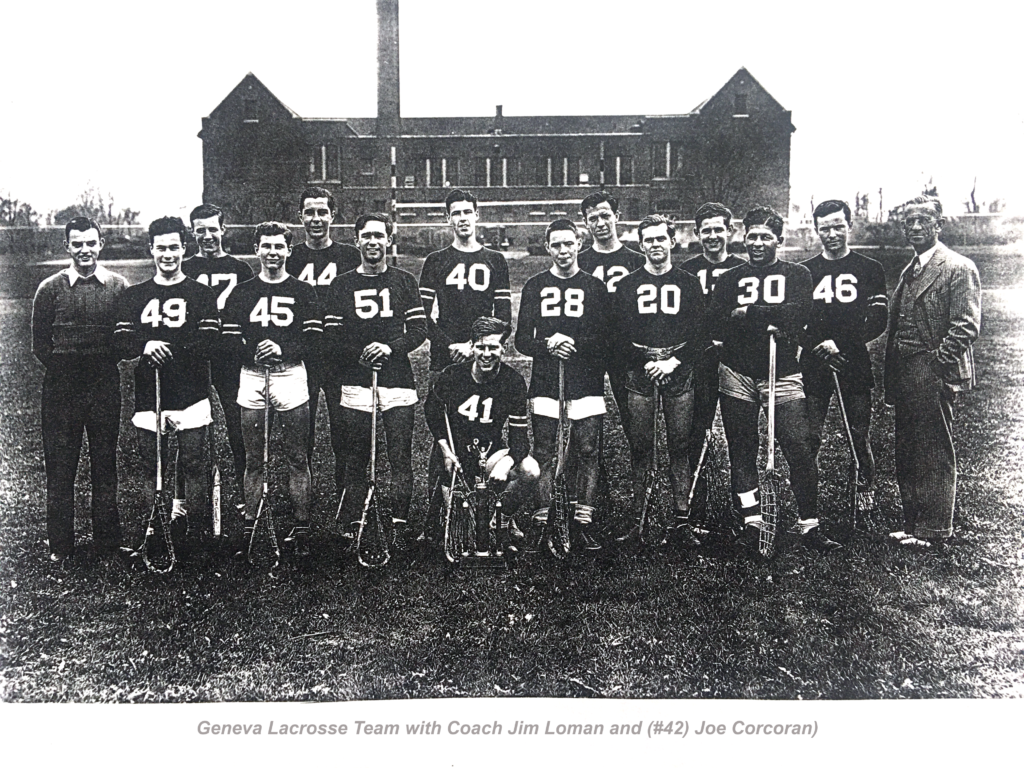 Joe learned to play lacrosse while at Geneva High School, where he was a four-year varsity player and captain in 1940 when the Panthers played their first game at the "North Street Stadium" which was later named in honor of his coach Jim Loman. Geneva beat Onondaga Valley twice that year and retired the Roy Simons trophy. It was the last lacrosse team to play at Geneva until Joe returned to restart the sport in 1956-1957.
After high school, Joe immediately joined the U.S. Marine Corp and fought in World War II, seeing action in Bougainville and Okinawa. After returning home he went to Ithaca College where he started the lacrosse program and was the player/coach while earning his teaching credentials. In 1952 he played professional box lacrosse for St. Catherines in the Canadian Box League.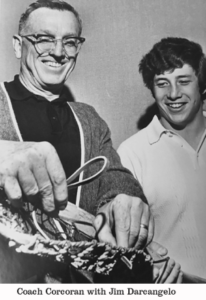 He returned to Geneva in 1953 and by 1957 he restarted the lacrosse program, first as an intramural program and later as a sponsored program. While at Geneva he also coached football, basketball, wrestling, and track.
In the fall of 1957 Joe moved to Corning where he coached football, wrestling, and track. It took longer to get a lacrosse team going there but in 1967 he was able to start an intramural program and in 1967 the varsity program was under way. In his fifteen years he had a record of 206-36, won ten Upstate Lacrosse League/Conference, Section V and Southern Tier League championships. He coached eleven high school All-Americans, and his Corning East team was named Twin Tiers "Team of the Decade" award (for 1970-1980).
The 1977 team was a coach's dream. The Trojans were undefeated and won the Section V Championship beating Irondequoit 13-9, with his third son, Shawn playing in defense for him. 1977 was the first year of the New York State Tournament but Section V had decided not to enter in the first year.
In that same year, his older sons, Terry, and Joe, helped Hobart also go undefeated. As Terry observed, "My father was "a greatest generation guy" … he had lived through it all and now was on top of the world." A year and a half later, Shawn was sick with cancer and died in January of 1979. "I wasn't sure my father was going to coach. I don't think he would have been able to go on if he didn't," said Terry who served as an assistant coach.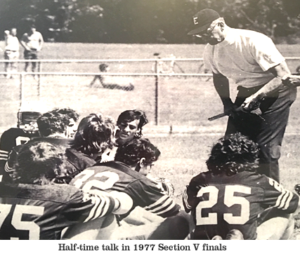 The Trojans lost their first three games but managed to improve throughout their season. They were seeded second in the Section V tournament which was dedicated in Shawn's memory. Corning East faced a very good Geneva team, coached by Jack McDonald in the semi-finals. The Panthers had beaten Corning in March with the Van Arsdale brothers in starring roles. Joe's fourth son, Chris made a dramatic one-on-one save in the closing seconds to send the game into overtime where Corning won.
The team had only two seniors on the roster and most of the starters were freshmen and sophomores. Chris Corcoran, who had been a successful attackman the year before was "conscripted" by his father to be his goalie and he set up his older sons to take thousands of "college level" shots on him to get ready for the season.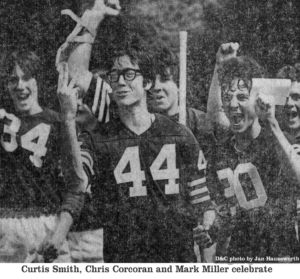 The finals were against Irondequoit and when after Coach Corcoran finished his pre-game locker room speech, it only took the Trojans twelve seconds to score their first goal. The Trojans scored goals on their first five shots, and they led 7-4 at the half on their way to a 10-7 victory. "I remember standing on the fence watching that game," said Pittsford coach Paul Wilson. "I thought that the team looked like a college team. They were so focused and disciplined I could not believe that they were mostly underclassmen…. That is until the final whistle when they threw off their helmets and ran around, looking like fourteen and fifteen-year-olds."
The Trojans won the next two Section V titles before Coach Corcoran retired in 1981. The team returned to Section IV under new coach Bob Streeten who had a long tenure in Corning.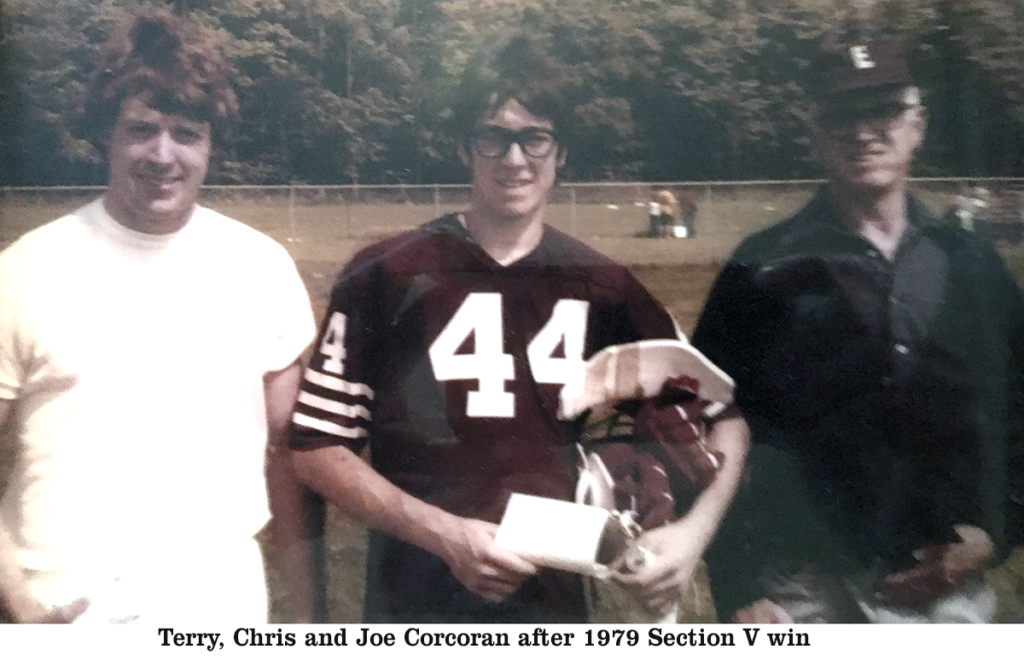 Accolades were everywhere for Joe Corcoran who was inducted into the Geneva, Corning, Ithaca, Rochester, and USA Lacrosse National Halls of Fame.