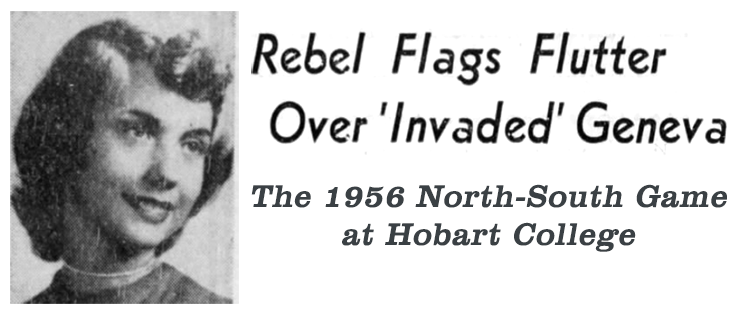 Beauties, Confederate Flags and Lacrosse, Oh My
There was all sorts of excitement on the weekend of June 9th, 1956, when the annual North-South game was celebrated in Geneva, New York.
The fifteenth annual game featured some of the top collegiate players from teams like Maryland, Johns Hopkins, Navy and Delaware. Midfielders George Lassiter and William Burhans from Hobart were selected to play on the North team. Rochester Chapter Hall of Famer, Ralph Armstrong (Colgate) played on the Defense. Eleven of the twenty-two players came from Renesselaer Polytechnic Institute, Colgate and Army.

The game was played on Saturday on Boswell Field with the North team up 7-6 in the series (the 1946 game was tied). The North team was coached by Howard "Howdy" Meyers Jr. (Hofstra) and the South team was coached by Milton Roberts (Delaware). Assistant Coaches were Dr. John "Jack" Farber (Maryland) for the South and Irwin "Buzz" Seymour (Stevens) for the North.
The South won, 20-10, in part due to a six-goal game by attackman Dick Saunders (Duke) who scored four goals in a 1:33 period in the third quarter. North goalie Bill Campbell was named MVP despite the loss.
Although the game was the "centerpiece" of the three days of celebration, the celebration chairman, William Dobbin, planned many other events, including an hour-long parade that was witnessed by over 20,000 spectators and a beauty pageant which crowned Miss U.S. Lacrosse.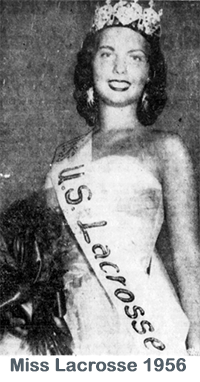 Prizes were awarded for various elements of the parade. The Geneva High School won a $25 prize for their (second place) band and Waterloo won $15 for their (third place) band. The Hobart College float won a trophy for their huge tiered pink and white birthday cake celebrating the 30th anniversary of Francis L. "Babe" Kraus as the lacrosse coach for the Statesmen. Coach Kraus was later honored with a banquet on Saturday night.
Two of the six young women who were up for the Miss U.S. Lacrosse pageant were from Geneva. The ladies rode in the parade on Thursday and the pageant was on Friday night, after which a fashion show was held. Miss Barbara Powell (Miss Colgate University), a freshman at Cazenovia Junior College, was the winner.
The town was decorated with "Confederate flags fluttering on Geneva streets over red, white and blue bunting that adorned all city lamp posts throughout the business district" in celebration of the North-South game. There were issues, however, as vandals tore down some of the banners. Fred Warder of Geneva Awning and Tent Works stated he found most of destructive damage was to Union and Confederate flags at an estimated cost of $85. "Police Chief McDonough vowed heavy penalties."
Throughout the three days there were parties, dances and banquets. On Sunday, however, Hobart College held their 131st Baccalaureate exercises with over 180 degrees conferred.