Herbert T. Fitch – Geneva and Penn Yan
Born in October of 1920, Herbert T. Fitch lived a life that was full of lacrosse and service. At Geneva High School he played football, basketball and lacrosse and was a four-year letterman, helping Geneva capture the league title in both his junior and senior years.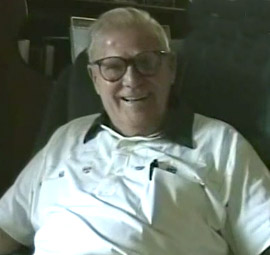 After his graduation in 1938, he moved across town to Hobart College, where he continued his athletics, earning letters in football, basketball and lacrosse. "The Blond Bombshell" was a two-time All-American. In his senior year he played for the North in the 1942 North-South game. The North won 7-2 and Herb scored 2g-3a in the game and as a result, he was named Attackman of the Year.
With the onset of World War II and immediately after his graduation with a major in education, Herb volunteered for the Marines and in June entered the Officer Candidates School and ROC at Quantico, graduating on October 31st. He was given a six day leave and came back to Geneva to marry Lois Weinger on November 1st. On November 6th, the newly minted second lieutenant and his wife travelled across the country to Camp Pendleton and after transferring from infantry to artillery, arrived in America Samoa where is joined the 12th Battalion, 3rd Marine Division.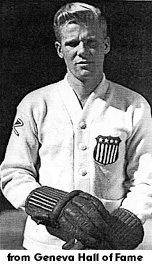 He saw action in Bougainville (Solomon Islands), Guam and Okinawa and came out as a Captain. In 2001, Herb was interviewed as part of the Veterans History Project.
After leaving the military, he was, briefly, a salesman for Gulf Oil before returning to Penn Yan where he started working for his father who bought Fitch Oil there. His interest in service resurfaced as he became a lacrosse official and was involved in both high school and college games for more than twenty years after which he helped form the Penn Yan team and served as an assistant coach to Bill LaRock in 1976 to 1978.
Serving others continued in the political arena as he served in various governmental and service organization posts. He was twice elected as mayor of Penn Yan, first for four years from March of 1955 to 1959 when there was a financial scandal in the Village which forced the removal of the previous mayor.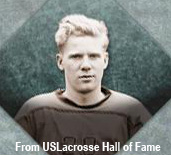 After leaving office he returned for a second four-year term in 1963. He also served as a Yates County Legislator for a two-year term.
For his many accomplishments, Herb was named to the Geneva Hall of Fame (Class of 1996), Hobart College Hall of Fame (Class of 1987), The Upstate New York Lacrosse Foundation Hall of Fame (Class 1990) and Greater Rochester Hall of Fame (Class of 1998). In 1978 he was named to the national US Lacrosse Hall of Fame and in 2012 the section five area senior all-star games for both boys and girls were named his honor.
He died at age eighty-five in 2006.