Connections to President George H.W. Bush
In a week where we remember President George H.W. Bush, Icame across the photograph below. McQuaid Jesuit Head Coach Terry Corcoran is seen (second row, second from the left, with his "Corcoran red hair") as the President welcomed the 1990 USA Team at the White House.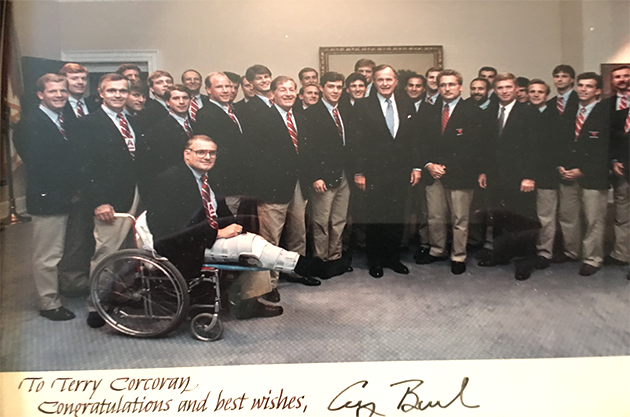 Terry was an Assistant Coach along with Mike Waldvogel (Cortland / Yale / Fairfield) The head Coach was Arlyn "Arlie" Marshall (Johns Hopkins / Maryland Lacrosse Club)and among the notables on the team were Dave Pietramala (Johns Hopkins) who was named "Best Defender" and "Best and Fairest Player" and Brad Kotz (West Genesee and Syracuse) who was named "Best Midfielder". Other well-known names included Fred Opie (Syracuse), Tim Goldstein(Cornell) and Larry Quinn (Hopkins). Named to the All-World Team were: Mac Ford (UNC), Brad Kotz, Roddy Marino (Virginia), Steve Mitchell (Hopkins), Dave Pietramala, John Tucker (Hopkins).
Team USA won the World Championship after winning all four games including the finals when they beat Canada 25-14.The games were held in Perth, Australia in July and the tournament saw the first appearance of the Iroquois Nationals.
In another connection in that same year, the Hobart College Lacrosse team won the National Championship and also had a trip to the White House. There were lots of Section Five connections on that team which included: Chris Curvin (Geneva), Larry DiGiovanni (Irondequoit,Matt Kerwick (Irondequoit), Craig Mapstone (Avon Old Farms) and his brother David Mapstone (Pittsford), Jacques Monte (Fairport), Terry Mulheron (Canandaigua), Dave Pagoda (Irondequoit), Tom Reho (Canandaigua), Dave Velepec (Irondequoit) and Assistant Coach Marc Van Arsdale (Geneva).