The Fathers of Irondequoit Lacrosse
The first twenty years of the Irondequoit lacrosse history were led by two coaches, Vern Babcock, sometimes called the "father of Irondequoit lacrosse" and Ernie Lisi who is also called the "father of Irondequoit Lacrosse" and who, in his sixteen years, put Irondequoit on the local and national map.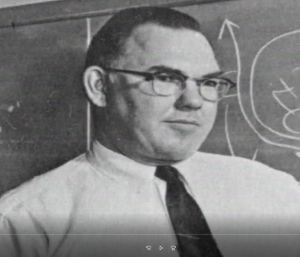 Vern Babcock conducted an intramural lacrosse program at Irondequoit for two years before becoming the first Head Coach in 1957. The Hobart College alumnus led a squad of thirty-six players to a 5-1 season in the first year and a 5-0 record in their second year. He finished his tenure in 1960 with a 25-4 record before giving up coaching to become the high school Vice Principal. He did, however, remain as Secretary-Treasurer of the Upstate Interscholastic Lacrosse League, which he formed in 1960 with five teams (Irondequoit, Geneva, West Genesee, Baldwinsville and Watertown.) The first championship, in 1960, was won by Babcock's team. Both Baldwinsville and Irondequoit had 7-2 records, but Irondequoit won the playoff game with a score of 5-4.
---
Ernie Lisi then took over in 1961 and compiled a career record of 211-22 when he finished in 1977 and turned the reins over to John Pratt (1978-2005). In his first season he won 10 straight games and then continued with thirty more straight wins until his first loss (to Lafayette) in 1965.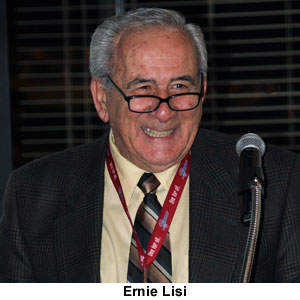 In his first season, Lisi took the team to his hometown of Geneva to play against the Panthers. The Democrat and Chronicle reported that Irondequoit scored three quick goals at the start of the game and won 5-3. They reported that 250 spectators witnessed the game. "Outstanding for the winners was [Andy] Warner, easily the star of the game with his drive and brilliant passing. Perhaps leading the Geneva [effort was defenseman] Johnny Pratt, who prevented a number of Irondequoit shots from being made." Of course, John Pratt would eventually take over the Irondequoit program from Lisi some sixteen years later.
At Geneva High School, Lisi was captain of both the football and track teams. He was also the senior class President in 1950. After four years in the Marine Corps which included a tour of Korea, he moved on to Hobart College where he was a standout in football and as a midfielder in lacrosse. He once played against Jim Brown, playing for Syracuse. Hobart coach Babe Kraus, was said to have told Lisi, "Let him run if he gets the ball. There is no way to stop him without injuring yourself."
Graduating from Hobart with a degree in mathematics, Lisi spent two years in the private sector before deciding to teach. His whole teaching career was at West Irondequoit.
In a 1971 D&C article which acknowledged his first ten years at Irondequoit, Lisi stated, "Lacrosse is growing rapidly in colleges and high school. It has the added advantage that a game can be played in almost any kind of weather, including snow and rain."
Over his sixteen years as Head Coach he earned many accolades and honors including:
22 Championships/titles including two Section V Championships
13 High School All-Americans
3 times Coach of the Year by USLCA
Man of the Year by NILL (1984)
Rochester Chapter US Lacrosse Hall of Fame (1992)
Geneva Sports Hall of Fame (1992)
Hobart College Hall of Fame (2014)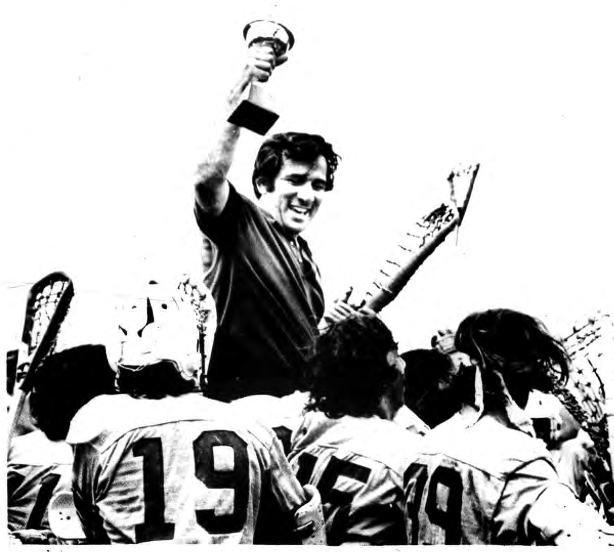 One exciting game Lisi coached was the 1973 Upstate League Championship which saw Irondequoit down five goals with 9:13 left to play, returned with seven straight goals to capture a 10-8 win, the 150th of his career.
In the third period the Trojans were up 8-3. With the clock showing 9:13 left in the game, Bill Duford score for the Indians. After another goal was waved off by official Frank Shields, Irondequoit fired up. They dominated in faceoffs and in a fifty second span, scored three goals, taking them to within one. Jeff Long scored the tying goal while the Indians were one man down and the Trojans were two men down. Dale Bartram scored the game winner with 2:05 left and Bill Duford added an insurance goal at 1:59 for the win.
Lisi would later say that it was the most exciting game of his career. Coaching for Corning was another Geneva alumnus, Joe Corcoran, who had a long and distinguished career. Playing in the game was one of Joe's sons, Terry Corcoran, who scored three goals and three assists. Terry is the current Head Coach at McQuaid.
His final coaching stint was for the University of Rochester, where he was Head Coach from 1979-1981.
---
IRONDEQUOIT COACHING HISTORY
Terry Coholan 2016-
Mark Lovett 2014-2015
Craig Whipple 2007-2014 – first 4 games
John Van Etten 2006
John Pratt 1978-2005
Ernie Lisi 1961-1977
Vern Babcock 1957-1960