A Dynasty in Red and Black – Rising
It would be a tough act to follow – a New York State Championship, or at least a legitimate claim for one. Jim Loman's accession to the lacrosse coaching duties at Geneva High School in the spring of 1924 brought high expectations for him and the school's fledgling, but highly accomplished team of 'stickweilders.'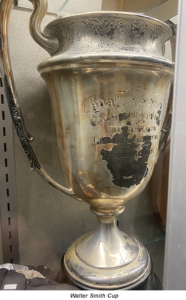 Undefeated against scholastic teams during the two inaugural years, the Red and Black had also held their own against the freshman teams of Syracuse and Hobart, winning five of nine from their elder rivals (and in some cases, brothers!). All the '24 'Lomanites' (as the new coach's crews would come to be called) did was top that: five wins against 'yearling' teams, three versus a pair of Syracuse high schooler squads for an 8-0 record, and a third consecutive season without a loss against their scholastic peers.
The Senior Annual claimed that: "For the second consecutive year G.H.S. has captured Championship of the State in lacrosse." Down in Brooklyn, the other HS lacrosse 'hotbed' in the state, Erasmus Hall, champion of New York City's Public School Athletic League might have argued the point vociferously. So might Peekskill Military Academy of the Hudson Valley, the only team to have beaten Erasmus.
Geneva's case was a strong one, though, looking at results. Start with perfection against their freshman elders, and by scores that were quite substantial for the 1920s: 13-2 and 6-1 over Hobart, 12-4 vs Syracuse, 5-1 and 5-2 against Cornell.
Loman's crew dominated their high school opponents as well, as seemingly recorded in the annual by one of the players:
"Oh how it rained (against Central)! . . . by (the time) the rain had ceased . . . what a sea of mud it left to play in." . . . but again we had our own way and won 6-2."
"We had pointed toward . . . our second encounter with Central at Syracuse. A truck load of girls and many supporters were on hand to cheer us on to victory. It was overwhelming, after the first 10 minutes there was no question of the outcome. Stevens shot a goal . . . followed 45 seconds later by one by Larrison. The final score was 8-0."

"The game with (Syracuse) Vocational on Memorial Day brought out the largest crowd . . . since lacrosse was instituted as a major sport. Geneva secured 7 goals in the first half and 6 in the second while holding Vocational scoreless."
Undefeated, two shutouts, a 61-10 (or 11) goal advantage (the first Hobart win was a 'practice' game), a third straight HS title. Talk about meeting high expectations – Loman and his lads measured up – and established a standard of achievement for subsequent seasons.
The '25 edition of the Red and Black approached but not quite matched '24. The previous year's freshman and sophomores had teamed up against each other for a season-ending 2-2 tie. Newly added to the '25 varsity, they helped produce a fourth undefeated scholastic campaign and a third straight scholastic title, 'retiring' the Walter Smith Trophy Cup which resides to this day in a GHS display case. The only blemishes – a 2-2 deadlock in the developing rivalry with Syracuse Central (avenged later in a 6-2 triumph) and a 4-2 season-ending reversal to the Syracuse U freshmen who the R & B had beaten earlier 6-2.Other wins: Vocational 14-0, East Syracuse 10-3 and 20-0, Hobart Frosh 8-1.
Undefeated against all comers and scholastic titlists once more in 1926, Geneva suffered a sole stumble; those pesky Centrals rose up for tie (3-3 in the Syracuse paper, 6-6 according to the GHS News) after an earlier 7-1 loss. Had the Genevans gotten too full of themselves? The older brothers with the 'HobFrosh' succumbed 4-2 and 9-6; things were getting tighter in the hometown rivalry, while SU's yearlings fell 6-3.
A pair of Cortland newcomers on the schedule: GHS 12 CHS 3, Loman's lads 4, the Normal School 2. The Sophs and Frosh battled to a 2-2 class-vs-class tie, prepping to join the 'big guys' in '27.
A pair of those ex-underclassmen, Lewis and Ungerer, "acquitted themselves admirably at the home positions" (attack) bolstering another team of Undefeated Scholastic Champions for the Red and Black in '27. A single loss: an agonizing 4-3 win for the 'CuseFrosh', satisfyingly avenged 9-2 in the season finale. High School opposition became scarce, just East Syracuse (a 16-0 victim) aside from Syracuse Central. Captain negotiated a sloppy, wet field for four goals in the 7-1 win over Cortland Normal, a two-year teacher training college.
The growing intensity of the Geneva-Central rivalry produced a pair of hard-fought contests per the coach's review in the GHS News:
"After a bitter struggle . . . (which saw) the Syracuse team ahead 4-2 at one time, Geneva forged ahead, staging a rally led by the indomitable Larrison . . . with the assistance of Gaspar; (the team) staved off defeat and finally won 7-5."
In the return game on Hobart's field, "with the determination of winning at any cost, (Central fought) from start to finish. So many casualties were suffered . . . that it took nearly three hours; (even) a ten-minute overtime did not succeed in breaking the (4-4) deadlock."
In five years of dominant play, including the last three under Jim Loman, Geneva had built a Red and Black lacrosse dynasty. They had not lost to a scholastic team, amassing a 25-0-4 record. They had won 75% of games against college level teams and five consecutive high school championships. Was 1927's two-game struggle with Syracuse Central and the tally of four ties over the years with those now-fierce rivals a harbinger of things to come?