Do We Need More Talk?
With the closing of the Laxpower.com web site by Active Sports Network, the lacrosse community lost another lax-oriented forum board.
The Section Five sub-board on Laxpower was a somewhat small, but active place where a number of knowledgeable fans were able to share their ideas, their observations and their hopes for the teams in the Section.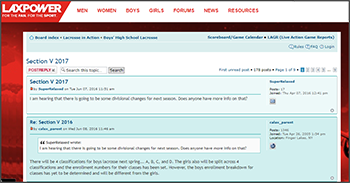 Unlike a few other boards representing other areas of the country, the comments of the Section Five board were civil, even when there were disagreements and it was a fun place to spend a few idle moments.
The folks here at SportsFive have been discussing the pros and cons on opening up an area for discussion for (just) Section Five Lacrosse. It seems as though the pro-side is obvious. On the negative side is the added time for moderation (oversight of comments), the possibility for inappropriate postings, addition spam issues and (probably) the constant requests to open up more than the single board.
Well, if you have read this far, you are probably competent to voice your opinion on the matter. What you think?