Ryan Yunker Signs NLI for Bryant University
November 15, 2010

- The room was packed with over sixty friends, supporters and teammates as Churchville-Chili senior, Ryan Yunker, flanked by his parents, signed his National Letter of Intent to play at Bryant University (Rhode Island). Head Coach David Childs welcomed the group with stories about Ryan and his very active and supportive family, including one about his grandfather who was so excited about the Saints overtime win against Penfield that he "chest-bumped" one of the C-C players.

After reviewing Ryan's lacrosse history, starting in fifth grade and traveling through JV as an eighth grader and varsity as a freshman, Coach Childs reviewed Ryan's record of service, both in lacrosse and as an athlete. He finished with the statements reminding the supporters that Ryan had a fifty-three game scoring (points) streak and that he has been the only Churchville-Chili player to make the Empire State team.

Ryan then signed his documents and gave a thank you speech which started with his elementary school physical education teachers and ended with Blaze coaches, Coach Childs and his teammates. Then it was on to dozens of photos. Everyone in the room wanted to be in a picture with him and he graciously accepted each invitation.

A few Minutes with Ryan Yunker

Why did you choose Bryant University?

"One main factor was Coach Pressler. I had heard everything about him at Duke and the way he built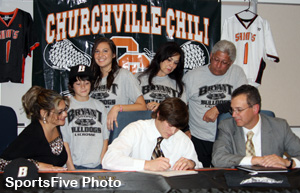 its program to a National Championship and that excited me.When I visited campus I really fell in love with it, because it's small and has a "homey" feel. I really liked the brand new locker room that is only for lacrosse as well as a brand new turf field."
What other schools did you look at before choosing Bryant?
"I looked at Loyola, Hobart, Marist and Lehigh among others."
How did your visits go?
"The first time I visited, I went in the fall of my junior year. I watched them scrimmage the "Edge Team" from Canada and I really liked the way they played.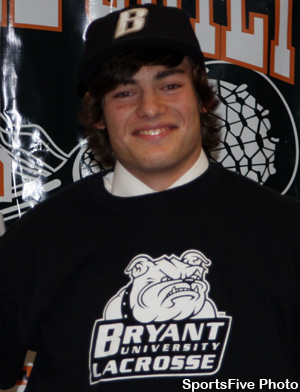 Their offense was really fast-paced and they had a very good defense too. Coach Pressler told me he liked that I could play both attack and midfield, so I'm hoping that I can help in the transition game."
What are your current strengths and what do you need to work on before next fall?
My greatest strength is probably my shot. I've improved shooting on the run a lot recently. I'd like to work on finding outlet passes when I get doubled, even though I don't think I'll get doubled that much in college."
Who have you looked up as you were growing up in the program?
Gino Marcello was a senior when I was a freshman. He was one of the best attackman and he really took me under his wing and taught me a lot. Another player was Joe Walters. I met him through FCA (Fellowship of Christian Athletes) and shot with him a few times and that's been pretty cool."
Although not the first Churchville-Chili player to play in Division I college lacrosse, Ryan Yunker is a class act, and it was clear at his signing ceremony that he comes from a strong support group and has lots of fans. He has one more season for the Saints and then it's Bulldog time.
More pictures from the event are available in the SportsFive Image Gallery.