Saturday: Canandaigua over Corning East
April 17, 2010

-

Exactly one year ago, the Trojan of Corning East beat Canandaigua, but that was the last game the Braves lost all season and their winning streak, now at 26 has been preserved with their 11-9 win at Evans Field. Penn Yan won a close one with Schroeder (6-5) and Aquinas beat Irondequoit 8-4.

 
Canandaigua 11 - Corning East 9  

| | | |
| --- | --- | --- |
| | Sat - Apr 17, 2010 - 12:00 PM | |
 

 Non-league game 
 at Evans Field
1st
2nd
3rd
4th
OT
Tot
 Canandaigua


     Record: 6-0

4
4
1
2
0
11
 Corning East


     Record: unavailable

2
4
2
1
0
9

 

 

The book for Canandaigua: Jordan Reals (1g), Adam Knapton (2g-2a), Deven Alves (2g-3a), Tom LaCrosse (2g), Gannon Osborn (3g), Bryan Peck (1g), Collin Peck (1a), Goaltending: Nick King 11s/9ga = 55% (48 mins)

The book for Corning East: Ben Dunlavey (3g), Matt Nehring (2g), Devin Grimaldi (1g-1a), Ryan Schwartz (2g), Jordan Frysinger (1g-1a) Goaltending: Tyler White 12s/11ga 48 mins.

 


 -- 
Exactly one year ago, Canandaigua Academy lost a game to Corning East. They have won ever since and preserved their twenty-six game winning streak today with an 11-9 win at Evans Field. Last year's game, played in Corning, was highlighted by the goalie play of Nicky King (CA) and Tyler White (CE) and they were both back to play the return game today. King (11s/9ga) made some wonderful saves but lost on a number of bounce shots, while White (12s/11ga) also made some spectacular saves, but suffered from high corner shots by a number of Canandaigua players.
With occasional frozen sleet and otherwise temperatures in the low forties, it seemed unusually cold, after all of the warm weather of the first few weeks of lacrosse. Corning started the scoring at 9:46 when Matt Nehring scored with a bounce shot that landed over Kings shoulder. Both teams spent a great deal of time on each offensive set moving the ball around the outside, not always testing match ups, but feeling players out.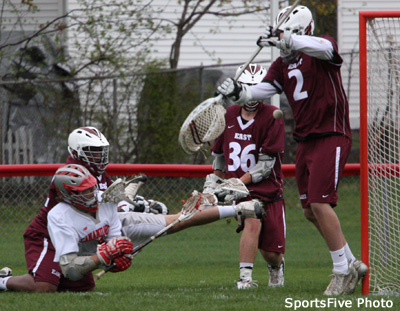 Senior midfielder Tom LaCrosse started the Canandaigua scoring with a drive from the top of the box to the left, scoring on a medium range shot, high into the net. Twenty second later, after a pushing call that gave the Braves a man up opportunity, senior attackman Deven Alves fed the ball to Adam Knapton on the low post. The Braves scored two more before the end of the quarter. The first, at 3:53, saw a short pass from Knapton to senior middie Gannon Osborn, open right on the crease. The second, at 1:27, was on an end-to-end clear when Osborn took the ball deep in his defensive end, dodged three riding Trojans and then dodged one more on the offensive end before finishing with the ball in the net. With 0:14 left, Jordan Frysinger fed Ryan Schwartz, cutting to the crease for the last goal of the quarter for Corning as the Braves led 4-2.
The Canandaigua defense was deliberate and thoughtful and produced a good number of take-aways and the vast amount of their clears.
An off sides call at the end of the quarter gave the Braves the ball to start the second stanza and they scored in their man up set; LaCrosse from the top of the box on a feed from Knapton. On their next offensive set,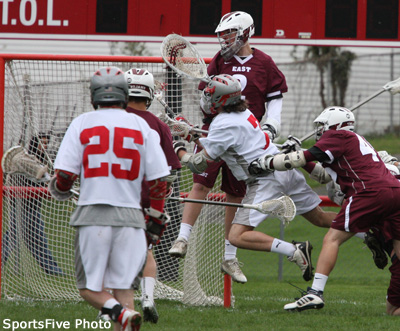 Canandaigua scored again, this time on a beautiful touch feed from Alves to Jordan Reals on to the right of the goalie, playing the left post. For most of the rest of the half, it was a back and forth scoring game with East scoring at 7:57 (Nehring on a bounce shot), followed by Alves on a crease drive from behind the net at 6:38. Corning was back at 5:09 when Ryan Schwartz made many switchback, before he positioned himself in front of the net for a wrist shot past King.
At 4:16, Knapton received the ball from Alves from back right and dodged an inside defender, finishing with a wrist shot past White. The Trojans scored the last two goals, in a flurry of activity, both by Ben Dunlavey and just thirteen seconds apart. The first was scored with 0:32 left in the half when he picked up a blocked shot that came of King's chest and, after scooping up the ground ball, popped it into the net. The second, 0:19 was scored with a quick turn back and shot into the upper corner. Although the Braves controlled much of the first half, they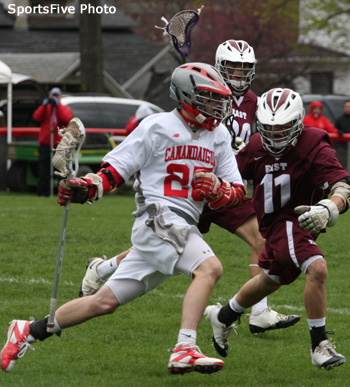 allowed the Trojans, in the last minute to bring the score to 8-6.
The third quarter saw relatively little scoring with CA adding one and East adding two, bringing them to within one goal by the end of the quarter. Osborn scored the lone goal for the Braves with a ground ball to a medium range shot on the high crease. Dunlavey received the ball from Devin Grimaldi (behind the net) as he cut to the crease and Frysinger added an unassisted goal (at 4:37) when he drove from behind the net, looking for a feed, and finding none, turned hard inside for the score. The Corning offense was deliberate and patient throughout the game, moving the ball well on the outside and constantly looking for cutters, who sometimes were missing. The third quarter ended with Canandaigua up 9-8.
Canandaigua seemed to rush their offense at times, particularly in the last quarter and although it paid off with two goals it lost them possession at a number of key moment s. The Peck boys gave the Braves a two point lead with Collin feeding Bryan at 7:03. Alves scored the last goal of the game for Canandaigua at 5:22 when he dodged from the right and scored with an outside shot. Corning had plenty of ball time in the last half of the fourth quarter and scored a single goal at 4:45, when after a time out, Grimaldi ran behind the goal, then cut tight around the crease and scored with an underhand shot that rose to the top left corner. Each team called time outs in the last two minutes of the game; East trying to set up scoring plays, and the Braves trying to keep possession away from the Trojan. A critical save by King in the last minute of the game ensured that the game did not go to overtime.  
Liverpool 7 - McQuaid Jesuit 4  

| | | |
| --- | --- | --- |
| | Sat - Apr 17, 2010 - 1:00 PM | |
 

 Non-league game 
 at McQuaid Jesuit
1st
2nd
3rd
4th
OT
Tot
 McQuaid Jesuit


     Record: 6-1

0
1
2
1
0
4
 Liverpool


     Record: unavailable

1
5
1
0
0
7

 



 -- Eleven penalties hurt the Knights as they lost to Liverpool (Section III) this afternoon in Brighton. The Warriors (4-1) scored the lone goal in the first quarter, but scored six more before the half and led 6-3 at the break.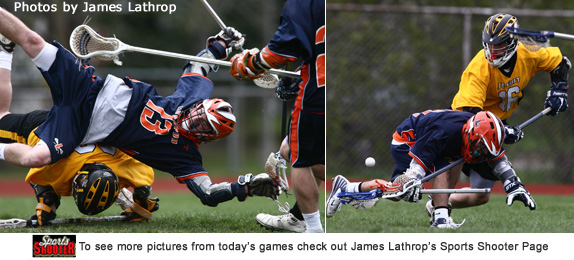 | | | |
| --- | --- | --- |
| | Sat - Apr 17, 2010 - 1:00 PM | |
 

 Non-league game 
 at McAvoy Park
1st
2nd
3rd
4th
OT
Tot
 Schroeder


     Record: 3-4

0
3
1
1
0
5
 Penn Yan


     Record: 5-0

2
0
2
2
0
6

 



 -- The Mustangs scored two lone goals in the first quarter, but Webster Schroeder came back in the second with three to lead at halftime 3-2. After two goals in each of the last two quarters, it was Penn Yan with a 6-5 win at McAvoy Park this afternoon.
There was no scoring for most of the first quarter. Adam Trombley (1g-2a) in his first week back after an early season injury, scored the first goal (unassisted) at 3:43 and then assisted on a goal at 0:56 by Jordan Owen.
The second quarter started out like the first, with no scoring until 4:41 when Pete Noto scored the first of his two in a row (both unassisted) and the again at 1:36. Johnny Murray added one more for the Warriors with 0:25 left in the half, and gave Webster a 3-2 led at the half.
It was Penn Yan's turn in the third quarter. Nate Nichols scored on feeds by Dylan Yonts at 8:17 and again at 6:14. Murray finished the scoring with an unassisted goal with just under a minute in the third. The teams were tied after three quarters.
Bradley Voigt scored on a Trombley feed at 8:57 to give the Mustangs a one point lead which they held for almost seven minutes, before Noto made it a tied game at 2:09. Dylan Yonts scored the game winner for the Mustangs with an assist from Trombley at 1:06.
According to Coach Brian Hobart, The Mustangs and Warriors usually play close games, "With the exception of last year has been a one goal game for the last seven years." Last year the Mustangs won 9-3.  
For a more complete look check out the full statistics

| | | |
| --- | --- | --- |
| | Sat - Apr 17, 2010 - 11:00 AM | |
 

 Non-league game 
 at Marcus Whitman
1st
2nd
3rd
4th
OT
Tot
 Marcus Whitman


     Record: 0-5

0
1
1
2
0
4
 Livonia


     Record: 3-3

8
6
2
2
0
18

 

 

The book for Marcus Whitman: Shawn Allen (2g), Clay Wilson (1g), Taylor Lazzaro (1g-1a), Goaltending: Bobby Mason 1s/8ga (12 mins), Nick Cosmano 7s/10ga (36 mins)

The book for Livonia: Mike Donals (4g), Chris Bausch (2g-3a), Jeff Wester (4g-5a), Wyatt Struble (1g-2a), Josh Wester (2g-2a), Phil Wallace (1g), Steven Diener (1g), Matt Valentine (3g), Kenny Lane (1a), Goaltending: Ethan Jamison 5s/1ga = 83% (24 mins), Joe Simpson 2s/3ga (24 mins).

 


 -- Livonia took an 8-0 first quarter lead and added six more by halftime on their way to an 18-4 win over host Marcus Whitman. After pulling the starters in the second half, the game was a lot closer, with the Bulldogs winning 2-1 in the third and tying 2-2 in the last quarter. Thirteen of the eighteen goals for Livonia were assisted. Junior midfielder, Jake Fox led Livonia with nine ground balls.
"We did a good job once we got our offense in sync and we did a good job getting after ground balls," said Coach Brett Wood after the game.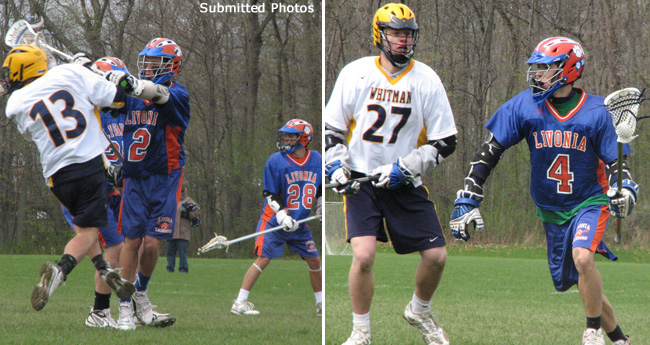 St. Francis 13 - Bishop Kearney 4  

| | | |
| --- | --- | --- |
| | Sat - Apr 17, 2010 - 2:00 PM | |
 

 Non-league game 
 at St. Francis
1st
2nd
3rd
4th
OT
Tot
 St. Francis


     Record: unavailable

2
5
2
4
0
13
 Bishop Kearney


     Record: 0-4

2
0
1
1
0
4

 

 

The book for St. Francis: unavailable

The book for Bishop Kearney: No report from Bishop Kearney.

 


 -- St. Francis (Section Six - Buffalo) won their home game with Bishop Kearney with a 13-4 score. After trading two goals each in the first quarter, the Red Raiders (3-5), started their run with five more goals and led at the half 7-2.  

| | | |
| --- | --- | --- |
| | Sat - Apr 17, 2010 - 11:00 AM | |
 

 Non-league game 
 at Irondequoit
1st
2nd
3rd
4th
OT
Tot
 Irondequoit


     Record: 3-4

1
0
1
2
0
4
 Aquinas


     Record: 4-1

2
1
2
3
0
8

 



 -- Aquinas was the 8-4 winner over host Irondequoit in more non-league action today. The Little Irish led 2-1 after the first quarter and 3-1 at the half. Klay Heston led the scoring with 3g while Austin Gorman added two more for Aquinas. Eric Wischmeyer had nine saves for the Little Irish (4-1). Nick Doktor (2g-1a) led in offense and Tyler Nash had 13 saves for the Eagles (3-4).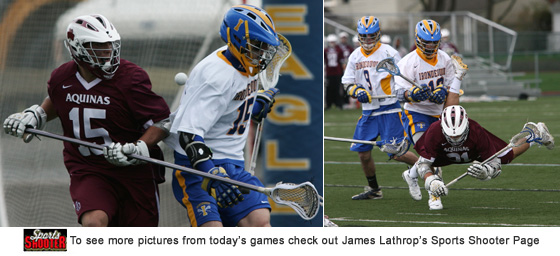 Rush-Henrietta 13 - Clarence 5  

| | | |
| --- | --- | --- |
| | Sat - Apr 17, 2010 - 11:00 AM | |
 

 Non-league game 
 at Rush-Henrietta
1st
2nd
3rd
4th
OT
Tot
 Rush-Henrietta


     Record: 3-3

4
3
4
2
0
13
 Clarence


     Record: unavailable

0
1
1
3
0
5

 

 

The book for Rush-Henrietta: Jake Alvarez (2g-5a), Joe Perkins (5g), Chris Aycock (4g), Brad Sauln (1g-3a), Chauncey Scissum (1g), Torry Whitcher (1a), Goaltending: Corey Spuck 13s/5ga = 72% (45 mins), Mark Wagner 1s/0ga = 100% (3 mins)

Book for Clarence: Warkenthien (1g), Owen (1g), Skowronski (1g), Gay (1g) and Decirce (1g).

 


 -- The Royal Comets scored four unanswered goals in the first quarter and added three more before the half on their way to a 13-5 victory over visiting Clarence (Section Six).
Rush-Henrietta (3-3) will play Churchville-Chili (4-3) on Tuesday.