Close Games - Irondequoit Wins
May 22, 2008

- Irondequoit avenged their first season meeting with Penfield and in a close one, ended the Patriots undefeated season. In other close games HFL beat Eastridge 9-7, Canandaigua remains the only undefeated Section Five team with a 9-7 win over Penn Yan, McQuaid Jesuit over Corning West (16-14) and Schroeder played a close one winning 8-6 over Fairport. Other winners included Hilton, Brockport, Thomas, Gates Chili, Pittsford, Bloomfield-Honeoye and Midlakes.


Irondequoit 8 - Penfield 7
Irondequoit exacted retaliation against Penfield for their lone in league loss, by defeated the Patriots 8-7. The game was close for its entirety, with both teams being able to prevail right down the the wire. It was Section Five lacrosse at its finest.

The Eagles scored 1:14 into the game with Mike Beckwith feeding Tony Micelotta. Penfield scored their first goal from a broken clear with Tucker Nelson putting the ball in the back of the cage. Greg Wright added his first of the game with a drive from behind the cage at 5:31. Penfield scored the next two goals to take the one goal lead after the first quarter. Toby Terwilliger (inside dodge) and Kyle Van Thof (3x dodge from the top) both added goals for the Patriots. The Patriots led 3-2 after one.

Irondequoit won the second quarter, also by one goal, to move the game to 5-5 at the half. Drew Coholan scored two quick goals (11:16 and 10:32) with a similar drive from behind the cage. Penfield's Gian Maggio scored on a fast-break with a feed from Nelson. After another broken-clear, Tyler Kleehammer found Mike Wallenhorst across the crease for the goal. Only 0:12 later the Patriots re-tied the game with a face-off fast-break. Long stick defenseman Alex Nowak picked up the ground ball and passed it up to Van Thof who dodged inside for the goal.

The third quarter was all Eagles, as they scored three unanswered goals. Mike Beckwith, Wright and Greg Coholan each scored one goal. The Eagles took a 8-5 lead

However, the Eagles did not score another goal and the Patriots added two more early in the fourth to bring the game within one goal. Connor Rice scored as well as James Dwyer (assisted by Rice). With 6:03 remaining the game was within reach and the Patriots had the momentum. As the game began to wind down there were a number of penalties. Penfield's man-down killed two penalties and failed one extra-man attempt with 1:24 remaining.

With 0:42 remaining the Eagles cleared the ball. The scoreboard clock had to be reset. However it was reset incorrectly to 0:04.2 seconds instead of 0:42. The Patriots had a brilliant take and were moving up the field in a fast-break situation when the time "expired" on the clock. Even though the players didn't stop (both teams seemed to know it was an error with the clock) the officials stopped the play dead before Penfield could move the ball into scoring range. After heated debate, there was nothing to be done and Penfield was awarded the ball at the X. The Patriots had one last shot, but could not capitalize and Kevin Westcott's shot was saved by Tyler Nash. Nash cleared the ball and (after a time-out) the Eagles ran out the remaining 1.7 seconds.

Both Nash and Brady Del Pozzo (Penfield) played extremely well between the pipes. Nash finished with 10s/7ga (59%) and Del Pozzo finished with 10s/8ga (56%). Both goalies made a number of key saves and specific points in the game when their teams needed it most.

Irondequoit utilized their face-off man to their advantage. Wallenhorst finished 14/17 (82%) for the Eagles. Wallenhorst with his goal, 13 ground balls, 2 takes, and 82% face-off percentage was a major component in the win for Irondequoit.

Irondequoit out shot the Patriots 36-20. The Patriots only missed the cage three times, while Irondequoit only hit the cage 50% of the time (18 on cage, 18 off cage).

Overall it was a great game for lacrosse and with each team winning one game, it could be a great third match-up come Sectionals.

Scoring for Irondequoit were Wright (2g), Drew Coholan (2g), Micelotta (1g-1a), Beckwith (1g-1a), Wallenhorst (1g), Greg Coholan (1g) and Kleehammer (1a).

Scoring for Penfield were Van Thof (2g), Rice (1g-1a), Nelson (1g-1a), Maggio (1g), Dwyer (1g) and Terwilliger (1g).


For a more complete look at the numbers, check out the full statistics.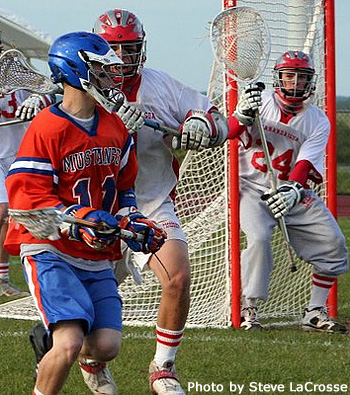 Canandaigua 9 - Penn Yan 7
Marshall Johnson won 13 of 17 face offs for Canandaigua as they defeated visiting Penn Yan, 9-7.

Scoring for the Braves were Brian Scheetz (2g-3a), Justin Tomzak (2g), Connor Henderson (2g), Austin Rogers (1a), Marshall Johnson (1g), Andrew Knoblauch (1a), Nick Munn (1g) and Evan Roth (1g). Scott Bement made 12s/7ga for Canandaigua (18-0).

Scoring for Penn Yan were John Linnan (3g-1a), Cole Castle (1g), Jordan Owen (2g) and Brendan Minor (1g). Ethan Kamholtz recorded 10s/9ga for the Mustangs who finish the regular season at 10-7.

HFL 9 - Eastridge 7
HFL defeated Eastridge 9-7 in a close MC-2 battle. HFL finishes the regular season 7-9 and Eastridge finishes 4-12.

Eastridge started out the game in a dominated position, but the Cougars have shown in many matches that they cannot be counted out. Each team scored one goal in the first quarter with HFL's Mickey Allan and Eastridge's Brandon Moynihan both scoring.

HFL scored the first goal of the second quarter with an unassisted goal by Zach Whyte. Eastridge scored the next four goals to take a 5-2 lead with 2:50 remaining in the half. However, the Cougars came back and scored two more goals in, both by Whyte. Whyte finished the game with six of the nine goals for the Cougars. The score was 5-4 Eastridge at the half.

HFL continued scoring, adding the first two goals of the third quarter to take a one goal lead. Ian Griffin and Whyte each added one goal. Alex Austin scored the last Eastridge goal. Austin finished with 3g and played strong after returning from his injury earlier in the season. Whyte added his fifth and Matt Lesczynski added one of his own to take the two goal lead. Shane Driffill scored the final Lancer goal (assisted by Austin) with 9:08 remaining in the fourth. The final goal of the game, by Whyte, was scored with 8:24 remaining.

In the cage, Eugene Ferrera finished at 50% (9s/9ga) for the Lancers and Jay Tallon finished with 8s/7ga (53%) for the Cougars.

Scoring for HFL were Whyte (6g), Cade Norris (2a), Lesczynski (1g-1a), Allan (1g), Griffin (1g) and Bryan Gardner (1a).

Scoring for Eastridge were Austin (3g-1a), Moynihan (2g), Kevin Mahler (1g), Shane Driffill (1g) and Matt Driffill (1a).


For a more complete look at the numbers, check out the full statistics.

Schroeder 8 - Fairport 6
A shutout in the third quarter while scoring three of their own was the difference for Webster Schroeder in their 8-6 victory over visiting Fairport in Monroe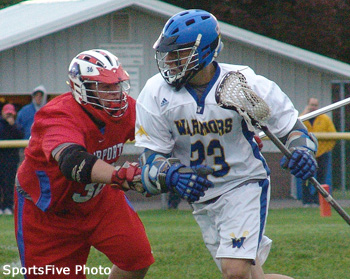 County D1 action.

In the first quarter both teams scored two goals. Fairport scored the first two starting with an unassisted goal by Aaron Jones who scored on an outside shot from the top left. Jones scored the second goal, the same way. Senior middie Nick Mooney scored the first goal for Schroeder after driving straight from the face off, without any resistance. Joe Matison ran behind the cage on after a Schroeder clear and then, dodging a double team cut to the cage on a medium cut and scored. The quarter ended tied at two goals each.

The second quarter was just like the first, but in reverse. Schroeder scored the first two goals and Fairport scored the last two. Defense was well played and both Scott Tota in the Warrior cage and Kris Sterzin the Fairport cage made exciting saves throughout the game. Webster's Mike Tota scored the first goal, at 9:58 when from an out of bounds start, drove from behind the cage, broke one defender and scored with a high wrist shot. Less than a minute later, Mooney scored on an assist from Chris Mason who hit him in front of the crease for a turn an shoot goal.

Fairport had the ball with just over eight minutes and after many passed around the perimeter, found Connor Lowe who gave up a good shot to pass the ball to Jones for a better one. Three minutes later Tota made a dramatic one-on-one save for Schroeder which sparked the offense, but Sterzin returned with a big save of his own. With less than a minute in the half, Fairport, once again, spent time passing around the outside and after a couple of missed shots bounced one off the Webster pipe before Martin Manilla scored an unassisted goal with 0:06 left. The teams were tied 4-4 at the half.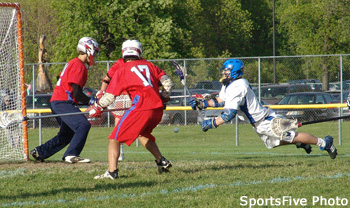 Schroeder scored three one goals in the third quarter although Fairport had a few opportunities. Cody Consul scored just seven seconds into the quarter after a feed to Chris Topping richoched into the goal. A minute later Mooney scored on an unassisted outside shot and with five and a half minutes left, Mason scored on an unassisted bounce shot and a drive from the top left. The quarter ended with Schroeder up 7-4.

The Red Raiders step it up a bit in the fourth quarter. Alexander Keil, on the high crease, received the ball from Jones just after a Warrior penalty had expired and turned and shot in one motion for the goal at 8:56. Billy Harris scored an unassisted goal at 4:55 for Webster but Fairport returned with a beautiful inside cross crease skip pass feed from Jones to Manilla. With the score at 8-6, it was the last goal of the game, but the tension continued for almost three minutes as both teams felt the pressure for ball time.

In a very unusual ending a stray ball near the Schroeder top of the box was picked up by Schroeder, although "official ball" was still in play behind the cage. Both balls were in play for more than twenty seconds before the action(s) were stopped. Coaches on both benches were heated and the officials took a while to figure out possession, which eventually went to Fairport.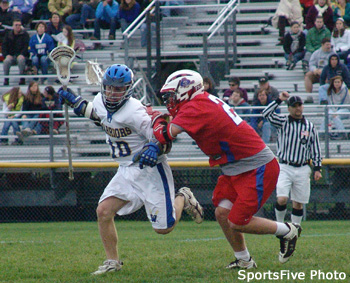 Tota made a critical, high pressured save at 0:48 and there were no more shots in the game.

It was an exciting game, typical of the competitive play in the top of MC-D2 and both teams played hard. The Fairport defense in front of Sterzin did very well, but the Red Raider offense simply did not get enough shots on cage, partly due to good pressure by the Warrior defense but mostly due to their lack of offensive intensity. Ten more shots on goal would have made a difference in the close game.

Scoring for Schroeder were Nick Mooney (3g), Chris Mason (1g-1a), Cody Consul (1g-1a), Joe Matison (1g), Mike Tota (1g), Billy Harris (1g) and Chris Topping (1a). Scott Tota had 9s/6ga for Schroeder (8-7) who end the regular season with a game against Thomas on Saturday.

Scoring for Fairport were Aaron Jones (2g-3a), Connor Lowe (2g-1a), Martin Manilla (1g) and Alexander Keil (1g). Kris Sterzin had 13s/8ga for Fairport who end the regular season at 8-8.


For a more complete look at the numbers, check out the full statistics.

Midlakes 10 - Newark 5
After taking a 2-1 lead in the first quarter and scoring two goals (each) Midlakes took a 4-3 lead into the half time break. In the second half the Eagles added four more goals in the third and two more in the last for a 10-5 victory over Newark in Finger Lakes D2 play.

Scoring for Midlakes were Ben Uveges (2g-1a), Nick Newland (2g-1a), Conor Hogan (1g), Tyler Brooks-Lambert (2g-1a), Tom Cheney (2g-1a), Greg Marks (1g) and Jason Batchellor (1a). Jared Schoonerman made 15s/5ga for Midlakes (8-9) who finish their season at Bath on Saturday.

Scoring for Newark were Stephen Johnson (2g), Colin Johnson (3g-1a) and Eric Stivers (1a). Ben Hartman had 9s/10ga for the Reds who finish their regular season at 7-11.

Thomas 18 - Churchville-Chili 11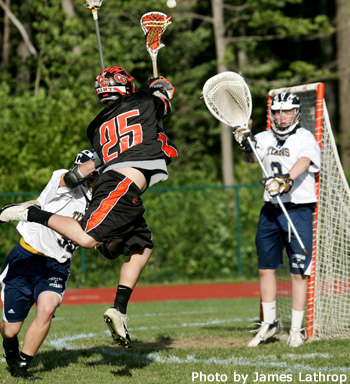 Thomas defeated Churchville-Chili 18-11. The Saints finished their season 10-6, and second place in Monroe County division 2 having only lost to the Titans (twice). The Saints, who dominated MC-3 last season have demonstrated that they can still remain competitive in division 2. Thomas still has one more game against Schroeder on Saturday as they fight to be .7500.

Churchville-Chili came out with a strong first quarter. The Saints scored the first two goals, including a goal 0:20 into play by Gino Marcello. Nick Scalzo scored the only Thomas goal of the first quarter (assisted by Jack Hinderland). Scalzo finished with 6 goals on 9 shots on cage (10 shots total). CC added two more goals to take a 4-1 lead after the first quarter.

Over the next two quarters, the Titans scored 11 of the next 12 goals. The lone CC goal was scored by Ryan Yunker. Titans saw scoring from Kyle LaVallee, Billy Gurowski, Max Gurowski, Scalzo and Kyle Rothfuss. By the end of the third quarter the Titans led 12-7. The Titans kept up the pressure and outscored the Saints 6-4 in the final quarter.

Keith Preston kept up his ground ball totals with another 17 gb day. Leading for the Titans were LaVallee (9 gbs) and Scalzo (7 gbs).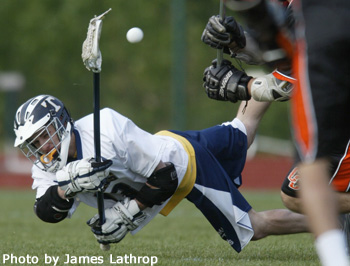 The Saints shooting percentage was extremely high as they scored 11 goals with only 15 shots on cage (73% goals/shots on).

In the cage, Sean Kettles played 45 minutes and made 10s/18ga (36%). Adam Difulvio played three minutes but failed to see a shot on cage. For the Titans, Austin Fox and James O'Neil split halves. Fox finished with 2s/5ga and O'Neil finished with 2s/6ga.

Scoring for Thomas were Scalzo (6g), Hinderland (2g-3a), Max Gurowski (3g-2a), Brad Hutton (1g-3a), LaVallee (2g), Kenny Tomeno (2a), Stephen O'Brien 1g), Rothfuss (1g), Billy Gurowski (1g) and Jake Ziegler (1g).

Scoring for Churchville-Chili were Marcello (4g-1a), Yunker (2g), Jon Hemink (2g), Daien Pagano (1g), Preston (1a), Jeff Langschwager (1g) and David Peck (1g).


For a more complete look at the numbers, check out the full statistics.

McQuaid Jesuit 16 - Corning West 14
Danny Caufield had 22 saves for McQuaid Jesuit as they defeated host Corning West in a very close game tonight.

Scoring for McQuaid Jesuit were JD Ayer (1g-1a), Corey Flanigan (3g), Nick Caton (4g-1a), Mitch Ritchie (2g-1a), John Jenkins (1g), Jeff MacDonald (2g), Bill Napoli (1g) and Eric Wright (2g-1a). McQuaid Jesuit ends their regular season at 14-4.

No stats were available for Corning West (8-9) who finish their regular season at Greece Arcadia on Friday.

Pittsford 10 - Rush-Henrietta 7
Pittsford defeated RH 10-7 to finish their season at 8-8. The Royal Comets finish the 2008 regular season 3-13.

The first quarter saw 11 of the 17 goals in the game. RH scored the first goal during EMO as Colin Cornaire fed the ball to Ryan Leonard as he cut from behind the crease. Pittsford scored the next four goals within a two minute time frame; each was scored by a different player (Conor McDermott, David Quinzi, Thomas Rodenhouse and TJ Iuppa). Cornaire added a goal of his own for RH followed quickly by Jimmy O'Neil adding the fifth Panther goal. The Panthers led 5-2 with 5:14 remaining.

Rush Henrietta then scored five of the next six goals spanning two quarters. In the first quarter, RH scored three more goals before the quarter ended. Nate Delone and Justin Gmeinweiser each added one goal, as well as Cornaire adding his second. With Panthers led 6-5 after the first quarter ended.

RH scored the only two goals of the second quarter to turn a one goal deficit to a one goal lead by halftime. The first goal was scored after a Pittsford feed from behind the cage overshot its target, resulting in the ball bouncing beyond midfield. Delone picked up the ball near the restraining line and ran straight in for the goal. The second, also scored by Delone was scored after he cleared the ball and ran straight for the goal dodging three Panthers on the way. RH led 7-6 at the half. Delone's goal was their last of the game as the Panthers held them scoreless for the last 25 minutes.

Pittsford scored four goals in the third quarter, while neither team scored in the final 12 minutes. Conor McDermott scored the first three goals for the Panthers. The final goal of the game was scored with 0:22 remaining in the third quarter and was scored by Quinzi.

An interesting aspect of the game was at the face-off draw. Long Sticks took a total of ten face-offs for each team. Marc Favro, RH, and Joe Dupra, Pittsford, both took draws, not only against short sticks but also against each other.

In the cage, Josh O'Shea finished with 11s/10ga (52%) for the Royal Comets. Brendan Green finished with 59% (10s/7ga) for the Panthers.

Scoring for Pittsford were McDermott (4g), Quinzi (2g), O'Neil (1g-1a), Iuppa (1g-1a), McLean (1g), Thomas Rodenhouse (1g) and Alex Kober (1a).

Scoring for RH were Delone (3g), Cornaire (2g-1a), Gmeinweiser (1g) and Leonard (1g).


For a more complete look at the numbers, check out the full statistics.

Gates Chili 14 - Greece Ath/Ody 6
In a close game until the third quarter Gates Chili went on to score eight goals in win a 14-6 victory over the Greece Thunder (Ath/Ody). Gates took the first quarter 3-2 and led at the half 6-4. Greece goalie Andrew Hosenfeld was injured in the third quarter (sprained knee) and was replaced by a "volunteer" midfielder, Mike LoFaso who stepped up to play goalie for the Thunder. The Spartans scored eight goals on LoFaso, including 6 in the fourth quarter.

Scoring for Gates Chili were Brad Weber (4g-2a), Tom Sudek (3g-2a), Tom Elkins (2g-3a), Jeff Fichtner (2g-4a), Grant Ferguson (2g), Tyler Webb (1g), Pat Sposato (1a) and Mike Greene.(1a). Jason Baetzhold had 16s/6a for the Spartans (13-3).

Scoring for the Thunder were Phil Bond (1g), Nate Wallenhorst (1g-1a), Danny Vyverburg (1g), Phil Lane (2g), Greg Ryan (1g), Eric Bodine (1a), Mike LoFaso (1a) and Brandon Cheeseman (1a). Andrew Hosenfeld had 12s/6ga (33 mins) and Mike LoFaso added 4s/8ga (15 mins).
Brockport 17 - Greece Arc/Oly 1

Brockport celebrated their Senior Night hosting Greece Arc/Oly. Brockport defeated Lightning 17-1. The Seniors for Brockport tallied 15 points (7g-8a) with scoring from Ryan Hage, Tyler Sutphen and Andrew Willis. Greece scored their only goal during the first quarter of play. Brockport scored their 17 goals spread out over all four quarters and did so with 8 different players. Leading Brockport in ground balls were Jon Pacitto and Dylan Brown with 7 and 5, respectively.

A bright spot for Greece was the play of goalie Anthony White. He saved 27 of 44 shots for a save percentage of 61.4%.

Dylan White was in the cage for Brockport and stopped 8 of 9 shots for a save percentage of 88.9%.

Scoring for Brockport were Ryan Hage (4g), Trevor Hayward (4g), Andrew Willis (3g-4a), Dylan Brown, (2g), David Roberts (1g), Bryan Johnson (1g), Joe Storms (1g), Ryan Pratt (3a), Nick Hart (1g) and Jake Brackett (2a).

Scoring for Greece was Nick DiGrazia (1g).

Hilton 14 - Brighton 4

It was Hilton over Brighton 14-4 in an afternoon game at Brighton.

Scoring for Hilton were Kyle Youngman (1a), Mike Crumlish (1a), David Smith (2g-1a), Jay Clifford (1g), Matt Fracassi (2g), Colin Walker (4g), Troy Johnson (2g-1a), James Moss (1g), Jimmy Gaffney (2g) and Bryan Haude (1a). Brad Speer had 4s/4ga for the Cadets who end their season at 8-8.

Scoring for Brighton were Taylor Gailbraith (3a), Dan Pierce (1a), Mark Henrichs (1g) and Conor Stucki (1g). Kyle Hohmann had 15s/14ga.

Bloomfield-Honeoye 14 - Waterloo 7
On the first ever senior night for Bloomfield-Honeoye, the BHers defeated Waterloo 14-7. Bloomfield-Honeoye never trailed and won three of four quarters. The closest the Indians came was 9-7 in the third, but Sean Beaney added his sixth goal of the night to cut off Waterloo's momentum. BH scored the final five goals of the match.

In the cage, Max Van Orman finished with 14s/7ga for BH and Zach Ramirez finished with 11s/14ga for Waterloo. Bloomfield-Honeoye finished their inaugural season a respectable 7-10. BH split one win and one loss with each of the Finger Lakes Division 2 teams (Pal-Mac, Waterloo, Mynderse, Newark, Midlakes).

Scoring for Bloomfield-Honeoye were Beaney (7g-3a), Lucas Mashtare (1g-3a), Chance Sullivan (2g-1a), Zach Hammond (1g), Cody Herrgesell (1g), Ben Cratsley (1g), Zach Blain (1g) and Luke Anderson (1a).

Scoring for Waterloo were Joe Shaffer (1g-2a), Peter Vacca (1g-2a), Curtis Brosius (2g), Kevin Wright (2g), Jeff Wadhams (1g) and Rob Goodenow (1a).