Last Tuesday in Regular Season
May 20, 2008

- On the last Tuesday of the regular season there were 13 winners including Churchville, Brockport, Thomas, Irondequoit, Gates Chili, Hilton, Penfield, Schroeder, Mynderse, Geneva, Penn Yan, Bath and Batavia.


Gates Chili 10 - Spencerport 7
Starting out with a 4-4 first quarter tie, Gates Chili outscored Spencerport 4-2 in the second quarter and 1-0 in the third before winning 10-7 at Spencerport.

Scoring for Gates Chili were Pat Sposato and Cam Gormel with 3g each, Jeff Fichtner (2g/4a), Grant Ferguson (1g), Brad Weber (1g/1a) and Brian Eckam (1a). Jason Baetzhold earned 15s/7a for the Spartans (12-3) who finish up hosting Ath/Ody on Thursday.

Scoring for Spencerport were Jon Robinson (3), Kyle Mark (1g-1a), Justin Putt (1g-1a), Kyle Breach (1g), Steve Basil (1g), Nick Fischer (1a) and Steve Hogan (1a). Mike Palvino recorded 19s/10ga for the Rangers (8-7) who will try to end their season at .500 when they take on Batavia on Friday.

Brockport 10 - Greece Ath/Ody 9
Greece Thunder scored the first five goals of the game, but in the end Brockport won 10-9. The Thunder was leading 5-3 at the half and 7-5 after three quarters. The fourth quarter was the difference as Brockport outscored Greece 5-2. Brandon Cheeseman collected 16 gb's and scored 1g-1a on defense for Greece.

In the cage, Dylan White finished with 9s/9ga for Brockport and Andrew Hosenfeld finished with 11s/10ga for Greece Thunder.

Scoring for Brockport were Jake Burns (1g-3a), Trevor Hayward (3g), Matt Lester (3a), David Roberts (2g), Andrew Willis (2g), Ryan Pratt (1g-1a), Dylan Brown (2a), Nick Hart (1g) and Tyler Sutphen (1a).

Scoring for Greece Ath/Ody were Nate Wallenhorst (3g-2a), Phil Lane (3g-1a), Phil Bond (2g), Cheeseman (1g-1a), Danny Vyverberg (1a), Greg Ryan (1a) and Eric Bodine (1a).

Hilton 8 - HFL 6
Hilton defeated HFL in a divisional match-up 8-6. The score was tied 5-5 after three quarters. The Cadet's used a 3-1 fourth quarter to seal the victory as Hilton won the hard-fought back and forth battle.

Hilton produced the first two goals of the game with Jay Clifford and Kyle Youngman scoring. With 1:04 remaining Zach Whyte scored his first goal of the game. Hilton led after the first quarter 2-1. HFL scored the first goal of the second quarter, with Whyte's second goal, to tie up the game. Hilton scored the next two goals using Matt Fracassi and Colin Walker. HFL's Cade Norris scored the last goal of the quarter to bring the Cougars within one goal (4-3).

Hilton scored the first goal of the third quarter (their third two goal lead) followed quickly (within 0:57) by the Cougars who tied the game up at 5-5. Zach Yager and Greg Coady scored for HFL. The third quarter ended in the tie.

As with the prior three quarters, Hilton scored the first goal of the quarter. Hilton scored the next two goals to cement their win. James Moss, Jimmy Gaffney and David Smith each scored for the Cadets. With 0:46 remaining in the game, Whyte scored his third goal of the game, but it was not enough for the Cougars.

In the cage, Jay Tallon finished with 10s/8ga for HFL. Hilton split goalies at the half; Seth Kohler played the first half and Brad Speer played the second, both goalies finished with 4s/3ga.

Scoring for Hilton were Gaffney (2g-2a), Moss (1g-1a), Clifford (1g-1a), Youngman (1g), Smith (1g), Fracassi (1g) and Walker (1g).

Scoring for HFL were Whyte (3g), Norris (1g-1a), Greg Coady (1g), Yager (1g) and Zach Jonas (1a).


For a more complete look at the numbers, check out the full statistics.

Thomas 14 - Eastridge 6

It was Thomas over Eastridge 14-6 in Monroe County D-2 action.

Scoring for Thomas were Pat Morrill (2g-2a), Nick Scalzo (2g-2a), Max Gurowski (1g-3a), Jack Hinderland (3g), Kenny Tomeno (1g-1a), Brad Hutton (1g-1a), Tom Monna (1g-a) , Stephen O'Brien (1g), Frank Nicholas (1g) and Kyle Rothfuss (1g). Jim O`Neil started in the goal and played 27 minutes making 3s/0ga and Austin Fox played the rest and had 4s/6ga for Thomas (10-4).

Scoring for Eastridge were Brandon Moynihan (2g), Matt Driffill (1g-1a), Adam Sisson (1g), Shane Driffill (1g), Riley Austin (1g) and Kevin Mahler (1a). Eugene Ferrera played 17 minutes with 1s/8ga and Jake Czwilinski played the remainder of the game with 8s/6ga for the Lancers.

Irondequoit 15 - Fairport 3
Irondequoit easily defeated Monroe County Division-1 opponent Fairport 15-3. The Eagles scored the first six and the last nine goals, with the Red Raiders scoring their three goals back-to-back spanning three quarters.

Drew Coholan started the scoring 0:44 into the first quarter with feed from behind the cage (from Tyler Kleehammer) and an outside side-arm shot that hit top corner. Kleehammer scored the next goal in a similar fashion with his feed coming from Greg Wright. Wright finished with 4g-2a. Coholan scored again (assisted by Mike Wallenhorst). Wallenhorst was 3g-3a on the game and finished with 11/13 wins at the face-off. John Padulo, Wright, and Wallenhorst each added one more in the first quarter. With 0:05 remaining in the first quarter, and trailing 6-0, Martin Manilla drove from the wing, beating two Eagles defenseman, and looked across the cage to Brendan Saylor. Saylor caught the ball and followed through behind his back to score in the top corner. The first quarter ended with Irondequoit leading 6-1.

In the second quarter both goalies stepped up and only one goal was scored in the entire quarter. Connor Lowe scored the only goal of the quarter with 6:24 remaining with a sweep from the top of the restraining line. Tyler Nash made five saves and Kristoffer Sterzin made four to keep the quarter nearly scoreless. Although Sterzin only finished with eight saves on the game, his play in the second quarter and early third quarter was strong. Nash finished with 12s/3ga (80%) in the game. The second quarter ended 6-2.

Fairport scored the first goal of the third quarter when Saylor scored (assisted by Aaron Jones). There was a flag down on the play and Jones looked inside to Saylor who caught the ball falling and scored with a side-arm shot as he hit the ground. That was the final Fairport goal. Irondequoit scored five more goals in the last five minutes of the quarter; Including three goals within one minute.

Mike Wallenhorst scored man-down with 4:55 remaining on a man-down situation when the Eagles called a time-out and upon restart, Wallenhorst ran straight to the cage from the midfield line to score. At 4:12, Wallenhorst scored again after a feed from Greg Wright. Wallenhorst won the ensuing face-off himself and ran the ball up and fed Coholan on the crease for their third goal in less then one minute (4:03). With 2:00 and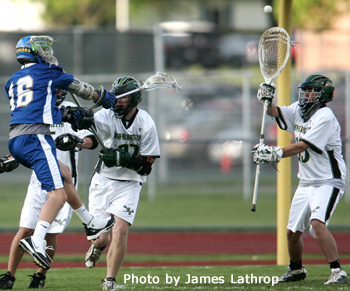 1:03 remaining, Wright scored with two cross-crease passes after dodges from Wallenhorst and Ian Brooks. The Eagles led 11-3 after three quarters.

The Eagles scored the last four goals of the quarter. Although the Eagles did have a twelve goal lead, due to an error on the scoreboard, the game never went to running time. The last two goals of the game were scored by Mike Utz (assisted by Emmy Poccia and Dave Micheli). Fairport's Thomas Gropp played the last nine minutes with 1s/2ga. Irondequoit's Geoff Morse played the last five minutes with 1s.

Scoring for Irondequoit were Wright (4g-2a), Wallenhorst (3g-3a), Coholan (4g), Utz (2g), Kleehammer (1g-1a), Padulo (1g), Brooks (1a), Poccia (1a), Micheli (1a) and Micelotta (1a).

Scoring for Fairport were Saylor (2g), Lowe (1g), Manilla (1a) and Jones (1a).


For a more complete look at the numbers, check out the full statistics.

Schroeder 15 - Rush-Henrietta 4
Schroeder defeated RH 15-4. The Warriors scored four goals in each of the first three quarters while holding RH to one lone goal. In the third, each team scored 3 goals. In the cage, Scott Tota finished with 8s/4ga. Josh O'Shea finished with 6s/8ga and Matt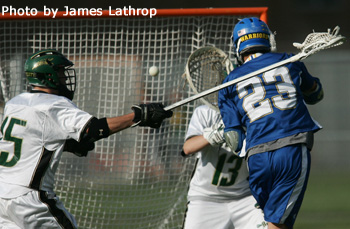 Gladstone finished with 3s/7ga.

Scoring for Schroeder were Cody Consul (4g), Joe Matison (4g), Mike Tota (1g-2a), Chris Topping (2g), Pete Noto (1g-1a), Billy Harris (1g), Nick Mooney (1g), Chad Willmes (1g), Chris Mason (1a) and Brian Powell (1a).

Scoring for RH were Nate Delone (1g-1a), Justin Gmeinweiser (1g), Brad Sauln (1g) and Jon Neri (1g). No report from Schroeder.

Full Stats available are expected on Wednesday.

Penfield 11 - Pittsford 8
In Monroe County D1 action, Penfield took a 4-1 first quarter lead and led 6-3 at the half before taking the 11-8 win over visiting Pittsford. "One thing that really hurt us and I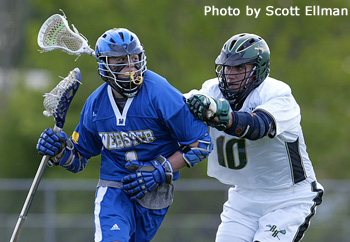 was impressed with was Penfield was 19 for 22 on face offs," commented Coach Andrew Whipple after the game. Kyle Vanthof won 18/21 of those face offs while scoring 5g/1a.

Scoring for Penfield were Connor Rice (1g-3a), Kyle Vanthof (5g-1a), Kevin Westcott (1g), Tucker Nelson (3g), James Dwyer (1g-1a) and Alex Nowak (1a). Brady DelPozzo recorded 4s/8ga for the Patriots (15-0, 9-0) who travel to Irondequoit on Thursday.

Scoring for Pittsford were Conor McDermott (1g), T.J. Iuppa (1g-1a), James Purpura (4g) and Dillion McLean (2g). Brendon Green had 18s/11ga for the Panthers (7-8 ,1-8) who finish their regular season with R-H on Thursday.

Churchville-Chili 12 - Brighton 6
Although Brighton led 3-1 at one point, and led until 5:18 remaining in the second quarter, Churchville-Chili scored 10 goals in the middle two quarters to win 12-6 against the Barons.

Churchville-Chili outscored Brighton 6-3 in the second, 4-1 in the third and 1-0 in the fourth to move to 8-1 in division II. Thomas, 9-0 in division II, will play Churchville-Chili for the second time this season on Thursday, where the Saints hope to have a stronger performance than earlier in the season.

Brighton's Kyle Hohmann finished with 13s/12ga for the Barons. Sean Kettles, for Churchville-Chili, finished with 9s/6ga.

The Saints had 18 different players pick-up at least one ground ball wit Keith Preston leading the pack with seven gbs. Maliek Likely led the Barons with five ground balls. Neither team scored on EMO (CC - 0/6, Brighton - 0/8).

Scoring for Churchville-Chili were Gino Marcello (3g), Scott Shamp (2g-1a), Zach Yehl (2g), Ryan Yunker (2g), Jon Hemink (2g), Alex Pavone (1g) and Jeff Langschwager (1a).

Scoring for Brighton were Likely (2g), Ben Gordon (1g), Taylor Galbraith (1g), Ben Holtzman (1g), Evan Davis (1g) and Matt Fedick (1a).


For a more complete look at the numbers, check out the full statistics.

Mynderse 10 - Pal-Mac 7
Mynderse came out to a 3-1 lead after the first quarter and finished as the 10-7 winner over Pal-Mac. In the second quarter the Blue Devils scored 5 goals. In the cage, Tim Doyle (Pal-Mac) finished with 16s/10ga. Mynderse played two different goalies, Brad Dove and Brian Mulheron (each played one half). Dove finished with 2s/4ga and Mulheron finished with 4s/3ga.

Scoring for Mynderse were Matt Koopman (4g-2a), AJ Bachman (1g-2a), Brett Wood (2g), Dustin Luckinbill (1g-1a), Steve Lucchesi (2a), Danny Galusha (1g), Jesse Janas (1g) and Mike Warrick (1a).

Scoring for Pal-Mac were Peter Maklos (3g), Chris Merritt (2g-1a), Mike Russell (2g) and Justin Closser (1a).

Geneva 18 - Waterloo 3
Geneva held Waterloo scoreless in the first half (12-0) and won the game 18-3. In the cage, Zach Ramirez made 9s/18ga for Waterloo. Ross Dinan (24 min), Kyle Brimm (12 min) and Billy Craft (12min) all played in the cage for Geneva. Dinan finished with 3s/0ga; Brimm finished with 0s/1ga; and Craft finished with 3s/2ga.

Scoring for Geneva were Alex Love (6g-3a), Kyle Boncaro (4g-2a), Jim Warner (1g-2a), Chris Tapscott (2g), Eric Legott (1g-1a), Willie Rago (1g-1a), Dom DiDuro (1g-1a), Anthony Fili (1g-1a), Tyler Travis (1g), Frank Triana (1a) and Mike Warner (1a).

Scoring for Waterloo were Peter Vacca (2g), Curtis Brosius (1g-1a), Jeff Wadhams (1a).

Penn Yan 20 - Livonia 4
"They do so well at every aspect of the game, and that was evident by their effort on every ground ball, ride, clear, on defense," was the comment of Coach Bret Wood after His Livonia Bulldogs lost to host Penn Yan 20-4 in what some suggest could be the Class C Sectional Championship lineup.

Penn Yan started with a 7-2 first quarter and ended the half up 11-3. after shutting out the Bulldogs in the third quarter and adding five of their own, the Mustangs finished with a 4-1 fourth quarter.

Scoring for Penn Yan were Nate Nichols (1g), Adam Trombley (1g-7a), Matt Osgood (8g), Cole Castle (5g-1a), John Linnan (3g-2a), Jordan Owen (1g), Jamil Modafarri (1g), Ty Trombley (3a) and Dana Wilber (1a). Ethan Kamholtz had 6s/4ga for the Mustangs (10-6) who end their regular season at Canandaigua on Thursday.

Scoring for Livonia were Chris Bausch (1a), Cameron Ross (1g), Jeff Wester (2g-1a) and Matt Girolmo (1g). Justin Becker 10s/19GA (45 mins) and Kyle Whitford 1s/1ga (3 mins).

Bath 16 - Newark 3

It was a close game until the middle of the second quarter when Bath had a four goal run and then outscored the Reds 9-1 in the second half on their way to a 16-3 victory over visiting Newark. Bath was 5 out of 9 on man up situations and Chris Wolfer had his best game of the season with 25 saves/3ga.

Scoring for Bath were Zach Reed (3g-4a), Mckenzie Durham (4g-1a), Nick Rossi (4g), Dave Harris (2g), Sam Robbins (2g), Mark Martuscello (1g), Matt Nesbitt (1a) and Cole Beebe (1a). The Rams advance to 8-7 with two games left.

Scoring for Newark were Colin Johnson (1g), Stephen Johnson (1g), RJ VanDeMortel (1g), Eric Stivers (1a) and Matt Clemons (1a) while Ben Hartman made 6s/16ga for the Reds (7-10) who finish at Midlakes on Thursday.

Batavia 16 - Greece Arc/Oly 5

Batavia defeated the Greece Lightning this evening 16-5. It was the second varsity win for Batavia, both against Arc/Oly. Batavia jumped out to an 8-0 lead in first quarter. Batavia senior midfielder Zach Fay added 3 goals and an assist as Batavia took the first quarter. Both Batavia and the Lightning added a goal each in second. The half time score was Batavia 9 and Lightning 1. The lightning won the third period scoring 2-1. Batavia finished the game with a goal by long stick defenseman Taylor Hubbard and Batavia goalie made a save with 40 seconds remaining and ran coast to coast and scored an unassisted goal.

Scoring for Batavia were Zach Fay (4g-1a), Ian Chapman (2g-2a), Will Mulcahy (3g-1a), Joe Muoio (1g-2a), Kyle Maniace (2g), Vinny Pedro (1g), Chip Chapman (1g), Taylor Hubbard (1g) and Matt Landfried (1g). Goalie Matt Landfried had 22s/5ga for the Blue Devils (2-13) who host Spencerport on Friday.

Scoring for Greece Arc/Oly were Frank Slapar(2g-1a), Joe Malovics (1a), Brandon Wood (1g), Kevin Digrazia (1g) andKevin Martin (1g). Anthony White played 37 minutes recorded 7s/10ga while Zach Bevilacqua played 11minutes with 82s/6ga for the Lightning. No report from Arc/Oly.