Canandaigua and Penfield Still Perfect
May 15, 2008

- McQuaid Jesuit won the GRALL Championship tonight in a close win over Aquinas and Canandaigua and Penfield both remained undefeated after action today. Also winning games were Gates Chili, Eastridge, Spencerport, Churchville-Chili, Fairport, Irondequoit, Thomas, Bloomfield-Honeoye, Waterloo, Newark and the Greece Thunder.


Penfield 6 - Schroeder 5
Schroeder was tied or leading the game for 38.5 minutes. However, Penfield led when it counted and remain undefeated (13-0, 7-0) as they bested the Warriors 6-5.

Penfield's Kyle Van Thof scored the opening goal with 10:38 remaining to take an early lead for the Patriots, but it did not last long. Mike Tota scored less than four minutes later to tie the game up and 0:45 later the Warriors took the lead with a goal from Joe Matison (assisted by Chris Topping). A minute and a half later Van Thof struck again to tie the score at 2 all. However, Pete Noto scored on a face-off fast-break to retake the lead for Schroeder. Tota added his second of the game to take the 4-2 lead into the second quarter.

Strong defensive play from both teams kept the second quarter scoreless and with 9:26 remaining in the third Van Thof added the long goal of the third quarter and his third goal of the game. With the third quarter over, the Warriors held on to a 4-3 lead.

In the fourth quarter Connor Rice showed sheer determination as he scored three unassisted, unanswered goals to keep the Patriots undefeated. Penfield led 6-4, a late goal by Nick Mooney (assisted by Nate Powe) brought the score to within one goal. Although the Warriors had a number of late chances at the cage, the Patriot defense limited the quality shots and the Warriors could not capitalize.

In the cage, Scott Tota finished with 13s/6ga for Schroeder and Brady Del Pozzo finished with 7s/5ga for Penfield.

Scoring for Penfield were Rice (3g-1a) and Van Thof (3g).

Scoring for Schroeder were Mike Tota (2g), Matison (1g-1a), Mooney (1g), Noto (1g), Topping (1a) and Powe (1a).


For a more complete look at the numbers, check out the full statistics.

Fairport 16 - Rush-Henrietta 9
There was equal enthusiasm at the start of the game, but Fairport eventually took control of the game,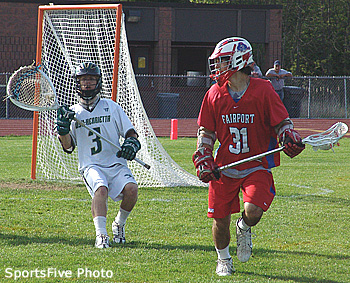 beating Rush-Henrietta 16-9. Fairport scored the first when Brendan Saylor swept his stick, hockey style on a ground ball near the crease and scored. RH came back with the next two goals, the first by Joe Perkins, sweeping right and shooting low and the second by Nate Delone who cut from behind the goal, dodging his defender and scoring at 8:32.

Fairport went on a three goal scoring spree, starting with one by Aaron Jones who set up at the restraining line and ran hard, straight at the cage, and dodging two defenders before the shot. John McDonnell received a pass from David Foley and scored with a hard side arm shot from out front. Martin Manilla, sent the ball cross crease and found Brendan Saylor unattended. Saylor had time to fake a shot on RH goalie Josh O`Shea before scoring high-off stick. Delone scored the last goal of the quarter with an assist from Colin Cornaire when he took a powerful side arm shot from front top. The quarter ended with Fairport up 4-3.

The Raiders scored their three goals of the quarters before RH added the last goal of the half. John McDonnell picked up a ground ball from the initial face off and ran to the goal, shooting a hard, low shot from outside. Fairport set up a play that sent Saylor cutting to the crease and receiving a ball from Manilla who cut toward the goal from behind the net.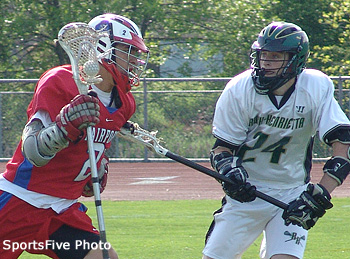 John McDonnell ran a cutting pattern parallel to the goal line and scored with a mid-range side arm. Rush-Henrietta finished the scoring when Joe Perkins picked up a ground ball from from a broken Fairport clear and sent the ball to Delone for a goal while man up. The half ended with the Raiders up 7-4.

Fairport dominated in the third quarter scoring seven goal while holding RH to one. McDonnell, cutting toward the crease, received a feed from Saylor (behind the cage) and scored shortly after a EMO set. Alexander Keil added an unassisted goal after picking up a loose ball on the crease. Foley added another goal after receiving a pass from the GLE to the top of the box and bouncing one past O`Shea and Michael Lehmann scored on a feed from McDonnell.

Rush broke the scoring streak with another goal by Delone at 5:26. Senior defenseman Jon Neri brought the ball down field on a RH clear and took a shot on Fairport goalie Kris Sterzin, which bounced off his chest pad. Delone was waiting at the creased, scooped up the ball, faked once and scored the goal. Fairport came right back and on the next face off when Saylor added one goal and then added another less than a minute later (both unassisted). Eric Hislop scored the last goal of the quarter with a sideline drive with just 4 seconds left and giving the Raiders a 14-5 lead.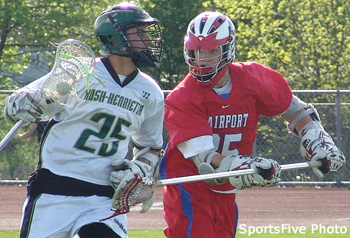 Fairport, who started to unload the bench in the third quarter, used many subs in the fourth quarter and the Royal Comets were able to improved their side of the score as a result. Ryan Leonard took a bounce shot that sailed over the shoulder of Sterzin but on the next face off long stick wing man, James Cunningham picked up the ground ball and started a Fairport fast break and assisted Michael Lehmann's goal. Rush came back with a goal by Colin Cornaire (assisted by Ryan Leonard). Fairport responded with and unassisted goal by Timothy Cook who started his drive from behind the goal. The Raiders put Tom Gropp in the cage, replacing Sterzin. With 4:34 left in the game, Cornaire started with the ball after a technical face off and ran straight to the goal. Two minutes later Bobby Pattridge ended the scoring with an EMO goal on an assist from Cornaire and the game ended with Fairport the 16-9 victor.

Scoring for Fairport were Brendan Saylor (5g-1a), John McDonnell (4g-1a), Michael Lehmann (2g), Eric Hislop (1g-1a), Martin Manilla (2a), David Foley (1g-1a), James Cunningham (1a), and single goals by Aaron Jones, Alexander Keil and Timothy Cook. Kris Sterzin had 10s/7ga (42 mins) and Thomas Gropp added 1s/2ga (6 mins) for the Red Raiders (8-5).

Scoring for Rush-Henrietta were Nate Delone (4g), Colin Cornaire (2g-2a), Joe Perkins (1g-1a), Ryan Leonard (1g-1a) and Bobby Pattridge (1g). Josh O`Shea recorded 13s/16ga for the Royal Comets (3-11).

Canandaigua 14 - Geneva 7
Canandaigua remained undefeated (16-0) with their 14-7 win over Geneva in Finger Lakes action at Geneva. The Braves scored 3 goals in the first, four in the second and five in the the third, while holding the Panthers to a single goal in the first and two each in the next three quarters.

Scoring for Canandaigua were Brian Scheetz (2g-3a), Justin Tomzak (2g-3a), Connor Henderson (3g-2a), Austin Rogers (1a), Marshall Johnson (1g), Nick Munn (3g), Tom LaCrosse (2g) and Gannon Osborn (1g). Scott Bement played 45 minutes gave up 6 goals and made 13 saves and Anthony DeLeo finished with 0s/1ga (3 mins).

Scoring for Geneva were Eric LeGott (1a), Alex Love (4g), Kyle Boncaro (1a), Jim Warner (1g), Willie Rago (2g-1a) and Tony Fiti (1a). Ross Dinan made 8s/12ga (36 mins) and Kyle Brimm added 3s/2ga (12 mins) for the Panthers (12-4).

McQuaid Jesuit 11 - Aquinas 10
McQuaid Jesuit captured the the GRALL Championship for the fourth time is four years (Co-Champions with AQ in 2205), with their 11-10 win over Aquinas at Livonia. The Knights took a 3-2 first quarter lead, but Aquinas came back and the teams were tied 5-5 at the half. McQuaid Jesuit was ahead at the end of three quarter, 8-6. "This was a game that went back and forth until the end, and was a great GRALL championship," commended Aquinas Coach Jerry Dawes.

Scoring for McQuaid Jesuit were Nick Caton (3-2), Corey Flanigan (2g), Eric Wright (2g), Bill Napoli (1g), Bobby Stuver (1g), James Sturnick (1g), JD Ayer (1g) and John Jenkins (1a). Danny Caufield recorded 16s/10ga for the Knights (12-4).

Scoring for Aquinas were Austin Gorman (3g-1a), Marc Brondon (1g-3a), Anthony Bianchi (2g), Neil Foley (2g), Dylan Pinto (1g), Alex Gray (1g), Cameron Corsaro (1a), and Mike Gray (1a). Kraig Heston had 12s/11ga for the Little Irish (12-5).

Spencerport 10 - Brockport 7
Spencerport defeated Brockport 10-7 to avenge their loss earlier in the season. With this win, each team won on their opponents home turf. Jon Robinson, Spencerport, opened the scoring with an unassisted goal 1:20 into the game. Brockport scored two more goals before the end of the quarter to take the 2-1 lead into the second quarter. Both teams scored one goal in the second quarter and Brockport remained in the lead 3-2 at halftime.

Brockport quickly scored two more goals early in the third quarter and held a brief 5-2 lead. Fick Fischer and Robinson each scored one goal to bring the game to 5-4 going into the final quarter. The scoring exploded in the fourth quarter as Spencerport scored six goals and held the Blue Devils to two. The Rangers only had two players score, both attackman, as Robinson finished with seven goals and Fischer finished with three. Robinson scored four of his seven goals in the final quarter. Spencerport's Mike Palvino finished with 10s/7ga in the cage. Dylan White recorded a 50% day (10s/10ga) for Brockport.

Scoring for Spencerport were Robinson (7g-1a), Fischer (3g-2a), Kyle Mark (2g), Kyle Breach (1a) and Paul Wojcik (1a).

Scoring for Brockport were Trevor Hayward (3a), Ryan Pratt (1g-2a), Dylan Brown (2g), Bryan Johnson (2g), Tyler Sutphen (1g-1a), Jake Burns (1g) and David Roberts (1a).

Gates Chili 19 - Batavia 3
Gates Chili defeated Batavia 19-3 this afternoon. Head Coach Chuck Hammon, Batavia, said "The Spartans were the best team we have encountered this season. Their offensive ball work is incredible." Gates Chili scored nine goals in the second quarter. Brad Weber won 19/24 (79%) face-off's for the Spartans.

Scoring for Gates Chili were Tom Elkins (3g-4a), Weber (2g-5a), Jeff Fichtner (3g-3a), Tom Sudek (2g-3a), Grant Ferguson (3g-1a), Pat Sposato (2g), Tyler Webb(1g-1a), Cam Gormel (1g), Matt Dakin (1g) and Brian Eckam (1g). In the cage, Jason Baetzhold finished with 9s/3ga (75%).

Scoring for Batavia were Joe Muoio (1g), Chip Chapman (1g), Zach Fay (1g) and Will Mulcahy (1a). In the cage, Landfried finished at 50% (19s/19ga).

Irondequoit 15 - Pittsford 9
It was Irondequoit with a 15-9 win over visiting Pittsford in 7:00 game tonight. Although the Eagles jumped to a 6-1 lead, Pittsford battled back to 8-7 before Irondequoit scored two quick goals at the end the half up 11-7. Both teams scored two goals in the third quarter and Irondequoit finished with four unanswered goals in the fourth.

Scoring for Irondequoit were Tyler Kleehammer (4g-1a), Drew Coholan (6g-3a), Mike Beckwith (1g-1a), John Padulo (1g), Greg Wright (2g-4a) and Mike Wallenhorst (1g). Tyler Nash had 8s/9ga for the 12-2 Eagles.

Scoring for Pittsford were Conor McDermott (4g), Alex Kober (1g), James Purpura (1g-1a), Dillion McLean (1g), David Quinzi (1a), Justin McLiverty (1g) and T.J. Iuppa (1g). No goalie stats reports by Pittsford (7-6).

Greece Ath/Ody 11 - Greece Arc/Oly 5
In the battle of the Storm, Greece Thunder (Athena/Odyssey) defeated Greece Lightning (Arcadia/Olympia) 11-5. Ath/Ody scored first first four goals and held Lightning scoreless in the opening quarter.

Nate Wallenhorst was the first on the board when Danny Vyverberg intercepted an outlet pass during a clear and passed it up to the crease. Wallenhorst finished the goal with a behind the back shot. Phil Bond scored the next two goals, both on fast-break situations (the first from Greg Ryan and the second from Eric Bodine). Phil Lane scored the fourth goal after a face-off fast-break. The score was 4-0 Thunder after one quarter.

Arcadia scored the next goal on a fast-break with Chris Hellmers dodging inside for the goal with 8:14 remaining in the second quarter. Wallenhorst drove from behind the cage and was hit by Lane for the point blank goal. The final goal of the half was scored by Bodine during another face-off fast-break with an inside dodge. Thunder led 6-1 at halftime.

Both teams scored two goals in the third quarter. Lane and Vyverberg connected during an EMO for the seventh Thunder goal. Arc/Oly scored the next two goals, the first was scored on a fast-break with Hellmers dodging three different Ath/Ody players on his way to cage. The second coming as Kevin Martin took a hard shot at the cage that missed by a few yards, Frank Slapar was behind the cage and caught the ball on GLE and took a second hard shot that found the back of the net. Thunder's Lane scored the final goal of the quarter with a straight dodge from the top. Thunder led 8-3 after three quarters.

Thunder kept up the pressure in the fourth quarter scoring two goals at 5:29 and 5:09. The first was scored by Andrew Prestigiacomo during a fast-break and the second was scored after a face-off fast-break with Wallenhorst finding Bond on the crease after he dodged inside. With 2:00 remaining, Thunder replaced Andrew Hosenfeld with Josh Bihrle in the cage. Bihrle faced only two shots on cage, which were the last two Lightning goals. Slapar scored both goals and both were scored during man-up play. Thunder finished the scoring with a face-off fast-break bounce shot by Ryan.

Hosenfeld finished with 11s/3ga (79%) for Thunder. Lightning's Zach Bevilacqua played extraordinarily well, finishing with 19s/11ga (63%). Bevilacqua made a number of point blank cross-crease saves and demonstrated that he is one of the better Section Five goalies.

Ground balls were a major part of the game. There were a total of 107 ground balls for both teams (68 for Thunder and 39 for Lightning). These totals demonstrate how much the ball was on the ground. Both teams had difficultly passing and catching and the ball spent the majority of the game on the ground.

Greg Ryan played a major role in the Thunder win facings off and winning 14/17 (82%).

Scoring for Greece Athena/Olympia were Lane (3g-1a), Bond (3g), Wallenhorst (2g-1a), Vyverberg (2a), Ryan (1g-1a), Bodine (1g-1a), Prestigiacomo (1g).

Scoring for Greece Arcadia/Odyssey were Slapar (3g), Hellmers (2g), Dustin Lenz Emmi (1a), Martin (1a), Petralia (1a).


For a more complete look at the numbers, check out the full statistics.

Churchville Chili 16 - Hilton 13
Churchville-Chili defeated Hilton 16-13 in a close divisional match.

The first quarter finished tied 4-4. The Saint's Jon Hemink scored the first goal of the second quarter 0:55 into the quarter. However the Cadets scored the next three goals to take a 7-5 lead; David Smith (x2) and Mike Crumlish. Churchville-Chili then added three of their own to take an 8-7 lead; Gino Marcello (x2) and Damien Pagano. Hilton again recaptured the lead with goals from James Moss and Crumlish. Hemink tied the game once again, but the Cadets then added two more goals to take an 11-9 lead. With 3:53 left in the third quarter the Saints started their push. They scored the next five goals (and seven of the next eight) spanning two quarters.

The Saints played a strong game, winning the ground ball battle 55-40 and winning the face-off battle. Keith Preston won 19/27 draws and accounted for 19 ground balls; breaking his own record from earlier in the season for a game high ground ball total. Penalties were significantly less then the Saints last outing with a total of 10 penalties between the two teams.

In the cage, Sean Kettles finished with 16s/13ga for the Saints. Brad Speer had a tough game in the cage making 6s/16ga.

Scoring for Churchville-Chili were Hemink (6g-1a), Marcello (6g-1a), Pagano (3g), Jeff Langschwager (1g-1a), Ryan Yunker (2a), Chris Vitale (1a), Preston (1a) and Taylor Kolmer (1a). Kolmer, who was recently called up from JV, scored his first Varsity point in today's game.

Scoring for Hilton were James Moss (3g-2a), Mike Crumlish (4g), David Smith (3g), Colin Walker (2a), Aaron Hayward (1g-1a), Jay Clifford (1g), Jimmy Gaffney (1g), Matt Fracassi (1a) and Kyle Youngman (1a).


For a more complete look at the numbers, check out the full statistics.

Waterloo 9 - Midlakes 6
The Eagles took a 3-2 first quarter lead , but Waterloo came back to lead 5-4 at the half and 7-6 after three quarters before adding two unanswered goals in the fourth for a 9-6 win at Midlakes.

Scoring for Waterloo were Rob Goodenow (2g-1a), Joe Shaffer (2g), Pete Vacca (1a), Curtis Brosius (3g-1a) and Jeff Wadhams (2g). Zach Ramirez had 18s/6ga for the Indians (5-10).

Scoring for Midlakes were Ben Uveges (3g), Tyler Brooks Lambert (1g), Tom Cheney (1g), Nick Newland (1g), Conor Hogan (1a) and Ryan Teed (1a). Jared Schoonerman had 16s/9ga in goal for Midlakes (6-9).

Livonia 13 - Bath 8
In the consolation game in the GRALL Championships, Livonia started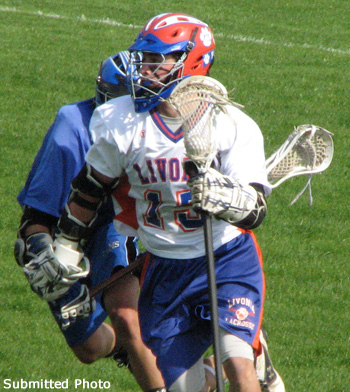 with a 7-2 first quarter lead over Bath and after a 9-5 halftime, finished with a 13-8 win at Livonia. "Penalties in a physical game put us at a disadvantage, especially being man-down for 7:00" said Livonia Head Coach, Brett Wood. "I did like the competitive nature of the contest near sectionals which can only help us get ready for our next games."

Scoring for Livonia were Chris Bausch (3a), Tyler Russell (4g-4a), Mike Donals (7g-1a), Jeff Wester (1g) and Matt Girolmo (1g). Justin Becker made 12s/8ga (45 mins) and Kyle Whitford added 1s/0ga (3 mins) for the Bulldogs (9-6).

Scoring for Bath were Zach Reed (3g-1a), Dave Harris (2g-1a), Mckenzie Durham (1g-1a), Nick Rossi (1g), Andy Nesbitt (1g) and Cole Beebe (1a). Chris Wolfer had 11s/12ga (46 mins) and Mike Joint had 1s/1ga (2 min).

Eastridge 10 - Brighton 3
It was Eastridge over Brighton (10-3) in Monroe Count D-2 action tonight at Fairport. The teams were tied after the first quarter, and the Lancers led 4-2 at the half. Eastridge opened it up in the second half, ending the third quarter up 7-2.

Scoring for Eastridge were Shane Driffill (3g), Brandon Moynihan (2g-1a), Matt Driffill (1g-3a), Kevin Mahler (1g), Adam Sisson (2g-2a), and Alex Austin had 1 goal it is his first game back after breaking his wrist the first game of the season. Eugene Ferrera had an excellent game in net stopping six point blank shots in the second quarter and finishing with 15 saves and 2 goals against playing 42 min. Jake Cwilinski made 2s/1ga playing 6 min for the Lancers (4-9).

Scoring for Brighton were Evan Davis (1g), CJ Wool (1g), Taylor Gailbraith (1a) and Richie Wellington (1g) who scored his first varsity goal. Kyle Hohmann played the whole game in goal and had 17s/10ga

Thomas 11 - HFL - 9
In an exciting Monroe County Division 2 game, Thomas fought off HFL numerous times to prevail 11-9 over the Cougars.

HFL's Cade Norris scored the first goal of the game only 0:38 into the competition. Norris, who is a cornerstone of the HFL offense, finished the game with 2g-1a. Three different Thomas players scored in the first quarter; Nick Scalzo, Pat Morrill and Jack Hinderland. Scalzo, who lead the Titans in goals and points, was held to that lone goal and no assists. Morrill and Hinderland stepped up for the Titans and finished with 4 goals and 3 goals respectively. The Titans led 3-1 at the end of the first quarter.

The Titans kept up the pressure in the second quarter with Hinderland adding his second 0:28 into the quarter. Matt Lesczynski scored for HFL to keep the game close at 4-2 Thomas. Hinderland added his third and Max Gurowski added his lone goal of the game to take Thomas to a 6-2 lead going into halftime. The Titans appeared to have the game in control.

At halftime, the Cougars got their act together. Goals from Zach Whyte and Bryan Gardner were the lone goals for either team in the quarter as the Cougars cut Thomas' lead to two (6-4). HFL continued their hard play, both offensively and defensively with two more goals from Tyler Burgasser and Mike Coady. The Cougars had tied the game at 6-6 with 10:36 remaining in the final quarter.

Thomas and HFL traded goals for two goals with scoring from Morrill (both); and Mike Coady and Zach Whyte. The score was still tied 8-8 with 5:36 remaining in the game. Thomas scored with 4:41, 3:59 and 2:10 remaining to take the three goal lead (11-8). Norris added his only other goal at 1:59, but the Cougars could not mount yet another comeback and the Titans held on to remain undefeated in D-2.

In the cage, Jay Tallon finished at 50% (11s/11ga) for the Cougars and Austin Fox finished with 7s/9ga for the Titans.

One aspect that led to the Titans win was Extra-man. HFL had four opportunities (including a two man slash and unsportsmanlike conduct opportunity), but failed to capitalize. The Titans, on the other hand, scored on two of their five opportunities.

Scoring for Thomas were Morrill (4g), Hinderland (3g), Tomeno (1g-1a), Gurowski (1g-1a), Kyle Rothfuss (1g), Scalzo (1g) and Kyle LaVallee (1a).

Scoring for HFL were Norris (2g-1a), Whyte (2g-1a), Coady (2g), Burgasser (1g-1a), Lesczynski (1g-1a), Gardner (1g).


For a more complete look at the numbers, check out the full statistics.

Bloomfield-Honeoye 8 - Mynderse 2
Bloomfield-Honeoye took a 3-1 lead at the half and finished with an 8-2 win over visiting Mynderse tonight.

Scoring for BH were Chance Sullivan (5g), Luke Anderson (2g), Lucas Mashtare (1g), Cody Hergesell (2a), Ben Cratsley (1a) and Dallon Schultz (1a). Max Van Orman had 13s/2ga for Bloom filed-Honeoye who improved to 6-9 in their first year.

Scoring for Mynderse were Dustin Luckinbill (1g-1a) and Andrew Giannino (1g). Brad Dove had 4s/3ga in the first half and Bryan Mulheron added 2s/5ga in the second half for the Blue Devils (3-11). No report from Mynderse.

Newark 12 - Pal-Mac 3
Newark scored seven goals in the first half, while holding Pal-Mac scoreless on their way to a 12-3 victory at home.

Scoring for Newark were Colin Johnson (5g), Jack Timerson (1g-3a), Eric Stivers (1g-3s), Stephen Johnson (2g), Schuyler DePauw (1g), Tom Santelli (1g) and R.J. VanDeMortel (1g) Marc Minutolo was 14 of 18 on face offs and Ben Hartman had 8s/3ga for the Reds (7-8).

Scoring for Pal-Mac were Mike DeMarr (1g), Steve VanDewalle (2g), Justin Closser (1a) and Pete Maklos (1a) Tim Doyle had 23s/12ga for the Raiders (5-10).