Thomas, Geneva Win
May 13, 2008

- Thomas was an 8-7 winner over Fairport, Geneva was a 9-8 winner over HFL and McQuaid Jesuit was an 9-8 overtime winner over Livonia. Other winners on Tuesday include Victor, Churchville-Chili, Irondequoit, Canandaigua, Aquinas, Pal-Mac, Bloomfield-Honeoye and Hamilton (over Mynderse).


Thomas 8 - Fairport 7
Webster Thomas controlled the majority of the game and despite a heroic comeback by Fairport, beat the Red Raiders 8-7 at Thomas on Tuesday.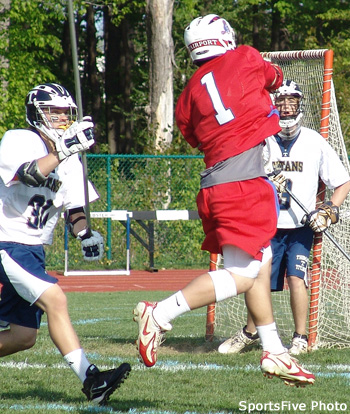 The first quarter was a back-and-forth affair ending in a 3-3 tie. Fairport scored just 15 seconds into the game when Aaron Jones scored the first of his 4g-1a when he received the ball from the face off area, took it behind the goal and then ran a wide cut around the cage for a shot from the goalie's right.

After a couple of transitions, Nick Scalzo scored on a beautiful feed from Jake Ziegler as they executed a textbook fast break clear. Martin Mailla dodged his Thomas defender and took an outside shot at 5:54 giving Fairport a momentary lead before Max Gurowski scored on an isolation play less than a minute later.Eric Hislop scored at 1:40 on a feed from the top left by Jones but the Titans returned at 0:55 when JT Hauck scored on a clearing pass from William Gurowski. The teams were tied at three at te end of the first quarter.

Jones started the scoring for Fairport just 25 seconds into the second quarter but the rest of the quarter and the whole third quarter was controlled by Thomas. The Titan offense was slow, deliberate and patient, moving the ball around the cage numerous times before testing a Fairport defenseman and moving the ball again. The plan was susccessful, both in producing goals and also keeping the ball away from the Fairport offense, who, feeling the pressure to score, rushed many opportunities and allowed a stoked up Thomas defense to gain posession on numerous occasions.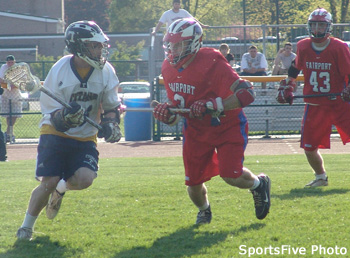 Tomeno scored the first of a five goal run by the Titans when he received a crease pass from Max Gurowski from restraining line and scored on a turn-around jump shot at 8:46. Scalzo scored again, this time on a cross crease pass from Gurowski as he cranking a hard side-arm shot past Fairport's Kris Sterzin. The shot was set up with more than a minute and a half of passing around the goal. Gurowski later picked up a critical ground ball on a broken clear and quickly sent it to the crease were Jack Hinderland was ready and open for the score. The half ended with Thomas up 6-4.

The Thomas defense became more aggressive in the second half, hounding the Fairport offense at every opportunity and often creating doubles and takeaways. Although Fairport had opportunities they were limited in low quality outside shots and the few inside shots they got were taken away by Austin Fox who made a number of exciting stops for the Titans. Thomas increased their lead by two in the third quarter with two goals by Hauck (assisted by Pat Morrill). The Titan defense which centered around Jake Ziegler, Brad Hutton, Mason Hill and LSM Kenny Tomeno had an excellent game in front of Austin Fox. Their husstle and aggressiveness was tempored by solid team defensive play and ensured the Titans offense had the bulk of ball time in the second and third quarters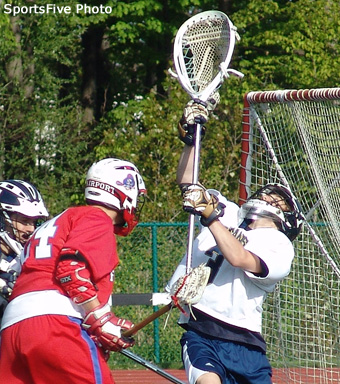 of the game.

After several empassioned comments in the Fairport huddle, the Red Raiders mounted a comback in the fourth quarter starting with a man up goal at 7:12 when Paul Dancy, in EMO, picked up a loose ball on the crease and popped it in the net. Jones scored again after Fairport broke a clear and Hislop sent him to the ball in front of the cage. With the score 8-6 and just under six minutes left to play, Fairport gained possession and took a couple of shots that were saved by Fox, but retained from ground balls by Fairport.

At 2:46 Hislop swept right and took a hard side arm shot that sailed high into the right corner taking the Red Raiders to within one. Fairport set up a number of shots with Fox looking directly into the sun. Although the Red Raiders had two or three shots in the last two minutes, they were unable to tie the game.

Scoring for Thomas were Nick Scalzo (2g), Max Gurowski (1g-2a), JT Hauck (3g), Kenny Tomeno (1g), Jack Hinderland (1g), Jake Ziegler (1a), William Gurowski (1a) and Pat Morrill (2a). Austin Fox made 18s/7ga for the Titans (8-4).

Scoring for Fairport were Aaron Jones (3g-1a), Martin Manilla (1g), Eric Hislop (2g-1a) and Paul Dancy (1g). Mike Lehman won 14/19 faceoffs and Kris Sterzin made 16s/8ga for Fairport (7-5).

McQuaid Jesuit 8 - Livonia 7 Overtime
Livonia scored two goals in the last 2:02 to send the game into overtime, however, Nick Caton scored with 2:48 remaining in the first overtime to give McQuaid Jesuit the victory. Caton, who also scored the overtime goal earlier in the season against Aquinas, finished the game with 3 goals. Coach Brett Wood said "This was a hard fought close game the whole way through and both teams played with a lot of emotion."

In the cage, Justin Becker finished with 15s/8ga for Livonia and Dan Caufield 12s/7ga for McQuaid Jesuit.

Scoring for McQuaid Jesuit were Caton (3g), Mitch Ritchie (3g), JD Ayer (1g), Corey Flanigan (1g) and Jeff MacDonald (1a).

Scoring for Livonia were Jeff Wester (3g-1a), Chris Bausch (2g), Tyler Russell (2a), Mike Donals (1g), Cameron Ross (1g) and Matt Girolmo (1a).

Bloomfield-Honeoye 14 - Arc/Oly 8
Bloomfield-Honeoye defeated Greece Arc/Oly 14-8. Bloomfield-Honeoye won three quarters (1st, 2nd and 4th) and tied the third quarter. In the cage, Zach Bevilacqua finished with 14s/14ga for Greece. Both Jay Nichols and Max Van Orman played a half. Nichols finished with 8s/5ga and Van Orman was 9s/3ga.

Scoring for Bloomfield-Honeoye were Sean Beaney (2g-4a), Dallon Schultz (3g-1a), Zach Blain (1g-2a), Luke Anderson (2g), Cody Herrgesell (2g), Lucas Mashtare (1g), Chance Sullivan (1g) and Jake Stevens (1a).

Scoring for Greece Arc/Oly were Frank Slapar (3g), Brandon Wood (2g-1a), Kevin Martin (2g), Dustin Lenz Emmi (1g-1a) and Andrew Jebo (1a).

Geneva 9 - HFL 8
Geneva held off a late HFL rally to defeat the Cougars 9-8. The Panthers won three quarters, but a late fourth quarter lapse nearly cost them the game.

Geneva scored the only goal of the first quarter when Jim Warner drove from the top and fired one past Jay Tallon. Tallon played strong for the Cougars and his fourth quarter efforts nearly won the game for HFL. The first quarter ended with the Panthers leading 1-0.

Geneva outscored HFL 4-2 in the second quarter. Alex Love scored the first Geneva goal with 11:32 remaining with a drive from the sideline. Love finished the game with 10 shots (4 on cage and 2 goals). HFL scored their first goal during EMO. After swinging the ball around the cage Cade Norris drove from behind and received the ball from Mike Coady. The Panthers scored the next three goals, including the next goal in less than 0:10 as Tyler Travis picked up the ball from the wing and passed it up to Kyle Boncaro who dodged inside for the goal.

Geneva's next two goals were both looks from the outside to a cutting crease midfielder. Willie Rago and Dominic DiDuro both scored (from Love and Warner). The final HFL goal of the quarter was also scored in EMO as the Cougars ran the same play and Coady fed Norris for the goal. The Panthers led 5-2 at the half.

In the third quarter, Geneva scored the first three goals, each of which were unassisted. Love, Eric Legott and Legott again scored for the Panthers. Geneva led the game 8-2 and apparently had the game in hand with 5:38 remaining in the third. However, the Cougars did not go quietly as they scored the next five goals and came within one goal twice before the end of the competition. With 1:34 remaining Zach Whyte looked across the crease to Matt Lesczynski who was wide open.

Whyte scored one and assisted on four of the final six goals. The final goal of the quarter was scored as Lesczynski shot the ball and hit goalie Ross Dinan in the chest and with 0:01 remaining, Greg Coady picked up the loose ball and shot it into the upper corner to score. The Panthers had extended their lead to four (8-4).

HFL continued their scoring streak with the next three goals spanning nearly the entire quarter. With 6:53 left Whyte scored a fast-break goal (assisted by Tyler Burgasser). With 3:04 remaining another fast-break goal was scored by Zach Yager (assisted by Whyte). With 1:49 remaining the Cougars brought the game within one goal when Mickey Allan scored (assisted by Whyte) on a broken clear. Josh Layfield stripped the ball on the sideline during a clear and passed the ball up to Whyte. During this stretch of time both Whyte and Tallon were major players for the Cougars. Tallon made two point blank saves on the crease with shots from Love (uncovered during a fast-break) and Rago (open on a cross-crease feed). Tallon was all over the cage and kept the Panthers scoreless so the offense could mount the comeback.

With 0:55 Geneva scored what was the winning goal. Warner scored as he was left open in front of the cage as the Cougars were attempting to double the ball and take it back for the tying goal. HFL did score one final goal, with 0:16 remaining, the Cougars called time-out and Whtye took the ball from over the midfield straight down onto the crease and hit Mickey Allan for the final goal. Although they attempted a quick face-off, Zach Jonas was called for withholding and Sean Bennett tossed the ball into the air to elapse the final seconds.


Jonas and Bennett were nearly equal on face-off's with Bennett and 11-9 winner (both players took all the face-offs for their respective teams). HFL used EMO to their advantage as they scored three times (on five attempts), while Geneva failed to score on three attempts.

HFL had difficulty shooting early on as they failed to hit the cage in the first quarter and only had three shots on cage (with two goals) during the second quarter. Geneva, on the other hand, took plenty of shots but had trouble hitting the cage early on. In the first quarter, Geneva took 14 shots with only five on cage (one goal).

Tallon, as noted, played a strong game for HFL and finished with 12s/9ga (57%). Dinan finished with 4s/8ga for Geneva.

Scoring for Geneva were Love (2g-1a), Warner (2g-1a), Legott (2g), Boncaro (1g), Rago (1g) and DiDuro (1g).

Scoring for HFL were Whyte (1g-4a), Allan (2g), Norris (2g), Mike Coady (2a), Greg Coady (1g), Lesczynski (1g), Yager (1g) and Burgasser (1a).


For a more complete look at the numbers, check out the full statistics.

Aquinas 11 - Bath 3
Aquinas won all four quarters and held Bath scoreless in the second half on their way to an 11-3 victory. In the cage, Kraig Heston finished with 9s/3ga for Aquinas and Chris
Wolfer finished with 14s/11ga.

Scoring for Aquinas were Austin Gorman (2g-2a), Jasen Torress (2g-2a), Mike Messina (2g), Cameron Corsaro (1g-1a), Marc Brondon (1g-1a), Bernard Gauthier (1g-1a), Alex Gray (2a), Anthony Bianchi (1g) and Mike Gray (1a).

Scoring for Bath were McKenzie Durham (1g-1a), Zach Reed (2a), Dave Harris (1g) and Nick Rossi (1g).

Canandaigua 16 - Waterloo 2
Canandaigua took a 7-1 lead after the first quarter on their way to a 16-2 win over Waterloo. Scott Bement played in the cage during the first goal with 3s/1ga and Anthony DeLeo finished the game with 4s/1ga. Zach Ramirez played the entire game for Waterloo with 10s/16ga.

Scoring for Canandaigua were Deven Alves (4g-1a), Connor Henderson (3g), Tanner Scharr (3g), Tom LaCrosse (2g), Marshall Johnson (1g-1a), John Klein (1g-1a), Nick Munn (2a), Andrew Knoblauch (2a), Schuyler Whitney (1g), Evan Roth (1g), Justin Tomzak (1a), Austin Rogers (1a) and Brian Scheetz (1a).

Scoring for Waterloo were Peter Vacca (1g) and Chance Lowry (1g).

Irondequoit 13- Gate Chili 5
Irondequoit won each of the four quarters (5-2, 2-1, 3-1, 3-1) defeating Gates Chili 13-5.

Scoring for Irondequoit were Drew Coholan (5g-1a), Greg Wright (1g-5a), Mike Wallenhorst (3g), Tony Micelotta (2G), Mike Beckwith (1g), Ian Brooks (1g) and Greg Coholan (1a). No goalie report was received from Irondequoit.

Scoring for Gates Chili were Brad Weber (3g-1a), Tom Sudek (1g-1a) and Tom Elkins (1g-1a). In the cage, Jason Baetzhold finished with 14s/13ga.

Churchville 10 - Spencerport 4
Churchville-Chili had their third straight win over Spencerport 10-4. There were 23 penalties during the game and 37% of the game played with one team or the other Man-up.

Scoring for Churchville-Chili were Gino Marcello (5g), Damien Pagano (3a), Jon Hemink (2g), Ryan Yunker (1g-1a), Jeff Langschwager (1g-1a), Chris Vitale (1a) and Keith Preston (1g).

Scoring for Spencerport were Nick Fischer (1g), Jon Robinson (1g), Kyle Mark (1g), Luciano Petrella (1g) and Steve Basil (1a). Mike Palvino had 16s/10ga for the Rangers (7-6).


For a more complete look at the numbers, check out the full statistics.

Victor 7 - Brockport 5
Victor defeated Brockport 7-5 this afternoon.

Under a beautiful sunny evening in Victor, NY, the Victor Blue Devils hosted their cross town namesake the Brockport Blue Devils. Victor came out and scored in the first two minutes and thirty seconds of the game. Brockport answered with a goal by Sophomore Trevor Hayward opening the scoring with 8:30 in the first period on an assist from Freshman Dylan Brown. That tied the score 1-1. The tie was short lived as Victor came back quickly and added their second goal of the game by Ethan Payne with 8:05 left in the first. After trading numerous possessions with no scoring, Junior David Roberts put Brockport's second goal on the board with 3:35 left in the half and the score would remain tied at halftime. Both goalies played a tremendous first half, keeping their team's scores close. Victor's goalie Kevin Donnelly saw the majority of action as Victor had four penalties in the first half compared to Brockport's two.

The third quarter saw little change in action, both defenses played aggressively and kept the offenses on their heels. Victor was first to strike on a goal by Vince Pettrone with 3:51 left in the third quarter, but Brockport's Andrew Willis answered with two goals in less than one minute to make the score 4-3 in favor of Brockport. The fourth quarter started with what appeared to be a momentum swing in favor of Brockport. However, Frank Valenti came out and scored Victor's first goal of the fourth quarter with 10:47 left in the quarter tying the score at 4-4. Shortly thereafter with 7:11 left in the period Alex Rogemoser added another Victor goal making the score 5-4 in favor of Victor.

Just as it appeared Victor was on a roll, Brockport's David Robert's added his second goal of the game with 6:53 left in the fourth again tying the game, this time 5-5. Unfortunately it was too little too late for Brockport as Vince Pettrone and Frank Valenti added two more goals for Victor to seal the victory at 7-5.

Brockport's goalie Dylan White had an outstanding night in the net, only to be outmatched by the superb play of Kevin Donnelly who was man down almost twice as many times as White during the contest and at one point was two men down and remained solid in the net. Donnelly finished with 17s/5ga (77%). For Brockport, White finished with 12s/7ga (63%).

Scoring for Victor were Frank Valenti (4g-1a), Vince Pettrone (1g-1a), Alex Rogemoser (1g-1a), Ehtan Payne (1g), Trevor O'Shea (1a) and Collin O'Shea (1a).

Scoring for Brockport were Andrew Willis (2g), David Roberts (2g), Trevor Hayward (1g-2a), Dylan Brown (2a).

Pal-Mac 9 - Batavia 6
Pal-Mac defeated Batavia 9-6. Pal-Mac's Tim Doyle finished with 13s/6ga and Batavia's Matt Landfried finished with 13s/9ga.

Scoring for Pal-Mac were Peter Maklos (3g-2a), Mike DeMar (2g), Steve VanDeWalle (2g), Chris Merritt (2a), Greg Kier (1g), Justin Closser (1g) and Mike Russell (1a).

Scoring for Batavia were Will Mulcahy (2g), Zach Fay (1g-1a), Chip Chapman (1g-1a), Joe Muoio (1g) and Joe Pedro (1g). No report from Batavia.

Hamilton 15 - Mynderse 6
Hamilton (Section 3) took a 6-1 lead into an 8-2 half on their way to a 15-6 win over visiting Mynderse Academy.

Scoring for Mynderse were Dustin Luckinbill (3g-1a), AJ Bachman (2a), Jesse Janas (1g), Steve Lucchessi (1a), Mike Warrick (1a), Andrew Giannino (1g) and Josh Sahler (1g). Brad Dove had 4s/8ga in the first half and Bryan Mulheron finished the game with 3s/7ga for The Blue Devils (3-10).