CA and Penfield still Undefeated
May 8, 2008

- Both Penfield and Canandaigua remain undefeated with games that were easily won today. Canandaigua beat Mynderse 21-4 and Penfield beat Rush-Henrietta 20-7. Other winners included Brockport, HFL, Churchville, Thomas, Canandaigua and Penn Yan. Also winning were Irondequoit over Schroeder (10-6), Aquinas over Livonia (13-8), Victor, Geneva, McQuaid Jesuit (13-6) over Bath and Spencerport.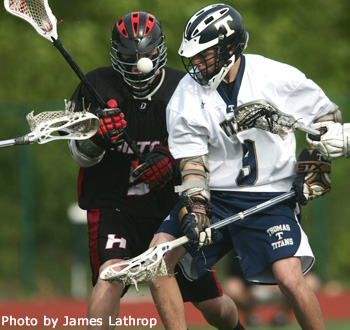 Penfield 20 - Rush-Henrietta 7
Penfield defeated Rush-Henrietta 20-7, to remain undefeated (11-0, 6-0). The Patriots led 7-0 after the first quarter and 12-3 at halftime. In the cage, both teams played two goalies. The Patriots played Brady Del Pozzo (8s/5ga) for three quarters and Kyle Semrau (2s/2ga) for the final quarter. The Royal Comets played Corey Spuck (8s/12ga) for a half and Matt Gladstone (5s/8ga) for the other half.

Scoring for Penfield were Kyle Van Thof (5g-4a), Gian Maggio (4g), Connor Rice (2g-2a), James Dwyer (3g), Tucker Nelson (2g-1a), Matt
Malloy (2g), Toby Terwilliger (2a), Kevin Westcott (1g) and Tyler Zweifel (1g).

Scoring for RH were Nate Delone (3g-1a), Colin Cornaire (2g-1a), Chris Aycock (1g-1a), Bobby Pattridge (1g) and Ryan Leonard (1a).

Thomas 16 - Hilton 6
Thomas scored the first five goals of the game; two from Kyle LaVallee, two from Nick Scalzo and one from Billy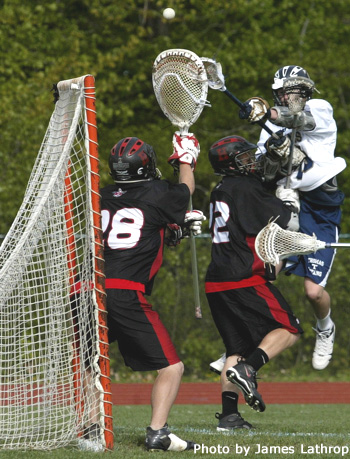 Gurowski. Thomas was leading 10-3 at the half and 14-3 after three quarters. The Titans played two goalies, Austin Fox (9s/3ga) and Jimmy O'Neil (12s/3ga). Hilton also played two goalies with Brad Speer (2s/4ga) and Seth Kohler (6s/12ga) both seeing time between the nets.

Scoring for Thomas were Nick Scalzo (5g-1a), Kyle LaVallee (3g-2a), Max Gurowski (3a), Kenny Tomeno (2g), Kyle Rothfuss (2g), Tom Monna (1g-1a), Billy Gurowski (1g), Jordan Bernstein (1g), Nicholas Frank (1g), Pat Morrill (1a) and Michael Quinn (1a).

Scoring for Hilton were David Smith (2g), Colin Walker (2g), Jimmy Gaffney (1g-1a), James Moss (1g) and Mike Crumlish (1a).


Fairport 10 - Pittsford 5
In Monroe County Division 1 action at Pittsford, Fairport was the 10-5 winner.

Scoring for Fairport were Brendan Saylor (1g-1a), Martin Manilla (2g), Aaron Jones (1a), Eric Hislop (1a), David Foley (2g), Michael Lehmann (1g), John McDonnell (3g-1a) and Connor Lowe (1g). Mike Lehman won 11/14 face offs and Kris Sterzin Kris had 12s/5ga for the Red Raiders (7-4).

Scoring for Pittsford were Conor McDermott (2g), T.J. Iuppa (1g), James Purpura (1a), Tommy Schmitz (1g), David Quinzi (1a) and Thomas Rodenhouse (1g). Brendon Green recorded 7s/10ga for the Panthers (6-5).


Aquinas 13 - Livonia 8
Aquinas took the first quarter 4-1 and although Livonia came back with four in the second, the Little Irish took a 6-5 halftime lead and finished with a 13-8 GRALL victory at Livonia. The win sets up a possible three-way tie after the final GRALL games next week and the Championship game on May 15th.

Scoring for Aquinas were Austin Gorman (6a), Marc Brondon (2g-2a), Cameron Corsaro (2g-2a), Jasen Torres (2g), Anthony Bianchi (2g), Neil Foley (2g), Mike Gray (1g), Mike Messina (1g), and Klay Heston (1g). Kraig Heston had 17s/8ga for Aquinas (10-4).

Scoring for Livonia were Chris Bausch (2g-1a), Tyler Russell (1a), Mike Donals (3g), Jeff Wester (3a), Cameron Ross (1g), Matt Girolmo (1g-1a) and Aaron Miller (1g). Justin Becker had 9s/12ga (45 mins) and Kyle Whitford had 2s/1ga (3 mins) for Livonia (8-5).

Geneva 14 - Bloomfield-Honeoye 1

Geneva scored all fourteen goals in the first three quarters and defeated Bloomfield-Honeoye 14-1. The BHers scored their lone goal in the first quarter. In the cage, Max Van Orman finished with 14s/14ga for Bloomfield-Honeoye. For the Panthers both Ross Dinan (5s/1ga) and Kyle Brimm (2s) played.

Scoring for Geneva were Kyle Boncaro (5g-4a), Alex Love (5g-1a), Willie Rago (1g), Frank Triana (1g), Anthony Fili (1g), Jim Warner (1g), Sean Bennett (1a), Eric Legott (1a) and Dom DiDuro (1a).

Scoring for Bloomfield-Honeoye was Sean Beaney (1g).


Irondequoit 10 - Schroeder 6
Irondequoit started strong with the lone two goals of the first quarter and continued on to a 10-6 victory over Webster Schroeder.

Tony Micelotta (assisted by Greg Wright) scored both of the first quarter goals. Wright finished the game with seven assists and Micelotta finished with five goals. Schroeder's Mark Saltrelli (assisted by Mike Tota) scored the first goal at 8:59 in the second quarter. Irondequoit responded with three more goals before the quarter ended. Schroeder finished the scoring with a goal from Cody Consul with 0:25 remaining in the half. The score was 5-2 at the half.

Consul opened the scoring in the third quarter (assisted by Chris Topping). The Eagles added two more with another from Micelotta and one from Tyler Kleehammer.

Chris Mason scored the first goal of the fourth quarter for the Warriors. Once again, the Eagles returned with the next three goals to take a 10-4 lead. The final two goals of the game were scored by Schroeder's Mike Tota and Consul.

In the cage, Scott Tota finished with 7s/10ga for the Warriors. Kevin Connelly, Irondequoit, finished with 4s/6ga.

Scoring for Irondequoit were Wright (7a), Micelotta (5g), Drew Coholan (2g), Mike Wallenhorst (2g) and Tyler Kleehammer (1g).

Scoring for Schroeder were Consul (3g-2a), Mike Tota (1g-2a), Saltrelli (1g), Mason (1g), Topping (1a) and Matison (1a).


For a more complete look at the numbers, check out the full statistics.

Victor 19 - Newark 6

Victor took a 10-0 first quarter lead and led 13-3 at the half on their way to a 19-6 final at home tonight. The Blue Devils won the face off race 20-8 and scored on 3/4 of EMO opportunities.

Scoring for Victor were Frank Valenti(6g-1a), Ethan Payne(4g-3a), Vince Pettrone(2g-3a), Trevor O'Shea(2g-2a), Alex Rogemoser(2g-1a), Ben Osterling(1g), Connor Kimball(1g), Lee Cody(1g) and Sean Cone(1a). Donnelly recorded 12s/4ga (36 min) and Basile had 2s/2ga (12 mins) for Victor (6-8).

Scoring for Newark were Colin Johnson (2g-1a), Matt Clemons (1g-1a), John Gonzalez (1g), Schuyler DePauw (1g-1a) and Cody Skinner (1g). Ben Hartman made 8s/16ga) (36 mins) and Tim Maggio added 2s/3ga (12 mins) for Newark (6-6).


Canandaigua 21 - Mynderse 4
Canandaigua remains undefeated at 13-0 with their 21-4 win over Mynderse. After scoring 6-2 in the first quarter and taking a 13-3 lead at the half, the Braves added six more in the third and two in the fourth for the win.

Scoring for Canandaigua were Brian Scheetz (2g-1a), Justin Tomzak (2g-1a), Connor Henderson (1a), Austin Rogers (1g), Marshall Johnson (1g), Andrew Knoblauch (2a), Nick Munn (1g-1a), Gannon Osborn (1a), John Klein (1a), Chris Tauterouff (1a), James Bratton (1a), Tanner Scharr (2g-3a), Deven Alves (6g-2a), Will Johnson (3g-1a), Shane Dobies (2g) and Ben Jesmer (1g-2a). Anthony DeLeo had 6s/4ga for the Braves (13-0).

Scoring for Mynderse were Steve Lucchesi (1a), AJ Bachman (1g), Dustin Luckinbill (1g), Matt Koopman (1g) and Jesse Janas (1g). Brad Dove played the first half in goal and made 9s/13ga and Bryan Mulheron played the second half in goal and had 5s/8ga for the Blue Devils (2-8). No Report from Mynderse.


McQuaid Jesuit 13 - Bath 6
In an otherwise close game, McQuaid Jesuit scored six goals in the second quarter to secure the 13-6 GRALL win over visiting Bath.

Scoring for McQuaid Jesuit were JD Ayer (1g-5a), Jeff MacDonald (3g), Corey Flanigan (3g), Mitch Ritchie (2g-1a), Bill Napoli (2g-1a), Eric Wright (1g-1a), Nick Caton (1g-1a), Nick Wolak (1a) and Bobby Stuver (1a). Danny Caufield recorded 7s/5ga (36 mins) and Harry Goluses added 2s/1ga (12 mins).

Scoring for Bath were Mckenzie Durham (2g-2a), Dave Harris (1g-1a), Zach Reed (1g-1a), Cole Beebe (1g) and Nick Rossi (1g). Chris Wolfer recorded 9s/13ga for the Bulldogs (8-5).


Penn Yan 23 - Waterloo 2
Penn Yan scored 17 goals in the first half on their way to a 23-2 victory over Waterloo. The Mustangs scored eleven goals in the first quarter. In the cage, Zach Ramirez played the entire game for the Indians, with 16s/23ga. For the Mustangs, Ethan Kamholtz played three quarters with 1s/1ga and Adam Trombley played the final quarter and finished with 1s/1ga as well.

Scoring for Penn Yan were Matt Osgood (6g-3a), Adam Trombley (4g-4a), Cole Castle (6g-1a), John Linnan (1g-5a), Nate Nichols (1g-1a), Brendan Minor (1g), Jordan Owen (1g), Anthony Luppiano (1g), Jamil Modafarri (1g), Adam Stork (1g), Ty Trombley (1a), Tim Dyer (1a) and Dana Wilber (1a).

Scoring for Waterloo were Peter Vacca (1g-1a) and Jeff Wadhams (1g-1a).

Spencerport 7 - Ath/Ody 4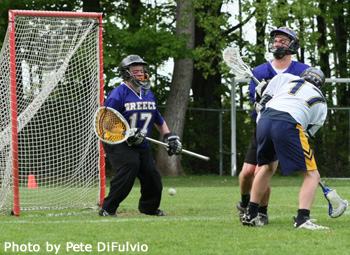 Greece Ath/Ody started off well, but couldn't finish, as Spencerport was the 7-4 victor. Spencerport scored the first goal, Nick Fischer at 6:21 in the first quarter. Thunder's Phil Bond scored both of his goals in the first quarter. At one point the Thunder was up 4-2 in the second quarter. With two more goals from Luciano Petrella and Kyle Mark, the Rangers tied the score at four for halftime.

Both goalies played well as Andrew Hosenfeld, Greece, finished with 14s/7ga and Mike Palvino, Spencerport, finished with 10s/4ga.

Scoring for Spencerport were Nick Fischer (3g), Kyle Mark (1g-2a), Kyle Breach (1g-1a), Luciano Petrella (1g), Steve Basil (1g), Justin Putt (1a), Chris Sauers (1a) and Dave Wychorski (1a).

Scoring for Greece Arc/Ody were Phil Bond (2g), Nate Wallenhorst (2a), Andrew Prestigiacomo (1g) and Brandon Cheeseman (1g).


Brockport 10 - Batavia 2
Brockport defeated Batavia 10-2 advancing their overall record to 7-4.

Junior David Roberts put Brockport's first three goals in the net taking the lead in the first quarter of the game, 3-2. Andrew Willis added another goal before halftime, taking Brockport's lead to 4-2.

Scoring for Brockport were Andrew Willis (4g-1a), David Roberts (3g), Ryan Pratt (1g-3a), Sean Bittner (1g-1a), Trevor Hayward (1g-1a), Tyler Sutphen (2a), Jake Burns (2a). Sean Bittner (8 gbs), Matt Lester (7gbs) and Jon Pacitto (7gbs) led the Brockport ground ball effort.

In the net for Brockport was Dylan White for three quarters 9s/4ga (81.8%) and Chris Ioannone 1s/0ga in the last quarter. No report from Batavia.


HFL 6 - Brighton 4

Honeoye Falls-Lima defeated Brighton 6-4 tonight in MC-D2 action at HFL.

Brighton scored the only goal of the first quarter as Parker Warren found Joe Park for the goal. The Barons also scored the first goal of the second quarter for a 2-0 lead at 9:48. That goal was scored by Evan Davis. HFL scored the next six unanswered goals over the next quarter and a half. The Barons held the Cougars scoreless in the fourth as they attempted a comeback. The Barons scored the final two goals in the fourth quarter.

In the cage, Jay Tallon finished with 8s/4ga for the Cougars. Kyle Hohmann, for Brighton, finished the game with 9s/6ga.

Scoring for HFL were Cade Norris (2g-1a), Zach Whyte (2g), Matt Lesczynski (1g), Tyler Burgasser (1g), Mickey Allan (1a) and Mike Coady (1a).

Scoring for Brighton were Joe Park (2g), Evan Davis (2g), Parker Warren (1a) and Mark Henrichs (1a).


For a more complete look at the numbers, check out the full statistics.


Churchville 12 - Eastridge 10

After scoring the last five goals of the game, Churchville-Chili overcame a 10-6 deficit to walk away with a 12-10 victory over host Eastridge in a Thursday night game.

Churchville scored the first two goals, the first of which was scored just 13 seconds into the game as Gino Marcello scored on a pass from Keith Preston. about three minutes into the game the Saints scored against (Ryan Yunker unassisted) Five minutes later Eastridge scored their first goal (Riley Austin from Matt Driffill). CC finished the scoring in the first quarter with a goal by Gino Marcello (assisted by David Peck). The Saints led 3-1.

Churchville improved their lead by two at the start of the second quarter as Yunker scored on a feed from Damien Pagano in EMO and Marcello scored on an assist from Jon Hemink with both scores occurring in the first minute of play. Eastridge then went on a seven goal scoring streak finishing out the half with five and giving then a 6-4 half time lead. Brandon Moynihan score the first two (assisted by Matt Driffill on the first and assisted by Kevin Mahler in EMO on the second). Driffill scored next (assisted by Adam Sisson) and his goal was followed by unassisted goals by Mahler and Shane Driffill in the second quarter and two goals by Matt Driffill at the top of the third quarter. His first goal was scored in EMO (unassisted) and the second was assisted by Riley Austin. Churchville scored the last goal of the quarter (Damien Pagano unassisted) and the quarter ended with Eastridge up 8-5.

The Saints opened the fourth quarter with a goal by Marcello (unassisted) in EMO, but Eastridge returned with two more goals, the last that they would score when Shane Driffill scored on a pass from Matt Driffill and Riley Austin scored unassisted. Churchville then took over, 6:33 into the quarter, scoring the last five goals of the game, with the last three over a 29 second period in the last minute of the game.

Scoring first was Yunker (unassisted). Then it was Jon Hemink on an assist from Damien Pagano in EMO. With the Saints down one goal with 31 seconds left in the game, Yunker scored the tying goal on an assist from Pagano. After a broken clear Pagano ran it to the goal and scored a go-ahead, unassisted and open net goal with 17 second left and on the last face off Marcello scored an unassisted goal with 2 second left in the game.

Scoring for Churchville-Chili were Gino Marcello (5g), Ryan Yunker (4g), Damien Pagano (2g-3a), Jon Hemink (1g-1a), Keith Preston (1a) and David Peck (1a). Sean Kettles had 9s/10ga for the Saints (6-5).

Scoring for Eastridge were Riley Austin (2g-1a), Brandon Moynihan (2g), Matt Driffill (3g-3a), Kevin Mahler (1g-1a), Shane Driffill (2g) and Adam Sisson (1a). Eugene Ferrera recorded 8s/12ga for the Lancers (3-9). Score only from Eastridge.


For a more complete look at the numbers, check out the full statistics.