Canandaigua Over Thomas
May 2, 2008

- In the two games played on Friday, Canandaigua took a 10-1 halftime lead to a 16-6 victory over Thomas and Bath was the 13-3 winner over Mynderse.


Canandaigua 16 - Webster Thomas 6
Canandaigua scored five goals in the first quarter and five more in the second to take a 10-1 lead into the halftime and finished with a 16-6 win over visiting Webster Thomas.

Scoring for Canandaigua were Brian Scheetz (3g), Justin Tomzak (5g-2a), Connnor Henderson (4g-1a), Marshall Johnson (1a), Andrew Knoblauch (2a), Nick Munn (1g), Tom Lacrosse (1g-1a), Evan Roth (2a), Tanner Scharr (1g) and Will Johnson (1g). Scott Bement played 44 minutes made 12s/6ga and Anthony DeLeo played 4 minutes and had 2s/0ga for the Braves (12-0).

Scoring ofr Thomas were Max Gurowski (2g), Pat Morrill (1g), Kyle Lavalle (1g), Nick Scalzo (1a), Kyle Rothfuss (1g) and Jack Hinderland (1g). Austin Fox played the first 8 minutes and gave up 5g and Jim ONeil played the last 40 minutes and gave up 11 goals and made 9 saves for the Titans (5-4). No report from Thomas.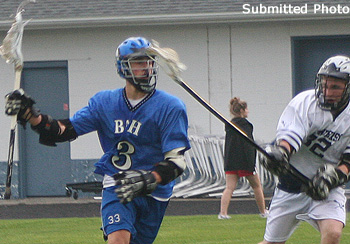 Bath 13 - Mynderse 3
Bath improved their record to 6-3 after a 13-3 win over Mynderse Academy on Friday night. The Rams scored two unanaswered goals in the first quarter and led at the half 6-2.

Scoring for Bath were Zach Reed (4g-3a), Mckenzie Durham (2g-4a), Dave Harris (5g-1a), Nick Rossi (2g) and Cole Beebe (1a). Chris Wolfer had 11s/3ga for the Rams.

Scoring for Mynderse were Dustin Luckinbill (2g), AJ Bachman (1g) and Matt Koodman (1a). Brad Dove had 7s/13ga for the Blue Devils (2-6). No report from Mynderse.