Penfield and Schroeder - Big Wins
April 29, 2008

- Webster Schroeder had a big win today as they defeated Fairport 12-4. Penfield remained undefeated with an 11-7 win over Irondequoit. In other match ups it was Brockport over Arc/Oly, Thomas over CC, Gates over Ath/Ody, CA over Midlakes and Geneva over Mynderse. Pittsford had a 12-8 win over R-H, Penn Yan beat Pal-Mac, Victor was (10-7) over Waterloo and McQuaid Jesuit was a winner over BH. HFL beat Eastridge 5-4 and Aquinas beat Bath 14-6.


Schroeder 12 - Fairport 4
Schroeder scored all 13 of their goals in a row to defeat Fairport 13-4.

Fairport scored the first three goals of the game with Martin Manilla, Connor Lowe (assisted by Aaron Jones) and Jones each scoring a goal. Schroeder scored four more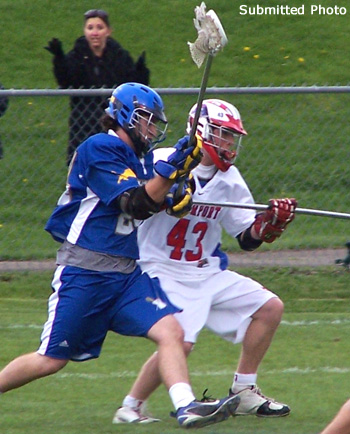 goals before ending the first quarter with a 4-3 lead. Joe Matison, Mike Tota, and Nate Powe scored for the Warriors.

In the second quarter the Warriors scored five unanswered goals followed by three unanswered goals in the third quarter. Fairport did not score again for 42 minutes. With 0:04 left in the game the Red Raiders scored the fourth and final goal.

The Warrior defense frustrated the Red Raiders, whom were rarely able to get the shots they wanted and when in position could not get the ball past Scott Tota. Tota had a strong day in the cage for Schroeder, finishing with 13s/3ga (81%).

In the cage for the Red Raiders, Kristoffer Sterzin finished with 7s/13ga. Thomas Gropp also played two minutes in the cage for the Red Raiders and had 2s. Brian Ench played four minutes for the Warriors and had 1s/1ga.

Overall, the Warriors demonstrated that they cannot be counted out and are here to win. The Warriors improves to 4-4 and Fairport falls to 5-3.

Scoring for Schroeder were Matison (4g-1a), Mike Tota (1g-3a), Nate Powe (3g), Cody Consul (2g), Nick Mooney (1g-1a), Mark Saltrelli (1g) and Chris Mason (1g).

Scoring for Fairport were Aaron Jones (1g-1a), Timothy Cook (1g), Martin Manilla (1g), Connor Lowe (1g) and Alexander Keil (1a).

For a more complete look at the numbers, check out the full statistics.
Penfield 11 - Irondequoit 7
Penfield won three of the four quarters to remain undefeated as they defeated Irondequoit 11-7 on Tuesday afternoon.

The Patriots started off slowly, with the Eagles scoring the first three goals. Tony Micelotta scored the first goal when Greg Wright passed the ball high and Micelotta had to jump to catch the ball and then shoot it on cage. The second goal was brother to brother as Drew Coholan passed the ball to his brother Greg Coholan for the score. Micelotta scored the next goal with an inside feed from Drew Coholan during an extra-man opportunity. Penfield scored their lone goal of the first quarter with 2:13 remaining as James Dwyer found Tucker Nelson alone cutting to the crease. Irondequoit led after the first quarter 3-1.

The second quarter was all Penfield as they scored the next three goals. Kyle Denhoff scored the first and third goals with James Dwyer scoring the second goal of the quarter. Denhoff took the most shots of any player with 11 (only 5 of which were on cage). Denhoff had volume on the cage which was one reason for his Patriot leading 3g. Drew Coholan scored the lone Eagle goal of the second quarter with a drive from behind the cage. Coholan got checked and fell into the cage, shooting as he fell, and scored for the Eagles. Penfield finished the scoring with Gian Maggio scoring his first goal of the day (assisted by Kyle Van Thof). The score was 5-4 Patriots at the half.

Penfield scored the first goal of the third quarter as well, with Maggio scoring his second goal with a dodge from the outside. Irondequoit scored the next two goal at 8:41 and 3:55 to tie to game at 6-6. That was the last opening that the Patriots gave the Eagles. Penfield scored the next two goals in the third quarter with Connor Rice and Dwyer both scoring unassisted goals.

Rice continued to build the lead with the first goal of the fourth quarter. He took a number of hard side-arm shots. Mike Wallenhorst scored the lone Eagle goal of the fourth quarter with a face-off fast-break at 11:21. Denhoff and Nelson added the last two goal for the Patriots.

In the cage, Tyler Nash finished with 7s/11ga. Brady Del Pozzo played the entire game for the Patriots and finished at 50% (7s/7ga). Both teams demonstrated that they were strong shooters and at halftime each goalie had only accumulated 3s.

Scoring for Penfield were Denhoff (3g), Rice (2g-1a), Dwyer (2g-1a), Maggio (2g), Nelson (2g) and VanThof (2a).

Scoring for Irondequoit were Drew Coholan (2g-2a), Micelotta (2g), Wallenhorst (2g), Greg Wright (2a) and Greg Coholan (1g). The Eagles fall to 6-2.

For a more complete look at the numbers, check out the full statistics.
Pittsford 12 - Rush-Henrietta 8
In Divisional play, Pittsford defeated RH 12-8. Pittsford led 3-0 after the first and 7-0 at the half. RH won the third (5-4) and the fourth (3-1) but it was not enough to catch the Panthers.

Scoring for Pittsford were Conor McDermott (4g-1a), Jimmy O'Neil (3g), James Purpura (2g-1a), Alex Kober (2g) and Dillion McLean (1g). In the cage, Brendan Green finished with 15s/8ga (65%).

Scoring for RH were Jake Alvarez (2g-1a), Colin Cornaire (2g-1a), Nate DeLone (2g), Ryan Leonard (2a), Bobby Pattridge (1g) and Joe Perkins (1g). In the cage, Josh O'Shea finished with 10s/12ga.

HFL 5 - Eastridge 4
In a back and forth battle, HFL defeated Eastridge 5-4 with the winning goal scored at 3:23 left in the fourth.

Six of the nine goals were scored either on man-up or man-down play. The opening goal of the game was scored in EMO by Eastridge when Matt Driffill found Brandon Moynihan on the outside. HFL scored the next goal at 0:31 during man-down play. HFL's Mike Coady was given a slash penalty, but after a bench foul, the Cougars got control of the ball. They drove to the net and defenseman Tyler Burgasser found Mickey Allan on the crease for the goal. The score was 1-1 after the first quarter.

HFL scored the lone goal of the second quarter. Cade Norris scored this goal, as well as each of the rest of the goal for HFL. Each of Norris' four goals were unassisted. Norris demonstrated why he is a powerful force and a strong player for the Cougar roster. HFL took a 2-1 lead into the half.

In the third quarter HFL scored the first goal, followed by an man-down goal by Riley Austin (assisted by Driffill) at 8:14. With 1:09 remaining, HFL scored yet another goal to go up 4-2.

Starting the fourth quarter, Eastridge scored two goals at 8:21 and 4:41. Moynihan (assisted by Adam Sisson) and Kevin Mahler both scored for Eastridge and both scored during EMOs. Norris scored the winning goal with 3:23 remaining, as he drove from behind the cage and put the ball between the nets.

In the cage, both goalies had strong performances. For Eastridge, Eugene Ferrera finished with 8s/5ga (62%). HFL's Jay Tallon finished with 11s/4ga (73%).

Sisson finished 7/11 at the face-off and had four ground balls. Nathan Wirth had 5 personal penalties for the Lancers.

Scoring for HFL were Norris (4g), Allan (1g) and Burgasser (1a).

Scoring for Eastridge were Moynihan (2g), Driffill (2a), Austin (1g), Mahler (1g) and Sisson (1a).

For a more complete look at the numbers, check out the full statistics.
Thomas 13 - Churchville-Chili 6
After moving from Monroe County Division-3 to Division-2, Churchville-Chili was looking for more difficult competition and this season added a number of D-1 schools to their schedule. The price for the move was demonstrated in today's 13-6 loss to visiting Webster Thomas. The Titans took a 5-1 lead in the first quarter, led at the half, 7-3 and led at the end of three quarters 10-5.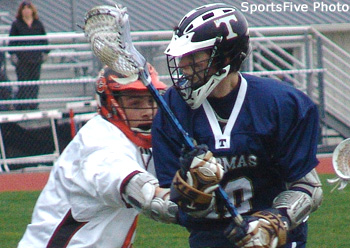 Thomas was expecting to see some zone defense from the Saints, and went to work early in the first quarter, running zone-breaking offenses that were usually successful. Jack Hinderland was first up and scored on a feed from Billy Gurowski who found him on the left wing. A few minutes later, Nick Scalzo sent the ball across the crease for Gurowski's goal. After a shot bounced loose in front of the crease, Keith Preston scooped it up and popped it in for Churchville's first goal. The Titans scored the next three to finish the quarter with a 5-1 advantage. Scalzo scored on a fast break feed from Kyle LaValee from the face off, scoring seven seconds later. Scalzo passed to Kenny Tomeno who bounced the shot into the top of the net and Kyle Rothfuss scored after receiving the ball on a substitution and taking it right to the goal.

Thomas spent quite a bit of time in the first half passing the ball around the perimeter where they were generally unmolested by the C-C defense. Both teams scored two goals in the second quarter. Thomas was first when, at 9:06, Hinderland took a hard outside side-arm shot that sailed over the Sean Kettles' goalie stick and into the net. Churchville came right back when David Peck broke through a Titan double team and ran an unencumbered "B" cut around from the back of the net for a shot on the cage at the goal line extended. The Saints scored again, taking the scored to 6-3, when Damien Pagano scored a man up goal on a feed (from Gino Marcello) diagonally through the Thomas man-down zone. Thomas scored on another outside side-arm shot, this time by Scalzo (from Tomeno) at 1:39. Thomas went into the half-time break with a 7-3 lead.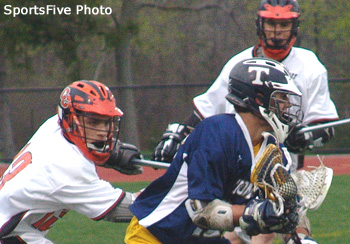 Thomas added to the scored with two more goals at the top of the third quarter. Brad Hutton scored with an assist from Gurowski as the Titans moved directly to the goal from a clear. Hinderland passed the ball cross crease to Tomeno for another goal at 4:57. The Saints had control of the ball for more than five minutes in the quarter but was unable to get shots until Ryan Yunker scored (assisted by Jon Hemink) with an outside shot from the right. The Titans scored again from a fast break clear with Tomeno passing to Rothfuss for the goal at 2:51. C-C finished the scoring in the third when Pagano picked up a ground ball and scored at 1:37. The quarter ended with Thomas up 10-5.

The Saints continued to fight back and scored at 8:36 in the last quarter when Marcello dodged to the crease and scored an unassisted man up goal. It was the last goal for the Saints as Thomas saw the last three goals of the game. Gurowski moved the ball from the back of the cage to the front and caught the C-C defense ball watching as JT. Hauck scored at 7:16. Hinderland drove from behind the net and passed the ball to Scalzo who cut to the crease to receive the ball. Brad Hutton finished the scoring with a feed from Gurowski when CC had two men in the penalty box.

Churchville (4-4) has taken on a difficult schedule in addition to moving from D-3 to D-2. They will play Fairport on Thursday and after that, the majority of the remaining schedule will be well within their reach. Today's game showed both the good and the bad for the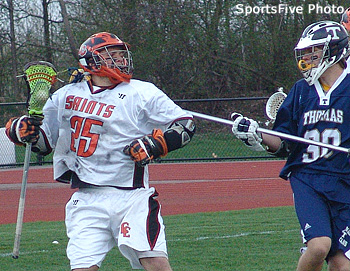 Saints. They are athletic and a number of players look like they feel right a home with the stick. The defense can be aggressive but also had lapses in the slides and got caught ball watching a number of times. Their zone defense was a bit passive and most of the long sticks looked like they were more comfortable in man-to man. Offensively, they move the ball well when unencumbered, but faltered under heavy pressure from the Titan long-sticks. A number of their shooters are top quality.

Thomas (5-3) continues to be the top of D-2 and with the exception of Canandaigua later this week, have played the most difficult part of their schedule. They will continue to improve as the season progresses, but may continue to have difficulty with the top Class A schools. At the end of the season they will face Churchville again and next time may be a different game.

Scoring for Thomas were Jack Hinderland (2g-2a), Nick Scalzo (3g-2a), Kenny Tomeno (2g-2a), Kyle Rothfuss (2g), Brad Hutton (2g), Billy Gurowski (1g-1a), JT Hauck (1g), Max Gurowski (3a) and Kyle LaVallee (1a). Austin Fox had 8s/6ga for the Titans.

Scoring for Churchville-Chili were Keith Preston (1g), David Peck (1g), Damien Pagano (2g), Ryan Yunker (1g), Gino Marcello (1g-2a) and Jon Hemink (1a). Sean Kettles had 8s/13ga for the Saints.

For a more complete look at the numbers, check out the full statistics.
Gates Chili 15 - Greece Ath/Ody 10
Gates-Chili defeated Greece Thunder 15-10. In the cage for Gates-Chili, Jason Baetzhold finished with 11s/10ga. For Thunder, Andrew Hosenfeld finished with 10s/14ga and Josh Bihrle finished with 1s/1ga.

Scoring for Gates-Chili were Tom Elkins (5g-1a), Grant Ferguson (3g-3a), Tom Sudek (2g-3a), Brad Weber (1g-4a), Pat Sposato (3g), Jeff Fichtner (2a), Cam Gormel (1g) and Brian Eckam (1a).

Scoring for Thunder were Nate Wallenhorst (5g-2a), Phil Lane (4g-2a), Phil Bond (1g-1a), Dave Targeau (1a) and Brandon Cheeseman (1a). No report from Gates Chili.
Canandaigua 19 - Midlakes 4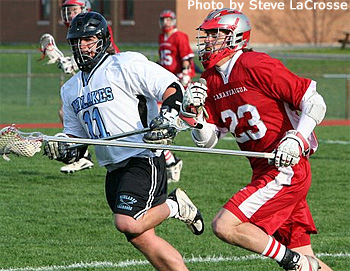 Canandaigua defeated Midlakes 19-4. In the cage, Anthony DeLeo played for canandaigua and finished with 9s/4ga. For Midlakes, Jared Schoonerman finished with 13s/19ga.

Scoring for CA were Brian Scheetz (2g-2a), Justin Tomzak (2g-1a), Connor Henderson (1g-1a), Austin Rogers (1g), Andrew Knoblauch (1g-4a), Nick Munn (2g), John Klein (1g), Sean Regan (1g-1a), Evan Roth (1g), Tanner Scharr (1g-3a), Deven Alves (4g-1a), Will Johnson (1g-1a) and Shane Dobies (1g).

Scoring for Midlakes were Ben Uveges (2g), Tyler Brooks-Lambert (1a), Conor Hogan (1g-1a) and Nick Newland (1g).
Penn Yan 18 - Pal-Mac 3
Penn Yan defeated Pal-Mac 18-3 this afternoon. In the cage, Ethan Kamholtz played 3 quarters and finished with 2s/2ga and Justin Galusha played the final quarter and finished with 1s/1ga. For Pal-Mac, Greg Kier played 7 minutes and finished with 1s. Tim Doyle played most of the game for Pal-Mac and finished with 27s/18ga (60%).

Scoring for Penn Yan were John Linnan (6g-3a), Matt Osgood (7g-1a), Adam Trombley (2g-4a), Cole Castle (1g-1a), Ty Trombley (2a), Dan Wilber (2a), Brendan Minor (1g) and Nate Nichols (1g).

Scoring for Pal-Mac were Steve VanDeWalle (1g-1a), Peter Maklos (1g) and Jordan Wirthman (1g).
Aquinas 14 - Bath 6
Aquinas defeated Bath 14-6 this afternoon and move to 8-3 (2-1 in GRALL).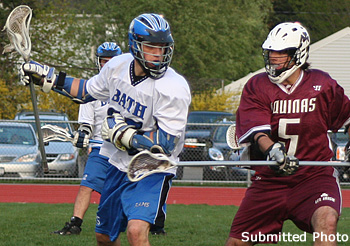 Aquinas took a 4-1 lead after the first and an 8-1 lead at the half. The Rams, however, played them to a 6-5 second half. Coach Jerry Dawes of Aquinas said "Bath's skills have much improved in the last year." Both Coaches were impressed with their opponents as Coach Ken DiDomineck said "AQ looked awesome tonight passing the ball, picking up ground balls and checking our sticks. I don't think I have seen so many great stick checks by one team in a HS game."

Scoring for Aquinas were Austin Gorman (3g-6a), Cameron Corsaro (3g-1a), Jasen Torres (3g-1a), Anthony Bianchi (2g-1a), Mike Gray (2g-1a), Marc Brondon (2a) and Klay Heston (1g). Kraig Heston finished with 16s/6ga (73%) for the Little Irish.

Scoring for Bath were Brent Harrison (2g), Dave Harris (1g), Zach Reed (1g), Nick Rossi (1g), Mark Martuscello (1g), McKenzie Durham (2a), Matt Nesbitt (1a) and Cole Beebe (1a). In the cage, Chris Wolfer finished with 19s/14ga (58%).
McQuaid Jesuit 19 - Bloomfield-Honeoye 3
McQuaid Jesuit defeated Bloomfield-Honeoye 19-3.

Scoring for McQuaid Jesuit were Mitch Ritchie (5g-2a), JD Ayer (3g-3a), Chris Barilla (3g-1a), Corey Flanigan (3g), Nick Caton (2g), Jeff MacDonald (1g), Bill Napoli (1g), John Jenkins (1g), Nick Wolak (1a) and Bobby Stuver (1a). In the cage, Dan Caufield played three quarters and finished with 5s/3ga. Kelley Sloan played one quarter and made 1s.

Scoring for Bloomfield-Honeoye were Luke Anderson (2g) and Sean Beaney (1g). No Report from Bloomfield-Honeoye.
Victor 10 - Waterloo 7
Victor defeated Waterloo 10-7. Victor led 5-3 at the half and 10-6 after three quarters. In the cage, Kevin Donnelly finished with 14s/7ga (66%) for Victor and Zach Ramirez finished with 8s/10ga for the Indians.

Scoring for Victor were Vince Pettrone (5g), Ethan Payne (2g-3a), Frank Valenti (2g-2a), Alex Rogemoser (1g-2a) and Kurt Sullivan (1a).

Scoring for Waterloo were Peter Vacca (3g-1a), Curtis Brosius (2g-1a), Rob Goodenow (1g), Joe Shaffer (1g) and Jeff Wadhams (1a). No Report from Waterloo.
Geneva 20 - Mynderse 1
Geneva defeated Mynderse 20-1. Geneva had a 10 goal second quarter. The Mynderse goal also came in the second quarter.

In the cage, Brad Dove finished with 10s/20ga for Mynderse. Three goalies split time for the Panthers. Ross Dinan finished with 3s/1g; Billy Craft finished with 3s; and Kyle Brimm finished with 1s and 1g-1a.

Scoring for Geneva were Alex Love (4g-6a), Kyle Boncaro (6g-1a), Eric Legott (3g-2a), Willie Rago (1g-1a), Tyler Travis (1g-1a), Gary Parmelee (1g-1a), Jim Warner (2a), Chris Tapscott (1g), Anthony Fili (1g), Sean Bennett (1g), Carmen Reale (1a) and Jeff Springmeir (1a).

Scoring for Mynderse were Dustin Luckinbill (1g) and Charlie Barbay (1a). No report from Mynderse.
Brockport 19 - Greece Arc/Oly 2
Brockport defeated Greece Arc/Oly 19-2. In the cage, Dylan White was 2ga and Chris Ioannone was 1s for Brockport.

Scoring for Brockport were Dylan Brown (4g-1a), Sean Bittner (3g-1a), Jake Brackett (2g-1a), Tyler Sutphen (2g), Matt Lester (2g), Ryan Pratt (1g-3a), Trevor Hayward (1g-1a), Andrew Willis (1g-1a), David Roberts (1g), Bryan Johnson (1g), Peter Orszagh (1g), Ryan Hage (1a), Jake Burns (1a) and John Tooley (1a). No Report from Greece Arc/Oly.