Not Too Many Close Ones on Thursday
April 24, 2008

- Most of the games played today allowed teams to empty their benches. Among the winners were Churchville-Chili, Brockport, Thomas, Irondequoit, Gates Chili, HFL, Penfield, Schroeder and Newark Winning closer games were Victor (10-9) over Livonia, Midlakes over Mynderse (8-7) in overtime, Geneva over Corning West 15-12 and BH over Pal-Mac (8-7).


Irondequoit 11 - Fairport 4
Irondequoit defeated Fairport 11-4 tonight and moved to 6-1 and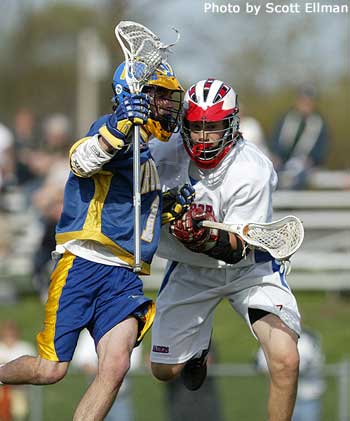 3-0 in league competition.

Fairport started out with the first goal of the game with Martin Manilla driving from behind the cage and spinning to the inside. Forty-three seconds later Irondequoit scored their first goal when Tyler Kleehammer drove to the crease and found Drew Coholan also cutting towards the crease. Coholan finished the game with four goals. Irondequoit scored the next goal from a face-off fast-break. Ian Nash, on the wing, picked up the ground ball and brought it down to GLE, he then feed the ball to Tony Micelotta on the inside for the goal. Fairport tied the score with an extra-man goal from Connor Lowe (assisted by Aaron Jones). Irondequoit added one more goal, unassisted by Coholan, to take a 3-2 lead after the first quarter.

The second quarter was all Irondequoit, as the Eagles scored four goals. Irondequoit's Greg Wright, Greg Coholan, Tyler Kleehammer, and Drew Coholan, each scored one goal during the quarter. Kleehammer also added an assist on Drew Coholan's goal. At the half, Irondequoit led 7-2.

In the third quarter, each team scored one goal. Fairport scored the first goal on an inside feed from Connor Lowe to Alexander Keil. Irondequoit's third quarter goal was scored by Greg Wright with a straight dodge. The score after three was 8-3.

Irondequoit scored three goals in the fourth quarter as well as deflecting a goal into their own goal. With 10:37 remaining David Foley took a hard shot from just above the restraining line. The shot missed the cage by about 10 feet, however, while in the action in front of the cage, a Irondequoit defenseman knocked the ball into the cage. Irondequoit then scored the final three goals of the quarter. Tyler Kleehammer scored the first goal on an outside shot. The next goal was scored during a double extra-man opportunity as Wright found Coholan on the outside. The final goal of the game was scored by Micelotta (assisted by Wright) with a feed to the middle of the field.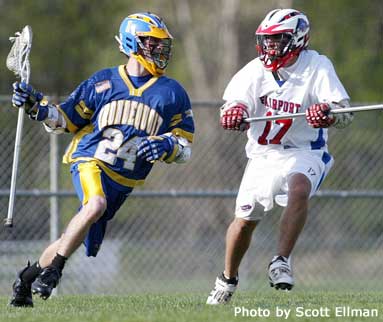 Irondequoit controlled almost the entire game. The riding for the Eagles was exemplary, they kept the Raiders to 55% clearing with a majority of their positive clears coming when Irondequoit could not set up their ride. The Eagles locked on to their players and Fairport could not find a way to capitalize on their clears. During the fourth quarter there were a number of unnecessary penalties, however, in general the officials let the kids play and it was a good hard hitting game.

Mike Wallenhorst did well for the Eagles winning 9/15 (60%) face-offs. Between Wallenhorst at the draw, and the strong riding the Eagles maintained possession for extended periods of time.

In the cage, Tyler Nash played the entire game for the Eagles and finished with 7s/4ga (64%). For the Red Raiders, Kristoffer Sterzin finished at 50% (11s/11ga).

Scoring for Irondequoit were Drew Coholan (4g), Wright (2g-2a), Kleehammer (2g-2a), Micelotta (2g), Greg Coholan (1g) and Ian Nash (1a).

Scoring for Fairport were Keil (2g), Manilla (1g) and Lowe (1g-1a).

For a more complete look at the numbers, check out the full statistics.
Geneva 15 - Corning West 12
Geneva was generally in control in their 15-12 win over visiting Corning West, although the Vikings had several runs and got as close as 9-7 in the second half. The Panthers took a 9-2 lead before West rallied to finish the half down 9-5. After Geneva built a 15-10 lead, Corning finished with the last two goals of the game.

Scoring for Geneva were Love (3g-4a), Boncaro (3g-3a), Rago (4g-1a), Legott (3g), Tap scott (1g), J. Warner (1g) and Mike Reale (1a). Kyle Brimm had 2s/8ga and Billy Craft had 4s/4ga for Geneva (5-2).

No data for Corning West (5-4).

Churchville 11 - Brighton 1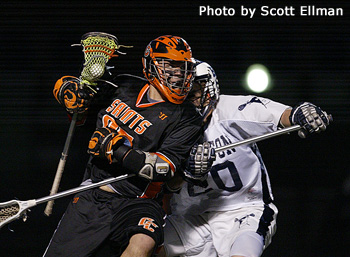 Churchville-Chili dominated in division 2 competition at Brighton tonight, 11-1. The Saints scored the first 11 goals and the Barons didn't score until 6:28 remaining in the game.

Churchville played strong defense, won the ground ball battle 41-29, led in shots 47-19 and shots on cage 25-10. Zach Ye hl scored his first Varsity point assisting on Scott Shamp's goal in second quarter for CC. Man Down defensemen (Ben Swan, Dan Fingland, Alex Wezelis) held Brighton scoreless in seven tries. LSM Chris Vitale had 4 take aways for the Saints. Keith Preston won 10/15 face offs and picked up 11 gbs for Churchville-Chili (3-3).

In the cage, Kyle Hohmann played the entire game for the Barons and finished with 14s/11ga. Sean Kettles (three quarters) and Adam Difulvio (one quarter) split time for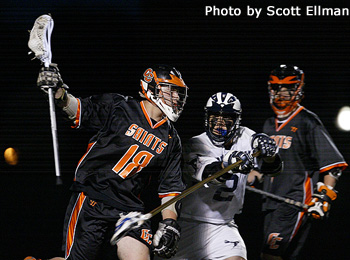 the Saints. Kettles finished with the shut-out with 7 saves. Difulvio recorded 2s/1ga in the fourth quarter.

Dylan Brannon had a take-away in the offensive end, scooped up a ground ball and put a shot past CC backup goalie Adam DiFulvio for Brighton's only goal.

Scoring for Churchville-Chili were Gino Marcello (3g-1a), Jon Hemink (3g), Damien Pagano (1g-1a), Keith Preston (1g-1a), Ryan Yunker (1g), Scott Shamp (1g), Jeff Langschwager (1g) and Zach Yehl (1a).

Scoring for Brighton was Dylan Brannon (1g).

For a more complete look at the numbers, check out the full statistics.
Schroeder 10 - Rush-Henrietta 3
Webster Schroeder outscored the Royal Comets 9-1 in the first three quarters and ended with a 10-3 win in Monroe County D-1 league action at McAvoy Park tonight.

Scoring for Webster were Cody Congul (2g), Mike Tota (2g-2a), Bill Harris (2g), Nick Mooney (1g), Mark Butto (1g), Chris Mason (1g), Pete Noto (2a), Mark Sattrelli (1a) and Joe Matison (1a). Scott Tota had 6 saves and Brian Erick came in at 6:09 in the 4th and had 4 saves for the Warriors (3-4)

Scoring for Rush-Henrietta were Nate DeLone (2g) and Jake Alvarez (1g). Josh O'Shea recorded 14s/10ga for Rush (3-3). No report from Schroeder.

For a more complete look at the numbers, check out the full statistics.
Penfield 15 - Pittsford 3
Penfield jumped out to a 5-0 first quarter lead and extended it to 12-1 at the halftime break.

Scoring for Penfield were Connor Rice (1g-2a), Kyle Denhoff (1g-2a), Kyle Vanthof (5g-2a) with 6/12 f/o and 7 gbs. Also scoring were Gian Maggio (3g-1a), James Dwyer (2g), Kevin Westcott (1g), Toby Terwilliger (1a) and Tucker Nelson (2g). Brady Del Pozzo started in the goal and recorded 3s/2ga in 36 min while Kyle Semrau finished with 2s/1ga (12 min) for the Patriots (6-0).

Scoring for Pittsford were Craig Jerabeck (1g), Tom Rodenhouse (1g), Dan Rosengard (1g), Conor McDermott (1a), Jamie Leone (1a) and Joe Kellls (1a). Brendan Green played in the goal during the first half, recording 4s/12ga and Ernie Hook took the second half making 4s/3ga for Pittsford (3-3).
Bloomfield-Honeoye 8 - Pal-Mac 7
Bloomfield-Honeoye got their second win of the season this afternoon against Pal-Mac, 8-7. The BH's took a 2-0 lead after the first quarter and held it to the half, 4-2. After three quarters Pal-Mac had tied the score up 6-6. However, the BH's took a 2-1 fourth quarter lead and came out with the victory.

Scoring for Bloomfield-Honeoye were Sean Beaney (1g-3a), Chance Sullivan (2g-1a), Luke Anderson (2g), Lucas Mashtare (2g), Zach Stevens (1g-1a) and Cody Hergesell (1a). Max Van Orman made 11s/7ga (61%) in the cage.

Scoring for Pal-Mac were Steve VanDewalle (1g-1a), Chris Merritt (1g-1a), Mike DeMarr (1g), Pete Maklos (1g), Justin Closser (1g), Jordan Wirthman (1g), Brandon Maxwell (1g), Taylor Lennon (1a) and Mike Russell (1a).

Midlakes 8 - Mynderse 7 Overtime
It was a big game for junior middie Ben Uveges who scored the tying goal for Midlakes and then won the game in overtime after receiving a feed from Conor Hogan. Midlakes led 4-3 at the end of one and 5-3 at the half. Mynderse scored three unanswered goals in the third to take the lead, but the Eagles came back in the fourth.

Scoring for Midlakes were Shane Wheeler (1g-1a), Tyler Brooks-Lambert (3g), Conor Hogan(1g-1a) and Ben Uveges (2g-1a). Jared Schoonerman had 23s/7ga for Midlakes (4-3).

Scoring for Mynderse were A.J. Bachman (1a), Charlie Barbay (1g), Dustin Luckinbill (3g-2a), Mike Warrick (1g), Nick Giovanni (1g) and Josh Sahler (1g). Brad Dove, in goal had a total of 14s/8ga for Mynderse (2-3). No report from Mynderse.
Newark 14 - Waterloo 6
Newark scored six goals in the first quarter and added two more in the half to take a 8-4 half time lead. In the second half the Reds added six more while holding the Indians to one goal in each quarter.

Scoring for Newark were Steve Johnson (1g), Colin Johnson (3g-1a), Matt Clemens (3g-1a), John Gonzalez (1g-2a), Eric Stivers (3g-1a), Chad Morrison (2g), Robert Camblin (1g) and Alex Thoms (1a). Marc Minutolo was 15/24 on face offs and Ben Hartman had 9 s/6ga for the Reds (3-3)

Scoring for Waterloo were Pete Vacca (3-1), Curtis Brosius (1g-2a), Chance Lowry (2g) and Jeff Wadhams (2a). Shawn Andrus had 13s/14ga for the Indians (1-7).
Victor 10 - Livonia 9
Victor's Frank Valenti scored the first three goals of the game and led the Blue Devils to a 10-9 win over Livonia. Victor led 3-1 after the first quarter and 5-3 at halftime. Livonia scored the next five straight goals to take the 8-5 lead, however, the Blue Devils could not be held down as they returned with four unanswered goals of their own.

The third quarter ended with Victor up 9-8. Each team scored one goal in the final quarter and Victor held on for the victory. Coach Wood, of Livonia, said "Both teams played very well and had momentum swings which kept the fans on the edge of their seats."

Scoring for victor were Valenti (4g-2a), Ethan Payne (2g-2a), Alex Rogemoser (2g), Tom Rogemoser (1g-1a) and Tom Poitras (1g). In the cage, Kevin Donnelly played the entire game and finished with 10s/9ga.

Scoring for Livonia were Jeff Wester (3g-1a), Chris Bausch (1g-3a), Tyler Russell (3g), Mike Donals (2g) and Matt Girolmo (2a). In the cage, Justin Becker played the entire game and finished with 15s/10ga (60%).

HFL 11 - Hilton 8
Honeoye Falls-Lima started off strong and finished with a win against Hilton this afternoon 11-8. HFL scored the first two goals, one each by Cade Norris and Zach Whyte. Whyte finished the day with 6 goals on 6 shots. Hilton came back with two of their own from David Smith and Jay Clifford. HFL scored the last goal of the first half to take a 3-2 lead. Matt Lesczynski scored the last first half goal for the Cougars.

The third quarter started with HFL scoring the first four goals; Lesczynski, Norris and two for Whyte. Hilton came back and scored three goals in the last 2:07 with Matt Davidson, Clifford and Matt Fracassi. With these last three goals, the Cadets brought the game back to within two goals (7-5).

Like the third quarter, the fourth quarter started with four HFL goals; Griffin and Whyte with three. Norris added two assists in that volley of scoring for the Cougars. Hilton once again added three goals late in the quarter, the last 1:46 seconds. Colin Walker added two and Mike Crumlish scored the final goal.

In the cage, both teams played two goalies; with their back-up goalie playing the final three minutes of the game. Jay Tallon, the starting HFL goalie, finished with 12s/5ga while Chris Milne, the back-up, finished with 3ga. Brad Speer, the Cadet's starting goalie, finished with 5s/11ga and Seth Kohler did not face a shot in the last three minutes.

Scoring for HFL were Whyte (6g), Norris (2g-3a), Lesczynski (2g-1a) and Griffin (1g-1a).

Scoring for Hilton were Clifford (2g-1a), Walker (2g), Crumlish (1g-1a), David Smith (1g), Davidson (1g) and Fracassi (1g).

For a more complete look at the numbers, check out the full statistics.
Gates Chili 15 - Spencerport 9
Spencerport scored the first goal of the game, however, after that the Spartans led for the rest of the night on their way to a 15-9 victory. Gates-Chili led each quarter: 2-1. 4-2, 4-3, 5-3.

Scoring for Gates-Chili were Grant Ferguson (6g-1a), Brad Weber (3g-2a), Tom Elkins (1g-2a), Cam Gormel (1g-2a), Adam Wacenske (2a), Tyler Webb (1g), Jeff Fichtner (1g), Brian Eckam (1g) and Mike Green (1g). In the cage, Jason Baetzhold finished with 6s/9ga.

Scoring for Spencerport were Jon Robinson (2g-1a), Kyle Mark (2g), Justin Putt (2g), Rich LaRock (1g-1a), Steve Hogan (1g), Nick Fischer (1g) and Mike Baldino (1a). In the cage, Mike Palvino finished with 22s/15ga (60%).

Brockport 17 - Greece Ath/Ody 9
Brockport won 17-9 against Greece Athena/Odyssey. Brockport led 3-2 after the first quarter. In the second quarter Brockport added six more goals to the three that the Thunder put on the board and Brockport led 9-5 at halftime. Greece slightly closed the gap in the third bringing the score to 11-7, but the Blue Devils scored six of the last seven goals.

In the cage, Andrew Hosenfeld played the entire game for Thunder finishing with 9s/17ga. For the Blue Devils, Dylan White had 12s/9ga.

Scoring for Brockport were Ryan Pratt (1g-6a), Trevor Hayward (6g), Andrew Willis (2g-3a), David Roberts (3g), Jake Burns (1g-2a), Bryan Johnson (2g), Dylan Brown (1g-1a), Ryan Hage (1g), Jake Brackett (1a) and Joe Storms (1a).

Scoring for Greece Ath/Ody were Nate Wallenhorst (3g-2a), Danny Vyverberg (3g-1a), Dave Yargeau (2a), Phil Lane (1g), Eric Bodine (1g), Greg Ryan (1g), Gino Prestigiacomo (1a) and Isaac Floyd (1a).

Thomas 13 - Eastridge 7
Thomas used early pressure to secure a win over Eastridge 13-7. The Titans scored the first three goals (all unassisted) to take a 3-0 lead after the first quarter. Kyle Lavallee and Jack Hinderland (twice) started the scoring for Thomas.

Eastridge's Matt Driffill found Trevor Horne for the first Lancer goal of the game early in the second. Thomas responded with four more goals before halftime. Kenny Tomeno, Hinderland, JT Hauck and Tomeno again scored for the Titans (Hinderland and Hauck's goals were assisted by Nick Scalzo). The score las 7-1 at the half.

Thomas continued scoring in the third quarter netting the first five goals. The score was now 12-1 Thomas. Eastridge's Brandon Moynihan scored the lone third quarter goal for the Lancers. Hauck added one more with 1:09 remaining in the third, that was the final Titan goal.

In the fourth quarter Eastridge scored the final five goals of the game. Brad Netcke scored along with Adam Sisson, Joe Mortillaro, Matt Driffill and Moynihan. In the cage, the Lancers split time with Eugene
Ferrera (33 minutes) and Jake Czwilinski (15 minutes). Ferrera finished with 10s/11ga, while Czwilinski finished with 4s/2ga. No goalie report from Thomas.

Scoring for Thomas were Nick Scalzo (2g-2a), Jack Hinderland (3g), Kenny Tomeno (3g), Hauck (2g), LaVallee (1g-1a), Kyle Rothfuss (1g), Tom Monna (1g), Joe Amico (1a) and Max Gurowski (1a).

Scoring for Eastridge were Matt Driffill (1g-2a), Brandon Moynihan (2g), Trevor Horne (1g-1a), Brad Netcke (1g), Sisson (1g) and Mortillaro (1g).