Irondequoit, Fairport, Penfield Win
April 5, 2008

- A sunny spring Saturday hosted a dozen varsity games in Section Five today. Winning were Irondequoit, Midlakes, Penfield, Spencerport, Pal-Mac, Gates Chili, Fairport, Thomas, Brockport, Churchville-Chili and HFL.


Irondequoit 13 - Schroeder 6
The difference was about four or five weeks. Whereas Webster Schroeder looked like a normal early season team, Irondequoit looked like they had been playing for a month longer as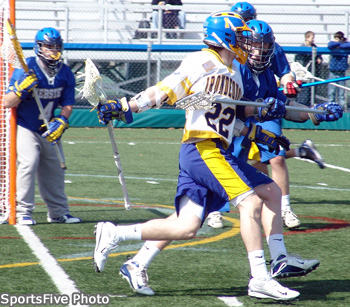 they captured a 13-6 win in Monroe County play.

The Eagles, coming off a tough loss to national powerhouse, West Genesee on Tuesday, looked sharp today, having "benefited" from the loss. "We let up for a six or seven minute period in the third quarter and Genny took advantage of that," said Coach Craig Whipple. "You can't do that against a team that good." The lesson was not lost of the team, however. They came back to practice on Wednesday, telling their coach, "We get it. We know what you're talking about. We've got to play the whole game and play hard every minute if we want to play with the best."

Playing the whole game today, the Eagles consistently moved the ball on offense with many crisp short passes that nearly always hit the mark, while the defensive players went after every ground ball and pressured the Warriors at nearly every opportunity, causing many misthrown passes and turnovers.

The Eagles scored the first three goals of the game. Drew Coholan scored two of his six goals (one assisted by sophomore middie John Padulo). Tyler Kleehammer scored the third at 7:45. With 0:16 left in the first quarter Billy Harris scored with an assist from Mike Tota and Irondequoit ended the quarter up 3-1.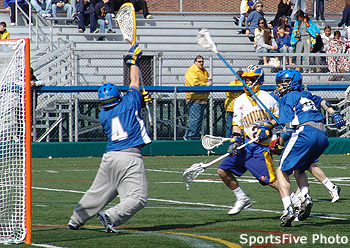 Senior attackman Greg Wright was involved in all three goals scored by Irondequoit in the second quarter, assisting on two and scoring the last goal by himself. Padulo and Coholan scored the goals. Wright ended the game with 2g-4a. Tota added one more for Webster before the half which ended with the Eagles up 6-2.

After the break, Irondequoit went on a scoring streak, adding four more goals in a period of just over two minutes. Wright started it off with a man up goal (assisted by Kleehammer). When Wright shot thirty-seconds later, Webster goalie Scott Tota made the save, which bounced out in front of the cage and was picked up by Padulo who scored (unassisted) at 6:08. Sixteen seconds later Coholan scored again assisted by his brother Greg. They repeated the goal less than thirty seconds later to end the Eagles' scoring flurry. Webster scored their third goal when Joe Matison took an hard underhand riser that hit the top left corner past Irondequoit sophomore goalie Tyler Nash. Senior middie Bryan Haight ended the scoring in the third after receiving a crease feed from Wright.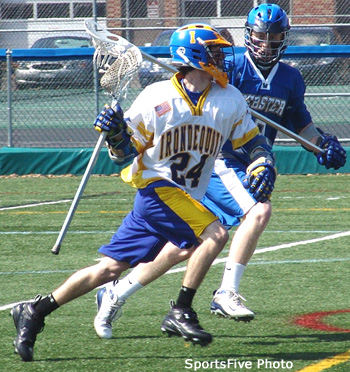 Irondequoit added two more goals at the top of the last quarter and just before the Eagles unloaded the bench. Mike Wallenhorst found Drew Coholan in front of the crease for the first goals and was hit hard after the shot earned the Warriors a one minute penalty. When the Eagles won the next face off, they passed the ball five times before Tony Micelotta scored (in Man up) after getting the feed from Wright. Pete Noto scored (unassisted) the first of three goals for Schroeder to end the game. Nate Powe hit the back of the net after the next face off (assisted by Mark Butto) and Butto ended the scoring with his unassisted goal at 2:48.

Coach Matt Petz was disappointed in the effort, telling the team at one point, that they needed to increase the level of intensity. There were times on the defensive end of the field, when the Eagles picked up ground balls with little or no challenge. The Warriors will get a chance to look better, when they host the Eagles on May 8th but will have their hands full over the next two weeks as they play Churchville-Chili, Penfield, Penn Yan and Amherst.

Scoring for Irondequoit were Drew Coholan (6g), Greg Wright (2g-4a), Jon Padulo (2g-1a), Tyler Kleehammer (1g-1a), Bryan Haight (1g), Tony Micelotta (1g-1a), Mike Wallenhorst (2a), Greg Coholan (1a). Tyler Nash had 7s/6ga in the nets for the Eagles.

Scoring for Schroeder were Mike Tota (1g-1a), Mark Butto (1g-1a), Billy Harris (1g), Joe Matison(1g), Pete Noto (1g) and Nate Powe (1g). Scott Tota played all but two minutes in the nets recording 8s/13ga. Brian Enck took the last two minutes of the game but faced no shots for the Warriors.

For a more complete look at the numbers, check out the full statistics.
Midlakes 10 - Bloomfield-Honeoye 5
After a 1-1 tie at the end of the first quarter, Midlakes outscored Bloomfield-Honeoye in the second and third quarters to secure a 10-5 win.

Scoring for Midlakes were Tyler Brooks-Lambert (4g-3a), Mike Newland (1g), Ben Uveges (2a), Nick Newland (3g), Tom Cheney (1g) and Connor Hogan (1g-1a). Michael Iannone started in the goals (5mins) with 1s/1ga and Jared Schoonerman finished the game with 11s/4ga (73%)

Scoring for Bloomfield-Honeoye were Sean Beaney (3g), Lucas Mashtare (1a), Cody Herrgesell (1g) and Chance Sullivan (1g-1a). Max Van Orman had the goaltending duties and had 14s/10ga for the BHers. No report from Bloomfield-Honeoye.


Penfield 17 - Rush-Henrietta 4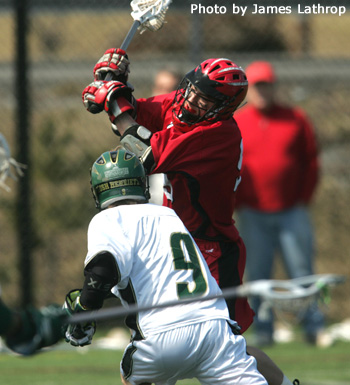 Penfield took the game into running time as they defeated RH 17-4. The Royal Comets looked good in the game, but the Patriots dominated in most statistical aspects of the game and demonstrated that Monroe County Division-1 is the toughest competition around.

Penfield finished the first quarter with a 7-1 lead (7-0 before the Royal Comets scored with 0:38 remaining). Scoring for Penfield included two goals each for Kyle Denhoff and Connor Rice. Both Denhoff and Rice ended the game with 5 goals each (Denhoff had 1 assist and Rice had 2 assists).

The second quarter was much like the first with the Patriots winning 7-2. Scoring included three more for Rice. Rush Henrietta's Justin Gmeinweiser and Nate Delone each added unassisted goals for the Royal Comets.

The Patriots swept the third quarter with three more goals while holding the Royal Comets scoreless. Dehoff added his final two as well as Tyler Zweifel adding one more for Penfield. Colin Cornaire added his second for RH as the lone goal of the fourth quarter for either team.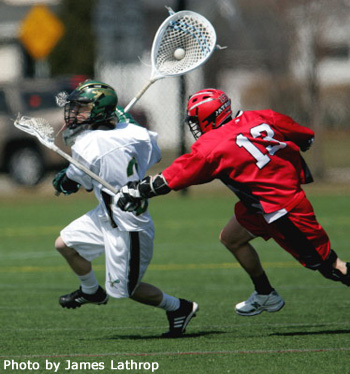 Kyle VanThof won 9/15 face-off's and helped control the ball. VanThof led the Patriots with 8 ground balls. Jon Wheaton, Denhoff and Alex Nowak all added five tallys to the ground ball count for Penfield. For RH Dylan Saxon, Bobby Pattridge and Aaron Bethmann each added three ground balls and led their team.

In the cage both goalies split time. Penfield's Brady Del Pozzo played 33.5 minutes (2s/3ga) and Kyle Semrau played 14.5 minutes (4s/1ga). RH split at 39 minutes, however only Josh O' Shea saw any shots on cage (12s/17ga).

Scoring for Penfield were Rice (5g-2a), Denhoff (5g-1a), VanThof (1g-3a), Tucker Nelson (2g), Alex Smith (1g-1a), Gian Maggio (1g-1a), Zweifel (1g), James Dwyer (1g) and Toby Terwilliger (1a).

Scoring for RH were Cornaire (2g), Delone (1g-1a) and Gmeinweiser (1g).

For a more complete look at the numbers, check out the full statistics.


Spencerport 9 - Greece Athena/Odyssey 6
Spencerport was a 9-6 winner over the Greece Thunder in a Monroe County-3 game held at Irondequoit.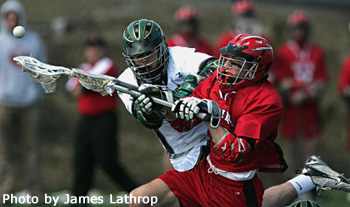 This was a fast paced game controlled for the most part by the Spencerport defense, which was responsible for 18 of 20 successful clears and 5 of 7 successful Man-Down situations. Justin Putt topped the offense with a total of 5 points, and won 8 of 13 face-offs. Spencerport out shot Greece 34 - 27, with one of those shots resulting in a shorthanded goal by Nick Fischer assisted by Kyle Mark in the 4th Quarter. The Greece Defense amassed 18 of 23 successful clears and successfully defended 4 of 9 Man-Down situations.

Scoring for Spencerport were Justin Putt (3g-1a), Luciano Petrella (2g-2a), Kyle Mark (2g-1a), Kyle Breach (1g-1a) and Nick Fischer (1g-1a). Mike Palvino had 16s/4ga in 42:30 mins and Tyler Lariviere had 4s/2ga in 5:30 mins for the Rangers

Scoring for the Thunder were Nate Wallenhorst (3g-2a), Phil Bond (2g), Phil Lane (1g-1a), Gino Prestigiacomo (1g) and Eric Bodine (1a). Andrew Hosenfeld recorded 17s/9ga.


Pal-Mac 10 - Waterloo 3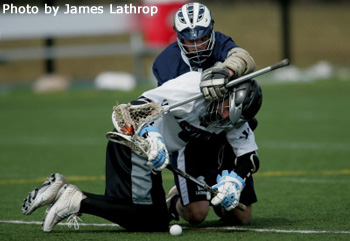 In this Finger Lakes-2 game at Waterloo, it was Pal-Mac (2-0) with a 10-3 win over Waterloo (0-2)

Scoring for Pal-Mac were Jordan Wirthman (1g), Justin Closser (2g-1a), Steve VanDewalle (1g-1a), Peter Maklos (1g-2a), Greg Kier (2g), Mike Russell (1g), Jesse Doyle (1g) and Andrew Moak (1g). Tim Doyle had 14s/3ga (82%) for Pal-Mac.

Scoring for Waterloo were Jeff Wadhams (1g-1a), Robert Goodenow (1g), Curtis Brosius (1g), Joe Shafer (1a) and Nicholas Leeber (1a). Shawn Andrus had 13s/10ga (57%) for Waterloo.


Gates Chili 16 - Greece Arcadia/Olympia 1
It was a long day for Greece Arcadia/Olympia as the Spartans from Gates Chili scored 3 goals in the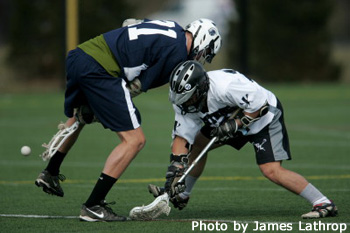 first quarter, six in the second quarter and three more in the third before finishing with a 16-1 win at McAvoy Park in Irondequoit. Senior midfielder Brad Weber won 15 of 17 face offs and picked up 10 ground balls for the Spartans.

Scoring for Gates Chili were Tom Sudek (5g-2a), Mike Greene (4g-2a), Tom Elkins (4g-1a), Jeff Fichtner (1g-2a), Brad Weber (3a - 15/17 facoffs - 10 gbs), Matt Dakin (1a) and Cam Gormel (1g-1a). Jason Baetzhold had 6s/1ga for the Spartans.

Scoring for Arcadia/Olympia was Dustin Lenz Emmi with an assist from Nick DiGrazia. Zach Bevilacqua made 18s/12ga in three quarters in the nets and Anthony White made 2s/4ga in the last quarter for the Lightning.


Fairport 10 - Pittsford 4
Penalties were the name of the game when Fairport defeated Pittsford 10-4 in Monroe County Division-1 play. All four goals scored by the Panthers were scored on EMO as well as four of the ten Raider goals.

The game started close when Fairport's David Foley found Aaron Jones on the outside for a high side arm shot passed Brendan Green. Pittsford tied the score up with 2:33 remaining when Alex Kober scored (assisted by Jimmy O'Neill) on man-up. The first quarter ended with the score 1-1.

Fairport broke the game open in the second quarter, outscoring the Panthers 5-1 including two EMO goals of their own. Fairport's scoring came from their attack with 7 goals coming from attackman and 3 from midfielders. There were five penalties in the second quarter with goals produced from four of them. Fairport continued their strong play and scored three more unanswered goals in the third quarter to extend their lead to 9-2.

Pittsford outscored the Raiders in the fourth with two goals to Fairport's one. The two Panther goals came at 2:12 and 1:27 and were both man-up. Jamie Leone scored both goals with assists from David Quinzi and James Purpura.

Both goalies played well and each made a number of spectacular saves. Green finished the game with 17s/10ga (63%) for the Panthers while Kristoffer Sterzin finished with 11s/4ga (73%) for the Raiders.

Michael Lehmann finished well for the Raiders with 8 ground balls and 9/16 at the face-off draw.

Scoring for Fairport were Jones (3g-1a), Paul Dancy (2g), Connor Lowe (2g), David Foley (1g-1a), Martin Manilla (1g-1a), John McDonnell (2a) and Brendan Saylor (1g).

Scoring for Pittsford were Leone (2g), Kober (1g), Connor McDermott (1g), O'Neill (1a), Purpura (1a) and Quinzi (1a).

For a more complete look at the numbers, check out the full statistics.


Thomas 15 - Hilton 5
In a game that was held at Brighton High School, the Thomas Titans started the day in the wrong uniforms but from that point on most of the day went well. Coach Rob Ruller thought it was his home game and had his team in the wrong uniforms. After a quick switch to the away jerseys the Titans were ready to go.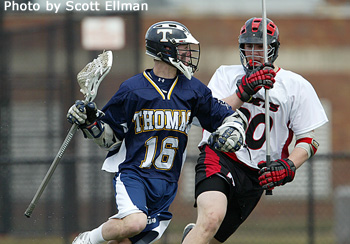 Scoring first for the Titans was junior attackmen Nick Scalzo with an assist from junior midfielder Pat Morrill. Sophomore attackmen Jack Hinderland had the next goal for the Titans when he picked up a loose ball and scored.

Thomas's Third goal came from Scalzo again as he cut and caught the feed from Max Gurowski. The final goal of the first quarter came from Gurowski with an assist from Kyle Lavallee. The Titans defense was aggressive early forcing goalie Jimmy O'Neill to come up with some big saves. He had 5 saves in the first and ended with 9 in the first half. The Titan Man down unit was perfect in the First Quarter stopping all three man up opportunities by the Cadets. The Cadets got on board in the second quarter when James Moss scored with an assist from Jay Clifford.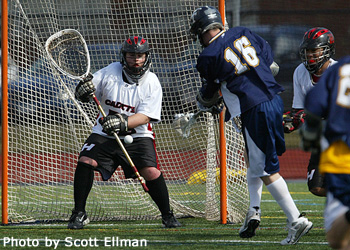 The second quarter saw a pretty even quarter with some sloppy play between the restraining lines on rides and clears. Hilton played a physical and tough game and had 9 shots in the quarter scoring on two. Scoring was Mike Crumlish (unassisted) . The Titans saw goals from Jack Hinderland on a back door cut and feed from Max Gurowski and from Pat Morrill with an assist from Kyle Lavallee. The Titans finished the scoring on a hustling play by Sophomore Midfielder Kenny Tomeno in transition taking the score to 7 to 2 for Thomas.

The Titans defense led by Juniors AJ Glagolev, Mason Hill, Joe Amico and Seniors Keith Maimone and Jake Ziegler shut down the Hilton offensive unit in the third quarter. The offense, however scored just a minute into the quarter when Lavallee found the back of the net on a dodge down the alley for his first goal of the day. Billy Gurowski then scored on a dodge from the wing and senior defensemen Jake Ziegler scored his first goal of the season when he took the ball away and scored on a transition. Junior long stick midfielder Joe Amico found Nick Scalzo on the crease for his third goal of the day. A man up goal was scored for Thomas when freshmen attackmen Kyle Rothfuss scored on an assist from Jordan Bernstein. Thomas goalie Austin Fox had 4 saves in the third quarter and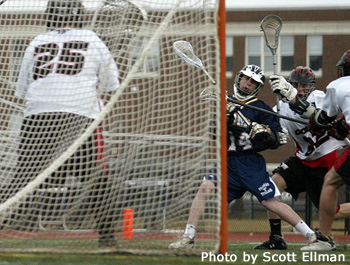 allowed no goals.

Scoring for Hilton in the fourth quarter were midfielders Jimmy Gaffney (assisted by James Moss) and then Moss scored with an assist in man up from Steve Bernstein. Gaffney scored the final goal for Hilton on an assist from Fracassi.

Scoring for Thomas were Nick Scalzo (3g), Jack Hinderland (2g), Max Gurowski (1g-2a), Billy Gurowski (1g-2a), Pat Morrill (1g-1a), Kyle Lavallee (1g-2a), Jordan Bernstein (1a), Jake Ziegler (1g), Kyle Rothfuss (3g) and Kenny Tomeno (1g). Jimmy O'Neill and Austin Fox combined for 16 saves.

Scoring for Hilton were Mike Crumlish (1g), Jay Clifford (1a), Matt Fracassi (1a), James Moss (2g-1a), Jimmy Gaffney (2g) and Steve Bernston (1a). Troy Johnson wan 4 of 4 face offs. Brad Spear and Seth Kohler combined for 9 saves.


Brockport 13 - Batavia 6
Brockport scored early and often and Batavia could struggled for a comeback as Brockport won 13-6.

Brockport scored the first five goals and it was 19 minutes before Batavia got on the board. Ian Chapman opened the scoring for Batavia on a double man-up opportunity. Brockport followed with their sixth goal (Jake Burns from Sean Bittner). Bittner finished with 2g-2a. The half ended with Brockport up 6-1.

The third quarter was the best quarter for Batavia as they tied Brockport 3-3. Batavia scored the first two goals of the quarter as Will Mulcahy and Vinny Pedro each scored unassisted goals. Brockport, however, quickly came back with two of their own; Trevor Hayward (from Andrew Willis) and Jake Burns (from Ryan Pratt). The two Blue Devils teams traded goals one more time in the third as Batavia's Zach Fay (from Chapman) and Brockport's Hayward (from Pratt) both scored.

Brockport reasserted their control again, winning the fourth quarter 4-2. Willis added two more for Brockport and Bittner adding one goal and one assist.

In the cage, Batavia was missing their starting goalie but Theo Hill played well for the Blue Devils with 16s/13ga (55%). For Brockport Dylan White finished an even 50% (6s/6ga).

Scoring for Brockport were Willis (3g-1a), Bittner (2g-2a), Hayward (3g), Pratt (1g-2a), Burns (2g), Dylan Brown (1g-1a), Matt Lester (1g) and Ryan Hage (1a).

Scoring for Batavia were Joe Muoio (2g), Chapman (1g-1a), Mulcahy (1g-1a), Pedro (1g) and Fay (1a).

For a more complete look at the numbers, check out the full statistics.


Churchville-Chili 11 - Eastridge 4
The Saints cruised to an 11-4 victory over Eastridge behind the dominating face off performance by Keith Preston (16/18) who also set a new school record for 17 ground balls in a game.

Churchville-Chili led in ground balls (41 to 20) and converted 2 of 4 man up opportunities while holding the Eastridge man up unit scoreless in 7 tries.

Alex Wezelis led the defense with 2 takes while Chris Vitale scooped a face off ground ball and raced down the field assisting a wide open Gino Marcello for the score 0:08 seconds into the 2nd quarter. Sean Kettles had another fine day in goal with 7s/4ga before giving way to Adam DiFulvio for the last 1:30.

Leading all scoring were Gino Marcello (6g) and Damien Pagano (2g, 2a). Jon Hemink and Ryan Yunker each added 1 goal and David Peck scored his first Varsity goal just before halftime to make the halftime score 6-2. Chris Vitale added an assist to complete the scoring. No report from Eastridge.

For a more complete look at the numbers, check out the full statistics.
HFL 14 - Brighton 5
"Hard work and Teamwork got us the victory, " was the comment from HFL first year Head Coach Todd Morgan after the Cougars finished a 14-5 win at Brighton, in Monroe County-2 divisional play.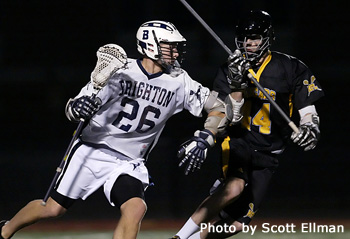 The late night game saw HFL take a 3-1 lead after the first quarter and a 6-2 lead at the half. After adding six more in the third while holding the barons to 1, the Cougars finished with two goals as did the Barons in the last quarter.

Scoring for Honeoye Falls-Lima were Zach Whyte (4g-1a), Zach Yager (1a), Bryan Gardner (1g), Mickey Allan (2g-2a), Greg Coady (1g), Mike Coady (3g-2a). Ian Griffin (1g) and Cade Norris (2g-4a). Zach Jones won 14/21 face offs. Jay Tallon had 5s/4ga (42 mins) and Chris Milne finished in the cage recording 1ga for the Cougars (1-1).

Scoring for Brighton were Mark Henrichs (1g), Matt Fedick (1a), Taylor Galbraith (2g) and Evan Davis (2g). Kyle Hohmann had 9s/14ga for the Barons (0-2). No report from Brighton.

For a more complete look at the numbers, check out the full statistics.