Thursday Games - Many Lopsided
May 3, 2007

- There were twelve games scheduled for Thursday and a number of games ended with lopsided scores. Among the winners today were Hilton, R-H, Thomas, Schroeder, C-C, GC, Geneva, Penn Yan Victor and Newark


In the end, Rush-Henrietta was the 9-7 winner over a hard working and determined Pittsford, but the game was clearly up for grabs throughout the contest. The game was tied at one at the end of the first quarter after unassisted goals by Brian Hantzis for R-H and Chris Kist for Pittsford.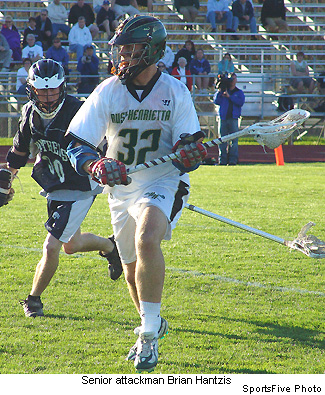 Rush scored three in a row in the second quarter starting at 11:16 with a cross-crease feed by Nate Delone to Bobby Pattridge. At 10:33 Hantzis scored another unassisted goal and ten seconds later Pattridge and Delone combined for a goal, giving the Royal Comets a 4-1 advantage. Pittsford came back with an unassisted score by Brett Bridges at 9:17 when he scored a man up goal from an outside dodge and a shot high and off stick. Matt Moran gave RH a 5-2 lead with a feed from Hantzis. Two minutes later Pittsford returned when Bridges hit Doug Milano-Johnson on a cross-crease feed. Less than a minute later Pattridge scored with a feed from Moran with a high off stick shot which got past Brendan Greene who stopped numerous high pressure shots and kept the Panthers in the game. The half ended with a time out play designed to mismatch Justin Rose, who substituted after the whistle and ran his short stick right to the goal for the unassisted score. R-H led at the half 7-3.

Pittsford came alive after the break, scoring all three goals in the quarter. Just 0:50 seconds into the third, Cam Edmiston scored an unassisted goal after driving from behind the goal. Milano-Johnson scored an unassisted goal at 5:40 on a drive from the front and Conor McDermott brought the score to within one with his unassisted drive to the goal. The third quarter ended with R-H up 7-6.


Rose scored first in the last quarter with his unassisted goal at 8:33, but Pittsford came back with an unassisted goal by Milano-Johnson who cut toward the front of the cage and placed an underhand shot at the feet of McShea. Colin Cornaire ended the game with a man up goal (assisted by Hantzis) for the R-H 9-7 win.

The high stress game was dominated by excellent individual and team defense. For most of the game Pittsford's Rob Shalvoy and Matt Scherer played aggressive and hard-hitting defense. Ground ball work by Pittsford allowed the Panthers more ball time than Rush would have expected. and both McShea and Green "wowed" the crowd with dramatic saves.

Scoring for Rush-Henrietta were Rose (2g), Cornaire (1g), Pattridge (3g), Moran (1g-1a), Delone (2a) and Hantzis (2g-2a). Matt McShea at 16s/7ga (70%) for the Royal Comets (5-4).

Scoring for Pittsford were McDermott (1g), Milano-Johnson (3g), Bridges (1g-1a), Kist (1g), Edmiston (1g). Brendan Green recorded 10s/9ga (53%) for Pittsford (2-4).


Victor defeated Midlakes 12-2 in a Finger-Lakes division crossover game. Victor led at the half 9-0. Midlakes scored the only two goals of the third and Victor scored the only three goals of the fourth.

Victor led the ground balls (60-16), shots (46-19) and face-offs (12/17). In the cage, Mitchell Liegerot recorded 4s over the first half and Cody Bennett recorded 5s/2ga (71%) in the second half. For Midlakes, junior Jared Schoonerman finished with 18s/12ga (60%).

Scoring for Victor were Alex Rogemoser (2g-1a), Steven Hearn (2g-1a), Joe Coleman (1g-2a), Frank Valenti (2g), Kurt Sullivan (2g), Eric Willman (2a), Ethan Payne (1g), Jason Houtenbrink (1g) and Andy Savage (1g).

Scoring for Midlakes were Glen Stevenson and Nick Newland while Tyler Brooks-Lambert and Ben Uveges recorded the assists.


Schroeder defeated Fairport for the second time this year in Monroe County division-1 play with a scored of 10-8.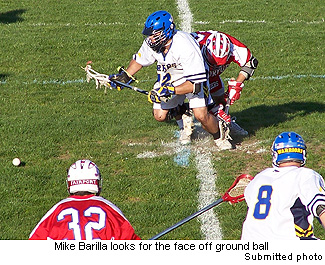 The Warriors came out to an early 3-0 lead after the first quarter. Fairport struck back early in the second taking the score to 3-2 before Schroeder scored three more to bring the halftime score to 6-2 in favor of Schroeder.

Schroeder scored one more to take the score to 7-2 before Fairport scored three to bring the score once again to within a few (7-5). Yet again the Warriors fought back as they scored the next three goals to end the third quarter 10-5. That was the end of scoring for Schroeder.

The fourth quarter saw a comeback, of sorts, for Fairport as they score the only three goals of the quarter, but in the end it was not enough to take down the Warriors.

In the cage, senior Zach Marshall had a 50% day (8s/8ga) for Schroeder who improves to 10-1 while Kristoffer Sterzin recorded 7s/10ga (41%) for Fairport (5-5).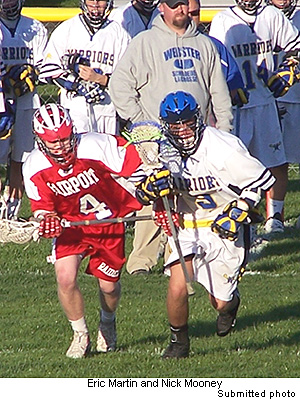 Scoring for Schroeder were Grant Catalino (3g-1a), Mike Barilla (3g), Mike tota (2g), Austin Orsini (1g-1a), Chris Topping (2a), Nick Mooney (1g) and Andy Winslow (1a).

Scoring for Fairport were Tom Rynn (5g-1a), Mike Danylyshyn (1g-2a), Shawn Runyon (1g-1a) and Eric Martin (1g).

No report from Fairport.




Gates-Chili took a 9-0 first quarter and a 17-0 halftime lead on their way to a 22-0 win over Batavia.

Scoring for Gates-Chili were Andrew Hilton (5g-1a), Tom Elkins (4g-2a), Mike Green (5g), Pat Sposato (2g-3a), Tom Sudek (1g-4a), Brad Weber (1g-3a), Jeff Fichtner (2g-1a) Jim Lynah (1g) and Doug Livingston (1g). Jason Baetzhold played the entire game and recorded 2s in the shutout for the Spartan (6-4).

No report from Batavia.




Geneva defeated Pal-Mac in a Finger-Lakes division cross-over game this afternoon with a scored of 15-4. Geneva took a quick 4-1 lead after the first quarter and extended it to 10-3 at the half. The Panthers scored the only five goals of the third, while the Raiders scored the lone goal in the fourth. Geneva out shot Pal-Mac 24-15 and also won the ground ball battle 57-39.

In the cage senior Matt Schutz recorded 7s/4ga (64%) and junior Kyle Brimm played but faced no shots on. Senior Jonathon Reeve played the entire game for the Raiders finishing with 6s/15ga (29%).

Scoring for Geneva were Alex Love (3g-3a), R.J. Gringeri (3g-2a), Greg Bonney (3g-2a), Anthony Fili (1g-3a), Willy Rago (3g), Tyler Travis (1g), Jim Warner (1g) and Matt Augustine (1a).

Scoring for Pal-Mac were Steve VanDeWalle, Mike Christ, Peter Maklos and Jordan Wirthman, who each score one goal for the Raiders.


Penn Yan scored seven in the first quarter, six in the second and five in the third, and none in the fourth and defeated Waterloo 18-0.

Scoring for Penn Yan were Ryan Cook (4g-3a), Adam Trombley (2g-5a), Cole Castle (3g-1a), Matt Osgood (2g-2a), John Linnan (3g), Michael Manley (1g), Ty Trombley (1g), Josh Plumlee (1g), Brandon Trombley (1g), Mitch Kicher (1a) and Donald Benedict (1a). R.J. Wickham played just over a half and finished with 6s while junior Adam Galusha recorded 2 more saves during the remaining game.

Junior Shawn Andrus ended the game with 15s/18ga (45%).


It was Newark over Greece Athena-Odyssey 17-4. Playing in their third game in as many days, Newark came out fast, scoring 7 goals in the first quarter. Half-time ended with Newark holding a 13-2 advantage.

Scoring for Newark were Matt Clemons (2g-2a), Colin Johnson (5g-5a), Stephen Johnson (5g-3a), John Barrett (1g-2a), Adam Golding (3g-2a), Ollie Smith (1a) and RJ VanDeMortal (1g-1a). In the cage were three different goalie; Josh Putman 7s/2ga (78%), Ben Hartman 1s and Michael Bogan 1s/2ga (33%).

No report was received from Greece Athena-Odyssey.




Hilton defeated Eastridge 12-6 in a Monroe County division-2 game this afternoon.

Scoring for Hilton were Cory Ames (1g), Alex Wood (2g, 1a), Jay Clifford (3a), Kyle Hayward (2g), Colin Walker (2g, 1a), James Moss (2g, 2a) and Jeff Delong (3g). Goalie Aaron Donahey had 19 saves in goal.

No report was received from Eastridge.




Churchville-Chili defeated Spencerport in an Monroe County division-3 game tonight, 13-2. In a game marred by penalties (Churchville-7, Spencerport-11), the Saints defense played very well shutting out Spencerport's man-up offense and winning ground balls (46-31). The fourth quarter showed the Saints depth with reserve players at every position.

Scoring for Churchville-Chili were Doug Hemink (3g), Keith Preston and Ben Rossignolo (2g) each, Gino Marcello, Ryan Grogan and Jamie Englert each recorded (1g-1a). Rounding out the scoring was Damien Pagano, Trevor Jessup and Matt Carey, each with 1 goal. Sean Kettles had 6 saves, 2 goals against (75%) in 41 minutes for the win. C-C improves to 9-1.

Scoring for Spencerport were Phil Schmid (1g), Mike Palvino (1g) and Pat Decker (1a). Three different goalies played for the Rangers; Palvino 17s/10ga (63%), Roger Youmans 6s/2ga (75%) and Dave Stevens 2s/1ga (66%). Spencerport moves to 3-7.


Webster Thomas defeated Brighton 15-9. In the second meeting of the Titans and the Barons the Thomas took a 5-3 lead into the second quarter and then a 9-4 lead into the halftime break. The Third quarter saw the Titans increase their lead followed by an even fourth quarter.

Scoring for Thomas were Dom Scalzo (5g-3a), Nick Scalzo (3g-1a), Brendon Rothfuss (1g-3a), Pat Morrill (2), Jack Hinderland (2g), Billy Gurowski (1g), Spencer Marsh (1g) and Max Gurowski (1g). Three different goalie played for the Titans; James O'Neil 6s/4ga (60%), Kevin Ryan 1s/3ga (25%), and Austin Fox 4s/2ga (66%).

No report from Brighton.




Brockport won their game 15-1 against Greece Arcadia/Olympia. Scoring for Brockport were Adam Nauerth (3g-3a), Eric Gallert (3g), Sean Bittner (2g-1a), Andy Willis (2g-1a) and Braden Flynn (2g), Justin Klymochko, Matt Lester and John Hopkins each scored one goal and Tyler Sutphen, Ryan Pratt, Will Glynn and John Pacitto each added one assist. Connor Mykins had 9s/0ga in the first half and John Duthoy had 6s/1ga ( 86%) in the second half for Brockport (5-4).

Scoring for Greece Arcadia/Olympia were Matt Hood (1g) and Rob Warner (1a).

No report from Greece.




It was Irondequoit over Penfield 11-6 in Monroe County-1 play at Irondequoit. Penfield led 1-0 after 1 quarter and was up 3-2 with 1:48 remaining in the 1st half.

Scoring for Penfeild were Dan Huntington (2g), Kyle Denhoff (1g-1a), Kevin Roe (1g), Paul Leonhard (1g), Alex Miles (1g), Tucker Nelson (1a) and Kyle Van Thof (1a). Brady Del Pozzo had 8s/11ga.Van Thof won 6 of 12 faceoffs. Penfield was assessed 10 minutes in penalties and Irondequoit was given 5 minutes.

No report from Irondequoit.