Saturday - CA, Fairport, Irondequoit Win
April 28, 2007

- Canandaigua was a decisive winner over Penn Yan today. Fairport beat Corning East 10-3, Schroeder won the cross town game and Irondequoit remained undefeated with a win over Gates Chili today. Other winners included Eastridge, Brighton, R-H, C-C, Penfield and AQ .


Canandaigua defeated Penn Yan 10-5 this afternoon in a Finger Lakes division-1 game in a game filled with offense.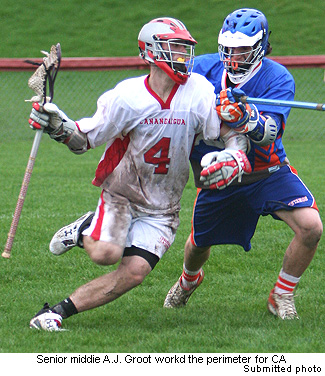 The Mustangs came out to an early 2-0 lead after scoring the first two goals at 10:23 and 4:34. Both goals were scored by Matt Osgood (the first assisted by senior attackman Ryan Cook and the second unassisted). A.J. Groot scored the first Canandaigua goal at 2:42 with an high inside shot. The second Braves goal, and last of the first quarter, was scored by Connor Henderson (assisted by Tyler Wakefield). Henderson led all scorers with 5g. The first quarter ended in a 2-2 tie.

Canandaigua controlled the second quarter scoring two goals and holding the Mustangs to none. The first was another goal by Henderson (this time assisted by Groot). Henderson's shot hit Wickham, bounced off the outside pipe and scored across the net just inside the pipe. The second goal was a drive from behind from Justin Tomzak at 3:32. The Braves took a 4-2 lead into halftime.

The third quarter began with a man-up Mustang goal as Osgood scored his third goal with an assist from John Linnan. Canandaigua added their own extra man goal at 5:33 when Henderson found the back of the net (assisted by once again by Wakefield). Henderson also scored the next goal after Andrew Knoblauch looked to the crease to find him open and unguarded. The last goal in the quarter was another man-up goal for the Braves as they looked to the diagonal with Brian Scheetz feeding Wakefield. Scheetz leads the Braves in total assists with seventeen. The third quarter ended with the Braves up 7-3.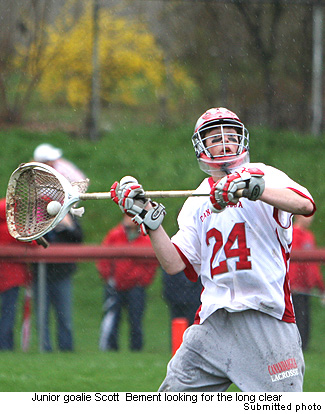 Canandaigua scored the first two goals in the fourth quarter at 10:57 and 10:47. Henderson (again from Knoblauch) scored from a crease pass for the first goal, while Groot scored from a face-off fast-break for the second. The Mustangs scored the next two goals at 9:06 and their last at 7:27. The first goal was scored when Wickham took the ball from the save all the way to opposite net and the second was an outside shot during man-up by Cole Castle (assisted by Linnan). The Braves scored the final goal of the game with 6:31 remaining and was an unassisted goal by Charlie Sauter.

Wickham, who is a senior, recorded 10s/10ga (50%) and played the entire game for Penn Yan (5-4). The Braves' junior goalie Scott Bement recorded an amazing 14s/5ga (74%) and was instrumental in the victory for CA (8-1).

Scoring for Canandaigua were Henderson (5g), Groot (2g-1a), Wakefield (1g-2a), Knoblauch (2a), Tomzak (1g), Sauter (1g) and Scheetz (1a).

Scoring for Penn Yan were Osgood (3g), Linnan (2a), Castle (1g), Wickham (1g) and Cook (1a).


Penfield jumped out 4-0 after the first period and led 7-2 at half. The Patriots extended their lead to 9-4 going into the last quarter. Penfield was up 11-6 with 3:29 left when Hilton fought back to make an 11-8 final.

Scoring for Penfield were Kevin Green (3g-2a), Kyle Van Thof (2g-2a), James Dwyer (2g), Kevin Roe (2g), Kyle Denhoff (2a), Toby Terwilliger (1g) and Dan Huntington (1g). Brady Del Pozzo made 9s/8ga (53%) for the Patriots (5-3).

Scoring for Hilton were Jeff Delong (3g), Jay Clifford (2g), Mike Crumlish (1g), Matt Davidson (1g), James Moss (1g) and Alex Wood (1a). Aaron Donahey had 14s/11ga (56%) for the Cadets (5-4).


Eastridge improved their record to 6-2 with a 19-4 win over Greece Arcadia/Olympia (Lightning).

Scoring for the Lancers were Brandon Moynihan (4g-1a), Matt Driffill (1g-7a), Alex Austin (4g-1a), Kevin Mahler (2g), Todd Horne (1g-1a), Alan Ingrasio (2g-1a), Shane Driffill (2g), Curtis Scott (2g), Adam Sisson (2a), and Mark Keller (1g). Eugene Fererra made 13s/2ga (87%).

No report from the Lightning.




Played under overcast skies and windy conditions, Churchville-Chili took home a 15-4 victory from Honeoye Falls-Lima. The Saints started early, running up a 7-0 advantage at the half with strong efforts from the defense.

Scoring for the Saints were Ben Rossignolo (2g-3a), Jamie Englert (2g-2a), Gino Marcello and Ryan Grogan (3g) each and Cory Mee (2g). Rounding the scoring with one goal each were Doug Hemink, Keith Preston and Brian Traugott. Sean Kettles recorded 9s/4ga (69%) for Churchville-Chili (7-1).

Scoring for H-F-L (1-7) were Ian Griffin (1g) and Cade Norris (3g).


It was Aquinas the 9-6 winner in a closely played game at Midlakes. Aquinas started off with a 4-1 first quarter, but the Eagles came back before the half which ended with the Little Irish up 5-4. Both teams scored two in the thirds quarter.

"We played hard today," said Midlakes Coach Rich Doan. "Even though scored didn't show it, we really did play a good game today. I'm really proud of our kids."

Scoring for Aquinas were Nick Berkompas (3g-2a), Austin Gorman (3g-1a), Marc Brondon (1g-1a), Anthony Bianchi (1g-1a), and Neil Foley (1g). Alan Antinarelli had 10s/4ga (71%) in the first half and Kraig Heston had 9s/2ga (82%) in the second half for AQ (4-5).

Scoring for Midlakes were Conor Hogan (2g), Glen Stevenson (1g-1a), Tyler Brooks-Lambert (1a), Clay Hemminger (1g) and Nick Newland (2g). Jared Schoonerman had 18s/9ga (67%) for the Eagles (3-5).


Fairport dominated in their win over Corning East, of Section IV, 10-3.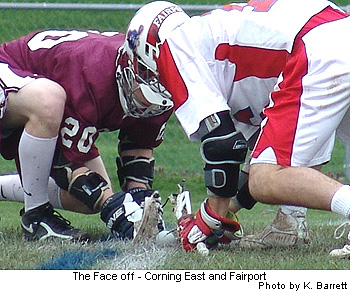 The Red Raiders began the afternoon by scoring the first three goals and giving the Red Raiders a 3-0 lead. Freshman Martin Manilla scored the first goal of the game when Tom Rynn found him on a cross-crease feed. Rynn led all scorers with 1g-3a. Fairport scored their next two goals in uneven situations, the first in man-down and the second in man-up. The first goal was scored by Shawn Runyon who ran through the clear and dodged three different Trojans to find the back of the net. The final goal of the first was an outside shot by Rynn at 2:49.

The second quarter began with a Corning East goal, as Mitch Keefer drove and found the back of the net. The Red Raiders retaliated with two goals, the first by Aaron Jones (assisted by Rynn) on a crease pass, and the second by Mike Danylyshyn (unassisted). Danylyshyn found a ground ball near the crease and capitalized for the goal. Both of the final two goals of the half were scored in man-up, one for each team. The first goal was for Corning East as Matt Pierotti scored (assisted by Brendan Hennessy) with an outside side-arm rocket. The Fairport goal was scored by Manilla (assisted by Runyon) on a crease pass. The score was 6-2 at the half.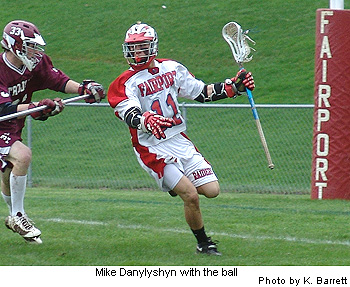 The third quarter's scoring was low with Fairport scoring the only goal at 10:16. Brendan Saylor scored with an unassisted drive. The score was 7-2 at the end of the third.

Fairport's Runyon scored his final goal of the game with an outside shot at 10:12. The Trojan scored their last goal with 7:11 remaining with a man-up goal by Pierotti from a ground ball pickup. Fairport's also scored in man-up when Jones scored again (assisted by Rynn) on a crease look. The final goal of the game was scored seven seconds later on a face-off fast-break by Saylor (assisted by Jones).

Carter Bloor, of Corning East, was stellar at the face-off. Bloor, who excelled in faceoffs for the Western team during the Empire State Games, also dominated tonight with 13/15 (87%).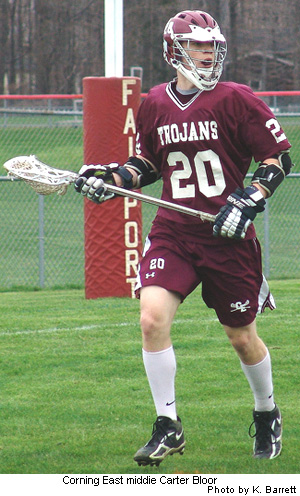 Sophomore Kristoffer Sterzin was dramatic for the Red Raiders (4-4) with 11s/3ga (79%) while Tom Holden 7s/9ga (44%) and Neal Turkasz 1s/1ga (50%) both played for Corning East (10-2).

Scoring for Fairport were Rynn (1g-3a), Jones (2g-1a), Runyon (2g-1a), Manilla (2g), Saylor (2g) and Danylyshyn (1g).

Scoring for Corning East were Pierotti (2g), Keefer (1g) and Hennessy (1a).


Rush-Henrietta jumped out to the early with a 7-0 lead after the first quarter and extended their lead to 13-1 at half. Nine different players scored for the Royal Comets won won 18-5.

Scoring for R-H were Nate Delone (5g), Bobby Pattridge (3g), Matt Moran (2g-2a), Justin Rose (2g), Shane Alves (2g), Ryan Leonard (1g-1a), Justin Gmeinweiser (1g-1a), Aaron Bethmann (1g), Jake Messimer (1g), Andrew Ziccarelli (2a), while Brian Hantzis and David Hassett each added 1a. Matt McShea started the game and made 6s/1ga (86%) and Josh O'Shea finished with 7s/4ga (64%). Rush-Henrietta advances to 3-4.

Scoring for the Thunder were Jared Bennett (3g), Nate Wallenhorst (1g-1a), James Andon (1g) and Joe Prestiagiacomo (1a).

Dave Tarana started in the goal and played the first half recording 8s/13ga (38%). Nick Bellucco took over and had 1s/5ga and Andrew Hosenfeld played for the last five minutes of the game and made 2s/0ga for the Thunder (2-6).


Irondequoit beat visiting Gates Chili using 12 different players.

Scoring for Irondequoit were Greg Wright (2g-4a), Andrew Hart (1g-1a), Nick Kane (2g) and Brian Haight (1g-1a). Drew Coholan, Kevin Coholan, Dan Utz, Mike Wallenhorst, Tyler Kleehammer, Dan Hershelman, Andrew Goodlein and Brad Williams each added one goal. Zach Nash (6s) and Tyler Watkins (3s) shared the goal tending duties for the Eagles, who at (8-0) are the only undefeated team left in Section Five.

No report from Gates Chili.




It was Webster vs Webster tonight at McAvoy park and it was Schroeder defeating Thomas 18-9.

Scoring began with Dom Scalzo assisting Nick Scalzo at 9:17. This was the only time in the game that the Titans led. Less than a minute later the Warriors were on the scoreboard with a goal from Andy Winslow (assisted by Nick Mooney). Schroeder scored again a minute later at 7:31 with an unassisted goal by Grant Catalino on a drive from behind the cage. Catalino led all scorers with 5g-2a, although it would take Catalino some time to warm up as he scored 3g-1a in just the fourth quarter. Schroeder scored their third goal with 5:30 remaining in the first when senior defenseman Steve Sullivan took the ball the length of the field to score. Thomas scored again on a feed from behind by Max Gurowski to Brendon Rothfuss with 4:05 left. Schroeder ended the scoring after a one-on-one drive by Mooney. The first quarter ended with Schroeder the 4-2 leader.

Schroeder scored the first two goals of the second quarter at 9:59 and 9:53. The first score was a double and dump from Austin Orsini to Mike Barilla. The second goal resulted from the face-off fast-break when Drew Palmer picked up the ground ball and found Mike Tota on the crease. Palmer was a major player at the face-off's grabbing seven face-off ground balls. Barilla and Chris Topping split face-off duty for Schroeder winning a combined 17/27 (63%); Barilla 9/14 (64%), Topping 8/13 (62%). Thomas scored their third goal in the game with an unassisted goal by Dom Scalzo. Schroeder scored another fast-break goal at 6:58 when Barilla scored with an assist from senior defenseman Tim Winslow. A cross-crease look by Billy Gurowski netted a goal by Rothfuss for the Titans to bring the score to 7-4, but Tota scored at 3:49 remaining after a ground ball fight to bring the halftime score to 8-4 Schroeder.

The third quarter started with a man-up goal at 11:52 as on the first play of the half Catalino found Tota for the goal. One minute later Schroeder scored again after the Warriors ride broke the Titan clear and Tota found a wide open net. Thomas scored the next goal on yet another cross-crease pass, this time by Max Gurowski feeding Dan Hinderland. The Warriors added to the scoring for the third quarter with two more goals. The first was at 4:37 with Mooney scoring (assisted by Barilla) and the second a minute later at 3:27 with Catalino (again unassisted) finding the back of the net. The third ended with the Warriors ahead 12-5.

Thomas opened up the scoring in the fourth with a drive by Pat Morrill at 11:35. Schroeder scored the next three goals, the first was by Andy Winslow (from Barilla) at 9:58. Catalino scored the next two goals (both unassisted) at 9:34 and 8:28. The first was on a drive from the right side where he powered himself in for the shot, and the second was from a drove all the way around the backside of the net. Thomas scored again from a fast-break. This time junior defenseman Jake Ziegler found Remington Fox open. Schroeder scored man-up as Andy Winslow scored (assisted by Catalino) and then Catalino scored his own from a fast-break. Thomas' next goal was spectacular as Rothfuss shot behind his back after receiving a feed from Nick Scalzo. Schroeder's final goal came from TJ Knauf (assisted by Orsini) at 3:41. The Titans scored the last goal of the night with an unassisted goal from Dom Scalzo at 1:52.

Thomas saw a strong defensive effort from Ziegler as he recorded two one-on-one take aways during the game.

Both teams played their secondary goalies, junior Brian Enck for Schroeder saw four minutes recording 1s/1ga (50%) while James O'Neil, a sophomore goalie for the Titans, saw seven minutes with 2s/1ga (66%). The starting goalies, senior Zach Marshall 8s/8ga (50%) and Austin Fox 8s/17ga (32%), both had a number of close to the crease saves.

Scoring for Webster Schroeder were Catalino (5g-2a), Tota (4g), Barilla (2g-2a), Andy Winslow (3g), Mooney (2g-1a), Orsini (2a), Sullivan (1g), Knauf (1g), Palmer (1a) and Tim Winslow (1a). Catalino's performance tonight put him at 50 points thus far for the season. Schroeder advances to 8-1.

Scoring for Webster Thomas were Dom Scalzo (2g-1a), Morrill (2g), Rothfuss (2g), Nick Scalzo (1g-1a), Max Gurowski (2a), Hinderland (1g), Fox (1g), Billy Gurowski (1a) and Ziegler (1a). Thomas drops to 7-4.


Spencerport scored the first three goals and the first quarter which ended with The Rangers up 4-2. Brighton came back and outscored Spencerport 6-1 in the second quarter to take an 8-5 half time lead. The Barons scored in the first minute of the third quarter in man up. At the end of the third quarter Brighton was up 11 - 6. Brighton scored two more goals in the fourth to win the game 13-6.

Justine Hillery lead the scoring for Brighton with seven points (3g-4a). Ryan Conti tallied (4g-1a) and Tim Williams added (3g), Jake Anderson, Peter Jeffries, and Josh Uline each added one goal and one assist. Noah Berg finished with 15s/6ga (71%) for the Barons (3-4).

Scoring for Spencerport were Justin Putt (2g) and Jeff Konko, Jon Robinson, Patrick Decker, and Rich LaRock who each added a goal. Phillip Schmid, Luciano Petrella, and Dave Stevens each added an assist while Mike Palvino recorded 17s/13ga (57%) for the Rangers (3-5).