Beautiful Saturday
April 21, 2007

- Finally, under bright and sunny skies, thirteen games were played under ideal conditions. Schroeder beat Orchard Park 10-6, Greece Arc/Ath won there first Varsity game and CA lost their first game of the season. There was lots of great lacrosse today.


The Greece Lightning won their first game of the season and their first game ever as a Varsity teams with an 11-5 victory over the Blue Devils this morning at Batavia.

Scoring for Arcadia/Olympia were Ron Hatch (4g), Rob Werner (4g), Tyler Beldock (4a), Kevin Martin (2g-2a) and Jared Frank (1g). Zac Bevilacqua recorded 8s/5ga (62%) for the Lightning (1-4).

Scoring for Batavia were freshman Chip Chapman (2g-1a), junior Ian Chapman (3g-1a) and freshman Will Mulcahy (2a). Junior Matt Landfried recorded 17s/11ga (61%) for the Blue Devils (0-6)


In a game that some have suggestion could be a preview of the State Quarterfinal match, Webster Schroeder and Orchard Park (Section 6) played excellent lacrosse and for most of the game the game was close. In the end, however, Schroeder took control of the game and earned the victory with a 10-6 score at McAvoy Park in Irondequoit.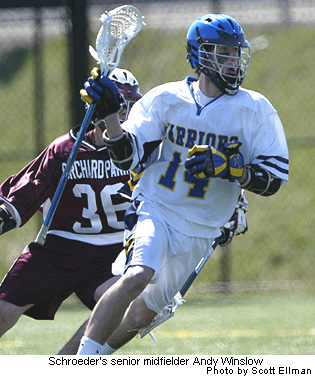 The scoring began late in the first as Webster's Nick Mooney scored in man-up (assisted by Grant Catalino) at 5:32. Orchard Park tied the game at 3:23 when Kevin Lalley scored (unassisted) with an outside shot. With only 0:09 remaining in the quarter Schroeder took the lead again when Catalino bulled his way from behind the cage for an unassisted goal. Schroeder led 2-1 at the end of the first quarter.

Andy Winslow scored in the second on a crease feed from Mike Tota who led all scorers in the game with 5g-1a. The Quakers scored the next two goals starting with an outside feed from Mike Allaire to Lalley and an inside feed from Lalley to Greg Michael. The score was tied at three at the start of the half time break.

The Warriors scored the first three goals of the second half while the defensive unit held Orchard Park scoreless until 0:18 remained. Tota scored his first goal (assisted by Mike Barilla) at 11:29 and was followed by unassisted goals by Barilla and Tota. The Quaker goal came from Jeff Tundo (unassisted). The Warriors took a 6-4 lead going into the final quarter.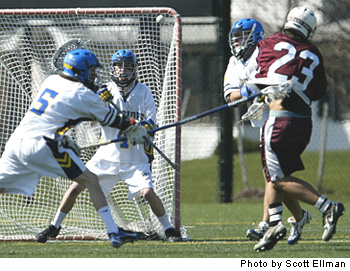 Schroeder scored the first four goals and the Quakers did not score their final two goals until the end of the game. Barilla (unassisted) started the scoring with 6:39 remaining. Only 0:29 second later Tota scored his first of three in a row. A fast-break goal, assisted by Catalino marked Tota's fourth, and his fifth was a one-on-one drive at 3:33. Lalley (unassisted), scored again for the Quakers. The final Orchard Park goal was scored by Mike Moran at 0:19).

The Warriors had only six shooters in the game. Leading the charge were Tota (8s/7on/5g) and Mooney (8s/4on/1g). Winslow (7s/4on/1g), Catalino (6s/4on/1g), Barilla (5s/2on/2g) and Austin Orsini (2s/1on) accounted for the remaining shots. In total the Warrior offense took 36 shots, with 22 on cage and 10 goals.

Defensively, Orchard Park's Derrick Danieu's performance was noteworthy as he recorded four takes, including two one-on-one takes against Catalino. Danieu, who will play at Binghamton next year, contributed greatly to the Quaker's defensive effort.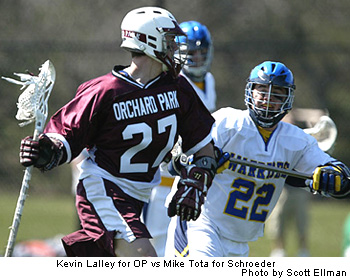 Orchard Park was a pleasure to watch. The big, athletic players routinely chased down ground balls, and played hard, tough defense while their offensive players took blazing shots, that, although, often off cage, were considerably faster than those seen in most Section Five games.

Webster's Drew Palmer, also made a strong individual effort picking up the ground ball and winning the face-off 5 times. He was only a part, however of a mostly team defensive effort that included Tim Winslow, Eric Horeth and Tim Marshall. Critical in the win was Schroeder's defensive midfield including Steve Sullivan. The Warriors played aggressively all over the field and the riding team limited easy clears for OP.

Both goalies made dramatic saves throughout the game. Ryan Cole recorded 12s/10ga (55%) for OP and Zach Marshall recorded 6s/6ga (50%) for Schroeder.

With Palmer's help the Warriors won 15/20 (75%) face-offs. Chris Topping recorded 9/12 (75%) and Barilla recorded 6/8 (75%).

Scoring for Schroeder were Tota (5g-1a), Barilla (2g-1a), Catalino (1g-2a), Winslow (1g), and Mooney (1g). Schroeder moved to 6-1.

Scoring for Orchard Park were Lalley (3g-1), Michael (1g), Tundo (1g), Moran (1g) and Allaire (1a). The Quakers move to 2-3 after losses to national ranked Georgetown Prep and Loyola-Blakefield (MIAA) during their spring trip in the DC / Maryland area.


Gates Chili was the 10-5 winner over the Cougars in a morning game at HFL. The Spartans took a 3-1 first quarter lead and went into the half time break ahead 7-2.

Scoring for Churchville Chili were Andy Hilton (4g-1a), Tom Elkins (1g-1a), Tom Sudek (1g-4a), Jeff Fichtner (1g-1a) while Pat Sposato, Tyler Webb and Brad Webereach added 1g. Jason Baetzhold made 12s/5ga (71%).

No report from HFL.




Aquinas beat visiting Newark 17-5 in another morning game this Saturday.

Scoring for AQ were Nick Berkompas (6g-2a), Jasen Torres (2g), Austin Gorman (3a), Anthony Bianchi (2g-1a), Marc Brondon (1g), Mike Gray (1g), Casey Vogl (2g-2a), Neil Foley (1g), Teige Lawler (2g) and Alex Gray (1a). Goalie Alan Antinarelli had 7s/3ga (70%) in his half of the game and Kraig Heston had 5s/2gs (71%) in his half for Aquinas (3-4).

Scoring for Newark were Colin Johnson (3g-1a), Adam Golding (2g) and John Barrett (1a). Josh Putman played in the goal for three quarters and recorded 15s/12ga (56%) and Michael Bogan took the last quarter and made 2s/3ga (40%).


Junior attackman Brandon Moynihan scored the game winner in over time with an assist from Matt Driffill at the 2:57 mark to give Eastridge a victory over visiting Livonia. The Lancers trailed at the half 5-3.

Scoring for Eastridge were Brandon Moynihan (3g), Matt Driffill (2a), Alex Austin (2g-1a), Kevin Mahler (2g-1a), Todd Horne (1g-1a), Shane Driffill (1g-1a) and Adam Sisson (1a) who also won 15 of 19 face offs. Eugene Fererra made 13s/8ga (62%) for the Lancers (4-1).

Scoring for Livonia were Brian Sciera (2g-1a), Tyler Russell (1g-1a), Jeff Wester (1g-1a) and Matt Girolmo (2a). Cameron Ross, Chris Bausch, Gaelin Walsh and Oren Taylor each added a goal. Justin Becker played the whole game in goal and recorded 9s/9ga (50%) for the Bulldogs (4-3).


Penfield defeated visiting Webster Thomas this morning 9-7. There was lots of scoring in the first quarter, which ended 4-4. There was only one save in the first quarter between both teams. The second quarter found Thomas scoring the lone goal, while the third saw Penfield scoring the only four. Thomas tried to fight back in the fourth (outscoring Penfield 2-1), but it was too little too late.

The first goal came from Nick Scalzo (Assisted by Brendon Rothfuss) on a fast-break at 11:20. Penfield retaliated at 9:18 with a unassisted drive from behind the cage by Kyle Vanthof. Vanthof ended the day with 3g-3a, leading both teams in points. Thomas, not to be outdone, scored their second goal at 5:33 with Dom Scalzo feeding Rothfuss on the crease. Twenty-two seconds later Penfield tied the score yet again with another drive from behind, this time by Kyle Denhoff. Penfield took their first lead in the game at 4:19 when Vanthof scored again, also unassisted. Thomas tied the score again when Nick Scalzo scored from point blank range after a feed from Max Gurowski. Vanthof's third unassisted goal put the Patriots back on top with only 0:22 remaining in the quarter. Pat Maloney, who was 8/17 (47%) in the game, picked up his own ground ball during the ensuing face-off and ran to the cage to score with only 0:09 remaining in the first quarter.

Thomas scored the only goal of the second quarter. Jake Ziegler, who recorded two takes in the game, grabbed the ball out of the air and ran the entire length of the field to score with 7:48 remaining. Thomas was man-down for the goal. The Titans took a 5-4 lead going into halftime.

The first three Penfield goals in the third quarter were all scored on fast-breaks. The first occurred at 9:15 when, upon releasing a penalty, Denhoff scored, assisted by Vanthof. Kevin Roe, who at the face offs was 8/13 (62%), grabbed his own ground ball and scored. Penfield took a 6-5 lead. The third and final fast-break goal for the Patriots occurred at 6:12 as James Dwyer stepped around his man for the one-on-one with the goalie. The final goal for Penfield, in the third quarter, came as Kevin Green (8 shots - 6 on - 2 goals) scored with the assist credited to Vanthof. The third ended with Penfield ahead by three at 8-5.

Thomas was the first to score in the fourth, with Dom Scalzo driving from behind the cage for the unassisted goal. Two minutes later Green scored his second goal in the game, also assisted by Vanthof. The final goal of the contest was an unassisted goal by Pat Morrill.

The two goalies were relatively close in play. Brady Del Pozzo recorded 7s/7ga (50%) for the Patriots and Austin Fox recorded 8s/9ga (47%) for the Titans.

Scoring for Penfield were sophomore midfielders Vanthoff (3g-3a) and Dwyer (1g), junior midfielder Denhoff (2g) and seniors Green (2g) and Roe (1g). Penfield improves to 4-2

Scoring for Thomas were the Scalzo brothers Nick (2g) and Dom (1g-1a), Rothfuss (1g-1a), Maloney (1g), Morrill (1g), Ziegler (1g) and Gurowski (1a). Thomas moves to 6-3.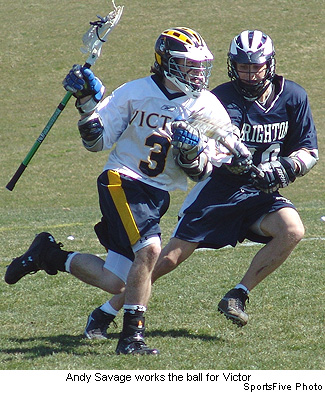 It was a shut-out win for Tully of Section Three as they defeated visiting Waterloo 10-0.

Scoring for Tully were Joey French (2g), Mike Burnes (2g), Mike Becker (1g-1a), Mike Piazza (2g), Ryan Reise (1a), Adam Jene (2g-1a) and Joe Dvorak (1g). Ryan Rich had 13 saves for Tully (5-1).

Shawn Andrus had 15s/10ga (60%) for the Indians (2-6).


It was a beautiful morning at Victor, as the the Blue Devils won a 12-5 victory over Brighton.

The Barons scored first, when at 5:15, Justin Hillery scored an unassisted goal after dodging his defender and placing a shot high right. Victor returned at 2:53 with a dump and shoot goal by Frank Valenti from Jason Houtenbrink. Victor closed out the quarter with a go-ahead goal by junior attackman Ethan Payne (unassisted) at 1:45. Payne scored after Brighton goalie Noah Berg recorded a save when a shot came off his chest pad and was picked up just outside the crease by Payne, who popped the ball in the cage. The quarter ended with Victor up 2-1.

Brighton scored first at the top of the second quarter, tying the game at two. Hillery, driving from the left wing scored another unassisted goal. Thirteen seconds later, Victor started a three goal run to end the half up 5-2. Andy Savage scored after a fast break clear, with a feed from Valenti. Savage scored again, this time unassisted at 6:07. Valenti finished the scoring in the half with an unassisted fast break clear ending with his goal at 2:20.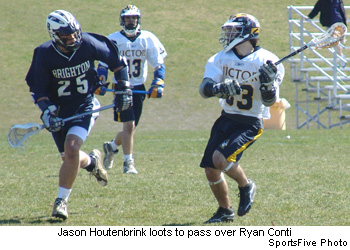 The Blue Devils extended their lead to 6-2 in the first minute of the third when Alex Rogemoser hit an unguarded Houtenbrink in front of the goal. The Barons brought the score to 6-3 with a man up goal by senior attackman Jake Anderson who received an inside feed from Ryan Conti. The rest of the quarter was all Victor, who scored the next three goals, lead after three quarters, 9-4. Valenti scored on a pass from Joe Coleman and Savage added two more, the first from the faceoff (and an assist from Josh Sahr) and the second, after intercepting an errant pass during a Brighton clear.

Senior middie, Eric Willman scored on a sweep to the right at 8:36 in the last quarter, putting Victor up 10-4. The Barons scored their last goal of the game at 4:29 with a feed from behind the cage by defenseman Peter Jeffries who had cleared the ball. Scoring on the feed was eight grade attackman, CJ Wool. Victor finished the game with goals by Payne (from Savage) and Valenti (from Savage).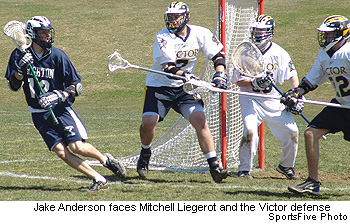 Scoring for Victor were Andy Savage (4g-2a), Frank Valenti (4g-1a), Ethan Payne (2g), Jason Houtenbrink (1g-1a) and Eric Willman (1g).
Alex Rogemoser, Joe Coleman and Josh Sahr each added one assist. Mitchell Liegerot recorded 8s/5ga (62%) for the Blue Devils (4-3).

Scoring for Brighton were Justin Hillery (2g), Ryan Conti (1g-1a) while Jake Anderson and CJ Wool added one goal each. Noah Berg made 13s/12ga (52%) for the Barons (2-6).


Pal-Mac won their first game of the season after posting a 15-4 win over Bath-Haverling. P-M took the first quarter 4-1 and had a 5-2 lead at the half. Nine different players were involved in scoring. The defense of Ryan Bills, Eddie Anderson, Andrew Hems, and Andrew Moak limited the Rams to 10 shots. "It was a great team effort." said Coach Enzo Falso after the win.

Scoring for Pal-Mac were Cody Clement (3g), Steve VanDewalle (1g-1a), Mike Christ (1g-3a), Jeremy Norsen (2g), Ryan Buckely (1g), Dan Evans (3g-2a), Justin Closser (1g), Jordan Wirthman (3g-1a) and Ryan Bills (1a ). Goal keeper Jon Reeves made 6s/4ga (60%) for the Red Raiders (1-4).

Scoring for Bath were Dave Harris (3g) and Mckenzie Durham (1g-2a). Chris Wolfer recorded 17s/15ga (53%) for the Rams (0-5).


Rush Henrietta defeated Brockport this afternoon 9-3. The Royal Comets got off to an early lead when, at 11:01, senior midfielder Justin Rose scored an unassisted goal. Brockport's Tyler Sutphen and Braden Flynn each scored a goal to give the lead to the Blue Devils. Sutphen's goal was assisted by Sean Bittner, and Flynn's by Andy Willis. Royal Comet middie, Brian Hantzis scored two goals (the first from Rose, the second unassisted) at the end of the quarter to retake the lead 3-2.

The Royal Comet's outscored the Blue Devils 4-0 in the second quarter and took a 7-2 lead into halftime.

In the third quarter, R-H continued to increase their lead with two more goals. Brockport's third goal came as Justin Klymochko scored (assisted by Tucker English) with 1:38 remaining. Senior midfielder TJ Newell scored his first goal of the season with only 0:15 left on the clock. There was no scoring in the fourth quarter.

Scoring for Rush-Henrietta were Justin Rose (2g-2a), Nate Delone (2g-1a), Brian Hantzis (2g), Colin Cornaire (1g-1a), Bobby Pattridge (1g), TJ Newell (1g) and Matt Moran (1a). Matt McShea played all but four minutes and recorded 6s/3ga (66%). Josh O'Shea played the remainder of the game and stopped two shots for R-H (2-2).

Scoring for Brockport were Tyler Sutphen (1g), Braden Flynn (1g), Justin Klymochko (1g), Sean Bittner (1a), Andrew Willis (1a) and Tucker English (1a). Connor Mykins ended the game with 10s/9ga (53%). Mykins is in second place on the SportsFive.net leader board with a 70.59% year. Brockport drops to 3-2.

No report from Brockport.




Geneva was the 8-4 winner over Corning West (Section 4). At the end of the first quarter the close game was tied at 3-3, but the Panther defense, led by Andy Torruella only allowed one goal in the remaining three quarters.

Overall the game was hard fought, with 20 penalties (18 minutes) between the two teams. Face-off's were tipped in the favor of Geneva, winning 9/13 (69%).

Scoring for Geneva were Kyle Boncaro (4g), R.J. Gringeri (2g-1a), Greg Bonney (3a), Alex Love (1g-1a), and Jim Warner (1g). Senior goalie Matt Schutz played the entire game and ended with 10s/4ga (71%). Geneva improves to 7-1).

Scoring for Corning West were Jay Stearns (2g), Mike Tammaro (2a), Chase Bailey (1g), Ryan Speciale (1g), John Fiorillo (1a), and Austin Rose (1a). John Fiorillo ending with 9s/8ga (53%). CW drops to 5-2.


Churchville-Chili avenged last years loss by defeating Spencerport 16-5. Leading 7-0 after the first period, the Saints emptied the bench and 11 players made entries in the scorebook.

The Saints defense played well again, allowing 5 unassisted goals, most from transition. Spencerport was unable to get settled in the offensive zone all game, relying instead on some heads-up transition plays. The Saints controlled the faceoffs (15/23) and Ground Balls (49-27).

Scoring for Churchville-Chili were senior midfielder, Doug Hemink and Junior Attackman, Cody Rumsey, both (3g-1a). Scoring finished with Ryan Grogan (1g-1a), Gino Marcello (1g-1a), Ben Rossignolo (2g-1a), Jamie Englert (1g-1a), Kevin Comway (3g), Matt Carey (1a), Jeff Langschwager (1a), Brian Briggs (1g) and David Terrell (1g). Goalies Sean Kettles (3s / 3ga) and Adam DiFulvio (2s / 2ga) combined for the win in net.

No report was received from Spencerport




Corning East of Section 4 defeated visiting Canandaigua this afternoon 12-7. The game was close for three quarters. The score was tied at the end of the first as well as at halftime (2-2, 4-4). With 1:34 remaining in the third the Braves had a 7-6 lead.

Corning took the last 1:34 and quickly scored three goals, giving them a 9-7 lead entering the fourth. They scored one more time in the first minute (four goals in less then 2.5 minutes). After winning the ensuing face-off Corning East methodically controlled the ball, only scored two more at the end of the game.

Scoring for Corning East were Kellen Simmons (4g-2a), Matt Tobia (3g), Carter Bloor (2g-1a), Mitch Keefer (2g), Matt Pierotti (1g) and Tim Mandell (1a). Tom Holden recorded 10s/7ga (59%).

Scoring for Canandaigua were Connor Henderson (3g), Jeremy Brown (2g-1a), Justin Tomzak (2a), Brian Scheetz (1g-1a), Nick Munn (1g), Charlie Sauter (1a) and A.J. Groot (1a). Junior goalie Scott Bement was 50% (12s/12ga) for CA who lose their first game of the season, dropping to 5-1.


Fairport reports a 10-3 win over Timon/St. Jude (Section Six) in a late game in Buffalo.

Tom Rynn (4g), Eric Martin (1g-2a), Shawn Runyon (2g), Mike Danylyshyn (3a), Aaron Jones (1g ), Alex Keil (2g), Martin Manilla (1a), Zach Hamilton (1a). Kristoffer Sterzin recorded 7s/3ga (70%) for Fairport (2-4).