Canandaigua over Schroeder
April 17, 2007

- In a preview of a possible final four Class A game, Canandaigua was a winner over Webster Schroeder 9-7 at McAvoy. Thomas was a 15-7 winner over Brighton and Irondequoit took a 12-6 win over HFL.


Canandaigua defeated Schroeder 9-7 this afternoon at McAvoy Park. The Braves scored the first goal just 0:23 seconds into the game when Jeremy Brown scored with an assist from Brian Scheetz. Scheetz recorded four assists by the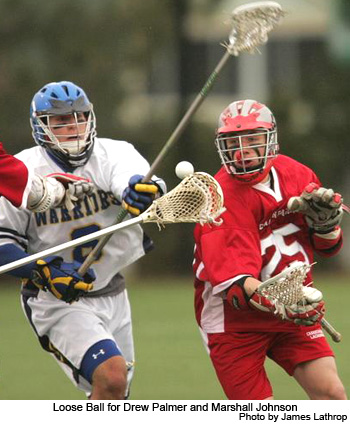 end of the game. Schroeder scored the next two goals, as Mike Tota hit one in man-up with an assist from Grant Catalino at 10:27 and Nick Mooney scored an unassisted goal at 8:01. Canandaigua's A.J. Groot scored next (unassisted) and tied the game at two. The Warriors ended the quarter with three unassisted goals at 5:40, 3:16, and 0:08. Catalino scored the first goal (his only goal this afternoon), followed by Tota (unassisted) and Mooney from Tota. The first quarter ended with Schroeder ahead 5-2.

Canandaigua controlled the second quarter while scoring the only two goals and took the score to 5-4 in favor of Schroeder. Both goals were scored by Connor Henderson and both were unassisted.

The third quarter was again an even match between two powerhouse teams. Each team scored two goals. Both of the Braves' goals were scored by Charlie Sauter (the first assisted by Scheetz and the second was unassisted). Schroeder's first goal was scored by Mike Barilla who took the ball in on a drive from the top. The second, and final Warrior goal came from Mooney who scored his goal on a feed by Chris Topping). The third quarter ended with Schroeder still in the lead by a margin of one, 7-6.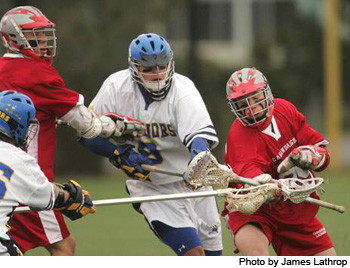 Canandaigua controlled the ball in the final quarter, much like they did in the second quarter. The Braves scored three goals and held the Warriors scoreless yet again. Scheetz was involved in all three goals, assisting the first and third and scoring the second (unassisted). The first goal, which tied the game at seven, was scored by Brown. The go ahead goal was scored just 0:39 seconds later. At 6:13 Henderson scored the final goal of the night after a cross-crease feed.

Scoring for Canandaigua were attackman Scheetz (1g-4a), Henderson (3g) and Brown (2g) and midfielders Groot (1g) and Sauter (2g). Scott Bement played the entire game for the Braves and recorded 9s/7ga (56%). Canandaigua remains undefeated at (5-0).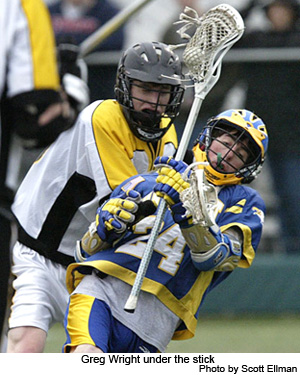 Scoring for Schroeder were seniors Catalino (1g-1a) and Barilla (1g), juniors Tota (2g-1a) and Mooney (3g), as well as sophomore Topping (1a). Zach Marshall played all four quarters and recorded 12s/9ga (57%) for the Warriors (5-1).


It was Irondequoit over Honeoye Falls-Lima with a 12-6 scored.on the turf at Irondequoit today. The Eagles scored the first five goals while holding the Cougars scoreless in the first quarter. HFL came back at the top of the second with two goals in a row, including one in man up before Irondequoit came back with three goals to finish the half up 8-3.

Scoring for Irondequoit were Greg Wright and Drew Coholan with (4g-1a) each, Andrew Hart (1g-2a), Kevin Coholan (1g-1a), Todd Laemlein and Mike Beckwith with 1g each and Mike Wallenhorst (1a). Goalie, Zach Nash recorded 6s/6ga (50%) for the Eagles who remain undefeated at (5-0).

No report from HFL.




Webster Thomas was a 15-7 winner over Brighton in the game tonight at McAvoy Park. Josh Uline scored Brighton's only two goals of the first quarter. His first goal was at 11:05 and he added another at 9:04. Thomas scored five goals during the first quarter.

Nick Scalzo, of Thomas, scored six goals. Five of his six were from fast break situations. The first occurred from a face-off fast-break at 9:40 and was assisted by Max Gurowski. The second was a fast-break (assisted by Max Gurowski) The third and final goal of the first quarter was a cross-crease feed from the backside which saw Pat Morrill feeding Nick Scalzo. The first quarter ended with Thomas leading 5-2.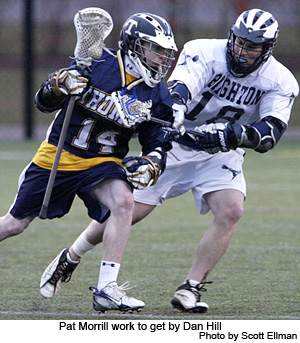 Thomas scored three goals in the second quarter, while Brighton scored one. Dom Scalzo scored on a crease feed from Morrill at 9:38 remaining in the half. Brighton's lone goal came at 8:04 with Justin Hillery taking an outside shot on Schroeder goalie Austin Fox. Fox played the first half in the cage for the Titans and recorded 2s/3ga (40%). Nick Scalzo scored another fast-break goal, this time assisted by his brother Dom. The final goal of the quarter came from an inside feed by Dan Hinderland to Max Gurowski. The half ended with Thomas an 8-3 leader.

Eight seconds into the third quarter Nick Scalzo found his fifth goal of the night. Pat Maloney, who finished the game 10/15 (66%) on face-offs, won the face-off himself and sent the ball to Scalzo. It was another seven minutes before anyone else would score. At 4:38 Nick Scalzo scored his final goal of the game with a feed by William Gurowski on his final fast-break. The last 4:06 of the third quarter saw five goals, three for Thomas and two for Brighton. Thomas scored at the buzzer when Kyle LaVallee drove in and scored (unassisted). The third quarter ended 13-5 in favor of Thomas.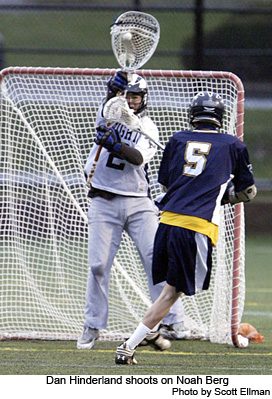 The fourth quarter saw each team score two goals. The final goal for Thomas occurred at 2:51 during a broken clear as Tom Monna scored unassisted. The final goal for Brighton was a drive by Taylor Galbraith (unassisted).

James O'Neil played a quarter and a half for Thomas and recorded 5s/3ga (63%) and Kevin Ryan played the final six minutes with 1s/1ga (50%). Noah Berg played the entire game for the Barons and finished with 12s/15ga (44%).

Scoring for Thomas were sophomore attackman Nick Scalzo (6g), senior attackman Dom Scalzo (2g-2a), freshman attackman Jack Hinderland (1g-2a), junior attackman Max Gurowski (1g-2a), sophomore midfielder Pat Morrill (1g-2a). Joining them and scoring one goal were Jack Hinderland, Jordan Bernstein, Tom Monna, and Kyle LaVallee and with one assist were Dan Hinderland, Pat Maloney, and William Gurowski. Thomas improves to (5-2).

Scoring for Brighton were seniors Uline (2g), Dan Hill (1g) and Jake Anderson (1a), juniors Hillery (2g) and Galbraith (1g) and eighth grader CJ Wool (1g). Brighton drops to (2-3).


Geneva was a 16-2 winner tonight at host Aquinas.

Scoring for Geneva were Alex Love (3g-2a), Greg Bonney (1g-2a), Kyle Boncaro (2g-3a), Jim Warner (1g-1a), RJ Gringeri (4g-1a), Willie Rago (1g), Sean Bennett (1g-1a), Dave DeRaddo (1g), Sean Bramen (1g) and Anthony Fili (1g). Matt Schutz had 6s and Kyle Brimm had 2s for the Panthers (6-1).

Scoring for Aquinas was freshman Austin Gorman with 2g. Kraig Heston played 4 quarters and had 16s/16ga for Aquinas (1-4).