Saturday Games
April 14, 2007

- Six games were scheduled for Saturday. Penfield, Hilton, Thomas, McQuaid Jesuit and Carthage were among the winners. No report was received for the Mynderse/Hamilton game.


The game was a lot more closely contested than the 12-7 score would indicate, but Webster Thomas was the winner over host Rush-Henrietta on a cold but clear Saturday afternoon. Like many other games this week, this one started with a moment of silence in honor of Jeff Milano-Johnson.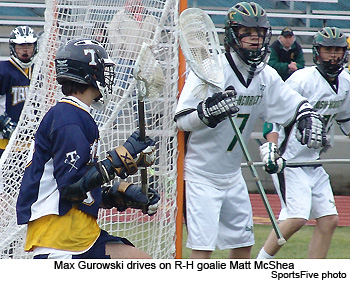 Rush scored first, just 0:53 seconds into the game as Brian Hantzis picked up the first of his 2 goals with a feed from Matt Moran. The Titans came right back with a brother to brother goal, as Dom passed the ball to Nick Scalzo at 9:38. Thomas took the lead with a man up goal by Brendon Rothfuss (assisted by Nick Scalzo). After a five minute period without scoring, Rush scored the first of three in a row to take a 4-2 lead after the first quarter. Hantzis scored the first one after receiving the ball from Moran, but the assist was not recorded. Delone scored the next two, the first from a clear and the second on a drive, dodging two Webster players.

The second quarter was owned by Thomas who scored the first goal right from the initial face off. Maloney controlled the ball, picked up the ground ball and scored on his drive from the midfield. Moran scored at 7:59 to give R-H their only goal of the quarter. The Titans then scored four in a row starting with a goal by Rothfuss (from Max Gurowski). Dan Hinderland scored the next (assisted by Gurowski) in Man up. Rothfus received a cross crease pass from Gurowski and scored with an underhand shot at 1:44. Defenseman Jake Ziegler ran to the cage after clearing the ball and scored on an unassisted bounce shot with 0:10 left in the half. Thomas was ahead 7-5.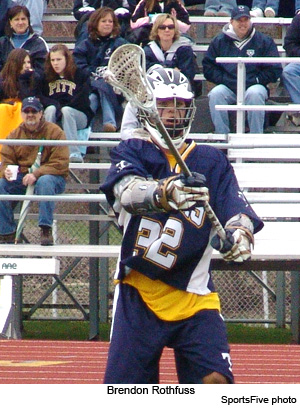 Rush scored the only goal in the third quarter when Hantzis shot, and the shot came out of the Titan goalie stick. By rule, the goal was credited to the Thomas "in-home", Nate Delone. The Titans had four penalties in the third quarter and held the Royal Comets off on all four.

The Titans scored the next three in a row bringing the score to 10-6. Rothfuss scored first (assisted by Pat Morrill) on a cut from behind the cage. Gurowski, driving from behind the cage in man up, took advantage of a missing post slide and scored to take the score to 10-6. Nick Scalzo scored another in man up (assisted by Dom Scalzo). R-H scored their final goal at 5:10 after Delone received the feed from Ryan Leonard. Thomas finished the game with unassisted goals by Dom Scalzo and Rothfus.

Scoring for Thomas were Rothfuss (5g), Gurowski (1g-3a), N. Scalzo (2g-1a), D. Scalzo (1g-2a), Maloney (1g), Hinderland (1g), Zigler (1g), and Morrill (1a). Austin Fox had great day in the cage, making some sensational saves while recording 18s/7ga (72%).

Scoring for Rush-Henrietta were Delone (4g), Hantzis (2g), Moran (1g-1a), and Leonard (1a). Senior defenseman Jake Messimer was dramatic throughout the game, with a number of critical take-aways and many single-handed clears. Matt McShea also had a great day in the cage stopping a number of one-on-one shots and making 14s/12ga (54%).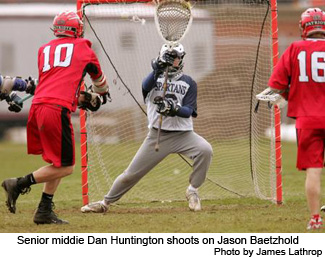 Carthage of Section 3 defeated Penn Yan this afternoon 5-4 in OT. Scoring for Penn Yan were three sophomores, two attackman, and a senior defenseman. Sophomores Matt Osgood (1g-1a), John Linnan (2a) and Cole Castle (1g) were joined by freshman Adam Trombley (1g) and senior Mike Manley (1g). Senior goalie R.J. Wickham recorded 10s/5ga (66%).Penn Yan drops to 4-2. Carthage moved to 7-0.


Penfield defeated Gates-Chili today 8-3. The Patriots have won their last three games to bring their record to 3-2. They led the game 3-0 at the half and 8-1 after three quarters.

Scoring for Penfield in the midfield were senior Dan Huntington (1g-2a), junior Kyle Denhoff (1g-1a), sophomores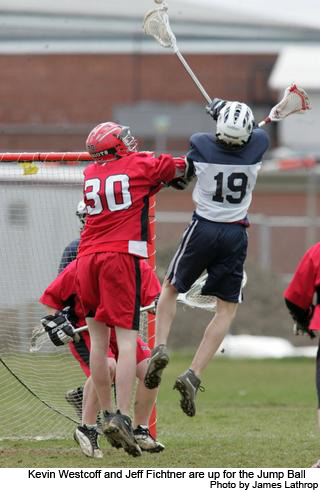 James Dwyer (3g-1a) and Kyle VanThof (1g-1a), and eighth grade midfielder Alex Miles (1g). Joining the midfielders were senior attackman Kevin Green (1g-1a) and junior attackman Toby Terwilliger (2a). Sophomore goalie Brady Del Pozzo recorded 11s/3ga (79%) and junior Kevin Semrau recorded 1s.

Scoring for Gates Chili were junior midfielder Jeff Fichtner (2g) and junior attackman Alik Miller (1g). Sophomore goaltender Jason Baetzhold recorded 12s/8ga (60%).


McQuaid Jesuit defeated Waterloo this afternoon 15-10. The game began as a blow out for the Knights, but strong second half play made the game much closer. McQuaid Jesuit scored the first four goals, three by junior attackman Mitch Ritchie, and ended the first quarter with a 4-1 lead.

The Knights extended their lead to 9-1 before the Indians scored their second goal. Both of the Waterloo goals from the second quarter were scored by sophomore Jeff Wadhams. Wadhams' first goal was from a face-off fast break, assisted by Josh Mateo and the second was a cross-crease pass by Nelson Boyd. Mateo ended the game with 11/14 (79%) face-off and also led the Indians in shooting, taking more then half of the teams total shots (22 shots - 15 on - 2 goals). McQuaid Jesuit's Tommy Carpenter scored the final goal of the half with 0:28 remaining to take the halftime score to 10-3.

The opening of the third quarter was dominated by the Indians. Waterloo scored 4 of the first 5 goals of the quarter. With 3:04 remaining in the quarter, and the score 11-5, sophomore Mike Ruiz IV scored on a fast break, assisted by Mateo. Ruiz's goal kick started the Indian offense. With 1:54 Boyd scored, assisted by Ruiz, in man up. On the ensuing face-off, Mateo picked up his own groundball and took it in for the goal. The score was 11-8 in favor of McQuaid Jesuit. This was as close as the Indians came. McQuaid Jesuit finished the quarter with two more goals at 1:24 and 0:13. The first goal was unassisted by senior midfielder Evan Gallina. Gallina led all scorers with 5 goals. The second was a fast-break goal scored by JD Ayer, assisted by Carpenter. The third quarter ended 13-8 in favor of McQuaid Jesuit.

Each team scored two goals in the fourth quarter. An unassisted goal by Ruiz began the scoring with 10:56 remaining followed by another unassisted goal by Gallina. Junior Curtis Brosius scored for Waterloo with an assist from Wadhams. The final goal of the contest was scored by Dan Sturnick and assisted by Jeff MacDonald. MacDonald assisted four different players during the game.

Athough the Knights had 19 penalties (18 mins), their man-down unit only allowed 2 goals (11%).

Scoring for McQuaid Jesuit were Gallina (5g), Ritchie (3g-1a), MacDonald (4a), Cooper (2g), Carpenter (1g-1a), Ayer (1g-1a), Sturnick (1g), Bill Napoli (1g), and Nick Caton (1g). Dan Caufield played all but one minute, as a result of a mouth guard penalty, and recorded 18s/9ga (66%). Harry Goluses ended the game with 1ga.

Scoring for Waterloo were Boyd (2g-2a), Mateo (2g-2a), Wadhams (2g-1a), Ruiz (2g-1a), and Brosius (2g). Shawn Andrus played the entire game and recorded 8s/15ga (35%).


Hilton defeated Livonia 13-3. Senior midfielder Jeff DeLong was 9/9 on face-offs. It was the second game in two days for the Bulldogs, who lost in a overtime last night to Brighton.

Scoring for Hilton was only partially reported, those players reported were Jay Clifford (5g-1a), Kyle Hayward (1g-1a) and Steve Bernsten (1g). Senior goalie Aaron Donahey recorded 17s/3ga (85%). Hilton only reported partially scoring.

Scoring for Livonia were Chris Bausch (2g-1a), Tyler Russell (1g-1a), and Brian Sciera (1a). Goalie Justin Becker recorded 11s/13ga (46%).