Both Websters Win
April 3, 2007

- Both Schroeder and Thomas were winners in games played today. The Warriors beat Amherst (Section 6) 10-4 and the Titans beat Fairport 13-12 in a game full of momentum swings. Other winners included Livonia, McQuaid Jesuit, Brighton, Churchville-Chili, Geneva and Canandaigua.


It was a game of runs, constant changes of momentum and a game where determined players stepped up for their team. This was a game of heroes, players who made things happened. At the end of the game is was Thomas 13-12 over Fairport, on a goal at 0:26 by sophomore middie, Pat Morrill assisted by senior middie Dan Hinderland.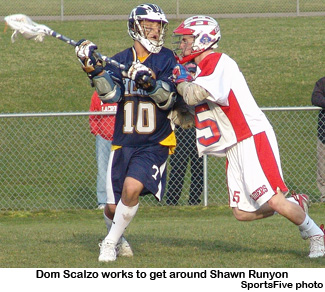 Fairport scored in the first minute of the game when senior middie Eric Martin scored the first of his six goals. Martin scored again, this time on a crosse cage pass from Mike Danylyshyn. Thirty seconds later, Thomas scored their first goal at sophomore attackman Nick Scalzo received an inside crease pass from junior attackman Max Gurowski. Martin scored his third in a row with and outside face dodge and a feed from Tom Rynn. Morrill scored and unassisted goal at 1:38 and the first quarter ended with the Red Raiders up 3-2.

Thomas experienced early jitters and had some difficulty in controlling the ball in the first quarter, but shook them off in the second quarter, scoring five goals while holding Fairport to two. Freshman attackman Brendan Saylor, standing on the crease, scored for Fairport at 11:03 (assisted by sophomore attackman Aaron Jones. The Titans came back with two in a row to tie the score at four. Senior Dom Scalzo scored the first of his 3g-2a on a drive from front right. Senior attackman Brendon Rothfuss picked up a ground ball on the crease after a shot bounced off the pipe and put the it in the goal.

Rynn scored an unassisted goal on a run straight down the center of the field at 5:58. The last three goals of the quarter belonged to the Titans as Dom Scalzo put his own right down the center of the field and then assisted on a goal by Rothfuss before he scored another unassisted goal to give Thomas a 7-5 lead at the half.

Coach Rob Ruller started his half-time speech with the admonition: "It's going to be a war boys. It's going to be a war."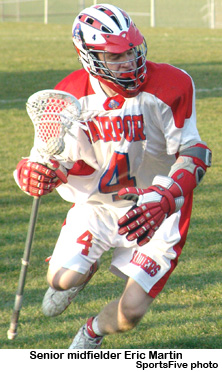 Nick Scalzo started the Titan scoring after the half when he received a long clearing pass from midfield and took the ball to a one-on-one with the Fairport goalie. Martin then scored two more (unassisted) to bring the Red Raiders to within one (7-8). The Titans took the momentum back with four goals in a row, before ending the third quarter up 12-7. Morrill an unassisted goal that was followed by three by Rothfuss who was assisted by Max Gurowski (twice) and Billy Gurowski.

Sophomore goalie, Austin Fox made dramatic saves for the Titian's. Junior defenseman Jake Ziegler was an outstanding day controlling Fairport senior attackman Mike Danylyshyn, who ended the game with 2a.

Although down by five goals, Fairport was not deterred and regained control in the last quarter, scoring five goals in a row. Martin his last goal at 11:25. Rynn scored two goals assisted by Martin and Shawn Runyon. He then added an unassisted man up goal, which was followed by another man up goal, this time by freshman attackman Martin Manilla assisted by Danylyshyn. The game was tied at twelve with 3:21 left in the game.

Each team had more than one chance to score and both teams had time-outs to set up winning plays. After one such time out, Morrill scored the winning goal with an assist from Hinderland.

Scoring for Thomas were Rothfuss (5g), D. Scalzo (3g-2a), Morrill (3g), N. Scalzo (2g), M. Gurowski (3a), and Ziegler, B. Gurowski and Hinderland with 1a each. Austin Fox recorded 13s/12ga (52%).

Scoring for Fairport were Martin (6g), Rynn (4g-1a), Manilla (1g), Saylor (1g) and Jones and Runyon with 1a each.


Webster Schroeder dominated in their game with Amherst (Section 6) and won 10-4. The Warriors led the entire game and demonstrated why they are one of the top teams in Section Five.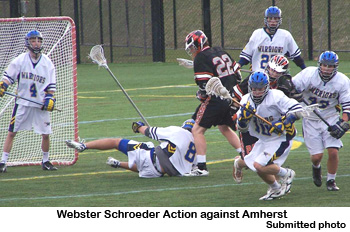 Schroeder opened the scoring at 8:59, much later then in the past two games, with a goal by Mike Tota, assisted by Grant Catalino. The Warriors closed out the first quarter with two more goals. Andy Winslow ( from Tota) scored the first and Catalino (unassisted) scored the second. The first quarter ended with Schroeder up 3-0

Schroeder increased their lead to 5-0 at the top of the second with two goals by Tota (both from Catalino). Both goals were completed with Catalino driving into the goal and when then dishing to Tota who was open cross-crease. Sean Smith scored the first goal for Amherst with 4:47 remaining. The half ended with the score 6-1.

The third quarter saw one goal from each team. Catalino scored on a inside feed from Nick Mooney for Schroeder and then first of two unassisted goals by Casey Rich for Amherst.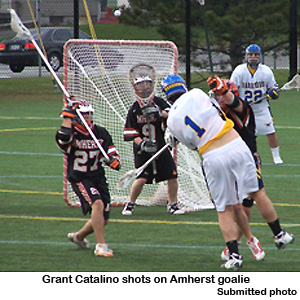 The final two goals from Schroeder were scored by Austin Orsini. The first was unassisted and the second was from Catalino. The final two goals for Amherst were scored by Rich (unassisted) and Nick Johnson (unassisted). Both of the Amherst goals were scored in the last four minutes after Schroeder substitutions.

Will Africano, Amherst's face-off man took 12 face-offs and won 10 (83%). Both of the two face-offs lost by Africano were picked up by long stick defenseman Drew Palmer from Schroeder playing on the wing.

Scoring for Webster were Catalino (3g-5a), Tota (3g-1a), Mooney (1g-1a), Orsini (2g) and Winslow (1g). In the cage, Zach Marshall played for 42 min and recorded 4s/2ga(66%) and Brian Enck recorded 2s/2ga (50%).

Scoring for Amherst were Rich (2g), Smith (1g) and Johnson (1g). In the cage was Matt Always with 7s/10ga (41%).


Geneva defeated Midlakes 20-3 today after running out to a 10-0 lead after the first quarter. Geneva had increased the lead to 15-3 by the half. Shooting was a factor as Geneva out shot Midlakes 36-11.

Scoring for Geneva was Greg Bonney (1g-5a), Kyle Boncaro (4g-1a), Alex Love (2g-2a), John Warner (3g-1a), Jimmy Warner (1g-2a), Anthony Fili (2g-1a), RJ Gringeri (2g-1a), Sean Braman (1g-2a), Nic DiDuro (2g), Willie Rago (1g), Sean Bennett (1g), Tyler Travis (1a), Gio DiDuro (1a). Adam Schutz had 3s and Kyle Brimm 2s.

Scoring for Midlakes Glen Stevensen (2g), Clay Hemminger (1g), Tyler Brooks Lambert (1a), Conor Hogan (1a). Jared Schoonerman had 7s/20ga (26%).


Livonia was the 11-3 winner over Pal-Mac tonight. The Bulldogs jumped out to a 6-1 lead at halftime. Although Pal-Mac fought back to 6-3 early in the third, a series of penalties stopped the comeback in its tracks.

Livonia out shot Pal-Mac 28-21 and won the ground ball battle 45-35.

Scoring for Livonia were Tyler Russell (3g, 2a), Brian Sciera (2g, 2a), Chris Bausch (2g, 1a), Jeff Wester (1g, 1a), Oren Taylor (2a). Jim Crowell, Aaron Miller, Paul Nebbia all scored one goal and both Gaelin Walsh and Cameron Ross scored (1a). Sophomore goalie Justin Becker recorded 11s/3ga (79%).

Scoring for Pal-Mac were Cody Clement (2g), Dan Evans (1a), Eddie Anderson (1a), Jordan Wirthman (1g) and Steve Vandewalle (1a). Senior goalie John Reeves recorded 13s/11ga (54%).


Churchville-Chili remained unbeaten after defeating rival Gates-Chili by a score of 12-6. Churchville started the scoring and took a 10-1 advantage into the fourth quarter.

Scoring for the Saints was led by senior Ben Rossignolo (6g-1a). Attackmen Ryan Grogan (1g, 2a) and Gino Marcello (2g, 3a) also contributed. Doug Hemink (2g), Jamie Englert (1g), Cory Mee (1a) and Brian Traugott (1a) completed the scoring from Midfield. Saints goalie Sean Kettles had 11s/6ga (65%).

Scoring for Gates Chili were Andy Hilton (2g-2a), Tommy Elkins (1g), Pat Sposato (1g) while Brad Webber and Alec Bazer each added 1a. Jason Baetzhold made 11s/12ga (48%).


Aquinas scored the first goal of the night, but Brighton went on to win 8-4. Brighton led at the end of the first quarter 5-2, and then 6-2 at the half. Brighton won a 36-24 shooting advantage.

Scoring for Brighton was led by seniors Ryan Conti (2g-2a), Tim Williams (1g-3a), Josh Uline (2g), Dan Hill (1g), Sean Pennino (1a) and junior Justin Hillery (2g).

Scoring for Aquinas was Austin Gorman (2g-1a), Anthony Bianchi (1g), Neil Foley (1g), Nick Berkompas (1a) , and Marc Brondon (1a). Goalie Alan Antinarelli recorded 10s/8ga (55%).


After scoring 13 unanswered goals in the first half, Victor finished with a 16-3 win over host Mynderse.Ten different players scored for the winners as they unloaded the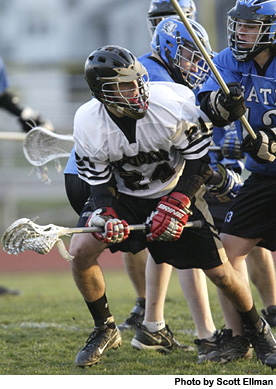 bench.

Scoring for Victor were, from the attack Frank Valenti (6g), Ethan Payne (3g-3a), Tom Rogemoser (1g-3a) and Mike Domizio (2g) and from the midfield, Jason Houtenbrink (1g-1a), Josh Sahr (1g-1a), Joe Coleman (2a), Kurt Sullivan (2a), Steve Hearn (1G) and Tom Poitras (1g). Mitchell Liegerot recorded 1s and Cody Bennett added 6s for Victor.

Scoring one assisted goal each for Mynderse were Chris D'Amato, Josh Kurdziolek and Dustin Luckinbill. Assists were recorded by AJ Bachman (1a), Mike Warrick (1a) and Kevin McCully (1a). Ben LaValley made 11s/16ga (41%).

No report from Mynderse.




McQuaid Jesuit led 8-1 at the half on the way to a 13-2 victory in GRALL competition against Bath-Haverling.

Scoring for the Knights were Mitch Ritchie (4g-3a), Bill Napoli (2g), Evan Gallina (2g-1a), Dan Odorczyk (1g), Dan Sturnick (3g-1a).

Scoring for Bath were Brad Fuerst (1g) and NickVenuti (1g) Chris Wolfer made 11s/13ga (46%).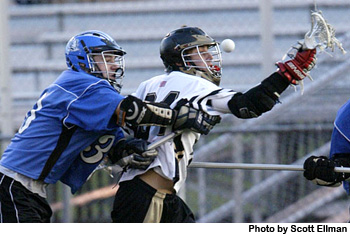 Canandaigua was the 18-3 winner over Waterloo in Finger Lakes action this afternoon.

Scoring for Canandaigua were Jeremy Brown (3g-1a), Connor Henderson (1g-1a), Brian Scheetz (1g-4a), Andrew Knoblauch (1g), John Klein (3g-1a), Jordan Manzer (1g-2a), Charlie Sauter (1a), Austin Rogers (2g), AJ Groot (1g), Tyler Wakefield (2g-1a), Justin Tomzak (2a), Marshall Johnson (2g) and Kevin Peck (1g).

Scott Bement and Kyle Carson split time for the Braves. Bement played the first 18 minutes and recorded 4s/1ga (80%) and Carson finished the game and recorded 5s/2ga (71%).

Scoring for Waterloo were Pete Vacca (2g) and Josh Mateo (1g). Shawn Andrus, the goalie for Waterloo, recorded 7s/18ga (28%).

No report from Waterloo.




Senior midfielder Jeff Konko picked up a ground ball after the face off scored the winning goal in the second overtime period as Spencerport beat host Greece Athena/Odyssey 10-9.

Scoring for Spencerport were Kyle Breach (1g-2a), Pat Decker (2g-2a), Phil Schmid (1g), Jeff Konko (1g), Luciano Petrella (2g), Jon Robinson (3g). Brad O'Keefe made 2s and made Mike Palvino 17s.

No report Greece Ath/Ody.