Full Schedule - 16 Games Saturday
March 31, 2007

- Fairport played another overtime game today, winning this time in two over time periods against Penfield, 9-8. Two games featured Head Coach brother against brother. Craig Whipple beat his brother Andrew as Irondequoit was the 8-4 winner over Pittsford and Tom MacMillan beat brother Mark as HFL was the 10-5 winner over Brighton.

Elsewhere, Schroeder was a 14-7 winner over R-H, Penn Yan pulled out a one goal win over Victor in a low scoring 4-3 game and Canandaigua was the winner in a 10-2 game with geneva.


(March 31, 2007) - In a game that went right down to the wire, Penn Yan took a 4-3 win over visiting Victor. Penn Yan scored first; the only goal in the first quarter. The Blue Devils came back for a 2-2 tie at the half. The Mustangs scored the go-ahead goal in the third, which ended with PY up 4-3 and the last quarter remained scoreless.

Coach Mark Foeder was pleased with the Blue Devil performance. "What a great game. Both teams played well right down to the end. The defense for Victor played very well. Both goalies came up with key saves when their team needed them. Keeping Penn Yan under 5 goals is very difficult thing to do."

Leading the scoring for Penn Yan was sophomore attackman Adam Trombley (2a). Scoring single goals for the Mustangs were senior attackman Ryan Cook (1g), senior middie Dan Wolfe (1g), sophomore attackman Cole Castle (1a) and senior attackman Josh Perrault (1g). Senior defenseman Mike Manley added an assist. Senior goalie RJ Wickham had 12s/3ga (80%).

Scoring for Victor were junior attackman Ethan Payne (2g), senior midfielder Jason Houtenbrink (1g) and junior middie Alex Rogemoser (1a). Senior goalie Mitchell Liegerot made 16s/4ga (80%).


On a gray and cold day at Irondequoit, the Eagles rallied from a 2-3 halftime score to beat visiting Pittsford 8-4.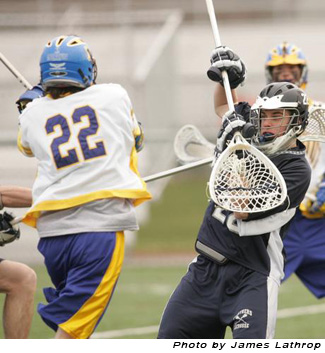 It was a close game in the first half with Irondequoit scoring first at 7:33 when Kevin Coholan scored on a feed from his younger brother, Drew. Pittsford returned at 4:16 for a tie with a goal by Jeff Milano-Johnson, assisted by his older brother, Doug. The quarter ended in a 1-1 tie.

Soon after the start of the second quarter, Kevin Coholan scored an unassisted goal on a shot from out front. Strong defensive pressure and doubles and numerous take-aways on the Irondequoit defense side of the field gave the Eagles extra ball time.

Pittsford scored two goals in the last 0:30 seconds of the half as Doug Milano-Johnson picked up a ground ball as it bounced out from a shot to the pipe, scoring at 0:29. Immediately after the face-off, Brett Bridges won the face and fed the ball to Conor McDermott who scored at 0:22. The Panthers went into the halftime break, up 3-2.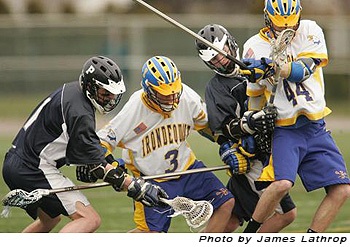 In the third quarter the Eagles took back control scoring 4 unanswered goals with good ball control and strong passing. Junior attackman Greg Wright scored first on a tight crease drive from behind the goal. Senior middie, Todd Laemlein drove from right front for the unassisted score at 5:37 sending the lead back to Irondequoit. Despite numerous one-on-one saves by Pittsford junior goalkeeper, Brendan Green, the Eagles scored again, this time by senior Andrew Hart on an assist from Drew Coholan. With 0:41 left in the third, Drew Coholan scored with an assist from Tim Kleehammer, although there was some controversy before the goal was allowed. An inadvertent whistle sounded during the shot and after the officials conferred the goal was allowed. The Pittsford fans were vocal and angry over the call but the quarter ended with Irondequoit up 6-3.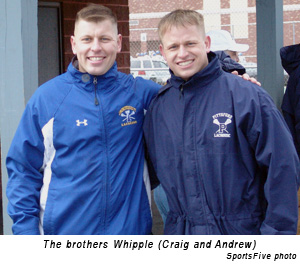 A pair of brother-to-brother goals started on the last quarter. Kevin from Drew Coholan scored at 9:27 and less than 20 seconds later Pittsford saw a goal by Jeff from Doug Milano-Johnson. Pittsford tried a number of times to dodge their way to the goal with the very talented skills of Cam Edmiston, who, after getting by several players a number of times was unable to get the ball on cage. Irondequoit finished the scoring ay 6:53 with a goal by junior attackman Tyler Kleehammer with an assist from senior middie Nick Kane.

Scoring for Irondequoit were Drew Coholan (1g-3a), Kevin Coholan (3g), and single goals by Greg Wright, Andrew Hart, Tyler Kleehammer and Todd Laemlein and single assists by Tim Kleehammer and Nick Kane. Senior goalkeeper Zach Nash made 11s/4ga (73%).

Scoring for Pittsford were Jeff Milano-Johnson (2g), Doug Milano-Johnson (1g-2a), Conor McDermott (1g), Brett Bridges (1a). Green recorded 12s/8ga (60%).


It was Newark 12 - Mynderse 8 in this home game for Mynderse. Newark started quickly scoring on a fast break from Colin Johnson to Stephen Johnson just 0:22 seconds into the game. Newark kept up the pressure in the 1st with 5 more goals before Mynderse got on the board with 4:03 left in the quarter. The second quarter found the teams trading 3 goals each, leaving Newark with a 8-4 advantage at the half time break. Mynderse closed the gap to 3 goals with a quick man-up goal just 0:07 seconds into the 3rd quarter with a shot from Charlie Barbay from Anthony Clark. Newark then pulled away with 3 more goals in the 3rd quarter.

Newark scoring: Stephen Johnson (4g), Colin Johnson (2g-5a), Adam Golding (3g-2a), Chris Gonzalez (1g-2a) Adding one goal each were Eric Stivers (1g) and RJ VanDeMortal (1g). Adding assists were John Barrett (1a), Dillon Godfrey (2a) and Matt Clemons (1a). Senior goalie Josh Putman recorded 11s/8ga (58%) for the Reds (1-1).

Mynderse scoring: Josh Kudziolek (4g), Charlie Barbay (1g-1a), Anthony Clark (1g-1a), Dustin Luckinbill (1g-1a) and Kevin McCully (1g-2a).

No report from Mynderse.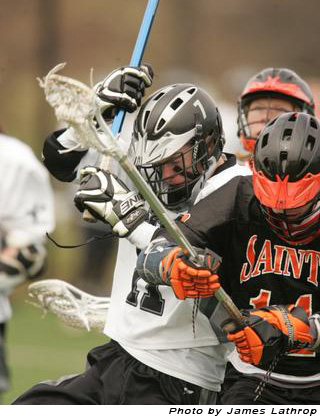 McQuaid Jesuit took 3-1 lead at the end of the first quarter and led 6-3 at the half as they won 11-7 at host Canisius (Section 6).

Leading the scoring for the Knights were junior attackman Mitch Ritchie (6g) and senior middie Evan Gallina (2-2). adding to the scorebooks were junior attackmen Bill Napoli (1g), JD Ayer (1g), senior midfielder Dan Sturnick (1g) and junior middie Nick Caton (1a). Junior goal keeper Dan Caufield recorded 12s/7ga (63%).

Canisius was lead by attackman Ethan Collins who scored 2g.


Churchville-Chili remained unbeaten by defeating Greece Arcadia/Olympia a 17-0 in a game played at McAvoy Park.

The Saints played focused, aggressive offense and defense, forcing many turnovers from the Greece team. Up 12-0 in the second quarter, the Saints cleared the bench allowing the reserves to play the remainder of the game.

Backup goalie, Adam DiFulvio, made 4 saves in the 4th quarter to preserve the shutout.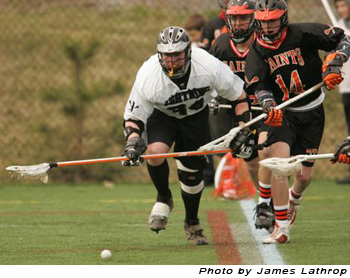 Scoring for the Saints were Doug Hemink (1g-2a), Gino Marcello (3g-1a), Jaime Englert (1g-1a), Ben Rossignolo (2g-2a), Damien Pagano (2g-1a), Ryan Grogan (3g-2a) and Kevin Conway (3g). Scoring one goal each were Cory Mee (1g) and Cody Rumsey (1g). Adding assists were Jon Hemink (2a), Trevor Jessop (1a), Keith Preston (1a). Junior goalie Sean Kettles 1s/0ga, Adam Difulvio 4s/0ga.

No Report from Arc/Oly.




Schroeder jumped out to an early 3-0 lead, in just 0:52 seconds into the game and ended with a 14-7 win over R-H. Mike Tota assisted from Steve Sullivan, Grant Catalino (unassisted), and Austin Orsini assisted by Tota scored the goals. Webster increased their lead at 4:47 when Catalino scored with an assist from Ryan Scalzo.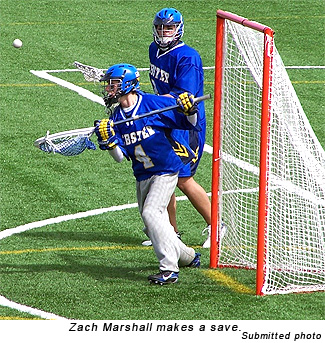 RH got on the board at 4:15 when junior middie Colin Cornaire scored an unassisted goal making it 4-1 Schroeder. The Warriors added a fifth goal at 1:50 left in the first quarter when middie Andy Winslow scored (assisted by Catalino) ending the quarter at 5-1.

Senior Brian Hantzis started the scoring in the 2nd quarter for RH with an unassisted goal at 6:57. Hantzis also had a strong faceoff day winning 8 of 11. Senior middie Justin Rose scored his first of the game at 4:14 taking the score to 5-3. The Warriors ended the quarter with two more as Tota scored a man up goal (assisted by Orsini) and Andy Winslow netting his second at 0:21 with an assist from Tota. Webster took a 7-3 lead into half.

Schroeder started the 3rd quarter extending their lead to 5 when Tota scored his third of the game with a nice feed from defenseman Drew Palmer. RH fought back when Rose scored, assisted from Hantzis, making it 8-4. RH scored again when junior attackman Nate Delone found the net. That would be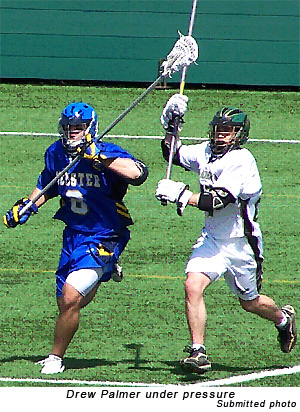 as close as RH would get as Schroeder scored five unanswered goals with three in man up situations. Schroeder ended the third quarter up 13-5.

RH saw goals from Rose and Hantzis in the fourth while Catalino added his fifth.

"The early lead Schroeder got in the first minute(3-0) and the penalties in the last part of the 3rd quarter, while attempting a comeback at 8-5, proved to be too much to overcome against a solid defensive team," said Coach Mike Gottko. "We couldn't get enough momentum going and playing man down limited our offensive looks.
Schroeder certainly capitalized on our mistakes."

Scoring for Schroeder (2-0) were Tota (5g-3a), Catalino (5g-2a), Andy Winslow (2g-2a), Orsini (2g-1a), Sullivan (1a), Palmer (1a) and Scalzo (1a). Zach Marshall 7s/5ga (58%) and Brian Enck 1s/2ga (33%) split time in the cage for the Warriors.

Scoring for R-H were Rose (3g), Hantzis (2g-1a), Nate Delone (1g), Colin Cornaire (1g), Senior goalies Matt McShea 14s/13ga and Andrew Widanka 5s/1ga shared time in the goal for RH (1-1).


Brockport defeated Batavia 13-1 this afternoon in a game where a combined 27 penalties (30.5 min), including four stick penalties (two per team) and eight unsportsmanlike conduct penalties (six in one altercation) where assessed.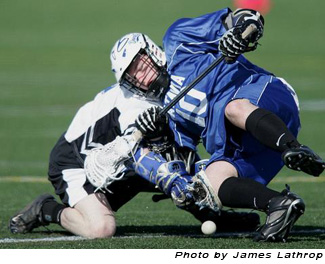 Brockport dominated the game early on scoring four goals in each of the first three quarters. Brockport's junior attackman Andrew Willis scored five back to back goals stretching from 4:12 remaining in the second until 2:47 remaining in the third. It was after Willis' last goal that junior attackman Ian Chapman, assisted by his brother, freshman midfielder Chip Chapman, scored the first Varsity goal in the Batavia's history. The goal came after a man-down face-off win by Batavia and was scored 22 seconds after Willis' final goal.

Goalie play was noteworthy as Brockport's junior goalie, Connor Mykins had a strong game with 6s/1ga (86%) and Batavia's junior goalie Matt Landfried had a disappointing game at 11s/13ga (45%). Landfield has been over 60% in each of Batavia's previous games.

Coach Ryan Egan felt that his players played well. "[We] controlled the ground balls and had a lot of shots on the cage."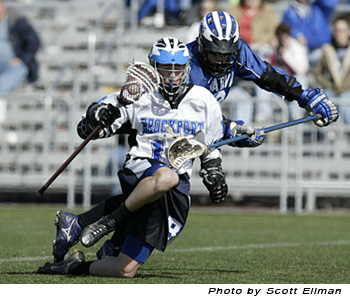 Scoring for Brockport was senior attackman Adam Naureth (3g-1a). Scoring for the junior class came from attackmen Andrew Willis (5g) and Justin Klymochko (1g) and midfielder Sean Bittner (1a). Kacie Jones (1g) was the lone sophomore class to score, while two freshmen, midfielder Jacob Burns (1g-1a) and attackman Trevor Hayward (2g-2a), each added points to the scoreboard.

Scoring for Batavia were Ian Chapman (1g) and Chip Chapman (1a).


Webster Thomas defeated Horseheads (Section 4) with a score of 16-10. Horseheads took an early lead with three unanswered goals before the Titan offense went on a 6-0 run. By halftime, the Titans had increased their lead to 9-5. Although the Blue Raiders fought back to within three twice, the Titans held the lead the remainder of the game.

Leading the scoring were senior attackmen Dom Scalzo and Brendon Rothfuss. Rothfuss and Scalzo scored four of the six goal run for the Titans. Scalzo and Rothfuss scored half of Thomas' total goals.

Defensively, the Titans looked to seniors Ryan McGrath and Bryan Clifford as well as juniors Jake Ziegler and Keith Maimone for strong defensive play. Coach Rob Ruller attributes much of their success to the Titan defense, "The Titans defense created turnovers by turning up the pressure and playing good solid defense."

Scoring for the Titans were Seniors Scalzo (6g), Rothfuss (2g-1a) and Dan Hinderland (1g-1a). Max Gurowski (1g-4a) was the long junior to score points for the Titans, while four sophomores recorded goals: midfielders Pat Morrill (2g), Kyle LaVallee (1g-1a) and Billy Gurowski (1g) joined with attackman Nick Scalzo (2g-2a). Sophomore Austin Fox played the entire game between the pipes and recorded 14s/10ga (58%).


Gates Chili was a 16-5 winner over Greece Athena/Odyssey in a game at Irondequoit High School. The Spartans took a 7-3 first quarter lead and never looked back as they scored six more in the second quarter to take it to halftime up 13-3.

Scoring for the Spartans from the attack were senior Andy Hilton (6g-4a) and juniors Tom Sudek (6g-3a) and Alik Miller (1g). In the midfield, scoring came from juniors Jeff Fichtner (1g), Brad Webber (1g-1a) and Pat Sposato (1g-1a). Sophomore goalie Jason Baetzhold recorded 3s/5ga (38%). No report from Athena/Odyssey.


Junior attackmen led the way as Honeoye Falls-Lima defeated Brighton 10-5 today at McAvoy Park.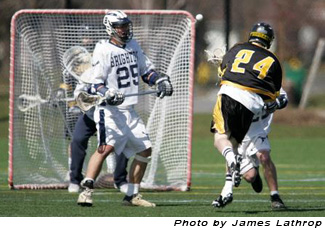 HFL dominated the first half of the game leading at halftime 5-0. The third quarter saw scoring go back and forth as each team scored 2. Brighton began the fourth quarter quickly when junior attackman Justin Hillary scored two unassisted goals at 11:40 and 11:21. HFL eventually regained their composure and held the ball for the last four minutes, stopping any potential Brighton comeback.

Ryan Conti took nearly all the face-offs for Brighton and won 11/15 (73%).

Coach Tom MacMillan of HFL says of his team, "We only had one scrimmage so far this season and played all 48 minutes today. We showed the boys that they can play anyone."

HFL ha
d four junior attackman combine for 9g-4a tonight: Cade Norris (3g-1a), Ian Griffin (5g), Matt Lesczynski (1g-2a) and Zach Whyte (1a). Senior midfielder Matt Garvey (1g) rounded out the scoring for the Cougars. Senior Pat Roache played the entire game for HFL and recorded 7s/5ga (58%).

Brighton saw scoring from only three players. Junior attackman Justin Hillary (3g), senior attackman Tim Williams (2g) and senior midfielder Conti (1a) made the scorebook for the Barons. Senior Noah Berg recorded 12s/10ga (55%).

No report from Brighton.




In a close game throughout, Waterloo was a 7-5 winner in their game visiting Midlakes. The Indians led 2-1 at the end of the first and 3-2 at the half. After adding one more to their lead in the third, both teams scored 2 in the last quarter.

Scoring for Waterloo were Josh Mateo (2g-1a), Curtis Brosius (2g), Peter Vacca (1g-1a), Nelson Boyd (1g), Tim Parish (1g) and Mike Ruiz (1a). Junior goalie Shawn Andrus made 21s/5ga (81%).

Scoring for Midlakes were Tyler Brooks-Lambert (2g), Nick Newland (2g), Rob Barber (1g), Conor Hogan (2a) and Ken Patane (1a). Junior goalie Jared Schoonerman recorded 20s/7ga (74%).

No report from Midlakes.




Canandaigua traveled to Geneva this morning and defeated the Panthers 10-2.

Geneva received a stick penalty, and then an unsportsmanlike conduct penalty during the break between the first and second quarter and spent the first four minutes of the second quarter man-down. Their man-down unit stepped up and kept the Braves from scoring the duration of the penalty.

The Braves took a 4-0 lead in the second quarter before sophomore attackman Alex Love, assisted by Kyle Boncaro, scored the first of his two goals in extra man play. Love's second goal came with 7:43 remaining in the third quarter taking the score to 5-2 for Canandaigua.

The Braves' junior attackman, Connor Henderson scored the next four goals, two of which in man-up. Henderson ended the game with 5 goals.

Both goalies played well. Matt Schutz, the senior goalie for Geneva, ended the game with 19s/10ga (66%) and Scott Bement, junior goalie for Canandaigua, recorded 11s/2ga (85%). Each goalie made several point blank saves. Coach Ed Mulheron said of Bement, "[he] played well and this is the type of game we expect [from him]."

Coach Mulheron was pleased with the Braves' performance. "We really showed up on defense today and I was proud of them. Offensively we shot a lot but not as well as we would have liked." Canandaigua moved to 2-0.

Scoring for Canandaigua senior class were midfielder Charlie Sauter (2g) and attackman Jeremy Brown (1g-1a). Junior attackmen Henderson (5g) and Justin Tomzak (2a) were joined by midfielder Andrew Knoblauch (1g). Rounding out the scoring were sophomores, attackman Brian Scheetz (2a) and midfielder Sean Regan (1g).

Scoring for Geneva were Love (2g) and Boncaro (1a) as the Panthers move to (1-1).


Hilton used strong second and third quarters to cement their 14-2 victory over Pal-Mac.

Pal-Mac led in the first quarter 1-0, but after eight goals for Hilton in the second, the half ended with the Cadets up 8-2. The third quarter saw six more goals from Hilton and with no scoring in the last quarter, Hilton took home the victory.

Scoring for Hilton from the junior class were attackmen James Moss (3g-1a) and Jon Graus (1g-1a) along with midfielders Jay Clifford (2g-2a) and Colin Walker (1g-2a). The senior class was represented by attackmen Alex Wood (1g-1a) and Adam White (1g) along with midfielders Jeff DeLong (2g-2a) and Kyle Hayward (2g-1a). Midfielder Steve Bernsten, the lone sophomore, scored 1 goal. The Cadets saw three players split time in the goal: Aaron Donahey 3s/2ga (60%), Brad Speer 1s/0ga and Tim O'Toole 1s/0ga.

Scoring for Pal-Mac were Juniors attackman Jordan Wirthman (1g) and defenseman Andrew Moak (1a). Midfielder Pete Barry, the lone senior, recorded one assist. Jesse Doyle also scored one goal. Tim Doyle recorded 16s/14ga (53%).


It took two overtime periods for Fairport to defeat Penfield with a final score of 9-8. Senior middie, Eric Martin scored the winning goal with an assist from Shawn Runyon. It was the second game in two weeks to go to overtime for the Red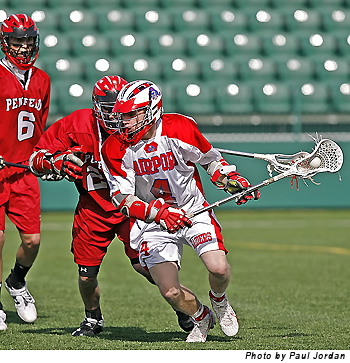 Raiders.

Scoring for Fairport were senior midfielders Shawn Runyon (3g-2a) and Eric Martin (2g), senior attackman Mike Danylyshyn (1g-2a), junior midfielder John McDonnell (2g), and sophomore attackman Aaron Jones (1a). In the cage sophomore Kristoffer Sterzin recorded 8s/8ga (50%) for the Red Raiders (1-1).

Scoring for Penfield were junior attackman Connor Rice (3g-1a), junior midfielders Kyle Vanthof (2g) and Kyle Denhoff (1g), senior attackman Kevin Green (1g-1a) and senior midfielder Paul Leonhard (1g). Brady Del Pozzo recorded 9s/9ga (50%) for the Patriots (0-2).


Eastridge won their game against Spencerport 12-8 today at Irondequoit High School. The Lancers were up 7-3 at the start the second half.

Scoring for the Lancers were Brandon Moynihan (4g), Alex Austin (2g-3a), Matt Driffill (3g-2a), Kevin Mahler (2g-1a), and Todd Horne (1g-1a). Eugene Ferrera made 11s/3ga (79%) as the lancers went on to win their second consecutive game for the first time since the start of the new program. No report from Spencerport.


Owego was the 6-2 winner over visting Bath-Harverling.

Scoring for Owego were Dave Edwards (2g), Parrer Evans (2g), Andy Race (1g-2a), Seth Collins (1g-1a) and Zack Lessler (1a). Goalie Andy Gilmore had 4s/2ga (66%).

Scoring for Bath were Mckenzie Durham (1g), Brad Fuerst (1g) and Dave Harris (1a). Chris Wolfer recorded 18s/6ga (75%).