Semi Final Games
May 30, 2006

- The final four teams met in the semi final rounds at three venues tonight. At Aquinas, Penfield (#1) beat Canandaigua (#5) in the first game and Schroeder (#3) beat Fairport (#2) in the second game. At Irondequoit, it was Brighton (#1) over Victor (#4) in the closest game in the night, and Geneva (#2) over HFL (#3) in the second game. At Penn Yan, the Mustangs (#1) beat Livonia (#4), and in the second game it was Waterloo (#2) over Aquinas (#3).


Penfield (#1) was the 11-3 winner over Canandaigua (#5) in the first Class A game played tonight at Aquinas.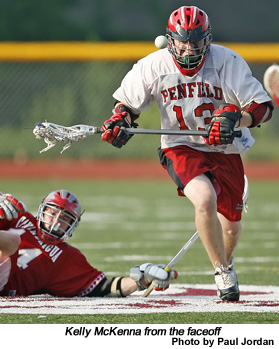 It was close in the first quarter with the score going back and forth. Penfield quickly scored the first two goals within the first two minutes with goals by Ben Foster (unassisted) and Scott Serron (from Connor Rice). Canandaigua then scored two goals back to back as Andrew Knoblauch (unassisted) and Eric Klein (from A.J. Groot) scored for the Braves but these were the last goals that the Braves would score until 7:39 remaining in the fourth quarter. The Patriots scored one more to take a 3-2 lead going into the second quarter.

Penfield scored twice in the second quarter. The first was scored just 18 seconds into the quarter and the second with only 0:01 remaining in the half. The second goal of the quarter came when Foster sent the ball to a cutting Rice, as he moved across the crease. The half ended with the score 5-2.

Penfield only scored one goal in the third when Serron Serron picked up the ball off a missed shot and hit Huntington on the crease for the goal which increased the Patriot lead to 6-2.

The first three goals of the fourth quarter also came from the Patriot offense. Canandaigua's last goal came from a feed by Justin Tomzak and a shot from Zack Scheetz. Only 0:09 second later and after a Patriot face-off fast break Kelly McKenna fed the ball tp Kevin Green.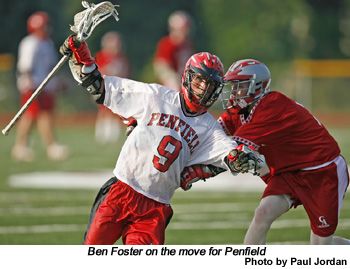 Scoring for Penfield were McKenna (2g–1a), Rice (2g–1a), Serron (1g-2a), Foster (1g–2a) while Huntington, Malone, Green, and Arvan each score one goal. Brian Dell accumulated 6 saves and played for a majority of the game. Penfield will play Webster Schroeder for the Section V Championship on Friday at 7:15 at St. John Fisher College.

Scoring for Canandaigua were Scheetz, Knoblauch, and Klein with one goal each and Groot and Tomzak with one assist each. Dan Serafine made 13 saves and played for a majority of the game for the Braves.


Penn Yan continued their winning streak of 19 games with a 16-2 win over Livonia in the Class C semi final game.

Scoring for Penn Yan were Dan McGuffie (2g-4a), Ben Odell (3g), Dan Mesler (2g), John Linnan (2g), Steven Carlson (5g-2a), Dan Wolfe (1g), Mike Manley (1a) and Josh Perrault (1g-1a). RJ Wickham (4s), Adam Galusha (1s) and Ethan Kamholtz (1s) shared time in the goal for the Mustangs who will defend their Section Five title when the face Waterloo at 5:15 on Friday at St. John Fisher College.

No report from Livonia tonight.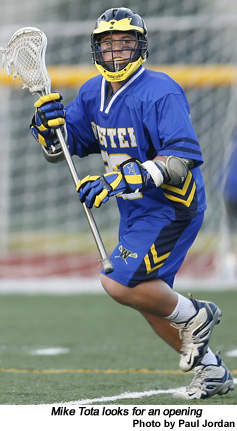 A fired up Webster Schroeder won a decisive victory over Fairport as the Warriors scored six first quarter goals and continued on for a 17-8 final in the second Class A game at Aquinas tonight.

Schroeder started the night strong and with few exceptions, controlled the game for its entirety. The first five goals were scored by the Warriors. Three of those goals were scored by Mike Tota. Fairport's Patrick Reilly broke the run and scored an unassisted goal with an inside dodge. Schroeder came back within a minute with another goal; this one by Chris Ferry (assisted by Andy Winslow). Then with 0:05 left in the first quarter Fairport scored when Daniel Scarazzo hit Shawn Runyon who scored with an outside underhand shot that skipped under Dennis Costanza's stick. This started a series that ended each of the first three quarters with goals scored in the last 10 seconds of each quarter. The first quarter ended with Schroeder up 6-2.

The Warriors began the second quarter with an unassisted goal by Chris Topping. Fairport then scored two goals in a row; the first an unassisted pipe side sidearm shot by Jake Fricano and the second a man-up goal in which Fricano found Runyon at the top of the box for a top-shelf goal. Schroeder, not to be slowed down, scored on two back to back fast-breaks from face offs that the Warriors dominated throughout the game. The first found defenseman Chris Nicodemi finding Tota and the second was an inside dodge from Grant Catalino. Schroeder scored with only 0:08 left in the half with a feed from Ferry finding Jay Willmes who was unguarded on the crease. Schroeder entered the half time break with a 10-4 advantage.

The third quarter found Fairport again attempting to mount a comeback as they scored the first three goals of the quarter, taking the score to 10-7, but that was all for the Raider offense in the quarter. Ryan Lowe scored the first (unassisted), Jeffrey Sanna then added one (unassisted), and Fricano scored on a pass from Peter Burkhardtt. Schroeder ended the third quarter with two more goals as Nick Mooney scored and Austin Orsini ended the quarter with his goal at 0:05. The third quarter ended with the Warriors up 12-7.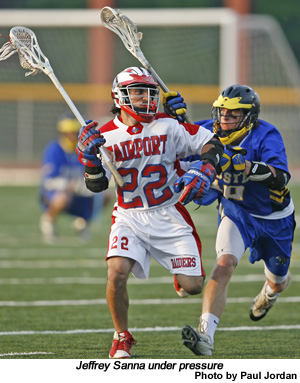 The fourth quarter mirrored the first with Schroeder scoring four goals, two of which were scored by Catalino. Both Schroeder and Fairport scored one more goal to end the game with the final of 17-8. Dennis Costanza ended the night with 8 saves for Schroeder who will play Penfield for the Championship at 7:15 on Friday.

Scoring for the Warriors were Catalino (3g–3a), Ferry (3g–2a), Tota (5g), Monney (1g–1a), Willmes (1g–1a), Chavoustie (1g–1a), Winslow (2a) while Orsini, Sullivan, and Topping each had one goal, and Nicodemi (1a).

Scoring for the Raiders were Fricano (2g–1a), Runyon (2g) with Lowe, Sanna, Sardone, and Reilly each scoring one goal and Mierzwa, Burkhardtt, and Scarazzo each scoring one assist. The Red Raiders end their season at 15-4.


Brighton led throughout the game, ending the first quarter up 3-0 and 5-2 at the half but the Blue Devils came close in the second half. Although the Blue Devils came back strong in the second half, five fourth quarter penalties allowed Brighton to score two goals and secure a 11-10 win.

Scoring for Brighton were Colin Henry (4g), Colin Davis (3g), Tim Williams (2g-1a), Rob Asselin (3a), Justin Hillery (1g), Justin Hillery (1g), Justin Hillery (1g) and Ryan Conti (1g). Noah Berg recorded 14 saves for the Barons who will take on Geneva at 3:00 on Friday at St. John Fisher College.

Scoring for Victor were Andy Savage (2g-1a), Eric Willman (2g-1a), Erick Rogemoser (2g), Frank Valenti (1g-1a), Alex Rogemoser (1g), Jason Houtenbrink (1g), Pat Sullivan (1g) and Stephen Personale (1a). Mitchell Liegerot had 10 saves for Victor who end their season at 10-10.

No Report from Brighton tonight.




Waterloo (#2) took a 4-1 first quarter lead and led at the half 7-3 before adding ten more for a 17-10 win over #3 seeded Aquinas. The Indians will face Penn Yan at 5:15 in Friday's Class C Championship at St. John Fisher College.

Scoring for Waterloo were Bill Jolly (5g), Josh Mateo (3g-2a), Nelson Boyd (2g), Winston Boyd (4g-1a), Stephen Kuti (2g-1a), Mike Ruiz (1g-2a) and Curtis Brosius (1a). Andy Riegel had 18 saves for the Indians (14-6).

Scoring for Aquinas were Nick Vincent (2g-2a), David Schmandt (5g), Pat King (1g), Neil Foley (1g-1a), and Chris Gionta (1g). Alan Antinarelli had 9 saves for Aquinas (9-9).

No report from Aquinas tonight.




Geneva was an 11-2 winner over HFL in the Class B semi final. The Panthers controlled face offs as RJ Gringeri and Sean Bennett won all but two draws in the game. The Geneva defense including Brian Kenecht, Dan Toner, Steve Healy, Josh Bloom and long stick middies Andy Torella,Tyler Travis and Jeff Weise helped to limit the Cougars to 18 shots while Matt Schutz and Kyle Brimm made 13 saves.

Scoring for Geneva were John Warner (3g), RJ GRingeri (4a), Kyle Boncaro (5g-2a), Jim Warner (1g), Sean Bennett (1g-1a), John Manion (1g-1a) and Willie Rago (1a). Geneva will play Brighton for the Championship at 3:00 on Friday.

Connor Burgasser scored both goals for the Cougars and Adam Roache made 13 saves for HFL who finishes their season at 11-7.