Quarter Final Rounds
May 26,2006

- The seeding worked out well in the quarter final round of the Section Five tournaments as all the top seeds advanced except #4 Thomas who lost to #5 Canandaigua in double overtime.


Penn Yan was the 18-0 winner over visiting Bath-Haverling in the first round quarter finals of the Class C Tournament. The Mustangs improved to 18-1 and will host Livonia in the semi finals at 5:00 on Tuesday.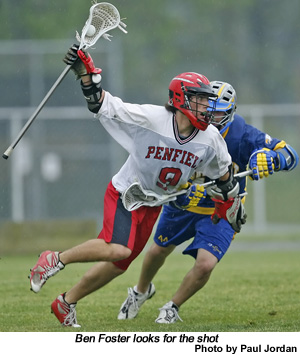 Scoring for Penn Yan were Dan McGuffie (3g-1a), Ryan Cook (3g-1a), Ben Odell (1g), Dan Mesler (5g-1a), Steven Carlson (1g-1a), John Linnan (3g ), Dan Wolfe (1g), Dana Wilber (1g-1a) while Brandon Trombley and Ty Trombley each added one assist. Junior goalie Adam galusha posted 3 saves and freshman goalie Ethan Kamholtz added 1 save for Penn Yan.

Jeremiah Wilder had 9 saves for Bath.


Penfield jumped out to a 6-0 lead in the first quarter and led 15-1 at half time on their way to an 18-3 win against visiting Irondequoit. Paul Vanthof, Kevin Randall, Joe Clay and defensive midfielders Alex Nowak, Paul Vanthof, and Mike Cummins all lead the strong defensive effort for Penfield. Kelly McKenna, Mike Cummins and Kevin Roe combined for 14 face offs for Penfield who will take on Canandaigua in Tuesday's 5:00 Class A semi final game at Aquinas.

Scoring for Penfield were Connor Rice (3g-4a), Mike Arvan (1g-6a), Dave Malone (4g-1a),
Scott Serron (4g), Kelly McKenna (2g-2a), Ben Foster (2g-1a), Mike Cummins (1g), Kevin Roe (1g) while Kevin Green and Parris Williams who each added one assist. Brian Dell recorded 6s/2ga and Ryan Nicoletta added 1s/1ga.

Scoring for Irondequoit were Derek Pino, Kevin Coholon, and Todd Laemlein.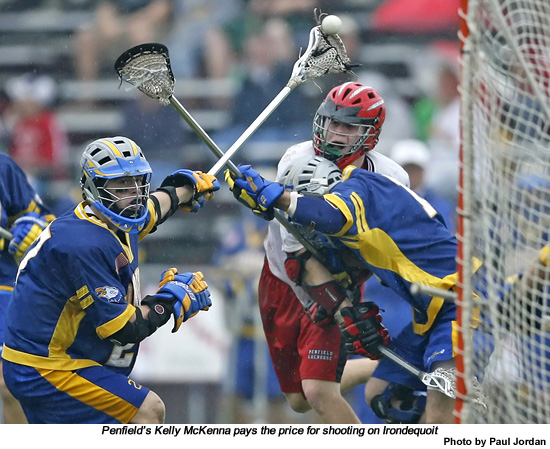 Canandaigua scored two goals in the final minute of regulation to send the game to overtime where the Braves won 13-12 against Webster Thomas. Charlie Sauter scored (unassisted) after clearing the ball with 0:45 seconds left in the game. Kevin Peck won the ensuing face off and Justin Tomzak picked up a loose ball in front of the goal to tie the game with 0:33 seconds left.

In the first overtime the Braves had an extra man opportunity but did not score and they had two other very good chances but hit a goal post with one of them.

In the second overtime, Webster won the face-off and took the ball down but shot wide. Canandaigua cleared the ball, moved it around to Connor Henderson who attacked the goal from back left and found Jeremy Brown approximately six yards off the goal for the for the game winner.

Scoring for Canandaigua were Jeremy Brown (5g), Justin Tomzak (2g-1a), Connor Henderson (1g-1a), Charlie Sauter (3g), Chris McWilliams (1g-1a), James Regan (1g) while Andrew Knoblauch and Austin Rogers each added two assists. Dan Serafine had 10 saves for the Braves who move on to play Penfield on Tuesday at 5:00 at Aquinas.

Scoring for Thomas were Dom Scalzo (3g-1a), Kurt DetWiller (2g-2a), Brendan Rothfuss (2g-1a), Dan Hinderland (2g) and Max Gurowski (2g-2a). Steve Hondorf recorded 9 saves for Thomas.


After taking a 4-2 first quarter lead, Victor ended the half up 8-2 and finished with a 15-3 win over Newark in the quarter final round in the Class B Tournament.

Scoring for Victor were Frank Valenti (6g-1a), Alex Rogemoser (1g-3a), Jason Houtenbrink (3g), Erick Rogemoser (2g-1a), Andy Savage (1g-2a), Joe Coleman (1g-1a), Brad Payne (1g) and Stephen Personale (1a). Mitchell Liegerot made 4 saves and Otis Wade added 2 saves for Victor who will play Brighton at 5:00 in the Class B semi finals on Tuesday at Irondequoit.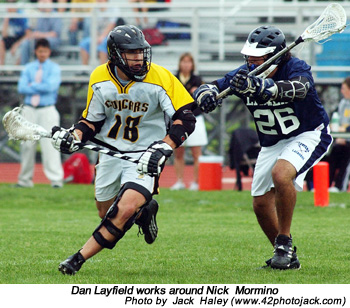 Scoring for Newark were Greg MacBride (1g-1a), Nate Johnson (1g), Colin Johnson (1g) and Dan Mizro (1a). Anthony Cole made some dramatic saves and ended the game with 19 for the Reds.

"This is good way to start the sectional play," said Victor Coach Mark Foeder. "We were patient on the offensive end and reduced the amount of good opportunities for them to score on the defensive end."


Under gray and rainy skies,the HFL Cougars won their Class B quarter final game against Eastridge 20-4.

HFL took a 9-3 halftime lead, and finished with the leadership of their senior Captains Buster Mulcahey, Dan Layfield, Bryan Zavitz and the rest of the seniors including Andrew Santiago, Tony Mykins, Conor Burgasser, Mike Howlett, and Chris Stanton who all played their last high school game on their home field. The Cougars will play Geneva in the 7:00 Class B game at Irondequoit on Tuesday.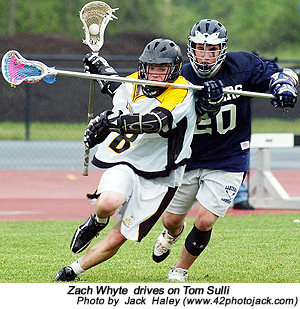 Scoring for HFL were Connor Burgasser (3g-4a), Dan Layfield (5g), Andrew Santiago (3g- 1a), Cade Norris (2g-1a), Zach Whyte (1g-2a), Chris Stanton (2a), Tyler Burgasser (1g-1a), Jason Camilo (1g), Matt Garvey (1g), Ian Griffin (1g), Matt Lesczynski (1g), and defenseman Mike Howlett (1g). The ground ball leaders were Buster Mulcahey (13), Connor Burgasser (12), and Dan Layfield (8).


Waterloo went right to work, scoring seven unanswered goals in the first quarter and leading at the half 10-1 in their Class C quarter final match up against Pal-Mac.

Scoring for the Indians were Nelson Boyd (2g-2a), Winston Boyd (1g-3a), Bill Jolly (2g-2a), Stephen Kuti (2g-2a), Josh Mateo (6g) and Andy Wadhams and Jeff Wadhams who each added one goal. Andy Riegel had 12 saves in goal, Mark Nearpass had 3 saves and Shawn Andrus added 2 saves for Waterloo who will play Aquinas in the 7:00 Class C game on Tuesday at Penn Yan.

Scoring for Pal-Mac were Will Malha and Jeremy Norsen who each scored one goal and Eddie Anderson who added an assist.


Livonia was a 15-4 winner against Midlakes in a quarter final Class C game. Gray skies and the threat of rain greeted both teams at the opening faceoff. The weather soured and the Bulldogs scored six first quarter goals and added three more to a take a 9-1 half time lead. The second half was played in a torrential down pour but Livonia advanced to the Class C semi final match up with the number 1 seed and host, Penn Yan on Tuesday at 5:00.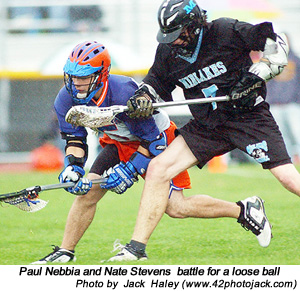 Midlakes scored the first goal as Nick Newland hit one for the Eagles (unassisted). Livonia scored the next ten goals. The Bulldog starting attack of seniors Scott Mosher, Chadd Britton and Junior Brian Sciera did most of the scoring adding nine goals in the game. Scott Mosher led all scorers with four goals, Britton had three, and Sciera two. In all, ten Bulldogs made the scorebooks. Luke Merritt, Oren Taylor, Tyler Russell, Jim Crowell, Matt Girolmo, and Aaron Miller all had goals for Livonia.

Defenders Andy Kurtz, Jeremy Allston, Shane Ward, Shane Moran, Mike Vetrano, and Gabe Recchio played solidly in front of starting goalie Zac Berger who recorded 9 saves. Freshman Justin Becker spelled Berger in the goal for the last quarter and recorded 5 saves. Coach Sciera also credited midfielders Gaelin Walsh, Adam Schaible, Oren Taylor, Luke Merritt and Paul Nebbia for their excellent play in the game.

Coach Sciera knows that beating Penn Yan on Tuesday is a tall order, but he says the Bulldogs are looking forward to the game with enthusiasm. "It's time for us to make a statement as to how far our program has come, and who better to make that statement against than Penn Yan."

Scoring for Livonia were Scott Mosher (4g–1a), Chadd Britton (3g–1a), Brian Sciera (2g), Oren Taylor (1g–1a), Matt Girolmo (1g–1a), John Dalberth (1a), Luke Merritt (1g), Tyler Russell (1g), Jim Crowell (1) and Aaron Miller (1g).

Scoring for Midlakes were Glen Stevenson (2g), Nick Newland (1g), Ryan McCannon (1g) and Clay Hemminger (1a). Jared Schoonerman made 18 saves for the Eagles.


Webster Schroeder defeated McQuaid Jesuit with a score of 16-5 in a sectional quarter final match this afternoon.

The Warriors scored the first goal of the game just 0:50 seconds into play with an unassisted goal by Mike Tota. The Knights stuck back with their own score as goalie Patrick Maguire cleared the ball and hit Dan Sturnick on the crease. Webster then returned with another unassisted goal, this time by Nick Mooney. The first quarter was close as the quarter ended with Schroeder in the lead 2-1.

The first three goals of the second quarter were all scored by the Schroeder offense. Austin Orsini scored first with an assist from Tim Winslow. The second was by Jay Willmes on a feed from John Pawluk and the third was an unassisted goal by Grant Catalino, extending the Warrior lead to 5-1 with six minutes remaining the half. The Knights came back and scored the next two goals bring them within two. Both goals were unassisted and were scored by defenseman Alex Caton. Both times the senior long stick cleared the ball himself and went right to the goal, scoring on low bounce shots. Schroeder ended the half with unassisted goals by Willmes and Catalino. The score at the half was 7-3.

The Warriors scored a total of four goals in the third quarter while holding the Knights scoreless. The first goal came from Orsini assisted by Willmes. The next two goals were scored on fast breaks by the Warrior clearing unit and their midfield. The first was an unassisted goal by Chris Topping and the second was an unassisted goal by Steve Sullivan. The final goal of the third quarter was by Chris Ferry (unassisted) giving Schroeder an 11-3 lead.

A last minute slash at the end of the third quarter gave the Knights a man-up offense opportunity at the start of the fourth quarter and they capitalized on it when Evan Gallina found the back of the net with an assist from Mark Hanna. Again the Warriors went on a run and scored the next four goals. Willmes scored (unassisted) followed by Tota (from Eric Chavoustie), Caralino (from Orsini), and finally Tota from Catalino in man-up. The Knights then scored their final goal, at 4:55, with Hanna finding the net (unassisted). The final goal of the game came from the Warrior offense as Andy Winslow found Evan Van Epps for a man up goal.

Scoring for the Warriors were Catalino (3g–1a), Willmes (3g–1a), Orsini (2g–1a), Tota (3g), Ferry, Mooney, Sullivan, Topping, and Van Epps each scored 1 goal for Schroeder while Chavoustie, Tim Winslow, Pawluk, and Andy Winslow each added 1 assist. Dennis Costanza (9 saves) and Zach Marshall (0 saves) split time in the net for the Warriors. Webster Schroeder will continue to the semi final round and will play Fairport in the 7:00 game on Tuesday at Aquinas.

Scoring for the Knights were Caton (2g), Hanna (1g–1a), Gallina (1g), Sturnick (1g), and Maguire (1a). Patrick Maguire (8 saves) and Dan Caufield (2 saves) split time in the net for the Knights.


Aquinas was the 13-11 winner over Mynderse in a 7:00 Class C quarter final game. The Little Irish led 5-1 at the end of the first quarter and 6-5 at the half.

Aquinas moved out to a quick lead with goals scored by Chris Gionta, Matt Smith and three by David Schmandt to take a 5 to 2 lead at the end of the first quarter. In the second quarter Mynderse made a run by scoring three unanswered goals, two by Kevin McCully and one from Dustin Luckinbill to tie the score at five. Aquinas scored the go ahead goal when Marc Brondon took a feed from Schmandt and gave the Little Irish a 6-5 lead at the half.

After the break AQ took control with goals from Schmandt (3) and Cam Casaro (1) and led by four at the end of three quarters, 10 to 6. Mynderse made a gallant effort in the final period, out scoring Aquinas 5 goals to 3 but Aquinas was able to hold the Blue Devils off and came away with the victory which moves them to a Class C semi final against Waterloo in the 7:00 game at Penn Yan on Tuesday.

Scoring for Aquinas were David Schmandt (6g-3a), Nick Vincent (2g-1a), Matt Smith (1g), Marc Brondon (1g), Chris Gionta (1g-1a), Cam Casaro (1g-2a), Nick Berkompas (1g), Pat King (2a), Marc Pincelli (1a), Grant Casaro (1a) and Mike Gray (1a). Alan Antinarelli had 18 saves for the Little Irish.

Scoring for Mynderse were Kevin McCully (5g-1a), Dustin Luckinbill (2g-1a), Jon Young (1g), Anthony Clark (1g), Josh Kurdziolek (1g), Eric Davis (1g), and Tim Sweeting (1a).