Tuesday: Out Bracket for Class A
May 23, 2006

- It was an out bracket day for Class A teams and most games were won by big scores.


Fairport had fourteen players make the scorebook as they defeated Athena/Odyssey at Fairport, 19-3.

Scoring for the Red Raiders were Dan Bothwell (1a), Ryan Lowe (2g), Mike Danylyshyn (1g-4a), Dan Scarazzo (1g-1a), David Burke (2g), Eric Martin (1g-1a), Ted Mierzwa (2g-2a), Dan Holmes (4g), Jake Fricano (2g), Shawn Runyon (1g), Max Keil (2g), Matt Gropp (1g-2a), David Sardone (2a) and Todd Sturcken (1a). Geoff Mayor made (1s/0ga), Zach Harris made (3s/1ga) and Matt Hurley had (4s /2ga) for Fairport who will host Rush-Henrietta on Friday in the quarter final round.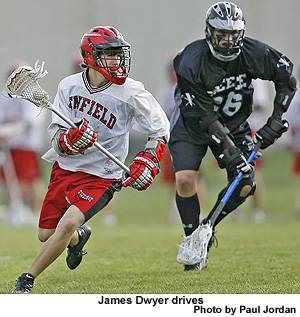 Scoring for the Thunder were Jared Bennett (2g), Jeremy Fitzgerald (1g) and Mike Conderman (1a). Dave Tarana made 6 saves and Nick Bellucco added 3 saves the Athena/Odyssey.


Penfield easily won their out bracket game this afternoon with a 24-1 score against a first year team from Greece Arcadia/Olympia. Eighteen different players made the scorebook for the Patriots.

Scoring for Penfield were Toby Terwilliger (3g-1a), Kyle Vanthof (3g-1a), Connor Rice (3g-1a), Scott Serron (1g-3a), Dan Huntington (1a-3g), Mark Hill (2g-1a), Kyle Denhoff (1g-2a), Mike Cummins (1g-2a), Kevin Green (2g), Kevin Roe (2g), Dave Malone (1g-1a),
Ben Foster (2a), Kelly McKenna (1g), Mike Arvan (1g), Paul Leonhard (1g), Parris Williams (1g), Alex Nowak (1a) and James Dwyer (1a). Brian Dell made 1 save (0ga) and Ryan Nicoletta added 5s/1ga) for the Patriots who will host Irondequoit on Friday in the quarter final round.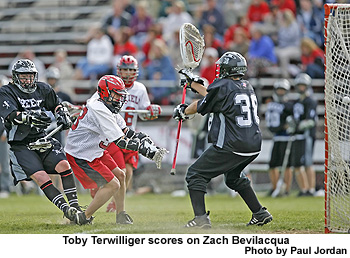 David Jackson scored for Arcadia/Olympia.


Canandaigua won their out bracket game with a 17-4 victory over the visiting Blue Devils from Brockport.

Scoring for Canandaigua were Zack Scheetz (1g), Connor Henderson (3g), AJ Groot (2g-1a), Austin Rogers (1g), Chris McWilliams (1g-2a), Nick Munn (1g-1a), Tyler Wakefield (1g), Andrew Knoblauch (1a), Jon Zachariaas (1a), Justin Tomzak (1g-1a), Eric Klein (1g-1a), Brian Scheetz (1g-1a), Evan Roth (1g), Jon Klein (1g) and Marshall Johnson )2g-1a). Dan Serafine played the first half and had (6s/0ga), Scott Bement played the 3rd quarter and 3 minutes of the 4th and recorded (3s/2ga) and Kyle Carson played the last 9 minutes and had (2s/2ga) for the Braves who will visit Webster Thomas for the quarter final game on Friday.

Scoring for Brockport were Adam Nauerth (2g), Justin Klymochko (1g), Eric Gallert (1g) while Tyler Stuphen and Bohdan Klymochko each added one assist. Connor Mykins had 14 saves for the Blue Devils.


Webster Thomas won their Class A out bracket game against Pittsford with a score of 15-6. The first quarter started slowly, with goals by Kevin Kemp, Kurt DetWiller. Pittsford came back with a goal from an inside pick that found Doug Milano-Johnson open from a pass from Cam Edmiston. Thomas ended this first quarter with a goal from Brendon Rothfuss (assisted by Dom Scalzo) and the quarter ended with the Titans up 3-1.

The Titans scored the next nine goals between the second and the third quarter.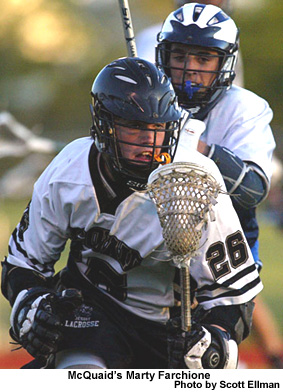 Leading the scoring for Thomas were Kevin Kemp (2g-4a), Kurt DetWiller (4g), Dom Scalzo (4g-2a), Brendan Rothfuss (3g), Max Gurowski (1g-1a), Kyle Lavallee (1g-1a) and Nick Scalzo (1g). Steven Hondorf had 11 saves and allowed 1 goal. Thomas will host Canandaigua on Friday in the quarter final round.

Scoring for Pittsford were Fred Morse (3g-1a), Doug Milano-Johnson (1g-1a), Cam Edmiston (1g-1a) and Chris Kist (1g).


The McQuaid Jesuit Knights defeat the Gates-Chili Spartans in the Out bracket tonight with a score of 14-7.

The Knights scored the first three goals of the game with unassisted goals from Evan Gallina, Mitch Ritchie, and Mark Hanna (assisted by Dan Odorczyk). The Spartans made the scoreboard adding two of their own back to back as the Spartans saw unassisted goals by Andrew Hilton and Patrick Lynah. The Knights ended the quarter up 4-2 after another goal from Ritchie (assisted by Gallina) with 1:46 left in the quarter.

Hilton added another goal for Gates-Chili early in the second quarter. McQuaid Jesuit then scored two more unassisted goals, the first by Ritchie and the second by Nick Caton. Pat Sposato of Gates-Chili scored the next two goals, both unassisted, for the Spartans, but his two goals would be separated by two from the Knights. Nick Cardillo scored unassisted at 4:21 and then Hanna scored at 3:23. Dan Sturnick ended the scoring for the half with a goal at 0:49 with an assist from Gallina. The half ended with the score 9-5.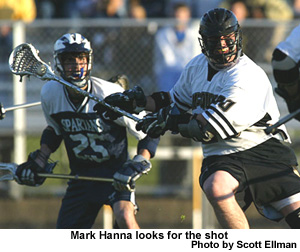 The Spartans were held scoreless in the third quarter while the Knights added two of their own. The first, in man-up goal was assisted by Ritchie and scored by Sturnick. The second goal was another unassisted goal by Hanna. The third quarter ended with an 11-5 score in favor of McQuaid Jesuit.

The last two goals for Gates-Chili were scored by Jimmy Drabin. The first was unassisted and the second was assisted by Lynah. The Knights scored three goals in the fourth at 7:51, 5:38, and 2:54. Hanna scored the first (assisted by Cardillo), the second was scored by Conroy (unassisted) who continued on to assist Hanna on the final goal of the night.

Scoring for McQuaid Jesuit were Hanna (5g), Ritchie (3g-1a), Gallina (1g–2a), Sturnick (2g), Cardillo (1g–1a), Conroy (1g–1a), Caton (1g), and Odorczyk (1a). Patrick Maguire accumulated 11 Saves and had 7 goals against. The Knight will visit Webster Schroeder on Friday in the quarter finals.

Scoring for Gates-Chili were Sposato (2g), Hilton (2g), Drabin (2g), and Lynah (1g–1a) while Andy McEntee and Pete Leoni each added one assist . Jason Baetzhold and Dave Bellavia combined for 12 saves for the Spartans.


Webster Schroeder scored 2 goals in the first quarter and had 4 at the half on their way to a 13-0 win over visiting Hilton in the Class A out bracket round.

Schroeder started off a bit slowly in the first half but opened the scoring with 2 goals by Eric Chavoustie on feeds from Grant Catalino. Chris Ferry returning from an injury was the first half sparkplug scoring 1g and 2 assists in the first half. His transition play was directly responsible for the scoring in the first half. The second half was a much crisper half for Schroeder as they scored 9 goals in just over one quarter. Defense played very well limiting shots from the Hilton attack.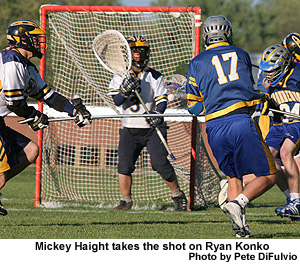 Scoring for Schroeder were Eric Chavoustie (2g), Chris Ferry (1g-2a), Mike Tota (4g), Grant Catalino (1g-6a), Jay Wilmes (1g), Austin Orsini (4g-1a) while Nick Mooney, Chris Nicodemi and Andy Winslow each added one assist. Dennis Costanza (7 Saves) left with 7:00 Minutes left in the second half and was replaced by Zach Marshall (0 Saves). Schroeder will host McQuaid Jesuit on Friday in the quarter final round.


Irondequoit opened up a 13-0 lead by halftime and ended the game with a 17-1 victory over host Spencerport. Joe Parker started the scoring followed by Kevin Coholan and two goals in succession by Derek Pino. All four of those goals were unassisted. The 5th goal was a feed from Greg Wright to Nick Kane on the crease for a score on one of the 12 extra man situations for Irondequoit. Face offs were dominated by Mickey Haight and Nick Kane allowing Irondequoit to control the ball time. Spencerport broke the shutout with less than 30 seconds to play in the 4th quarter on a fast break goal by Eric Robinson.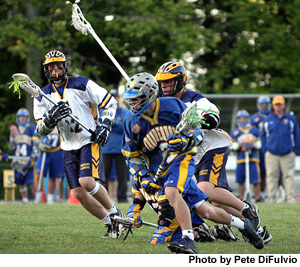 Scoring for Irondequoit were Derek Pino (2g-1a), Joe Parker (5g), Kevin Coholan (4g), Nick Kane (4g-1a), Mickey Haight (1g), Greg Wright (3a) and Tim Pease (1g). The Eagles will play at Penfield in the quarter finals on Friday.


Churchville-Chili jumped out to the early 1st quarter lead when attackman Ben Rossignolo scored at 7:25 with an assist from Ryan Grogan, but in the end it was Rush-Henrietta with the 12-4 win. Churchville scored again at 5:10 when Jamie Englert scored with an assist from Brian Traugott. Rush-Henrietta was unable to get much offense going in the 1st due to the strong goalie play of Evan Williams who
made 5 saves in the quarter. Churchville lead 2-0 after one quarter.

Rush-Henrietta got on the scoreboard at 11:02 of the second quarter when Nate Delone scored (unassisted) and Tony Henriquez scored the next two RH goals (unassisted) at 9:03 and then again at 7:58 to give the Royal Comets their first lead of the game at 3-2. Matt Moran scored his first of five of the day at 3:36 on a pass from Henriquez. Brian Hantzis scored his first of the game at 1:17 with an assist by Moran to push the RH lead to 5-2 which they took to halftime.

Moran started the scoring in third quarter at 8:10 (unassisted) to increase the RH score to 6-2. Churchville responded at 6:52 with a goal by Cory Mee scored with an assist from Grogan. RH scored at 6:43 when Justin Rose won the next faceoff and hit Moran who then connected with Hantzis. Nate Delone added his second of the game with another assist from Moran. Moran added another unassisted goal at 2:57 before the Saints added the last goal to make the score 9-4 after three quarters.

Hantzis scored his third of the game at 7:31 (unassisted) and then Moran connected on his fourth and fifth of the game at 7:09 and 4:40 of the fourth to end the scoring. The first was assisted by Hantzis with the second was unassisted. Matt McShea recorded 10 saves for the Royal Comets who will visit Fairport on Friday.

Coach Gottko was excited by the win and the advancement in the Tournament. "We are excited to advance into the quarterfinals. The further teams advance in sectional play, the more disciplined and fundamentally sound you have to be. We hope to improve on those facets of the game in preparation for the next round on Friday."