Thursday: Fourteen Games !!!
May 18, 2006

- Fourteen games were played on the last regular day of the 2006 season There are only six games are left to be played before Saturday afternoon.


The beginning of the game and perhaps up to the half, looked like a typical Fairport vs Irondequoit game, with close scoring, good goalie play and high drama. The second half, however, saw the Red Raiders shut out the Eagles, while scoring seven goals and ending the game with a winning score of 11-2.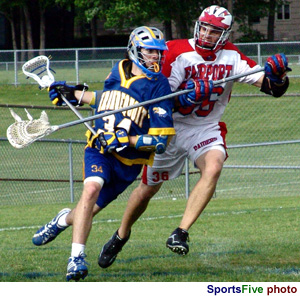 Irondequoit scored the first goal of the game, at 10:58 when senior midfielder Mickey Haight scored an unassisted goal. At 7:54, Max Keil scored the first of his three goals with an assist from Dan Scarazzo. The quarter ended with a tie at one.

Fairport scored two goals early in the second quarter, staring with Keil (unassisted) at 11:53 and then Jeff Sanna with an unassisted goal at 10:26. Haight scored Irondequoit's last goal of the game at 9:02 with a bounce shot from a sweep to the right of the cage. Mike Danylyshyn beat his defenseman and at 3:14 scored with a shot low and off stick. The Red Raiders took a 4-2 lead into the halftime break.

It was all Fairport in the second half, as the Red Raider defense held the Eagles scoreless and behind a large number of big saves from senior goalie Geoff Mayor. Peter Burkhardtt scored in the first minute of the third quarter with an assist from Danylyshyn and Fairport, with a 5-2 lead started to slow the pace of the game, keeping control of the ball and away from the Eagles. At 6:27 Eric Martin scored (unassisted) and shortly thereafter, Mayor recorded his 6th save in a row.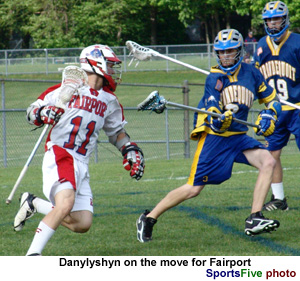 In the fourth quarter Jake Fricano scored at 9:02 having dodged two defenders before shooting from the crease. At 7:24, Keil picked up a loose ball off the crease after Irondequoit goalie Zach Nash made a save that bounced off his stick, and scored giving Fairport a 7-2 lead. Scarazzo scored again with an assist from Danylyshyn at 5:46 and Craig Nairn scored an unassisted goal at 5:32 when he picked up a loose ball on the crease. Dan Holmes scored the last goal of the game at 2:05 when he scored a man up goal with an assist from David Sardone.

Scoring for Fairport were Keil (3g), Scarazzo (1g-1a), Danylyshyn (1g-1a) while Sanna, Burkhardtt, Martin, Fricano, Nairn and Sardone each added one for Fairport. Geoff Cook and Dorian Wolf both had assignments to limit Mickey Haight and turned him away from the goal on numerous drives. The Red Raiders finished their regular season with a 13-3 record.

Mickey Haight scored both goals for Irondequoit. The Eagles ended their regular season at 8-8.


It was Newark, 7-6 over Midlakes in a close one. Midlakes opened the scoring with goals from Clay Hemminger, Glen Stevenson and Nick Newland. Newark's Dan Mizro started Newark off with just 0:07 seconds to go in the first quarter which ended 3-1.

The second quarter saw a total of five goals scored with Newark cutting into the Midlakes advantage by halftime, when the score was 5-4 for Midlakes.

The third quarter was a defensive one with Midlakes scoring the lone goal on a man-up play by Jon Briggs with 0:24 left in the quarter. Newark found themselves on the short end of a 6-4 score with less than 8 minutes remaining in the game when senior attackman Dan Mizro put one in at 7:40 to get the Reds within one goal. Mizro scored the game tying goal with an assist from Nate Johnson at 6:54 and then the game winner at 1:31 with an assist from Greg MacBride after an excellent save by goalie Anthony Cole at the other end of the field.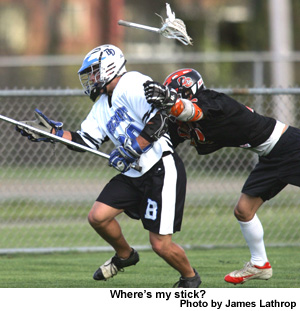 Scoring for Newark were Dan Mizro (4g), Nate Johnson (1g-1a), Colin Johnson (1g-1a), Alex Quku (1a), Greg MacBride (1a), Tim Smith (1g) and John Barrett (1a). Anthony Cole made 15 saves for the Reds who end their regular season at 7-10.

Scoring for Midlakes were Glen Stevenson (1g), Ryan McConnon (1a), Jon Briggs (1g), Nick Newland (3g) and Clay Hemminger (1g). Jared Schoonerman had 12 saves for the Eagles (6-11) and will finish their season against Aquinas on Saturday.

No report from Midlakes.




Brockport was the 10-8 winner over the Saints at Brockport this afternoon. Down 6-10 in the fourth quarter Churchville-Chili scored two goals to get within two, but could gain no more ground.

Scoring for the Saints were Cory Mee (3g), Ryan Grogan (1g-2a), Doug Hemink (1g-2a), Jaime Englert (1g), Mitch Mertel (1g), Gino Marcello (1g), Brian Traugott (1a) and Kevin Conway (1a).

No report from Brockport.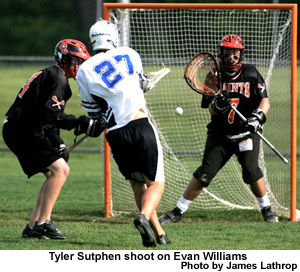 For the second time this season it was a one goal win for Thomas over HFL, this time with a score of 7-6.

The score was tied 5-5 after three quarters. Thomas took the lead back with ten minutes remaining in the fourth when Dom Scalzo scored an unassisted goal. HFL tied the game back again with 7 minutes remaining when Zach Whyte scored his third goal of the game. Thomas regained the lead for good when Scalzo found Brendon Rothfuss. With two minutes remaining and Thomas up by one, the Cougars applied pressure but Rothfuss got open again and once again Scalzo found him for the final goal for Thomas. With one minute remaining Dan Layfield broke through several Titan defenders and found the back of the net with 0:25 seconds remaining. HFL won the face off but Peter Hart made a big defensive stop and picked up the ground ball allowing Thomas to control the remaining ball time.

Scoring for the Titans were Rothfuss (2g-1a), DetWiller (3g), Hinderland (1g-1a), Kemp (1a), Gurowski (1a) and Scalzo (2g-2a). Thomas enters the Tournament with a 13-3 record.

Scoring for the Cougars were Zach Whyte (3g-2a), Dan Layfield (2g-1a) while Cade Norris and Ian Griffin each scored 1g and Chris Stanton added 1a. HFL ground ball leaders were Connor Burgasser (12), and Buster Mulcahey (11). Patrick Roache played a great game for the Cougars recording 17 saves for the Cougars who finish the regular season with a 10-6 record.


Thursday night was a very special day for the Pal-Mac community and it's lacrosse family. Former lacrosse player Lee Benedict tragically lost his life last September in a motor cycle accident. He was honored tonight with the retiring his jersey #45. Lee was a long stick midfielder for the 2004-05 lacrosse team whose dedication and commitment to the sport was second to none. His parents, Larry and Linda Benedict, were on hand to receive his jersey, along with former teammates and many community members. "Lee was a great teammate who will always be in the hearts and minds of future lacrosse players for Pal-Mac," said Raider Head Coach Enzo Falso.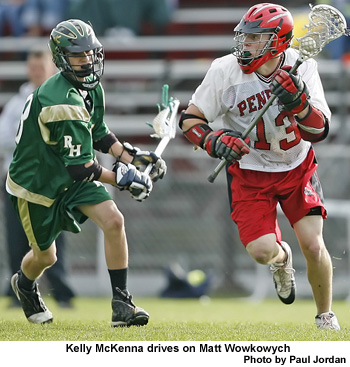 After a 4-4 first quarter, Waterloo took an 8-5 lead at the half and then finished with a 17-7 victory over host Pal-Mac on Thursday evening.

Scoring for the Indians were Winston Boyd (4g-3a), Bill Jolly (4g-2a), Nelson Boyd (3g), Stephen Kuti (2g-2a), Josh Mateo (3g-2a), Mike Ruiz (1g) and Brian Adler (1a). Andy Riegel had 8 saves and Mark Nearpass added 4 saves for Waterloo (11-6) who finish their season at Bath on Saturday.

Scoring for Pal-Mac were Derrick Piccola (2g), Dave Merritt (3g-1a), Jaimie Gross (1a) and Jeremy Norsen and Cody Clement who each added 1g. Jon Reeves made 19 saves for Pal-Mac who finish their season on Friday night when they host Mynderse.


Penfield finished their regular season with a 15-1 record after beating Rush-Henrietta with a score of 18-7 at Penfield. At the end of the first Quarter the game was tied at two, but Penfield added 9 second quarter goals to end the half up 11-3.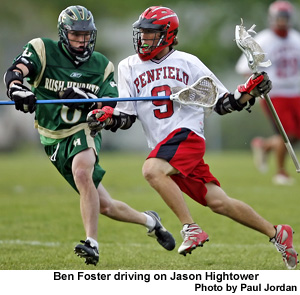 Scoring for the Patriots were Connor Rice (6g-4a), Kelly McKenna (2g-3a), Dave Malone (3g-1a), Scott Serron (3g), Ben Foster (1g-2a), Mike Arvan (2g) and Mike Cummins (2a). Brian Dell made (6s/4ga) and Ryan Nicoletta made (2s/3ga) for Penfield.

Rush Henrietta ends their regular season at 9-7.

Score only from RH.




Penn Yan started off with three goals in the first quarter and held a 7-0 lead at the end of three quarters before ending with the win over host Victor, 10-1 in their last game before Sectionals.

Scoring for the Mustangs were Dan McGuffie (2g-2a), Dan Mesler (3g-2a), Steven Carlson (3g), Ben Odell (2g) while Ryan Cook and John Folts each added an assist. RJ Wickham recorded 8 saves and Adam Galusha added 3 saves for the Mustangs (17-1).

Andy Savage scored an unassisted goal and Otis Wade had 10 saves for Victor who enters the Tournament with a 9-9 record.


Five different players scored to help McQuaid Jesuit with the GRALL Championship with an 8-5 win over host Aquinas. The Knights led at the end of the first quarter 1-0 and at the half 3-0. In the third quarter the Knights scored four more before Aquinas came back with five goals in a row in second half. McQuaid Jesuit was able to score one more goal and hold on to the lead for the remainder of the game.

Scoring for the Knights were Marty Farchione (3g), Dan Sturnick (2g-2a), Dan
Ordorczyk (1g), Mitch Ritchie (1g), Mark Hanna (1g) and Nick Cardillo (1a). Pat Maguire had (11s/5ga 69%) for the Knights who are 9-8 and finish their season with Livonia on Saturday.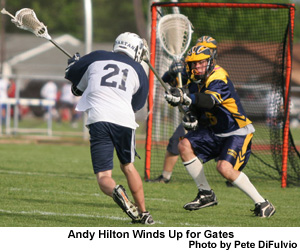 Scoring for Aquinas were David Schmandt (3g-1a), Pat King (1g), Dan Pincelli (1g) and Marc Brondon (2a). Alan Antinarelli made 11 saves for Aquinas who play at Midlakes on Saturday.


Gates took a 5-2 first quarter lead but Spencerport tied the game at seven before the half. The Spartans scored five in the second half while holding the Rangers scoreless for a 12-7 win at Gates.

Scoring for Gates Chilki were Andy Hilton (4g-1a), Chaz Giehl (2g) and 16 of 23 face offs, Tom Sudek (1g-2a), Tom Elkins (2g-1a), Jim Drabin (2a), Pat Lynah (1a ), Andy McEntee (1g), Brad Weber (1g ), Pat Sposato (1g-1a) while Alec Bazer and Pat Lynah each had one assist. Dave Bellavia had 2 saves in the first half and Jason Baetzhold had 7 in the second half for the Spartans who end the regular season at 8-8.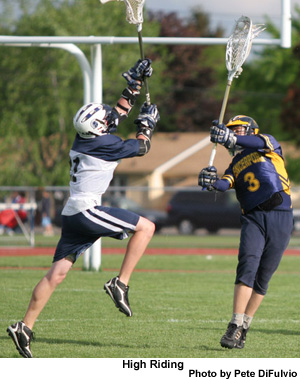 Scoring for Spencerport were Rob Stojanov (3g), Andy Morgan (1g-1a), Tyler Hintz (1g-2a), Steve Difulvio (1g) and Jeff Konko (1g). The Rangers end their regular season at 10-6).


In the GRALL consolation game tonight at Aquinas, it was Livonia the 14-2 winner over Bath. The Bulldogs took an 8-0 first quarter lead and never looked back.

Scoring for Livonia were Scott Mosher (4g–2a), Brian Sciera (3g–2a), Adam Schaible (4g), Tyler Russell (2g–2a), Gaelin Walsh (2a), Oren Taylor (1g), Kyle Olson (1g) and Shane Moran (1a). Zac Berger recorded 5 saves for the Bulldogs who, at 12-5, face McQuaid Jesuit on Saturday.

Scoring for Bath were freshman Andy Nesbitt (1g) and Sophomore McKenzie Durham (1g). Jeremiah Wilder had 17 saves for Bath who play Waterloo in Saturday.


It was another close one for Schroeder/Pittsford match up, but although the Panther were up 8-5 at one point, the Schroeder took the fourth quarter lead for the 11-9 win.

Leading Pittsford offensive effort were Chris Kist, Fred Morse and Joe Peckich who each scored two goals and Tyler McDermott who added 1g-2a for Pittsford. No report from Schroeder who are 11-4 and will end their regular season at Amherst on Saturday.


After a close 7-6 halftime score, the Canandaigua defense stepped up and held the Panthers scoreless while added five of their own to take the 12-6 victory at Geneva. Leading the defensive effort for the Braves were Alan Zulick, Ben Knapton, Jon Zacharias, Evan Roth and Matt Malloy as well as noteworthy goalie play by Dan Serafine,
Scott Bement and Kyle Carson.

Scoring for Canandaigua were Jeremy Brown (1a), Connor Henderson (3g-2a), AJ Groot (2a), Austin Rogers (1a), Chris McWilliams (1g-1a), Charlie Sauter (1g-2a), James Regan (1g), Nick Munn (1g), Tyler Wakefield (2g), Andrew Knoblauch (1g-1a), Brian Scheetz (1g-1a) and Marshall Johnson (1g). Dan Serafine played 3.5 quarters and made 10 saves and gave up 6 goals. Scott Bement played 4 minutes and made 2 saves and gave up 0 goals and Kyle Carson played the last 2 minutes and did not face a shot for the Braves who are 11-5 and end their regular season at Hamburg on Saturday.

Scoring for Geneva were John Warner (3g), Kyle Boncaro (1g), Greg Bonney (1g-1a), RJ Gringeri (1g) and Willy Rago (1a). Adam Schutz played the entire game had 8 saves for the Panthers who end their regular season at 11-7. No report from Geneva.


Eastridge took a 3-2 lead at the half and then scored the first goal of the third quarter, but Brighton scored the next five goals to take a 7-4 lead going into the fourth quarter. The game ended up with Brighton ahead 9 - 5. Noah Berg had 13 saves for the win and Eugene Ferrera made 17 saves for the Lancers.

Brighton was led by Colin Davis (4g-1a), Colin Hickey (2g-2a), Ryan Conti (2g-1a), Kyle Warren (1g), and Robbie Asselin (3a). Brighton finishes the regular season at 11-5.

Scoring for the Lancers were Alex Austin (3g-1a), Sean Sawyer (1g), Kevin Mahler (2a), Brandon Moynihan (1a) and Shane Driffell (1g).

No report from Eastridge.




Athena/Odyssey won the braggin' rights in Greece this afternoon as they beat the Lightning (Arcadia/Olympia) with a score of 11-7.

The Lightning came ready to play, scored the first goal and kept the score close although the Thunder led 5-3 at the half. It was a back and forth game until the Athena/Odyssey had some quick goals in the last quarter.

Scoring for the Thunder were Jared Bennett (5g-1a), Dave Rodriguez (2g-4a) and Jeremy Fitzgerald (1g-1a), Al Vill and Kevin Buschle each scored their first goals of the season while Mike Conderman and Anthony Bianchi each scored one goal and Matt Machucki added 1a. Dave Tarana made 7 saves and Nick Bellucco added one save for Athena/Odyssey.

Scoring for the Lightning were Brian Cassidy and Nick Henry Henry each scored 2 goals and had 1 assist, Rob Werner and Ron Hatch who each had (1g-1a) and Anthony White (1g). Kyle Dorman had a noteworthy game with 12 saves for Arcadia/Olympia.