Tuesday: Spencerport Wins Division 3
May 17, 2006

-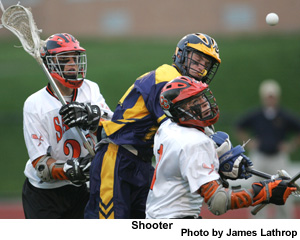 It took overtime, but Spencerport was the 6-5 winner and captured the Monroe County - Divison 3 title today.

Junior attackman Phil Schmid scored the winner, assissted by senior attackman Rob Stojanov, with 2:11 remaining in overtime. The score was 2-1 in favor of Churchville at the end of the first quarter and 4-1 Churchville at the half. The Siants scored one more in the third quarter to make it 5-1. The Spencerport attack then went to work, scoring four goals in 8 minutes to tie the game and send it into overtime.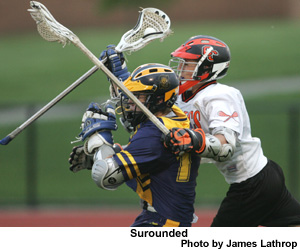 Scoring for Spencerport were Rob Stojanov (3g-1a), Pat Decker (1g), Jeff Konko
(1g-1a), Phi Schmid (1g), Andy Morgan and Tyler Hintz each had one assist. Ryan Konkon played an outstanding game and made 19 saves. Steve Difulvio recorded his 100th ground ball of the season for the Rangers (10-5).

Scoring for the Saints were Ryan Grogan (2g-1a), Jaime Englert (1g-1a), Doug Hemink (1g), Danny Kuntz (1g). Defense was led by goalie Evan Williams with 14 saves for Churchville-Chili (8-5).