Saturday: Schroeder over Irondequoit
May 13, 2006

- Most games played today were not close ones, but the Schroeder vs Irondequoit was anyone's game until the end, Midlakes beat Mynderse by one goal and Churchville was the Chili winner on Saturday.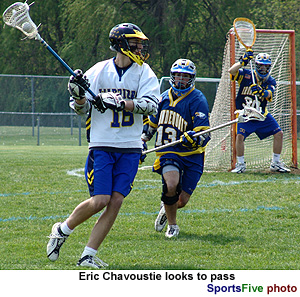 It was a generally well played game and either team capable of the win, but a strong third quarter made the difference as Schroeder was the 8-5 winner over visiting Irondequoit. Defense was the name of the game as both teams controlled the pass of the game with excellent play by close defenseman and Webster goalie Denis Cotanza and Irondequoit goalie Zach Nash.

Schroeder scored first as junior attackman Grant Catalino hit the nets at 8:22 on a drive from behind the cage. The Eagles came back at 5:35 when sophomore attackman Greg Wright pick up a "bounce pass" from Joe Parker (not credited), and scored just as a Schroeder penalty expired. The Warriors went ahead again at 4:36 when Dennis Costanza cleared the ball over the midfield line and moved the ball to Jay Willmes who found Eric Chavoustie for a 3-2 inside break goal. At 2:28, Parker scored on a sweeping drive from the front of the cage and the teams were tied at two at the end of the first quarter.

Irondequoit broke the tie at 10:13 when Mickey Haight scored an unassisted goal. Haight was dramatic at face offs where he won 13 of 17 in the game. The Schroeder defense, however was able to hold the Eagle scoreless for the next twenty six minutes. Schroeder scored at 3:36 when Andy Winslow hit the net on a bounce shot. Willmes scored the last goal of the half in man up as he received a feed from Catalino at 2:56. Schroeder led at the half 4-3.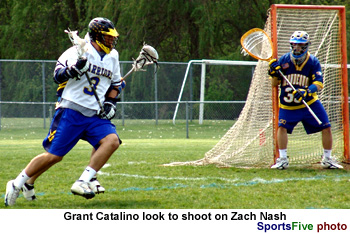 The Warriors scored all four goals in the third quarter. Mike Tota scored first at 8:56 with an assist from Willmes. Willmes scored an unassisted goal at 4:23. Tota scored again at 2:19 on a textbook fast break with an assist from Chavoustie. Catalino scored Schroeder's last goal of the game at 1:28. His behind the back shot was assisted by Chavoustie and Webster ended the quarter up 8-3.

Although the momentum clearly belonged to Schroeder, the Eagles continued to play hard and work for the win. The defense stepped up and held the Warriors scoreless in the last quarter, while the offense scored two. The Eagles who had the majority of ball time in the fourth quarter might have scored more goals except for the efforts for the Schroeder close defense that included Drew Palmer, Tim Winslow, Eric Horeth and Chris Nicodemi who did an excellent job in limiting shots from Haight. The Irondequoit goals came from Kevin Coholan at 7:28 and Wright at 6:55 (both goals unassisted).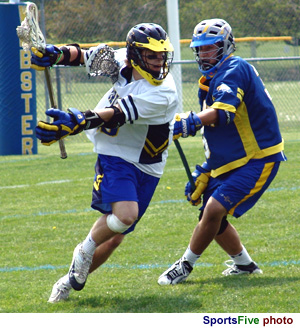 Scoring for Schroeder were Wilmes (2g-2a), Catalino (2g-1a), Chavoustie (1g-2a), Tota (2g) and Winslow (1g). Dennis Costanza had 12 saves for the Warriors (10-3).

Scoring for Irondequoit were Wright (2g) and Coholan, Haight and Parker who each scored one goal for the Eagles while Derek Pino added an assist. Zach Nash recorded 9 saves for Irondequoit (8-6).


Penn Yan improved their record to 16-1 with a 19-6 win at Waterloo. The Mustangs broke a 5-5 first quarter tie and led at the half 9-5. In the second half they held the Indians to one more goal while adding ten more for themselves.

Scoring for Penn Yan were Dan McGuffie (7g-2a), Dan Mesler (3g-2a), Steven Carlson (3g-3a), Josh Perrault (4g-2a), Mike Manley (1a), Jon Folts (1g), Ryan Cook (1g) and Ty Trombley (1a) who also won 21 of 23 face offs. RJ Wickham had 7 saves for Penn Yan.

Scoring for Waterloo were Winston Boyd (2g), Josh Mateo (2g), Stephen Kuti (1g-1a)< Bill Jolly (1g) and Nelson Boyd (1a). Andy Riegel had 10 saves and Mark Nearpass had 2 saves for the Indians (9-6).


Victor took on Section Three powerhouse and host Cicero-North Syracuse (12-3) and lost 14-6 on Saturday morning. The Northstars were ahead 2-0 at the end of the first quarter and led 7-4 at the half. Senior Max Wade stepped into goal for the injured Mitchell Liegerot and did an excellent job, recording 7 saves for the Blue Devils.

Scoring for CNS were Jeff Gilbert (2g-3a), Mike Broadhead (1g-3a), Nick Lococo (4a), Mike Sciarrino (2g), Nick Blemer (3g), Steve Ianzito (2g) and Jim Heney, Alan Vedder, Mike Russo and Mike Stagnitta who each scored one goal.

Scoring for Victor were Jason Houtenbrink (2g-1a), Eric Willman (1g-2a), Erick Rogemoser (2g), Alex Rogemoser (1g) and Frank Valenti (1a).


It was Churchville-Chili over Gates Chili for the second time this year as they posted a 9-7 victory on Saturday.

Scoring for the Saints were Doug Hemink (3g-1a), Jaime Englert (2g-1a), Ryan Grogan (1g-2a), Ben Rossignolo (1g-2a), Gino Marcello (2g) and Brett Hallenbeck (1a). Evan Wiliams made 18 saves for Churchville (8-4)>

Scoring for Gates Chili were Chaz Giehl (2g-1a) and Tom Sudek, Tom Elkins, Jim Drabin,
Pat Lynah and Kyle Beikirch who each scored one goal and Andy Hilton who added an assist for the Spartans (6-8).


Thomas claimed the Monroe County - D-2 title with a 16-1 win against visiting Eastridge on Saturday.

Scoring in the first Minute was Dan Hinderland who scored three unassisted goals in the first six minutes. Scoring next for the Titans was Dom Scalzo who scored on a pass from Max Gurowski. Hinderland scored again with a feed from Brendon Rothfuss. Kurt DetWiller scored the next two goals; the first one unassisted and the second one on an assist from Kevin Kemp. After one quarter the Titan defense had limited Eastridge to just one shot on cage and led 7-0.

In the second quarter Thomas saw scoring from freshmen attackmen Nick Scalzo who was assisted by Max Gurowski on a transition goal and gave the Titans an 8-0 lead at the half.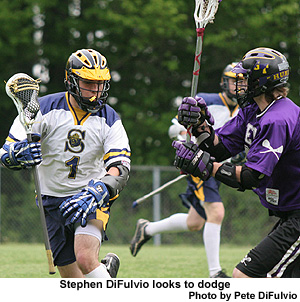 The Titans scored eight more in the second half while allowing a single goal by Ryan Wirth for the Lancers.

Scoring for Thomas were Dan Hinderland (4g-1a), Dom Scalzo (1g-1a), Max Gurowski (2a), Brendon Rothfuss (3g-1a), Kurt DetWiller (3g), Kevin Kemp (1a), Nick Scalzo (1g-1a), Remington Fox (1g), Peter Hart (1a), Pat Maloney (1g), Kyle Lavallee (1g)g, Brandon Reeners (1g) and Mark Schumacher (1a).

No report from Eastridge.






After taking a 5-1 first quarter lead, Spencerport extended their lead to 10-4 at the half and 12-8 at the end of the third before posting a 21-9 win over visiting Athena/Odyssey.

Scoring for Spencerport were Andy Morgan (7g-1a) who set a team record for goals in a game, Rob Stojanov (3g), Pat Decker (2g-2a), Steve Difulvio (4g-2a), Jeff Konko (2g-4a), Tyler Hintz (1a), Phil Schmid (2g), Steve Balcerak (1g) and Ken Bell (1a). Kyle Campion won 15-19 face-offs. Ryan Konko had 10 saves for the Rangers (9-5).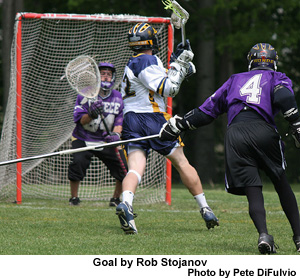 Scoring for the Thunder were Matt Machucki (4g-2a), Jared Bennett (5g), Mike Conderman (2a), Joe Prestigiacomo (1a), Nick Ryan (1a) and Kevin Buschle (1a). Dave Tarana had 7 saves for Greece.


It was Newark with a 7-4 win over Pal Mac at Palmyra in an afternoon game.

Pal Mac opened the scoring on a first period unassisted goal by Dave Merritt. Newark's Steve Johnson tied the score with an assist from Colin Johnson and the quarter ended with the score tied 1-1.

Pal Mac again took the lead on a man-up goal by Derrick Piccola and extended their lead on an unassisted goal from Dan Evans. Newark then answered 0:15 seconds later with a goal from Adam Golding and the teams went into halftime with Pal Mac leading 3-2.

Nate Johnson tied the score on a hard shot from the top of the box to open the third quarter and then assisted on the go ahead goal by Colin Johnson with 1:27 to go in the third quarter.

The fourth quarter saw Newark extend its lead on 3 goals from Colin Johnson. Both goalies played exceptionally well with Newark's Anthony Cole making 14 saves and Pal Mac's Jon Reeves with 13.

Scoring for Newark were Steve Johnson (1g), Nate Johnson (1g-3a), Colin Johnson (4g- 1a), Adam Golding (1g) and Luke Walton (1a). Anthony Cole made 14 saves for the Reds (6-9).

Scoring for Pal Mac were Mike Christ (1a), Derrick Piccola (2g), Dave Merritt (1g-1a) and Dan Evans (1g). Jon Reeves made 20 saves for the Raiders.


Midlakes was the 6-5 winner over visiting Mynderse in Finger Lakes D-2 play this morning. The game was tied at 2 at the end of the first quarter and Mynderse held a 4-3 lead at the half. In the fourth quarter, with Midlakes down by a goal, Glen Stevenson scored at 2:23 to tie the game at five. Jon Briggs scored the game winner with 0:54 left in the game.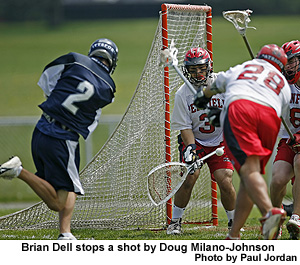 Scoring for the Eagles were Stevenson (2g-1a) and Briggs (4g). Jared Schoonerman made 18 saves for Midlakes.

Scoring for Mynderse were Dustin Luckinbill (1g), Chris D'Amato (2g) and Josh Kurdziolek (2g). Zac Rescort had 9 saves for Mynderse.

No report from Mynderse.




Penfield led 11-3 at half time and doubled their score in the second half as they beat Pittsford 22-6 at home on Saturday morning.

Scoring for Penfield were Mike Arvan (5g-3a), Dan Huntington (2g-3a), Connor Rice (4g), Dave Malone (2g-2a), Kelly McKenna (1g-3a) who won 14 of 17 face offs, Mike Cummins (2g-1a), Ben Foster (1g-3a), Kevin Green (2g), Mark Hill (1g-1a), James Dwyer (1g), Kyle Vanthof (1g) who won 4 of 6 face offs and Alex Nowak (1a). Brian Dell (6s/3ga) and
Ryan Nicoletta (2s/3ga) split time in the goal.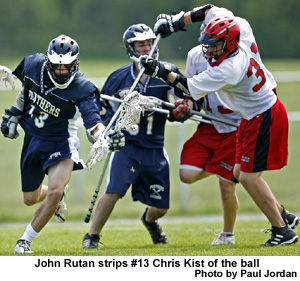 Chris Kist led Pittsford's effort with three goals.

Score only from Pittsford.




Fairport was the 17-9 winner in a game played at Rush-Henrietta this morning. Scoring for the Red Raiders were Mike Danylyshyn (5g-4a), Pete Burkhardtt (1g-2a), Dan Scarazzo (4g-1a), Pat Reilly (3g-3a), Ryan Lowe (2g), Jeff Sanna (1g-2a), Eric Martin (1g) and Shawn Runyon (1a). Jeff Sanna won 12 of 19 face offs and Zach Harris (9s/6ga) and Matt Hurley (2s/3ga) shared time in the goal for Fairport (11-3).

No report from RH.




HFL won an 11-5 game against visiting Hilton on Saturday morning.

The Cougars started quickly and led at the end of the first quarter 3-0. By the half it was HFL, 4-1. After a few half time adjustments, HFL took a 9-1 lead. Patrick Roache was credited with 14 saves, and Chris Milne with 2 for the Cougars.

Scoring for HFL were Dan Layfield and Connor Burgasser (3 goals each), Zach Whyte (2g-2a), Cade Norris (2g-1a) and Andrew Santiago (1g). Defenseman Buster Mulcahey was HFL's ground ball leader with 8, followed by Connor Burgasser with 6, and Zach Whyte with 5.

Scoring for Hilton were Tyler Stiles (2g-1a), Jeff DeLong (2g) and one goal each for James Moss and Jay Clifford.

No report from Hilton.