Thursday: Penfield and Penn Yan Win
May 11, 2006

- There were a number of big games played under wet conditions on Thursday. Penfield avenged an earlier loss to Fairport in a Monroe County game and Penn Yan used two over time periods to beat Canandaigua in Finger Lakes play. Schroeder was a one goal winner against Rush Henrietta and HFL won a big Class B win against Brighton.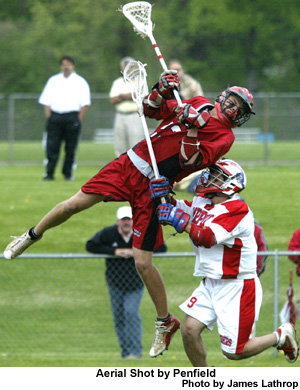 In a game that comes down to simple issues, face offs may have been a key factor in a win for Penfield who beat host Fairport 11-8 on Thursday. Senior middie, Kelly McKenna won 12 of 19 face offs for the Patriots in a game that saw Penfield take a 2-1 first quarter lead and then extend that lead to 9-2 at the half. Fairport gained some momentum in the last 0:30 of the third quarter, scoring two goals before ending the quarter down 11-6. The Raiders then scored two more in the fourth quarter while holding the Patriots scoreless.

Scoring for Penfield were Mike Arvan (3g), Kelly McKenna (2g-1a), Connor Rice (2g-1a), Ben Foster (2g) while Dave Malone and Mike Cummins each added 1g-1a. Brian Dell recorded 16 saves for the Patriots (12-1).

Mike Danylyshyn scored 3g-2a for Fairport. Geoff Mayor made 8 saves for the Red Raiders (10-3).

No report from Fairport.




Penn Yan and Canandaigua have a long tradition of close games, and although this year it would seem that Penn Yan would be the expected winner against a young Canandaigua team, the Braves played up, and forced the Mustangs to play in overtime before junior defensive midfielder Mike Manley won the face off and scored the game winner at the start of the second overtime.

Although Penn Yan held a one goal lead at the end of the first quarter and again at the half, the Braves took an 8-6 lead in the fourth quarter. Dan McGuffie scored an unassisted goal on a drive from out front and then Dan Mesler repeated the play at 4:05 to tie the score at eight. Junior midfielder Charlie Sauter scored the go-ahead goal for CA at 2:21, but the Mustangs returned on the following face off with a goal by Steven Carlson sending the game into overtime.

Scoring for Penn Yan were Dan McGuffie (2g), Dan Mesler (3g), Steven Carlson (3g-1a) and Dan Wolfe and Michael Manley who scored one goal each. RJ Wickham made 13 saves for Penn Yan (15-1) who clinch the Finger Lakes 1 title with the win.

Scoring for Canandaigua were Brian Scheetz (2g-4a), Connor Henderson (4g), Jeremy Brown (1g-1a), AJ Groot (1g), Charlie Sauter (1g) while Nick Munn, Ben Knapton and Chris McWilliams each added 1 assist. Dan Serafine recorded 9 saves for the Braves (10-5).


Gates Chili was the 15-3 winner over host Athena/Odyssey. Scoring for the Spartans were Andy Hilton (2g-2a), Chaz Giehl (2g) who won 13 of 19 Face offs, Tom Sudek (1g-2a), Tom Elkins (3g-1g), Jim Drabin (2g), Brad Weber (2g) and Mike Vo, Pat Sposato and Kevin Bailey who each score 1g while Andy McEntee and Pat Lynah each added an assist. Dave Bellavia made 8 saves for Gates Chili (6-7).

Scoring for the Thunder were Matt Machucki (1g-2a) and Jared Bennett (2g).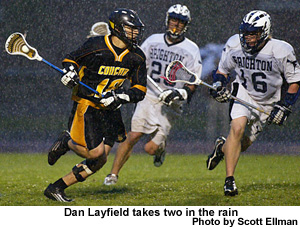 In a game that could have an impact at sectional time, Honeoye Falls-Lima defeated Class B rival Brighton 14-9 under rain soaked conditions at Brighton. The game was a rematch of the a game played on April 11th which was an 8-7 over time victory for the Barons.

Brighton led 3-2 at the end of the first quarter but the Cougars took over the lead with a 6-4 score at halftime. In the third quarter the Cougar defense led by Buster Mulcahey, Mike Howlett, Brian Zavitz played an aggressive and physical game and with the help of defensive middies Connor Burgasser, Kevin McNamara, and Vic Cheribum held the Barons to a single goal while scoring four of their own.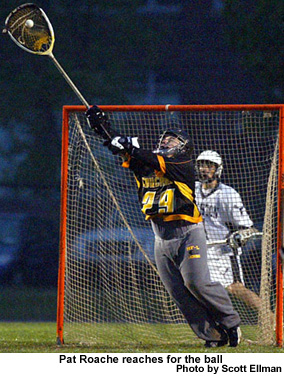 Offensively, the Cougar attack led by Cade Norris, Ian Griffin and Zach Whyte and middies led by Andrew Santiago, Kal Dachler, tyler Burgasser, and Chris Stanton controlled the ball and produced the goals.

In the last quarter each team scored four goals.

Scoring for HFL were Dan Layfield (6g-1a), Connor Burgasser (4g-1a), Cade Norris (2g-1a) and Ian Griffin and Andrew Santiago who each scored one goal. HFL's ground ball leaders were Buster Mulcahey (8), Connor Burgasser (6), and Mike Howlett (5). HFL improves to 8-5.

Scoring for Brighton were Robbie Asselin (2g-2a), Colin Davis (3g-1a), Ryan Conti (2g-1 a), and Josh Uline and Colin Hickey who each had one goal for the Barons (9-5).


After taking a 6-1 first quarter lead, Geneva finished with a 12-4 win over Victor in Finger Lakes 1 league action today.

"We jumped on them," Geneva coach L.J. Russell told The Finger Lakes Times. "We played pretty well coming off a couple losses. It's nice to beat a team we might see in sectionals." The Panthers led at the half 8-1 and 9-2 after three quarters.

Scoring for Geneva were John Manion (2g-1a), Kyle Boncaro (1g-1a), Greg Bonney (2g-1a), John Warner (2g-1a), Jim Warner (1g-1a), Sean Bennett (2g), Eric Peterson (1g), Sean Bramen (1g) and RJ Gringeri (1a). Matt Schutz made 10 saves for Geneva (10-6).

Scoring for Victor were Frank Valenti (1g), Andy Savage (1g), Jason Houtenbrink (1g), Ryan O'Connor (1g) while Alex Rogemoser, Chris Mayer and Tom Rogemoser each added an assist. Mitchell Liegerot recorded 17 saves for the Blue Devils (9-7).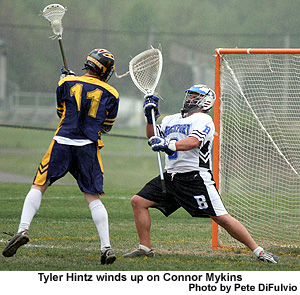 It was Spencerport the 11-4 winner over host Brockport as the Rangers took a 3-2 first quarter lead to 7-2 at the half.

Scoring for Spencerport was Tyler Hintz (3g-2a), Jeff Konko (3g-1a), Rob Stojanov (1g-3a), Andy Morgan (1g-1a), Pat Decker (1g), Steve Difulvio (1g) and Kyle Breach (1g-1a). Kyle Campion won 8 of 11 face offs. Ryan Konko had 12 saves for Spencerport (8-5) who remain unbeaten in Monroe County Division 3 play.

Scoring for Brockport was Adam Nearth (1g), Andy Willis (2g), and Brett Allen (1g). No report from Brockport.


After breaking a halftime tie, Webster Schroeder went on to win an 8-7 win over host Rush-Henrietta on Thursday afternoon.


Schroeder opened the scoring at 10:31 of the first quarter when middie Jay Willmes scored his first of two goals with the assist from Andy Winslow. Webster struck again at 7:05 to increase their lead to 2-0 when Winslow scored assisted by Austin Orsini as the Warriors ended the first quarter with a 2-0 lead.

Schroeder continued their scoring into the second at 11:32 when Nick Mooney scored with the assist from Chris Ferry which was then last score for Webster in the half. RH got on the scoreboard at 5:28 when Tony Henriquez scored with an assist from Matt Moran. RH put together the last two goals before half. The first came from and unassisted goal by Henriquez again at 3:21and then Justin Rose added his first of three in the game at 2:38 (assisted by Moran). The game was tied at three at the half.

The royal Comets took their first lead of the game at 9:42 in the third quarter when Brian Hantzis scored (unassisted) to give RH a 4-3 lead. Schroeder quickly responded when, at 8:33, Winslow scored assisted by Eric Chouvostie to tie the game at four. The Warriors finished the scoring in the third when Willmes scored (unassisted) at 2:22 to give Webster the 5-4 lead after three quarters.

After some clearing turnovers by both teams at the start the fourth, Webster increased their lead to 6-4 as Mike Tota scored at 8:40 with an assist from Grant Catalino. The Warriors were able to get some breathing room at 4:32 when Catalino scored (unassisted). Catalino scored again at 3:00 when he intercepted an errant clearing pass and scored on an open goal to make the score 8-4. RH, responded at 2:53 when Rose scored on a feed from Matt Moran. The Royal Comets scored again at 0:59 when Henriquez. RH won the ensuing face-off and Rose netted his third (unassisted) to make the score 8-7 with 0:41 seconds remaining. RH, again won the faceoff, and maintained possession until a timeout was called by the Royal Comets with 0:31 seconds to play in the game. Coming out of the timeout, RH was able to maintain possession and Justin Rose took the final dodge where he was unable to get off a clean shot near the Webster goal. Webster goalie Dennis Costanza scooped up the ball and held on, running out the clock with less than four seconds to play.

RH senior defenseman Brian Tobey was credited with holding the high-scoring Grant Catalino to two goals.

Coach Gottko was pleased with the RH performance; "We are proud our kids for playing until the end. The game was never out of reach for either team with each team battling every possession. We were able to make that last comeback with under three minutes to play with a chance to tie it at the end."

Scoring for Schroeder were Jay Wilmes (2g), Andy Winslow (2g-1a ), Grant Catalino,
(2g), Nick Mooney (1g ), Mike Tota (1g ), Austin Orsini (1a ), Chris Ferry (2a ) and Eric Chavoustie (2a). Dennis Costanza made 8 saves for Schroeder (9-3).

Scoring for Rush-Henrietta were
Tony Henriquez (3g), Justin Rose (3g), Brian Hantzis (1g) and Matt Moran (3a). Matt McShea made 9 saves for the Rotay Comets (7-6).


Waterloo took a commanding 8-0 halftime lead on their way to the 13-3 win over visiting Midlakes. Senior midfielder Bill Jolly, who lead the the Indians with 5g-3a, helped to give the Waterloo their third straight Finger Lakes-2 title.

Scoring for Waterloo were Jolly (5g-3a), Nelson Boyd (3g), Stephen Kuti (2a), Josh Mateo (2g), Winston Boyd (1g-1a) and Mike Ruiz (1g). Andy Riegel had 14 saves to start the game and Mark Nearpass had 3 saves after entering in the 4th quarter for Waterloo (9-5).

Scoring for Midlakes were Clay Hemminger, Nick Narland and John Briggs who each scored a goal and Glen Stevenson who assisted on one. Jared Schoonerman had 9 saves for Midlakes (4-10).

No report from Midlakes.




It was Eastridge who won a 13-7 victory over Pal-Mac on Thursday afternoon Palmyra after scoring six goals in the last quarter. Eastridge was ahead 3-2 at the end of the first quarter, but Pal-Mac came back to lead at the half 5-4. Eastridge scored 3 more in the third to lead after three 7-6 and then scored six goals while holding P-M to one in the fourth.

"I have to give a lot of credit to their man-down defense," said Pal-Mac Head Coach Enzo Falso, "They killed off 11 penalties while only allowing 2".

Scoring for the Lancers were Brandon Moniyan (4g), Alex Austin (1g-1a), Sean Sawyer (2g-1a), RJ Pixley (2g), Kevin Mahler (2g-1a) and Matt Drifill (2g-1a). Eugene Ferrera made 7 saves for Eastridge.

Scoring for Pal-Mac were were Dave Merritt (2g), Cody Clement (1g), Mike Christ (4a) and Jeremy Norsen, Dan Evans and Derrick Piccola who each added one goal. Jon Reeves (8s) and Will Mallia (2s) split time in the goal for the Raiders.

No report from Eastridge.




Irondequoit was ahead 4-1 after the first quarter and led 7-3 halftime on their way to a 13-7 victory over visiting Pittsford on Thursday.

Scoring for the Eagles were Kevin Coholan (3g-1a), Joe Parker (3g) while Nick Kane, Mickey Haight and Todd Laemlein each added 2 goals and Andrew Hart scored 1g while Derek Pino and Greg Wright each added one assist.

Doug Milano-Johnson and Jamie Moran each scored two goals and Burt Schoff and Chris Kist added one goal each for Pittsford.


Although Newark held a 3-0 lead after the first quarter, Mynderse came back to be on top 4-3 at the half and scored nine of the last ten goals in the game for the 9-4 win.

"We had a rough first quarter, but we did a good job of controlling the ball in the second quarter and in the second half," Blue Devils coach Joe Caraher told The Finger Lakes Times.

Scoring for Mynderse were Sean McGrimley (2g-1a), Josh Kurdziolek (2g), Anthony Clark (2g), Jon Young (1g-2a), Craig Smith (1g), Dustin Luckinbill (1g) and Kevin McCully and
Charlie Tribble who each added one assist. Zac Rescorl made 6 saves for the Blue Devils.

Scoring for Newark were Nate Johnson (2g), Colin Johnson (2g-1a) and Greg McBride (2a). Anthony Cole made 12 saves for Newark.

No report from Newark.




In only their second home game of the year, Thomas was the 14-1 winner over Hilton. The Titans scored all eight goals in the first quarter and lead at the half 10-1.

Scoring their first points of the season were freshmen Nick Scalzo who finished with three goals and junior Spencer Marsh who finished with an assist. Also scoring for Thomas were Max Gurowski (2a), Kurt DetWiller (2g), Kevin Kemp (1g-4a), Dan Hinderland (2g-1a), Dom Scalzo (4g-3a), Jake Zeigler (1a) and Pat Maloney and Brendan Rothfuss who each scored one goal. Steven Hondorf recorded 1 save and Kevin Ryan added 4 saves while Alex Mosher made 3 saves for the Titans (11-3).

Tyler Stiles scored for Hilton.


According to the Rochester Democrat and Chronicle, Gino Marcella scored 3g and Matt Carey added 2g-1a as Churchville-Chili won a 15-0 game against Greece Arcadia/Olympia.

No reports from either team.