Tuesday: Fairport over Schroeder
May 9, 2006

- Unlike the first game, this time Fairport took control early in the game, ending the first quarter with a 6-2 lead and ending the game at 13-7.


It was "Teacher Appreciation Day" at Fairport as each Varsity player honored a favorite teacher in the pre-game ceremony in which each teacher worn the jersey of the player that selected him or her. The game followed with Fairport the 13-7 winner.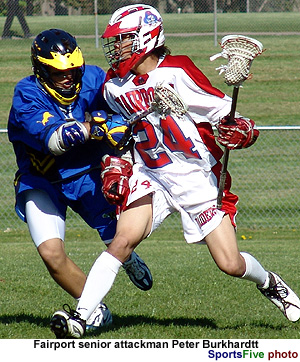 In a high pressure game between two of the best Class A teams, and with the added pressure of having previously played this season, Fairport and Schroeder were expecting a close game under beautiful conditions at Fairport.

Fairport scored six goals in the first quarter, starting with one by Peter Burkhardtt (unassisted) at 10:22. After the next face off, Grant Catalino scored the first of his four goals on a pass from Andy Winslow. The Red Raiders came back with five goals in a row starting at 9:36 when Dan Scarazzo scored on a feed from Pat Reilly. A couple of minutes later, Ryan Lowe scores the first of his three when he ran full field on a clearing pattern and took it straight to then goal, faking a pass and then firing one past Schroeder's senior goalie Dennis Costanza.

Craig Nairn scored next (unassisted) at 5:35. Mike Danylyshyn (who scored four goals in the game) broke up a Schroeder clearing pass sending the ball to the ground where Scarazzo scooped it up and sent the ball back to Danylyshyn who was left with a 1-on-1 against Costanza. Reilly scored the last Fairport goal of the quarter on an assist from Burkhardtt at 0:47. Schroeder ended the quarter with a goal by Steve Sullivan (assisted by Catalino) with ten second left in the quarter, and the Raiders up 6-2.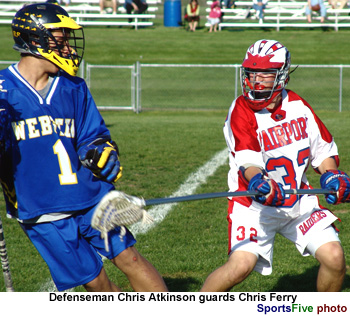 Schroeder stepped up in the second quarter as the Warrior defense held the Raiders scoreless while adding one for their side. Jay Willmes took the ball inside and after two fabulous dodges, put the ball past Geoff Mayor to take the score to 6-3 for Fairport.

The third quarter looked more like the first quarter as Fairport scored six more goals, while holding the Warriors to a single goal, scored by Catalino (assisted by Willmes) at 9:57. Fairport's goals came from Scarazzo with an assist from Jeff Sanna at 11:12, Burkhardtt from Ryan Lowe at 7:04 and Danylyshyn from Sanna at 4:43. The last three Raider goals were scored in the last two minutes of the quarter, with Danylyshyn scoring the first two (unassisted) and Lowe scoring the last (unassisted) on a drive from out front with 0:08 left.

Lowe started the scoring in the last quarter with an unassisted goal at 8:41 and then Schroeder scored that last three goals of the game. Catalino scored the first at 7:05 with an assist from Eric Chavoustie. Chris Ferry scored in man up on a feed from Willmes and Catalino ended the game with an assist from Evan Van Epps with 0:02 left in the game.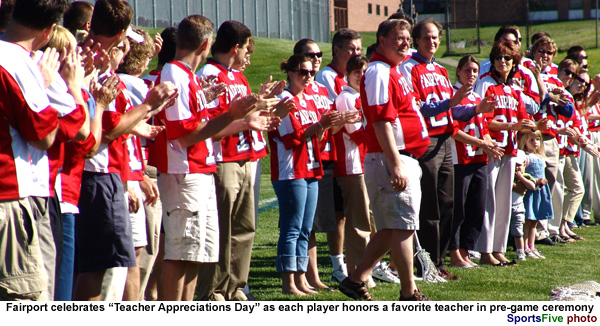 The Saints won their game tonight against visiting Athena/Odyssey with a score of 16-4. Scoring for Churchville-Chili were Jaime Englert (1g-1a), Doug Hermink (2g), Ryan Grogan (1g-7a), David Terrell (1g), Brennan Dooling (2g), Gino Marcello (6g), Ben Rossignolo (2g-2a), Cory Mee (1a) and Zach Swan (1a). Evan Williams recorded 4 saves for the Saints (6-4).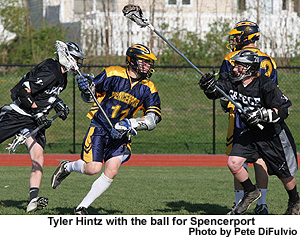 First year player Nick Ryan scored his first lacrosse goal and added an assist for the Thunder along with Mike Conderman (2g) and Matt Machucki (1g-2a). Dave Tarana made 3 saves and Nick Bellucco added 3 saves for the Thunder.


Gates Chili beat Brockport 10-7 after taking a 5-2 first quarter lead and led 8-4 at the half. Scoring for the Spartans were Andy Hilton (3g-1a), Chaz Giehl (2g-1a) who also won 12 of 18 face offs, Tom Sudek (2g-1a), Tom Elkins (2g-1g), Kyle Beikirch (1g), Pat Lynah (1a) while Jim Drabin, Alec Bazer and Jake Johnson each added an assist. Jason Baetzhold made 8 saves for Gates Chili (5-7). No Report from Brockport tonight.


McQuaid Jesuit defeated Bath tonight 13-4. The Knights scored the first seven goals spanning the first quarter and half of the second. The first goals were scored by Evan Gallina (from Marty Farchione), Mitch Ritchie (unassisted), Nick Cardillo (from Haseley), Marty Farchione (unassisted), Andrew Foster (from Ritchie).

In the second quarter McQuaid Jesuit saw goals from Gallina (assisted by MacDonald), and Sturnick (unassisted). Bath came back with a feed from Mike Joint to his brother Steve Joint with 5:45 left in the half. The Knights returned with two more goals before the half time break. The first was by Cardillo (unassisted) then by Sturnick (from MacDonald). The Rams made the scorebook again with 2:33 left and a goal from Kevin Derosier with the assist from Josh Butler. The half ended with the score 9-2 in favor of the Knights.

The Knights scored the first three goals of the third quarter. The first goal was scored in man-up by MacDonald (from Farchione). The second was a crease feed from Farchione to Nick Caton. Third third was also be a crease feed, this goal with the assist from Sturnick and the goal from Tommy Carpenter. With 0:46 left in the third the Rams scored their third goal of the game when John Pruyn scored (unassisted).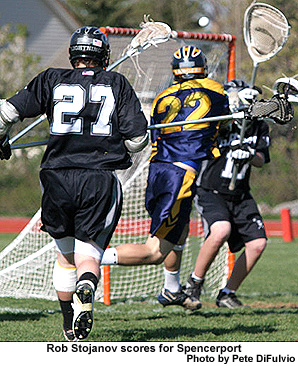 The fourth quarter started Farchione scoring with an assist from Sean Conroy. The last goal of the game came from Pruyn of the Rams with 1:41 left in the game.

Scoring for the Knights were Gallina (2g), Foster (1g), Cardillo (2g), Caton (1g), Carpenter (1g), Ritchie (1g-1a), Farchione (2g-3a), Sturnick (2g-1a), MacDonald (1g- 2a), Haseley (1a), and Conroy (1a). Patrick Maguire and Dan Caufield split time for the Knights. Caufield made 5 saves for a 55% game. The Knights improve to 8-7.

Scoring for the Rams were Pruyn (2g), Derosier (1g), Steve Joint (1g), Mike Joint (1a), Butler (1a). Jeremiah Wilder played in the goal the entire game and made 10 saves.


Ten different players scored for Spencerport who was the 20-1 winner against host Arcadia/Olympia. Ken Bell scored his first varsity goal. Others scoring for Spencerport were Rob Stojanov (3g-3a), Andy Morgan (3g), Pat Decker (2g-1a), Steve Difulvio (1g-1a), Tyler Hiintz (1g-2a), Jeff Konko (3g), Kyle Breach (4g), Cameron Sformo (1g-2a), and Dave Pels (1g-1a). Ryan Konko and Tim Heacock split the time in the goal.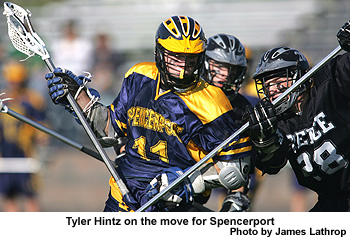 Brian Cassidy scored for Arcadia/Olympia. No report from Arcadia/Olympia.


Waterloo was the 13-6 winner over Newark this afternoon at Newark. The Indians took the first quarter 6-0 and led at the half 8-1. Scoring for Waterloo were Josh Mateo (3g-4a), Nelson Boyd (1g-1a), Winston Boyd (3g-1a), Mike Ruiz (4g), Stephen Kuti (1g), Andy Wadhams (1g) and Bill Jolly (1a). Andy Reagel had 12 saves in the first three quarters and Mark Nearpass had 2 saves in the last quarter for Waterloo (8-5).

Scoring for the Reds were Nate Johnson (1g), Alex Quku (1g-1a), Eric Stivers (1g-1a) while Adam Golding, Jon Shanley and Robert Camblin each scored one goal. Anthony Cole had 13 saves for Newark (5-8).


After a 3-1 first quarter and 5-2 half, Canandaigua scored 7 goals in the second half to defeat Victor 12-4 in Finger Lakes division 1 play tonight. Although the Blue Devils won in the first outing, the Braves led in shots (42-21) and ground balls (43-31) and Canandaigua won the face off race (15 of 20) behind the efforts of Kevin Peck who won 8 of 10.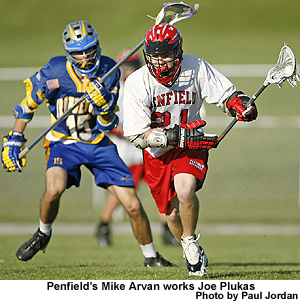 Scoring for Canandaigua were Jeremy Brown (2a), Connor Henderson (6g), AJ Groot (1g-2a), Chris McWilliams (1g), Charlie Sauter (1g), James Regan (1a), Nick Munn (1g), Brian Scheetz (2a) and Marshall Johnson (2g). Dan Serafine recorded 12s-3ga), Scott Bement (2s/0ga) and Kyle Carson (1ga).

Scoring for Victor were (M) Jason Houtenbrink (2g), Erick Rogemoser (1g), Alex Rogemoser (1g) and Eric Willman (1a).


Penfield jumped out to a 2-0 lead with goals by Kelly McKenna (unassisted) and Connor Rice (assisted by Ben Foster). Irondequoit tied it up in man up with goals by Mickey Haight and Joe Parker, both assisted by Derek Pino.

Penfield scored the next four goals. Mike Cummins received a feed from Dave Malone for the first goal. McKenna scored the second (unassisted) while Mike Arvan scored the last two (unassisted). Irondequoit saw an unassisted goal by Todd Laemlein before Penfield's Malone scored on a feed from McKenna to end the half with the Patriots up 7-2.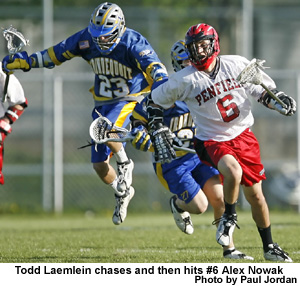 Penfield scored three times to open the second half as McKenna scored on a feed from from Arvan, Arvan scored alone and McKenna scored (unassisted). Laemlein scored again for the Eagles on an assist from Andrew Hart to bring the score to10-4 entering the last quarter.

Kevin Green scored first with a pass from Arvan to extended the Patriots lead to 11
to 4 before Irondequoit's Parker finished the scoring with back to back goals, the last one assisted by Nick Kane.

In goal, Penfield's Brian Dell had 5 saves and Irondequoit's Zach Nash had 14. McKenna won 10 out of 13 face offs and Cummins 3 out of 6. Alex Nowak(7 ground balls), Kevin Randall, and Joe Clay led a strong defensive effort for the Patriots (11-1). No report from Irondequoit.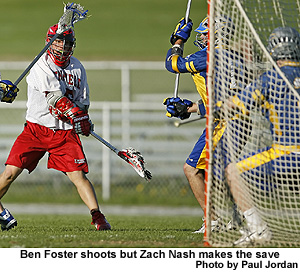 Hilton won 16-5 over Eastridge. Leading scorers for Hilton were Jeff DeLong (2g-2a), Kyle Hayward (3g) and Andy Ellsworth (2g). Aaron Donahey made 10 saves for the Cadets (5-7).

Eastridge's top scorers was Alex Austin with (2g). Eugene Ferrera made 10 saves for the Lancers. No report from Eastridge tonight


It was Penn Yan 6-3 over host Geneva this afternoon an a game that was dominated by defense. After a 3-0 first quarter for the Mustangs, they added a couple more for a 5-1 half time lead. Geneva added two goals in the second half, but Mike Manley finished the game with another long stick goal for Penn Yan. RJ Wickham (16 saves) had another great deay in the goal and was helped by Tristan Keas and the rest of the Penn Yan defense. Andy Torruella, Tyler Travis and Josh Bloom played well well for the Panthers.

Scoring for the Mustangs were Dan McGuffie (3g), Matt Osgood (2g), Ben Odell (2a), Dan Mesler (1a) and Mike Manley (1g).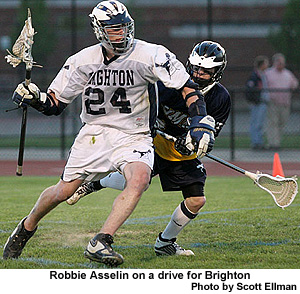 The start of the game was delayed while waiting for the track meet to finish, but it was Webster Thomas with a 14-5 win over host Brighton on Tuesday.

The Titans scored the first three goals of the game starting with Dan Hinderland who scored an unassisted goal. Kevin Kemp scored (assisted by Max Gurowski) followed by a goal from Dom Scalzo assisted by Gurowski.

Brighton scored their first goal when Robbie Asselin found Collin Davis up top. Kyle Lavallee then scored (unassisted) for Thomas and Brandon Rothfuss scored with an assist from Scalzo. Collin Davis added an unassisted goal for Brighton and then Hinderland scored on a feed from Gurowski to end the quarter with the Titans up 6-2.

The second quarter was similar with Kemp scoring on an assist from Scalzo, a goal from Rothfuss (assisted by Gurowski) in man up, DetWiller (unassisted) and then Scalzo with an assist from Hinderland. Brighton's Colin Hickey scored the next goal with a dodge from behind the cage. The next Thomas goal was from Kyle Lavallee assisted by Hinderlind. At the end of half Thomas was up 11-3.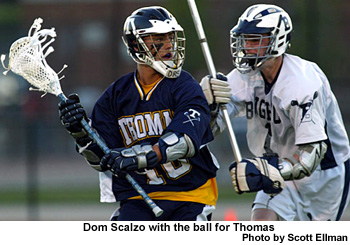 Gurowski found Peter Hart for Thomas to start the third quarter. Collin Hickey scored an unassisted goal for Brighton Remington Fox came back with goal for Thomas as he cleared the ball and took it right to the cage. The last goal of the game came from Rothfuss who received a pass from Gurowski to finish the scoring off for the Titans.

Playing on defense for the Titans were Bryan Clifford, Jake Ziegler, and James Frommert along with long stick middies AJ Glagolev and Taylor Smith. Remington Fox, Peter Hart and Jordan Tracey all played good defense at the midfield for the Titans.

Scoring for Thomas were Hinderland (2g-2a), Kemp (2g), Gurowski (1g-5a), Scalzo (1g-3a), Lavallee (2g), Rothfuss (3g), DetWiller (1g), (1g) and Fox (1g). Steven Hondorf had 6 saves for Thomas. No report from Brighton.


It took two overtime periods, but Mynderse was the 7-6 winner over Pal-Mac tonight at Seneca Falls.

It was the second overtime game in two days but this time Pal-Mac was on the losing end. Mynderse scored early on a couple of fast breaks and unsettled situations, and Pal-Mac was down 5-2 at the half. The Raiders never gave up and scored three goals in third quarter and another one a in the fourth, while limiting Mynderse to 1 goal in the second half.

The tying goal came with 4:32 left in the game and was scored by Cody Clement with an assist from Derrick Piccola. Although Pal-Mac had opportunities in overtime their shots couldn't find the back of the net. Kevin McCully netted the game winner for Mynderse with 1:12 left in the second overtime period. Both teams played an outstanding game.

"To bad somebody had to come out on the losing end of it." said Coach Falso.

Dave Merrit did a great job facing-off, and leading the offense with three goals. The Raider defensive unit, (Ryan Bills, Eddie Anderson, Andy hems, and Mike Converse) did a fine job in the second half, as did Jon Reeves in the goal who had some great saves late in the game for Pal-Mac.

Scoring for Mynderse were Jon Young (1a), Anthony Clark (3g), Sean MCGrimley (2g), Kevin MCully (1g-1a), Craig Smith (1a) and Chris DaMato (1g). Zac Rescort made 14 saves for the Blue Devils.

Scoring for Pal-Mac were Cody Clement (3g), Dave Merritt (3g) and Derrick Piccola (2a). Jon Reeves had 12 saves for the Raiders. No report from Mynderse tonight.