Thursday: Eastridge wins in the Fourth
May 4, 2006

- Eastridge scored three goals in the fourth to win a 9-7 victory over Spencerport, while the rest of the games posted scores that were not as close.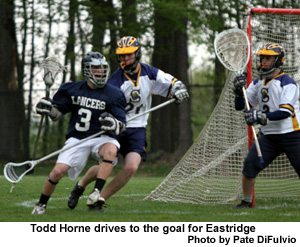 Eastridge won an exciting game at Spencerport tonight as the Lancers overcame a 4-2 half time score, tied at the end of three and scored three goals in the fourth to take the final score to 9-7.

Scoring for the Lancers were R.J. Pixley (2g), Alex Austin (2g), Todd Horne (2g), Brendon Moynihan (1g-1a), Sean Sawyer (1g-1a) and Matt Driffill who scored the go ahead goal in the last quarter. Eugene Ferrera had a big day in the goal, recording 22 saves for Eastridge.

Head Coach Jasson Jobson reported, "I've never had a team play this hard. It was unbelievable."

Spencerport scoring came from Rob Stojanov (3g), Andy Morgan (1g-1a), Steve Difulvio (1g), Jeff Konko (1g) and Cameron Sformo (1g).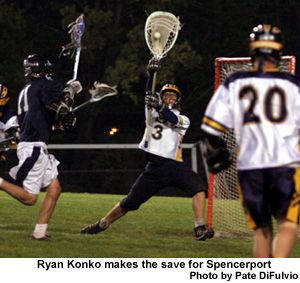 Scoring for The Reds were Alex Quku (3g), Greg MacBride (2a), Colin Johnson (2g), Dan Mizro (1g) and Luke Walton (1g). Anthony Cole recorded 17 saves for Newark (4-7).


Geneva had soggy conditions but out shot and athletic Mynderse team 35-7 on their way to a 14-2 victory.

Scoring for the Panthers were John Manion (1g-5a) Kyle Boncaro (4g-1a), Greg Bonney (4g-1a), Jimmy Warner (1g-2a), RJ Gringeri (1g-1a), John Warner(2a), Sean Bennett (1g), Willy Rago (1g), Mike Guard (1g) and Sean Braman (1a). Adam Schutz had 5 saves for Geneva (9-4).

Mynderse saw both goals from Dustin Luckinbillwhile Tim Sweeting and John Young each assisted on one. Zac Rescorl had 14 saves and Tony Pallidino who replaced him in the 4th quarter had a save for the Blue Devils.

No report from Mynderse.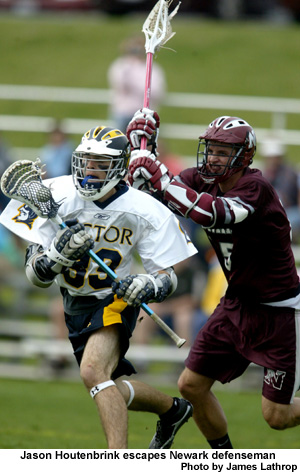 Victor started right off with a 6-2 first quarter lead and a 9-3 lead at the half before winning in a home game with Newark with a final score of 14-7.

Ten different players made the scorebooks for Victor including Erick Rogemoser (3g-2a), Andy Savage (3g-1a), Jason Houtenbrink (2g), Ryan O'Connor (2g), Frank Valenti (1g-1a), Tom Rogemoser (1g-1a), Eric Willman (2a), Alex Rogemoser (1g) and Mike Domizio and Elie Naoum each had (1a). Pat Sullivan played well defensively scooping up 12 ground balls and Mitchell Liegerot made 3 saves for the Blue Devils (9-5).

No report from Newark.




Tonight's game had a decidedly Irondequoit flavor with six of the seven coaches between the two teams having graduated from Irondequoit High School. The start of the game favored Churchville, who opened up an early 2-1 lead with the Eagles scoring the tying goal with two seconds to go in the first quarter.

Irondequoit woke up in the second quarter scoring six goals in succession and ended the game with a winning score of 15-6.

Particularly noteworthy was the offensive play of Greg Wright, Derek Pino, Andrew Hart and Mickey Haight. On defense, Ange Dill sparkled, interrupting Churchville's offensive patterns by intercepting the ball on a number of occasions. Zach Nash once again came up big in the goal with 4 saves and was replaced by Tyler Watkins who added 6 saves for the Eagles.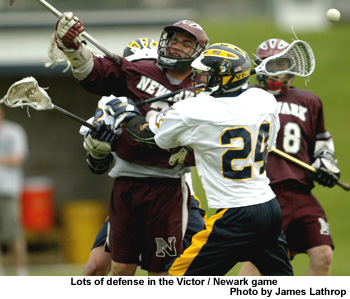 Scoring for Irondequoit were Greg Wright 2g-6a), Andrew Hart (3g-1a), Derek Pino (3g-1a), Mickey Haight (2g-2a), Kevin Coholan (1g-1a), Todd Laemlein (1g-1a), Joey Parker (1g), Mike Wallenhoerst (1g) and Brad Williams (1g).

Scoring for the Saints were Jaime Englert (2g), Ryan Grogan (2g), Ben Rossignolo (1g-1a), Gino Marcello (1g) and Mitch Mertel (1a). Brian Briggs led the defense with 4 ground balls and Evan Williams recorded 12 saves for Churchville-Chili.


HFL lead at the half 4-3, but scored 4 goals in the third quarter while holding the Spartans to one, and repeated in the last quarter by scoring three while holding Gates to one.

Defenseman Buster Mulcahey led the ground ball battle with eight for the Cougars and attackman Zach Whyte had six while defenseman Mike Howeltt and long stick middie Connor Burgasser each had four.

Scoring for HFL were Dan Layfield (4g-1a), Connor Burgasser (2g-1a), Chris Stanton and Zach Whyte (1g, 1a) each, Ian Griffin, Kal Dachler and defenseman Buster Mulcahey (1g) each and Andrew Santiago (1a).

Scoring for Gates Chili were Andy Hilton (3g), Chaz Giehl (1g-2a) who won 12 of 18 face offs and Tom Elkins (1g). Jason Baetzhold had 14 saves for the Spartans (4-7).


Hilton was the 14-6 winner over host Athena/Odyssey this afternoon. Hilton was ahead at the half 7-1.

Scoring for Hilton were Tyler Stiles (4g-3a), Alex Wood (3g), Kyle Haywood (3g), Andy Ellsworth (2g), Colin Walker (1g-1a), Jeff DeLong (1g), Jon Graus (4a) while Joe Schlooski, Christian Barrett and Matt Davidson each added an assist. Aaron Donahey had 12 saves and Josh Jensen added 1save for the Cadets (3-7).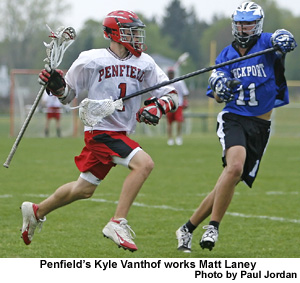 Scoring for the Thunder were Matt Machucki (1g-2a), Jared Bennett (2g), Jeremy Fitzgerald (1g-1a), Mike Conderman (1g), Dave Rodriguez (1g). Dave Tarana made 11saves and Nick Belluco added 1 save for Greece (1-9).


Penfield set the tone early when Kelly McKenna took the opening face off and scored 13 seconds into the game. McKenna then scored Penfield's second goal on the way to a 20-4 victory over visiting Brockport. The Patriots continued to score in groups as Kevin Green scored the next three goals and Connor Rice scored the next four consecutive goals, giving Penfield to a commanding first quarter lead.

Penfield's face off contingent of Kelly McKenna (8 for 8), Kevin Roe, Kyle Vanthof and Connor Rice had an excellent day which helped keep the ball on the Penfield end and took the pressure off goalies Brian Dell and Ryan Nicolleta.

Brockport got on the board when senior defenseman Matt Laney made a defensive play, cleared the ball from end to end and assisted Justin Klymochko for the first of Brockport's two second quarter goals. Sophomore defensemen Alex Nowak and Kevin Randall each had an assist for Penfield.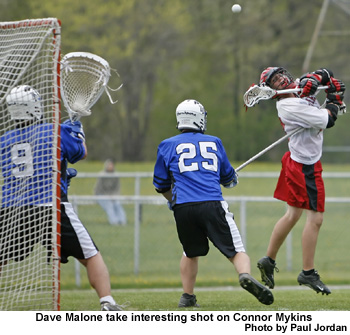 Scoring for Penfield were Rice (4g-2a), Green (3g-1a), McKenna (2g-1a), Dan Huntington (2g- 1a), Mike Arvan (2g-1a), Dave Malone (1g-2a), Mark Hill (2g), Mike Cummins (1g-1a) ,Kyle Denhoff (2a), Ben Foster (1g), Alex Smith (1g), James Dwyer (1g) Randall (1a) and Nowak (1a). Penfield moves to 10-1.

Brockport scoring came from Kylmochko, Tyler Sutphen , Andrew Willis, Brett Allen while Matt Laney added an assist and Connor Mykins had 12 saves for Brockport (5-6).


McQuaid Jesuit defeated Aquinas 6-1 tonight. Aquinas scored with 9:49 left in the first quarter and were held scoreless for the remainder of the game. The Aquinas goal, scored by David Schmandt and assisted by Mark Pincell came from a fast-break, cross-crease pass.

The first three goals for the Knights came in the first quarter scoring at 5:32, 3:44, and 3:20 as Marty Farchione (unassisted), Mitch Ritchie (assisted by Gino D'Angelo) made the scorebook. Ritchie then assisted on the third goal, with a feed from behind the net. to Evan Gallina in man up.

The Knights scored one goal in each of the next three quarters. The goal in the second, scored at 10:46, was scored by Mark Hanna assisted by Ritchie. The goal in the third quarter, at 7:03, was by Ritchie again, this time assisted by Gallina. The McQuaid Jesuit goal in the fourth quarter, at 7:40, was by Gallina scoring this time from a pass by midfielder Sean Conroy.

Making the scorebook for the Irish were Schmandt (1g) and Pincelli (1a). Alan Antinarelli played for most of the game and accumulated 9 saves for a 60% day for Aquinas (6-6).

Scoring for the McQuaid Jesuit were Ritchie (2g-2a), Gallina (2g-1a), Farchione (1g), Hanna (1g), D'Angelo (1a), and Conroy (1a). Pat Maguire played the entire game in the goal and accumulated 10 saves for a 91% day for McQuaid Jesuit (7-7).

No report from Aquinas.




Canandaigua was a 17-2 winner over visiting Midlakes tonight.

Scoring for Canandaigua were Zack Scheetz (2g), Jeremy Brown (3g), Connor Henderson (1g-2a), AJ Groot (1g), Charlie Sauter (1a), James Regan (1g-2a), Nick Munn (2g), Tyler Wakefield (1g-1a), Alan Zulick (1g), Drew Tschetter (1g), Brian Scheetz (1g-7a) and Marshall Johnson (3g). Dan Serafine had (1s/0ga), Scott Bement (2s), Kyle Carson (1s/2ga).

Nate Stevens and Josh Sauve each scored one goal and Jon Briggs added 1 assist. Jared Schoonerman had for 4 saves for the Eagles (4-8).

No report from Midlakes.