Saturday: Five Out of Section Wins
April 29, 2006

- Six games today were against teams from outside Section Five and the Section Five teams won all but one of the contests. Fairport beat Orchard Park in a big game in Buffalo, Geneva beat Corning West, Penn Yan beat Amherst, HFL beat Hamburg and Victor beat Sweet Home. Canandaigua lost by one goal to Baldwinsville of Section Three.


After taking a 2-0 first quarter lead and trading three goals each in the second quarter, Penn Yan scored five goals in the second half while holding Amherst of Section 6 to one on their way to a 10-4 win at Penn Yan this afternoon.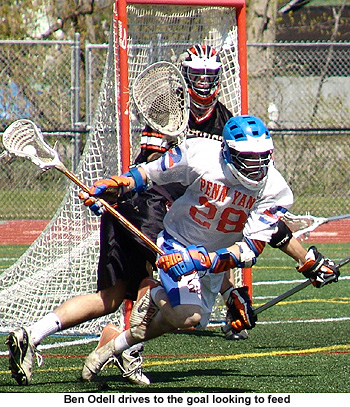 Penn Yan senior attackman Dan McGuffie (5g-2a) scored the first goal on a feed from Steven Carlson at 10:59 and Carlson scored the second on a feed from McGuffie 1t 4:51. The Mustang defense including Dana Wilber, Tristan Keas, Preston Christensen and long stick, Michael Manley held the Tiger offense to three shots in the quarter, all saves by goalie RJ Wickham.

Amherst came back in the second quarter which ended up being their best, scoring three goals starting with their first by Taylor Ebsary (unassisted) just 0:23 into the quarter. Penn Yan scored right after the next face off when Dan Mesler scored his unassisted goal at 11:15. Ebsary scored again for the Tigers at 10:09 (unassisted) on a shots that slid off Wickham's chest pad. After a slight lull, Ryan Cook scored and unassisted goal for the Mustangs at 7:50 and Amherst returned at 6:38 with a goal by Brent Doerflein on a pass from JJ Reidy. McGuffie scored the last goal of the quarter on a fast break clearing pass from Ben Odell at 1:48, and the half ended with the Mustangs up 5-3.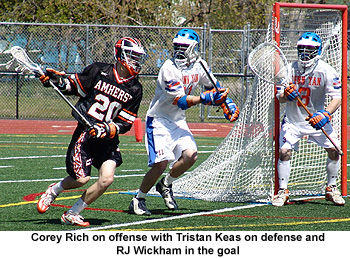 Amherst, which is generally considered the best Class B team in Section 6, and the Sectional Champions every year since 2001, was held to a single goal in the second half which was scored by Taylor Ebsary with an assist from Corey Rich at 9:34 in the third quarter. Penn Yan's only goal in the third quarter was scored at 8:13 when, after a shot bounced off the goal, McGuffie scooped up the ground ball and scored the garbage goal. The mustangs led at the end of the quarter, 6-4.

The last quarter belonged to Penn Yan, although the tension ran high for most of the twelve minutes. Cook scored at 10:59 (assisted by McGuffie), McGuffie scored at 8:44 on an pass from Matt Osgood, McGuffie scored along at 5:42 and Carlson scored the last goals (assisted by Chris Carlson) on a broken clear while the Mustangs were man down.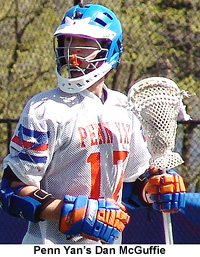 Scoring for Penn Yan were McGuffie (5g-2a), Cook (2g), Odell (1g-1a), Mesler (1g), Steven Carlson (1g-1a) and Chris Carlson (1a). RJ Wickham had 11 saves for the Mustangs (11-1).

Scoring for Amherst were Esbary (3g), Doerflein (1g), Reidy (1a) and Rich (1a). Garrett Rogacki recorded 8 saves for the Tigers (6-2).


HFL scored with 0:36 seconds left in the game to get past a tough Hamburg team under sunny skies at Hamburg with a scored of 8-7.

HFL was down 6-5 at the half, but held Hamburg to only one goal in the second half. HFL tied it up early in the third quarter and scored twice in the fourth to edge a physical Hamburg team. Hamburg drops to 3-6)

Scoring for HFL were Ian Griffin (3g, 2a), Dan Layfield (3a), Cade Norris (2g), Connor Burgasser (2g), and Zach Whyte (1g). HFL improves to 6-4.

(No data was available for Hamburg).




Victor took the match up against host Sweet Home of Section 6 with a score of 13-7, after claiming a 5-1 first quarter lead and a 7-3 hhalf time lead. Although penalized ten times, the Blue Devil man down defense was unscored upon.

Scoring for Victor were Andy Savage (3g-2a), Erick Rogemoser (3g), Frank Valenti (2g-1a), Jason Houtenbrink (2g), Alex Rogemoser (2g), Joe Coleman (1g) and Eric Willman and Dave Kelbe who each added 1a. Mitchell Liegerot had 11 saves and Otis Wade added 1 save for Victor (7-5).

Scoring for Sweet Home were Sean Burns (3g-2a), Brenden Alchenger (2g) while Evan Withl and Eric Schnirel each added one goal for the Panthers (4-5).


Hilton won their second game of the year with a 15-3 victory over host Palmyra- Macedon. The Cadets took a 5-1 first quarter lead and led at the half 9-1.

Leading the scoring for Hilton were Tyler Stiles (3g-4a), Jon Graus (3g-1a) and Kyle Hayward (4g). Aaron Donahey and Josh Jensen combined for 11 saves for Hilton.

Scoring for Pal-Mac were Derek Piccola (2g-1a), Jeremy Norsen (1g) and Dave Merritt (2a). Jonathon Reeve had 10 saves for the Raiders.


A strong second half, including five goals in the third and four more in the fourth quarter gave Geneva a 13-8 victory as they hosted Corning West of Section Four. The physical game saw numerous defensive take-aways by both teams and for much of the game , the teams were in transition.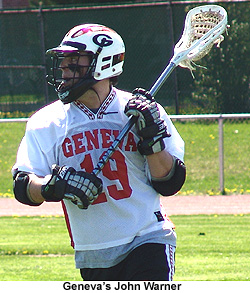 Geneva scored first as Jim Warner scored from a drive out front at 9:56. West returned at 8:05 with a man up goal by Austin Rose, who received the ball from Craig Smith.The Panthers scored again at 5:19 when Kyle Boncaro hit the nets after a feed from from Willy Rago. John Manion scored for Geneva at 3:04 (assisted by John Warner) and the Panthers ended the quarter up 3-1.

Corning West took control in the second quarter, out scoring the Panthers 5-1. Junior attackman Jay Stearns scored first for West at 9:51 with a drive from the left side of the field and shooting cross body. Fourteen seconds later, the Vikings tied the score with a goal by Steve Little (assisted by Mike Tammaro). Geneva took the lead again at 8:17 with their goal by defenseman Brian Knecht who, after clearing the ball, put the ball past West goalie Jon Fiorillo.

Corning scored the next three goals of the half. Steans scored (unassisted) at 5:22, Rose scored another goal in man up (assisted by Tammaro) at 1:07 and Little scored with 0:02 on a fast break from a clear and an assist from Steans. West led at the half 6-4.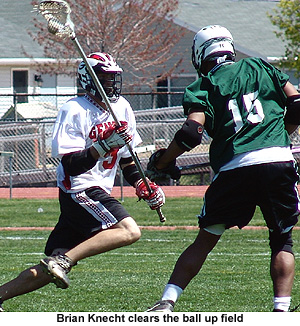 Geneva Coach LJ Russell must have had an inspirational speech during the half time break, as the Panthers came out in the second half with dramatic improvements at both ends of the field.

Tammaro scored the first goal of the second half (unassisted) at 10:27. Geneva then scored then next five goals in the quarter. R.J. Gringeri, who had a good day at face offs, scored the first one at 9:52 on a feed from Manion. Sean Braman scored on an assist by Jim Warner less than a minute later. Greg Bonney tied the game with his goal assisted by Braman at 8:38. Bonney added another goal (unassisted) in man up and Manion scored an unassisted goal at 3:45. The Panthers led at the end of the third quarter, 9-7.

The last quarter saw four more goals from Geneva. Close defenseman Knecht scored another unassisted goal on a clear at 11:08. Less than a minute later Warner scored on a feed from Manion. Bonney added a man up goal (assisted by Gringeri) at 6:12. Finally, Gringeri scored in man up with an assist from John Warner at 5:44. West scored the last goal of the game in man up as Adam Lewis scored at 1:55 with an assist from Tammaro.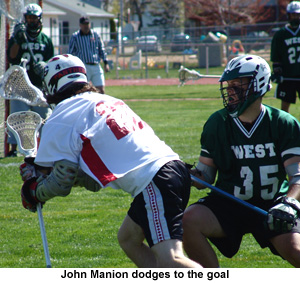 Scoring for Geneva were Jim Warner (2g-1a), Manion (2g-1a), John Warner (3a), Bonney (3g), Gringeri (2g-1a), Bramen (1g-1a), Knecht (2g), Boncaro (1g) and Rago (1a). Adam Schutz had 8 saves for Geneva who advance to (7-4).

Scoring for Corning West were Rose (2g), Stearns (2g-1a), Little (2g), Tammaro (1g-3a) and Lewis (1g). Jon Fiorillo made 7 saves for the Vikings (7-5).


Midlakes improved their record to 4-6 with their 12-5 victory over host Bath as the Eagles took a 4-0 first quarter lead to a 6-2 half. Accordingto Head Coach Rich Dolan, the close defensive unit of Ben Bengston, Wes Carlson and Josh Sauve performed well both in regular and man down.

Scoring for Midlakes were Glen Stevenson (4g-2a), Ryan McCannon (1g), Nate Stevenson (2g-2a), Clay Hemminger (1g-2a), Nick Newlands (2g), Kyle Saltzer (1g) and Jon Briggs (1g). Jared Schoonerman had 14 saves for the Eagles.

Scoring for Bath were John Pruyn (2g-1a), Brad Fuerst (2g-1a), Zac Conrad (1g-1a) and Dave Harris (1a). Jeremiah Wilder recorded 9 saves for the Rams.


Visiting Fairport was the 11-10 winner over Section Six standout, Orchard Park. Senior midfielder Ryan Lowe broke the tied at the 3:24 mark in the last quarter.

Scoring for Fairport were Pat Reilly (5g), Ryan Lowe (2g-2a), Mike Danylyshyn (4g-1a), Dan Scarazzo (2a) and Peter Burkhardtt, Shawn Runyon, David Burke and Jeff Sanna who each added one assist for the Red Raiders (8-2).

Orchard Park (8-1), considered by most to be the best team in Section Six has been their Class A Champions since 1995.


It was Newark the 13-9 winner over Mynderse on Saturday afternoon at Seneca Falls. Although the first quarter ended with Mynderse up 2-1, the Reds took over in the second quarter, outscoring the Blue Devils 5-2 with three goals by Dan Mizro and another two by Colin Johnson.

Newark expanded their lead in the third quarter to 10-5 with about three minutes left, when Mynderse scored four goals to finish the quarter down 10-9.

Newark pulled away in the last quarter with goals by Alex Quku, Greg MacBride and Dan Mizro. Anthony Cole had an outstanding quarter making 7 of his 18 saves and shutting out Mynderse for the quarter.

Scoring for Newark were Nate Johnson (3g), Colin Johnson (2g-3a), Dan Mizro (4g-2a), Alex Quku (2g-2a), Greg MacBride (1g-1a) and Luke Walton (1g). Anthony Cole finished the game with 18 saves for the Reds (4-5).

Scoring for Mynderse were Jon Young (1a), Sean McGrimley (1g-2a), Kevin McCully (5g), Tim Sweeting (1g) and Dustin Luckenbill (2g). Zac Rescol made 9 saves for Mynderse (2-8).

No report from Mynderse.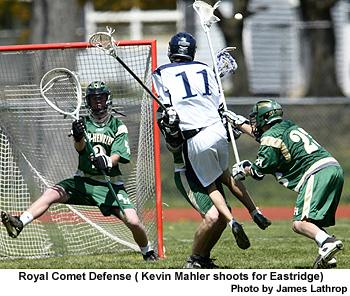 It was Rush-Henrietta 18-5 over Eastridge. According to the Democrat and Chronicle,

Brian Hantzis scored 5g-2a) and Matt Moran added 3g-5a for the Rual Comets. (7-3).

No reports from Eastridge, score only from Rush-Henrietta.




There was a big crowd on hand for the cross town match up between Webster Schroeder and and Webster Thomas and in the end it was Schroeder with the 13-9 win.

Schroeder jumped out to a 5-0 first quarter lead with goals by Nick Mooney (assisted by Chris Ferry), Mike Tota (assisted by Andy Winslow), Eric Chavoustie (from Ferry), Grant Catalino (unassisted) and Mike Tota (assisted by Austin Orsini). Dennis Costanza had 6 saves in the first quarter as Thomas got many opportunities but were unable to convert.

The second quarter was more even as Thomas applied more pressure and controlled more of the play and each team picked up 2 goals, Schroeder scores were by Tota (unassisted) and Mooney (unassisted). Thomas goals were scored by Pat Maloney and a man-up goal by Dom Scalzo (assisted by Kevin Kemp).

Schroeder increased its lead to 12-5 by the end of the third. Thomas scored four goals late in the 4th quarter to finish the game. It was another good outing for long pole middie Chris Nicodemi.

Scoring For Schroeder were Nick Mooney (3g), Mike Tota (3g), Eric Chavoustie (3g-1a), Grant Catalino (2g-3a), Chris Ferry (1g-2a), Andy Winslow (1g-1a) while Jay Wilmes and Austin Orsini each added one assist. Dennis Costanza finished with 15 saves (5ga) in three and a half quarters when Zach Marshall finished the game for the Warriors.

Among those making the scorebook for Thomas were Pat Maloney, Kevin Kemp, Dom Scalzo, Kurt DetWiller, Max Gurowski and Brendon Rothfuss. Maloney and Kemp combined to win 11-19 face offs. Senior goalie Steve Hondorf recorded 15 saves for Thomas (8-2).


Visiting Canandaigua lost to Baldiwinsville of Section Three by a score of 6-5. After posting a 2-0 first quarter, Canandaigua lost the second quarter 1-4 to give Baldwinsville a 4-3 half time lead. In one goal differential was enough as the teams traided goals in the second half with the Braves taking the third 2-1 and the Bees returning in the last quarter 2-1.

Scoring for Baldwinsville were Mitch Collins (1g-1a), Jamie Dodge (1g), Kevin Kaval (3g-1a), Jake Murphy (2g) and Jack Venditti (2a). Andy Lamb recorded 16 saves for the Bees (7-6).

Scoring for Canandiagua were Connor Henderson (2g), Andrew Knoblauch (1g-1a),
Jordan Manzer (1g), Chris McWilliams (2g) while Nick Munn and Austin Rogers eacha dded one assist. Dan Serafine recorded 12 saves for the Braves (6-4).


McQuaid Jesuit

defeated Livonia 13-8 in the Saturday night game. The Knights struck first with an unassisted goal by Marty Farchione at 10:21 and a second unassisted goal by Mark Hanna at 3:19. The Bulldogs scored an unassisted goal at 1:50, scored by Oren Taylor and their second unassisted goal by Adam Schaible at 0:48. At 0:28 the Knights scored again with Dan Sturnick scoring with the assist credited to Evan Gallina. The score at the end of the first quarter was 3-2 McQuaid Jesuit.

The Bulldogs tied up the game at 10:21 with another unassisted goal from Taylor. At 9:34 the Knights scored a man-up goal with an assist from Sturnick and the goal by Gallina. The second and final Bulldog goal of the quarter was scored on a pass from John Dalbert, and scored by Brian Sciera. The goal was scored at 9:03. The Knight offense scored the next three goals over the remainder of the quarter. The first goal was by Sturnick (unassisted) and the second two were scored by Farchione. The first was assisted by Nick Cardillo and the second was unassisted. The score at half time was 7-4.

Livonia struck first again in the third quarter with a goal by Scott Mosher (from Schaible) at 11:53 and which was the only goal that the Bulldogs scored in the third quarter. The next 6 goals, all scored in the third quarter, would be the rest of the offensive for McQuaid Jesuit. The goals were spread out over the quarter and were scored at 11:39, 10:54, 7:05, 6:26, 3:42, and 0:39. The first goal was scored by the Bulldog goalie, and the "own goal" was credited to the Knights "In Home", Dan Sturnick. The second goal was by Gino D'Angelo (unassisted), followed by one by Gallina (from Hanna) followed by Hanna (unassisted), followed by MacDonald (from Haseley). The final Knight goal of the quarter and of the game, came from Mitch Ritchie (unassisted). The third quarter ended with the score 13-5 for McQuaid Jesuit.

The Knights were held scoreless in the fourth quarter, and held the Bulldogs scoreless after the first minute of the quarter. Within that time, however, Livonia scored three goals at 11:51, 11:43, and 11:10. Chad Britton, who took the face-off's for Livonia, won the opening face off and took the ball all that way to the goal himself for the first goal. Britton won next the face off and passed the ball to Dalberth for the second goal. The third goal was scored by Brent Simpson (assisted by Scott Mosher).

Scoring for the Bulldogs were Taylor (2g), Schaible (1g-1a), Sciera (1g), Mosher (1g-1a), Britton (1g-1a), Dalberth (1g-1a) and Simpson (1g). Zac Berger made 8 saves for Livonia (8-4).

Scoring for the Knights were Sturnick (3g–1a), Farchione (3g), Gallina (2g–1a), Hanna (2g–1a), D'Angelo (1g), Ritchie (1g), MacDonald (1g), Cardillo (1a) and Haseley (1a). Patrick Maguire and Dan Caufield split time for the Knights. Maguire made 16 saves (6ga) for a 73% game. McQuaid Jesuit now moves to 5-7.


Brockport was the 12-3 winner against Arcadia/Olympia. Scoring for Brockport were Adam Nauerth (5g-1a), Justin Klymochko (1a), Andy Willis (3g), Sean Bittner (2g-2a), Tyler Sutphen (1a), Jack Flechaus (1g), Tucker English (1g) and Eric Koop (1a).

Scoring for Greece were Derman (1g,1a), Hatch, Henry and Calcagno (1a).

No report from Arcadia/Olympia.