Tuesday: Crossover Day
April 25, 2006

- For the most part it was cross-over day in Section Five. McQuaid Jesuit lost to St. Francis of Buffalo and Rush-Henrietta beat visiting Livonia. The rest of the games were league games with non-divisional teams.


It was Geneva, the 20-1 victor over visiting Midlakes. The Panthers took a 7-0 first quarter lead and led at the half 14-0.

Scoring for Geneva were Kyle Boncaro (4g-6a), John Manion (2g-5a), Mike Guard (3g-1a), Willy Rago (3g), John Warner (1g-1a), Jimmy Warner (1g-1a), Sean Braman (1g-1a), RJ Gringeri (2g), Matt Augustine (1g-1a), Greg Bonney (1g), Jeff Weise (1g) and Tyler Travis (1a). Adam Schutz had five saves for the Panthers (5-4).

Nick Newland scored for Midlakes (3-5). Jared Schoonerman had 11 saves.

No report from Midlakes.




Gates Chili was the 10-4 winner over visiting Hilton as Andy Hilton scored 4g and Tom Sudek added 2g for the Spartans. Jim Drabin added 3a, Pat Lynah 2g and Brad Weber and Tom Elkins each had 1g for Gates Chili. Dave Bellavia had 12 saves for the Spartans (4-3).
No report for Hilton.
Webster Thomas outscored Athena/Odyssey 16-3 in the game played at Athena. Brendon Rothfuss had the first goal for Thomas but Greece answered back with a goal from Dave Rodriguez with a cross crease pass by Matt Machucki. Rodriguez scored an unassisted goal in the second quarter. The half ended with the Titans up 13-2.

Machucki's pump fake goal in the third quarter came from a pass from Mike Conderman.

Scoring for the Titans were Rothfuss (3g-2a), Max Guroski (3g-3a), Dom Scalzo (2g-2a), Kevin Kemp (1g-1a), Pat Maloney (2g), Kurt DetWiller (2g-1a), Dan Hinderland (3g) and Brandon Reeners (1g). Alex Mosher and Kevin Ryan each made one save for Thomas (8-1).

Scoring for the Thunder were Matthew Machucki (1g-1a), Dave Rodriguez (2g) and Mike Conderman (1a). Dave Tarana made 7 saves for Athena/Odyssey.


HFL was the 19-8 winner over visiting Spencerport on Tuesday. The Cougars took a 4-1 first quarter lead, but the Rangers returned to finish the half down 5-6. HFL then scored eight goals in the third quarter which finished with the Cougars up 14-6.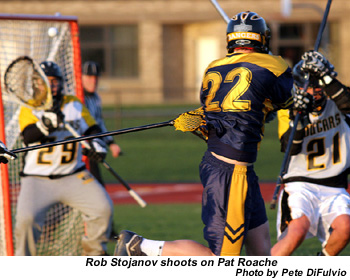 HFL took a 4-0 lead in the first quarter, on two goals from Dan Layfield (one assisted by Conner Burgasser), and two more by Cade Norris (assists by Buster Mulcahey and Andrew Santiago). Spencerport answered with 1 goal befor the end of the first quarter by Phillip Schmid (assisted by Stephen Balcerak).

At the half, the score was 6-5 on two goals from HFL (one from Cade Norris assisted by Zach Whyte, and a goal by Zack Whyte assisted by Cade Norris).

The HFL Cougars started the second half with four unanswered goals (Zach Whyte, Tyler Burgasser, Buster Mulcahey, Chris Stanton assisted by Zach Whyte). Spencerport answered with a score (Phillip Schmid assisted by Rob Stojanov). HFL ended the quarter with three more goals from Connor Burgasser (assisted by Cade Norris), Ian Griffin (assisted by Cade Norris) and Tyler Burgasser.

During the fourth quarter, HFL continued to outscore Spencerport 6-3, with goals from Chris Stanton (assisted by Cade Norris), Dan Layfield, Zach Whyte, Matt Garvey (assisted by Andrew Santiago)), Kal Dachler, and a second goal on the night by defenseman Buster Mulcahey. Spencerport's scoring in the fourth quarter was two goals from Phillip Schmid (both assisted by Rob Stojanov), and an unassisted goal from Stephen DiFulvio.

Scoring for the Cougars were Layfield (3g), C. Burgasser (1g-1a), Norris (3g-3a), Mulcahey (2g-1a), Santiago (2a), Whyte (3g-2a), T. Burgasser (2g), Stanton (2g), Griffin (1g), Garvey (1g) and Dachler (1g).

Scoring for Spencerport was Rob Stojanov ( 3g-3a), Phil Schmid (3g) and Steve Difulvio and Matt Darrow who each added one goal for the Rangers (4-4).

Canandaigua scored the first six goals on their way to a 13-5 win over visiting Waterloo at Evans Field.

Scoring for Canandaigua were Connor Henderson (3g-1a), James Regan (1g-1a), Charlie Sauter (2g-1a) and Jordan Manzer (1g-2a). Andrew Knoblauch, AJ Groot and
Nick Munn each scored one goal while Eric Klein, Zack Scheetz and Justin Tomzak each added a goal and an assist. Matt Malloy recorded an assist for the Braves. Dan Serafine made 2 saves and allowed 1 goal in the first quarter. Scott Bement made 4 saves and allowed 2 goals while playing in the goal in the second and third quarters and Kyle Carson made 2 saves and allowed 2 goals in the last quarter for Canandaigua (5-3).

Scoring for Waterloo were Josh Mateo (1g-1a), Jeff Wadhams (1g), Winston Boyd (1g-1a), Nelson Boyd (1g) and Stephen Kuti (1g). Andy Riegal recorded 9 saves and Mark Nearpass added 5 Saves for the Indians (7-4).


It was Victor over Mynderse 14-1 in a game that saw Victor take a 7-1 first quarter lead into a 9-1 half time break. Kevin McCully scored for Mynderse on a pass from Tim Sweeting. Zac Rescort recorded ten saves for Mynderse (2-6).

Scoring for Victor were Erick Rogemoser (3g-3a), Frank Valenti (3g-1a), Jason Houtenbrink (2g), Andy Savage (1g-1a) and Mike Domizio (1g-1a) while Alex Rogemoser, Stephen Personale, Ryan O'Connor and Elie Naoum each added one goal and Dave Kelbe and Tom Rogemoser each added an assist. Mitchell Liegerot (3 saves) and Max Wade (4 saves) split time in the goal for Victor (5-5).

No report from Mynderse.




RJ Wickham had two saves and three scoreless quarters in the cage for Penn Yan as the Mustangs beat visiting Pal-Mac 17-2.

Scoring for Penn Yan were Matt Osgood and Dan Mesler with 5g-1a each, Josh Perrault with 2g-2a, Steven Carlson (1g-3a), Jon Folts (1g-2a) and Ryan Cook (1g-1a). John Linnan and Dan Wolfe each added one goal and Dan McGuffie added an assist. Adam Galush recorded 1 save in the fourth quarter for the Mustangs (9-1).
No report from Pal-Mac.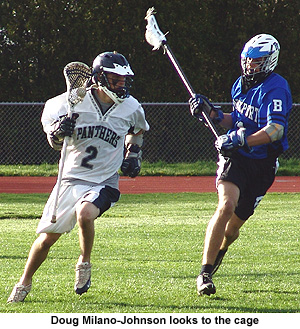 It was Pittsford over Brockport at Mendon on Tuesday with a 9-5 win. Scoring for the Panthers were Doug Milano-Johnson with 3g-1a, Chris Kist with 3g and Cam Edminston with 1g-2a.
No report from Brockport.
It was Brighton with a 12-8 win over host Churchville-Chili. The Barons led at the end of the first quarter 4-3 and at half time 6-5.

Scoring for Brighton were Colin Davis (5g-1a), Colin Hickey (3g-2a), Tim Williams (1g-2a), Ryan Conti (3g-2a) and Sam Friedman and Robbie Asselin each added an assist.. Brighton improves to 6-3.

The Saints saw goals from Jaime Englert (2g), Gino Marcello (3-1a), Ben Rossignolo (2g) and Cory Mee (1g). The defense was led by Brian Briggs with 10 ground balls and Evan Williams with 11 saves for Churchville-Chili (4-3).


St. Francis of Section 6 defeated McQuaid Jesuit with a score of 11-8. The game was a close but the Red Raiders took the lead early, and although McQuaid Jesuit fought back a number of times, the Red Raiders controlled the game.

St. Francis scored the first four goals in the first quarter. They were scored at 11:03, 10:54, 7:06, and 3:17, each by a different player for the Red Raiders; Rautenstrautch (from Maisano), Benzinger (from Grizanti), Bonilla (from Rautenstrautch), and finally Albert (from Benzinger). The Knights rallied with a goal at 2:52 by Dan Odorczyk assisted by Mitch Ritchie. The first quarter ended St. Francis up 4-1.

The Red Raiders increased their lead with an unassisted goal from Rautenstrautch at 10:56. McQuaid Jesuit scored next at 7:28 (Ritchie unassisted). Benzinger, from Maisnao, scored the sixth, and final goal of the half for St Francis , at 6:27. The next two goals were scored by the McQuaid Jesuit offense. The first was by Ritchie with an assist from Mark Hanna, and the second was by Nick Cardillo, unassisted. The half ended with St, Francis up 6-4.

The Red Raiders took to the offense quickly at the start of the second half, scoring the first three goals and increasing their lead to 9-4. The goals were scored at 11:30, 11:00, and 8:39, and all three goals were unassisted. The first goal was by Grizanti, the second by Rautenstrautch, and the third by Benzinger. The Knights returned with three goals, scoring at 7:41, 3:33, and 3:03. The first goal was scored by Evan Gallina from Jeff MacDonald, the second was by Hanna (unassisted), and the third was by Sean Conroy (unassisted). The third quarter with a score of 9-7.

Once again the Red Raiders started off the quarter with the first two goals, scored at 8:08 and 3:03. The first goal was scored by Maisano (unassisted), then Maisano came back to assist Benzinger for the eleventh and final goal for St. Francis. The last goal for the Knights was scored with 0:22 left in the game and was scored by Gallina (unassisted).

Scoring for the Red Raiders were Benzinger (4g-1a), Rautenstrautch (3g-1a), Maisano (1g-3a), Bonilla (1g), Albert (1g), Grizanti (1g-1a). Wolbert made 9 saves and had 8 goals against for a save percentage of 52.9% for the Red Raiders (6-0).

Scoring for the McQuaid Jesuit were Ritchie (2g-1a), Gallina (2g), Odorczyk (1g), Cardillo (1g), Hanna (1g-1a), Conroy (1g) and MacDonald (1a). Patrick Maguire made 12 saves and had 11 goals against for a save percentage of 52.2% for the Knights (4-6).


The first half was close, but Rush-Henrietta scored nine second half goals on their way to a 14-8 victory over visting Livonia.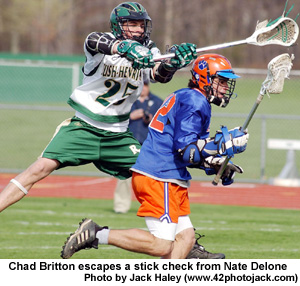 The Bulldogs got on the scoreboard first with a goal at 11:34 when Scott Mosher scored on an assist from Adam Schaible and then John Dalberth scored at 8:14 to make the scored 2-0. RH responded at 5:23 when Tony Henriquez scored (unassisted). The quarter ended with the Bulldogs up 2-1.

RH tied the game at 11:42 of the 2nd quarter when Matt Moran scored on a feed from Brian Hantzis. Rush then scored the next three goals as Nate Delone scored (unassisted) at 10:31 and Colin Cornaire scored at 5:18 (assisted by Hantzis). Livonia answered with a goal from Schaible to cut the lead to 4-3 with 2:43 in the quarter. RH scored the last goal in the quarter when Henriquez added his second with 1:54 remaining to give the Comets a 5-3 lead at half time.

RH scored the first five goals to start the third quarter. Goals were scored by Hantzis at 10:11 (unassisted), Hantzis again at 10:02 with an assist from Henriquez, Henriquez again at 9:33, Justin Rose (unassisted) at 7:29, and finally Henriquez again at 7:20 to increase RH's lead to 10-3. Livonia answered back at the 5:32 mark when Dalberth added his second goal (unassisted) to cut the lead to six. RH tacked two more on to end the third when Hantzis scored at 3:16 with an assist from Moran and then at 2:11 when Moran scored with the assist by Bobby Pattridge. The third quarter score ended with RH up 12-5.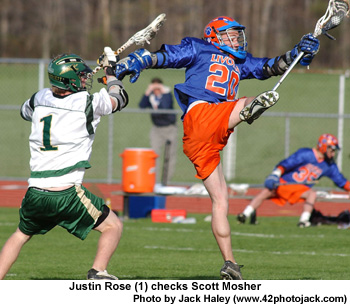 RH continued scoring in the fourth when Hantzis added his fourth of the day (unassisted) at 11:33. The Royal Comets scored their final goal of the game at 9:17 when Delone added his second from Moran, who finished with three assists and two goals. Livonia finished up the scoring in the fourth quarter at 8:33 when Scott Mosher scored in man up with an assist from Chad Britton. Kyle Olsen and Adam Schaible added unassisted goals to make the final 14-8 for the Royal Comets.



"At the half we were in it," stated the Livonia coaches after the game. R-H's answer was to turn up the heat a little more in the second half. "Before we knew it they had a seven goal lead." R-H's pressure defense resulted in 5 goals in 6 minutes of play.



Scoring for Rush-Henrietta were Hantzis (4g-2a), Henriquez (4g-1a), Moran (2g-3a ), Delone (2g ), Rose (1g ), Cornaire (1g ) and Pattridge (1a). Matt McShea made 9 saves while allowing 5 goals in just over three quarters of play for RH (6-2).

Scoring for Livonia were Scott Mosher (2g), Adam Schaible (2g-1a), John Dalberth (2g), Brian Sciera (2a), Luke Merrit (1g), Kyle Olson (1g) and Chadd Britton (1a). Zac Berger recorded 4 saves for the Bulldogs (7-3).