Tuesday: Schroeder over Irondequoit
April 18,2006

- There were nine games scheduled for Tuesday. Schroeder was a 14-7 winner over host Irondequoit. Eastridge won its first game of the season. R-H was the winner in their close game with McQuaid Jesuit and Penn Yan beat Carthage.


It was Penn Yan the 8-2 winner over Carthage of Section 3 as Dan McGuffie scored 3g-1a and Dan Mesler scored 2g to lead the Mustangs. Ben Odell, Steven Carlson and Dan Wolfe each scored 1g and Ben Odell and Matt Osgood each added 1a. Mustang defenseman Tristan Keas who held Mario Ventiquattro scoreless. RJ. Wickham recorded 12 saves for Penn Yan (6-1).

Scoring for Carthage were Trent Ames (1g) and Zach Mulvaney (1g-1a). Kyle Gaebel made 8 saves for the Comets (5-2).


Brighton was the 11-6 winner over visiting Spencerport who took a 4-1 first quarter lead.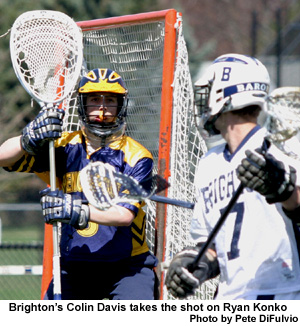 Colin Davis scored first for Brighton, followed by a goal by Tim Williams (assisted from Ryan Conti). Spencerport took the score to 2-1 with a goal from Pat Decker. Brighton finished the quarter with two goals in 37 seconds. Colin Davis scored with 39 seconds left in the quarter and Ryan Conti scored with two seconds remaining in the first quarter. At the half Brighton increased its lead to 9 - 3.

Brighton goals were scored by Ryan Conti (4g-2a), Colin Davis (3g-2a), Colin Hickey (2g-1a), Kyle Warren (1g-1a), Robbie Asselin (2a), Tim Williams (1g-1a), and Jake Anderson (1a).

Scoring for Spencerport were Tyler Hintz (3g), Rob Stojanov (1g), Phil Schmid (1g), and Pat Decker (1g).


Eastridge won its first game of the season with a 15-10 victory over visiting Pal-Mac. After a 2-2 tie at the end of the first quarter the Lancers scored 7 goals in the second to take a 9-7 halftime lead and then scored 6 more in the second half.

Coring for Eastridge were Sean Sawyer (4g-2a), RJ Pixley (2g-2a) while Nick Mormino, Matt Drifill and Todd Horne each added 2g-1a. Shane Drifell score one goal and Brandon Moynihan scored two goal. Eugene Ferrara made 9 saves for the Lancers (1-4).

Scoring for Pal-Mac were Ryan Buckley (4g), Mike Christ (2g-1a) and Dave Merritt (1g- 1a). Cody Clement and Jaime Gross each scored one goal and Steve Vanderwalle, a JV player brought up for the game added 1g-1a. Jon Reeves recorded 18 saves for the Raiders.


After holding off a last quarter advance by the Knights, Rush-Henrietta won a 12-11 victory in tonight's game. The first goal of the game was by Matt Moran for R-H at 9:00 followed by a goal by Tony Henriquez (assisted by Moran) at 6:50. The Knights scored at 4:08 when Mitch Ritchie hit the nets (unassisted) and the quarter ended with Rush-Henrietta up 2-1.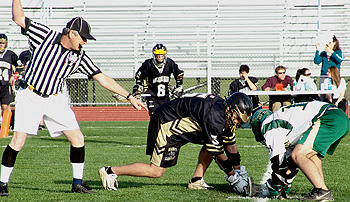 McQuaid Jesuit tied the game with a man-up goal by Marty Farchione (unassisted). The Royal Comets scored the next four goals to take a 6-2 lead . All four goals were unassisted with the first from midfielder Justin Rose at 9:58 and the second from Nate Delone at 9:32. Henriquez scored the next two goals, the first from of a fast break face-off at 9:32 and the second at 5:42 in a settled situation.

The Knights then took control, scoring the next four goals to go into halftime with the scored tied 6-6. At 5:07 the first goal came on a feed from Nick Cardillo to Ritchie for the goal. After the ensuing face-off, the Knights' had their own fast break goal when Alex Caton won the face-off himself, took the ball down field and scored at 5:00. Farchione scored the next two goals (both unassisted), at 3:49 and 1:43.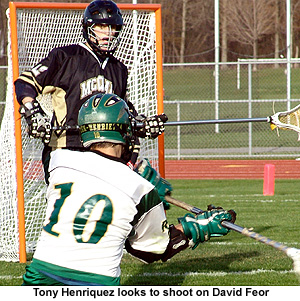 The Knights took their first lead of the night at the top of the third quarter with a man-up goal from Jeff MacDonald (assisted by Ritchie) at 10:25. The Royal Comets then scored the next four goals at 9:29, 9:11, 7:11, and 6:03. The first was by Delone (unassisted), then Delone found Moran for the second goal. The third and fourth were both unassisted and were scored by Henriquez and Rose. McQuaid Jesuit's Farchione scored his fourth goal (unassisted) at 5:15 to bring the scored to 10-8 for R-H. The Royal Comet's added two more goals increasing their lead to five. The first by Moran (unassisted) was scored at 4:32; the second by Henriquez (assisted by Brian Hantzis) was scored at 2:38. That would be the last goal for Rush-Henrietta, but with a strong defensive effort they would hold off the pressure of the Knights. With 0:17 left in the third Evan Gallina scored during a 5-on-5 set.

The Knights added two more during the final quarter: The first at 8:32 with Farchione finding Mark Hanna and the second at 1:47 with Hanna finding Gallina. The Knights tried a last minute drive on the goal but the R-H defense stopped the play and cleared the ball holding out an 11-10 victory.

Tony Henriquez who scored 5 goals for the Royal Comets won 10/13 faceoffs. Matt McShea ended the game with 7 saves for RH (4-2).

Pat Maguire ended the game with 17 saves and 11 goals against and Dan Caufield also saw time with 1 save and 1 goal against for McQuaid Jesuit (4-3).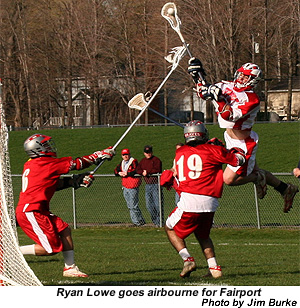 Fairport was the 8-3 winner over visiting Canandaigua after taking a 2-1 first quarter lead and and 5-1 half. The Braves came back with two more goals in the third quarter, but that would be it. Senior goalie Geoff Mayor recorded 12 saves for the Red Raiders (5-1).

Scoring for Fairport were Pat Reilly (4g), Ryan Lowe (1g-1a), Mike Danylyshyn (1g-1a) while Jack Fricano and Brent Jacobs each added one goal and Dan Scarazzo (1a) and Shawn Runyon (2a) added assists.

No report from Canandaigua.




HFL was the 7-1 winner over host Aquinas on a beautiful spring evening. The game was physical with several knock downs by the HFL defense, and many hard fought ground balls by both teams. Aquinas opened the scoring on an unassisted goal by Pat King in the first quarter. HFL responded in the second quarter with a pair of unassisted goals by midfielder Dan Layfield and defenseman Buster Mulcahey, putting HFL up 2-1 at the half.

In the third quarter, HFL scored five unanswered goals, two from Connor Burgasser, (one unassisted, the other assisted by Cade Norris), two from Zach Whyte (one unassisted and one on a pass from Dan Layfield), and one by Dan Layfield (unassisted).

No report for Aquinas.




It was Waterloo 10-7 over Livonia in a 5:00 game at Livonia. The Bulldogs downfall was a very tough second quarter allowing the Indians to score 6 goals. An optimistic Coach Sciera after the game said, "One bad quarter does not a season break, we did a lot of good things out there today. We have to play four good quarters to beat good teams."

The Bulldogs found themselves down early in the game by two goals. Josh Lewis and Winston Boyd scoring for the Indians. Livonia came back to take a 3 – 2 lead by the end of the first quarter. Scott Mosher scored two goals, Brian Sciera had a goal and an assist. Junior middie Gaelin Walsh added an assist during the quarter. Walsh led Livonia in ground ball production with six.

Three one minute penalties assessed to the bulldogs started the Waterloo landslide in the second quarter. Waterloo attackman Winston Boyd scored three unassisted goals during the quarter and an assist on a fourth. All three goals came in extra man situations. Livonia's lone goal came from middie Scott Mosher with Adam Schaible assisting. Waterloo took a 8 – 4 lead into the half.

Although Livonia allowed only two Waterloo goals in the second half it was not enough. Led by senior goal tender Aaron Jamison (14 saves) the bulldogs came to life. Goals by Brian Sciera, Adam Schaible and Scott Mosher closed the gap, but it was too little too late.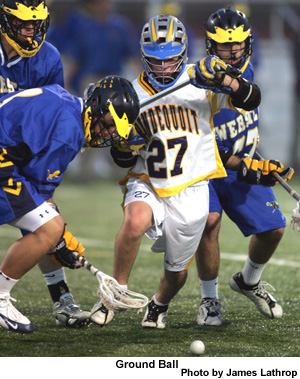 Scoring for Waterloo were Winston Boyd (4g-3a), Stephen Kuti (2g-1a), Josh Lewis (1g), Nelson Boyd (1g), Curtis Brosius (1g), Billy Jolly (1g). Andy Riegal had 14 saves and Mark Nearpass had 2 saves for Waterloo (6-3).

Scoring for Livonia were Scott Mosher (4g), Brian Sciera (2g-1a), Adam Schaible (1g-1a), Gaelin Walsh (1a) and Tyler Russell (1a). Livonia drops to 7-2.


Schroeder took an early 3-0 lead on their way to a 14-7 win over host Irondequoit. First quarter goals by Mike Tota (assisted by Chris Ferry), Grant Catalino (assisted by Ferry) and Jay Wilmes (assisted by Tim Winslow) started things off for the Warriors. Irondequoit came back with the next two goals to make the score 3 - 2. Irondequoit goals were by Kevin Coholan (assisted by Derek Pino) and Coholan (unassisted) at 4:30.

The second quarter saw a great deal of running up and down the field, with more offense than defense. Schroeder's attack made a number of dramatic rides, including one that allowed Catalino to intercept a goalie clearing pass and score on an open net from dust outside the restraining area. The half ended with Webster up 8-5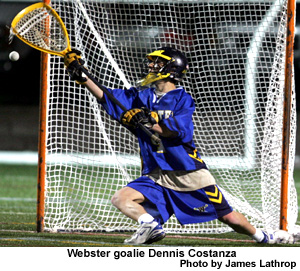 The Warriors picked up on defense in the second half, allowing only two goals while at the other end of the field, the offense picked up six.

Scoring for Schroeder were Tota (2g), Catalino (2g-2a), Wilmes (4g), John Pawluk, who also won 14/24 face offs, (1g), Austin Orsini (1g), Andy Winslow (1g-1a), Nick Mooney (2g), Eric Chavoustie (1g-1a) and Chris Ferry (6a).Dennis Costanza made 9 saves for the Warriors (5-1).

Scoring for Irondequoit were Coholan (43g-1a), Mickey Haight (2g), Andrew Hart (1g-1a), Nick Kane (1a), Greg Wright (1a) and Derek Pino (2a). Zach Nash had 9 saves for the Eagles (3-2).


It was Thomas 11-9 over visiting Hamburg of Section 6. It was a tale of two halves.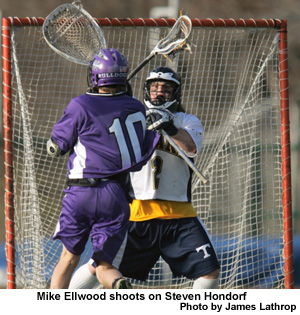 The Hamburg Bulldogs came in with a 1-3 record but that record wasn't an indication of how well this team could play. Coach Ruller stated, "we had scouted their last home game and we saw a very athletic team that was due to have a good game."

In the first half our predictions were correct. The Bulldog goalie was having a great game and the Titans were struggling to convert their opportunities. Thomas had 16 shots in the first half but only two goals to show for it.

In the first quarter Hamburg scored first with a man up goal at 7:20. Thomas answered when senior midfielder Kurt DetWiller scored an unassisted goal with 6 minutes left in the first quarter. Hamburg came back with an unassisted goal from their attack. Then the Bulldogs scored again with an unassisted goal at 3:43 left to take a (3-1 lead). Thomas scored again on a broken clear when Max Gurowski found the back of the net with 2:28 left in the first quarter.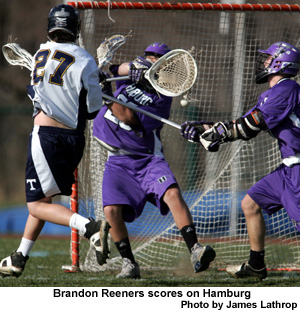 In the second quarter Hamburg scored three unanswered goals and took a 6 to 2 lead going into half time. The Titans were getting good looks but the Hamburg goalie was outstanding. With many saves right on the doorstep the Thomas offense was flustered. At halftime, Coach Ruller "told the defense that if we could hold them to one or two goals this half then our offense will start to score."

The Third Quarter, started just like the second quarter ended with Hamburg scoring. Thomas was down five goals with just ten minutes left in the third quarter but then the scoring began. Slowly the Titans chipped away at the Hamburg lead. First it was Attackmen Dom Scalzo, on an assist from Gurowski. Then it was Kevin Kemp with an assist from Gurowski. Then Scalzo scored again (again assisted by Max Gurowski). The Titans turned up the pressure on Defense and the return was some more transition goals. The Titans brought the score to within two and then with 0:32 seconds left in the third quarter Kemp scored again (assisted by Gurowski).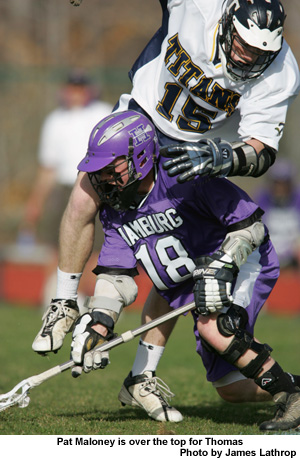 At the top of the fourth quarter the Titans tied it up when Kurt DetWiller made a huge hit during a ride and jarred the ball loose from the Hamburg stick. Brendan Rothfuss picked it up and found Gurowski in front of the cage for his second goal of the game. The game was tied.

With the score tied and the momentum in favor of the Titans found themselves in penalty trouble, but the man dow unit picked it up, forced a loose ball and turned it into a goal when Peter Hart took an outlet pass and proceeded to go down to find Remington Fox who scored.

The Thomas lead lead lasted only about 30 seconds as the Hamburg attack picked off a pass and turned it into a man up goal with just 9 minutes remaining. The Titans took about one minute for Gurowski to feed Kemp for his third goal of the game and Thomas took the lead for good. After winning the face off and scored again when Dan Hinderland hit the back of the nets (unassisted). Scoring his fourth goal of the game was Kemp with an assist from Gurowski who finished with six assists and two goals. Hamburg would scored one goal late, but Thomas was the 11-9 winner.