Thursday: Storms
April 13, 2006

- A number of games were impacted by thunder storms in the afternoon and evening. Section Five and NYS rules require that players and spectators be removed from the field when lighting is seen or thunder heard. There must be a period of 30 minutes without thunder or lightning before play may be resumed.


The Schroeder at Irondequoit game was cancelled at the site as thunder and lighting over the lake persisted for 45 minutes just before the scheduled start at 7:30. The make up date will be Tuesday, April 18th, at 7:30 PM.


The Spencerport at Athena game was suspended with Spencerport leading 6-2 with 9:20 left in the 3rd quarter. The resumption date will be posted when it becomes available.


The Thomas-Eastridge game was postponed because of the storms and has not yet been rescheduled.


Churchville-Chili improved their record to 4-2 with a 12-4 win over Gates Chili. Scoring for the Saints were Doug Hemink (3g-2a), Ben Rossignolo (3g-1a), Jaime Englert (2g-1a), Ryan Grogan (2g), Brennon Dooling (1g-1a), Gino Marcello (1g-1a), Cory Mee 2A and Brian Traugott (1a). Brian Briggs led the defense with 6 grounds balls and Evan Williams 9 saves for Churchville-Chili.

Scoring for Gates were Andy Hilton (1g ), Tom Sudek (3g), Brad Weber (1a). Freshmen goalie Jason Baetzhold recorded 7 saves for the Spartans (2-4).


It was Victor 8-4 over host Waterloo in Finger Lakes play this afternoon. Victor took a 3-2 lead at the end of the first quarter and led at the half, 5-2. The Blue Devils picked up two more in the third and one in the last quarter, but their strong defensive play was the key to the win. There were ten penalties called but neither team scored in man up.

Scoring for Victor were Erick Rogemoser (3g-1a), Andy Savage (2a) while Frank Valenti, Jason Houtenbrink, Eric Willman, Alex Rogemoser and Joe Coleman each scored one goal. Mitchell Liegerot had 15 saves for Victor (4-3).

Scoring for Waterloo were Winston Boyd (g-1a) and Nelson Boyd, Mike Ruiz and Billy Jolly each added one goal and Josh Mateo added an assist. Andy Riegel had his best game yet in goal with 15 saves for the Indians (5-2).


Brockport improved to 3-3 with their 14-0 win over visiting Arcadia/Olympia. Scoring for Brockport were Justin Klymochko (4g), Adam Nauerth (1g, 2a), Andy Willis (2g), Kevin Selig (1g,1a), Brett Allen (3a), Sean Bittner (2g), Tyler Sutphen (2g), Jack Flechaus (1g), Eric Gallert (2a), Matt Laney (1g), and Bohdan Klymochko (1g,1a). Defensive midfielder Tucker English had 9 ground balls and Connor Mykins earned the shutout with 8 saves for the Blue Devils.
No report from Arcadia/Olympia.
Pal-Mac scored a goal in the first quarter, but that would be all as Geneva took the win, 18-1 after scoring 4 in the first, third and fourth quarters and 6 in the second.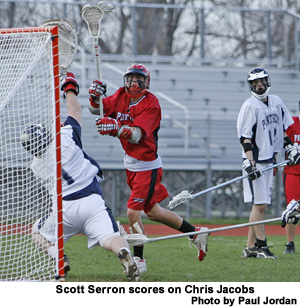 Eleven different players made the scorebooks for the Panthers. Scoring were Kyle Boncaro (5g-1a), John Warner (2g-3a), John Manion (2g-2a) while Sean Bramen and RJ Gringeri added 2g-1a. Jim Warner added 1g-1a,
Eric Peterson, Mike Guard, Josh Bloom and Dave DeRaddo each scored one goal and Elliot Heaton added an assist for Geneva (3-3). Gringeri and Sean Bennett dominated face offs winning 16 of 23 while
Adam Schutz (2s) and Jeff Weise (0s) shared duties in the goal.

Junior midfielder Ryan Buckley scored and junior goalie John Reeves made 22 saves for Pal-Mac.
Penfield improved its record to 5-1 with a 16-4 win over host Pittsford. Penfield jumped to a 5-0 lead, but Pittsford narrowed the margin to 5-2 before the Patriots added 7 goals to end the half up 12-2.

Kelly McKenna lead the Patriots with 4 goals and 7 ground balls along with winning 10 of 13 face offs. Senior Dave Malone added 3 goals and 2 assists while Mike Arvan and Connor Rice each had 1 goal and 3 assists. Seniors Scott Serron (2g-1a) and Ben Foster (1g-1a) also figured in the scoring. Adding 1 goal each were Mike Cummins, Kevin Roe, Dan Huntington, and Paul Leonhard.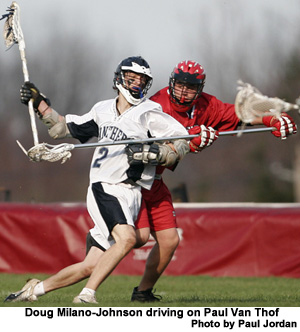 In three quarters Brian Dell recorded 12 saves while allowing 2 goals before relinquishing the nets to Ryan Nicolette took over in the fourth and had one save.

Pittsford's Chris Kist tallied 3 goals for the Panthers and Doug Johnson added a goal. Pittsford goalkeepers Chris Jacobs and Dupra combined for 11 saves.
No report from Pittsford.
Penn Yan continued their winning streak with a 19-1 victory over host Mynderse. Twelve different players made the scorebooks for the Mustangs (4-1). Leading the offensive effort were Matt Osgood (5g-2a), Dan McGuffie (3g-2a), Ben Odell (2g-3a), Dan Mesler (4g-1a) and Steve Carlson (1g-4a). John Linnan and Brandon Trombley each added (1g-1a). Josh Perrault added (2g), while Dana Wilber made (2a) and Mike Manley, Ryan Cook and John Folts each added an assist. Mustang goalies RJ Wickham and Adam Galusha each recorded one save. No report from Mynderse.


HFL started off right away, taking an 8-0 half time lead behind their physical defense. Scoring for HFL were Dan Layfield (5g-1a), Cade Norris (2g-1a), Zach Whyte (1g-1a), Ian Griffin (2g), Chris Stanton (1g-1a), and one goal each from Andrew Santiago and Matt Garvey. Score only form Hilton.


It was Livonia with an 8-3 win over host Midlakes in a game that saw a close first half, and the Bulldogs opening it up then the second half but scoring below their season average of 12 goals per game.

The defensive, however kept the Eagles below their current 5.5 goals against average.
Livonia Coach Sciera cited the play of senior defenseman Andy Kurtz and senior goal keeper Aaron Jamison as two of the main reasons the Bulldogs are so solid on the defensive end of the field. "Andy has done an outstanding job on the other teams best attackman every game. Livonia's long poles, Jeremy Hudak, Jeremy Alston, Gabe Recchio, Shane Ward, and Mike Vetrano have all played tough defense this year". Coach Sciera also credited short stick midfielder Oren Taylor of doing an outstanding job defensively every game.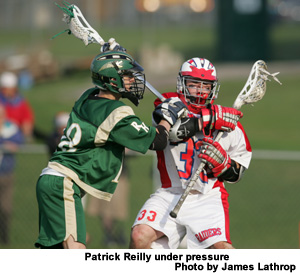 Scoring for Livonia were Scott Mosher (4g), Brian Sciera (2g), Adam Schaible (1g), Kyle Olson (1g), Tyler Russell (2a) and Luke Merritt (1a). Aaron Jamison made 3s for Livonia (7-1).

Scoring for the Eagles were RC Weston (2g), Glen Stevenson (2a) and Jon Briggs (1g).Jared Schoonerman had 8s for Midlakes (3-4).


The Rush-Henrietta at Fairport game was stopped for lightning just before the end of the third quarter and was finished on Friday afternoon.

The first half of the first quarter was a close game with lots of shooting and scoring and very little defense. Fairport scored first on a fast break clear as Ryan Lowe ran straight at the front of the goal and scored (unassisted) at 10:33. Daniel Scarazzo added another for the Red Raiders, just 0:31 later after picking up a loose ground ball.
Rush returned with an unassisted goal at 9:33 by Nate Delone. WIth the score 2-1, Fairport added another at 8:32 as Scarazzo scored on a cross goal feed from Mike Danylyshyn. R-H came right back with a goal at 6:42 when Justin Rose bounced an outside shot past Fairport goalie Geoff Mayor. Rush scored again, this time at 4:43 on a drive from the midfield by Matt Moran.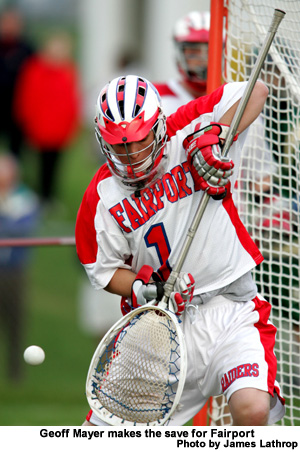 Fairport then broke the game open with four unanswered goals before the end of the quarter. David Burke scored on a one-on-one drive at 3:43. Lowe scored his second goal at 2:50 on a one-one-one drive, Jeffrey Sanna added a goal at 2:02 after picking up a loose ball and Pat Reilly scored a man up goal at 1:44 (unassisted). The Red Raiders led at the end of the quarter, 7-3.

Fairport continued its scoring streak with three more in the second quarter. Shawn Runyon scored first on a pass from Reilly, Lowe scored on a feed from Reilly and Burke scored (unassisted) at 3:57, taking Fairport's lead to 10-3. Tony Henriquez scored an unassisted goal on a drive from out front at 3:05 to end the half with Fairport up 10-4.

The third quarter belonged to Rush-Henrietta as Henriquez added two unassisted goals and then another with an assist from Harry Hadley. Fairport saw goals from Sanna (unassisted) and Lowe (also unassisted). The game was halted with 0:43 left in the third quarter when lighting was sighted in the distance.

The game was restarted on Friday afternoon. There was no scoring in the last 43 seconds of the third. The last quarter momentum returned to Fairport as they scored five goals while hold the Royal Comets to none. Reilly and Danylyshyn added goals along with Dan Holmes and Jake Fricano, who scored both the first and last goal of the quarter.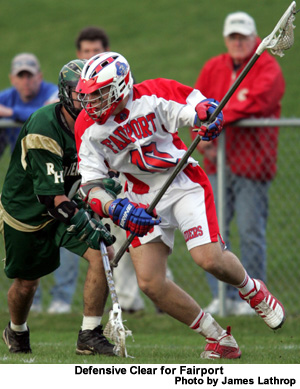 This was the second loss of the week (and the season) for Rush-Henrietta (3-2) and Coach Gotko was philosophical in his post game remarks:



"Against both Schroeder on Tuesday and again against Fairport today, we have been giving up the "big" quarters which have made us play catch up. The quality of competition in Monroe County and Section 5 make playing catch up an enormous task irregardless of the opponent. Our focus has got to be on limiting multiple scoring opportunities defensively and becoming more patient with the ball offensively to get quality looks at the goal. At times we pressed too much and Fairport took advantage of their opportunities."



The leading scorers for Fairport were Lowe (4g), Scarazzo (3g-1a) and Reilly (2g-2a).

The leading scorers for RH were Henriquez (4g) and Rose, Moran and Delone who each added one goal for the Royal Comets. Junior goalie Matt McShea made 15 saves For RH.