Thursday: Some Close Some Not
April 6, 2006

- Night games were played today. Some games, like Mynderse over Midlakes in overtime, Spencerport over Hilton and McQuaid Jesuit over Brighton were close, some, however were not.


Aquinas took the first quarter 2-1 and a 3-1 half, but Victor outscored the Little Irish 10-2 in the second half to win the game 11-5 at Aquinas.

The Blue Devils scored first in the first quarter with a goal by Erik Rogemoser and assisted by Mike Dominzio. Aquinas answered with a goal by Nick Vincent assisted by Dave Schmandt. Senior Pat King then fed Chris Roland to score for the Irish and put Aquinas ahead late in the first quarter. King scored another goal on a pass from Chris Roland at the 6:33 mark of the second period to give the Lil' Irish a 3-1 lead at the half.

Victor came out in the 3rd period and scored seven unanswered goals to take the lead for good. Scoring for the Blue Devils were Eric Williams (2g), Jason Houtenbrink (2g), Frank Velenti (2g), Alex Rogmoser (2g), Stephen Personali, Erick Rogemoser (1g), and Pat Sullivan with 1 goal apiece. Andy Savage added two assists for Victor and Mike Domizio and Joe Coleman both added an assist. Mitchell Liegerot recorded 14 saves for Victor (2-2).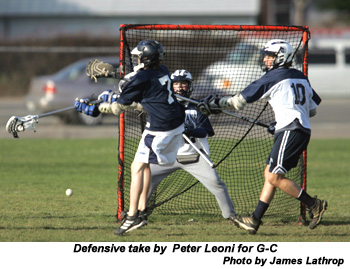 Finishing the scoring for Aquinas were Dave Schmandt (1g-1a), Chris Roland (1g-1a) and Mark Pincelli (1g 2a). Goalie Alan Antinerelli made 11 saves for Aquinas (3-1).


It was Gates Chili with the 13-1 win over visiting Eastridge as the Spartans took a 7-1 halftime lead.

Scoring for Gates Chili were junior midfielder Andy Hilton (4g 2a), senior attackman Chaz Giehl (3g 2a), senior midfielders Andy McEntee (3g) and Jim Drabin (1g-1a) and sophomore attackmen Tom Elkins (2g) and Tom Sudek (3a) while sophomore middie Pat Sposato added an assist.

Scoring for Eastridge was senior midfielder Sean Sawyer.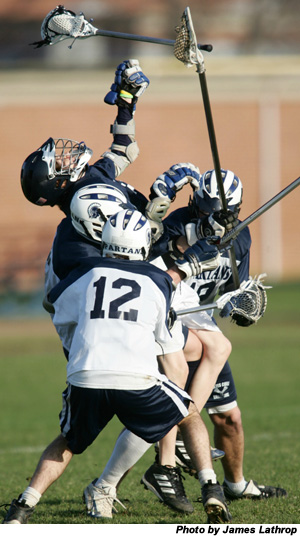 Feshman goalie Jason Baetzhold had 10 saves and junior goalie Dave Bellavia recorded three saves for Gates Chili (1-3). Sophomore goalie Eugene Ferrera had 9 saves for East Irondequoit (0-3).

No report from Eastridge.




Senior attackman Jon Briggs scored the winning goal in overtime for Midlakes in their 7-6 game at Mynderse. Mynderse took the first quarter lead (3-1) and led at the half 3-2. The Blue Devils continued the lead at the end of the third quarter, but Midlakes tied in the last quarter, sending the game into overtime.

Scoring for the Eagles were junior attackman Glen Stevenson (2g-1a), senior attackmen Jon Briggs (3g), Ryan McCannon (1g) and R.C. Weston (1a), junior midfielder Clay Hemminger (1g) and senior middie Nate Stevens (2a). Sophomore goalie Jared Schoonerman recorded 17 saves for the Midlakes (2-2).

Mynderse saw scoring from senior attackman Jon Young (1g-1a), junior midfielder Sean McGrimley (1a), sophomore middie Dustin Luckinbill (3g), junior midfielder Josh Kurdziolek (1a) and senior Eric Davids (2g). Senior goalie Zac Rescort made 5 saves for Mynderse (1-1).
No report from Mynderse.


It was Newark over Pal-Mac in a 6-4 win at Newark. Pal-Mac, suffering from a tough loss to Livonia in their first game of the season (Saturday), improved on every facet of their game according to Coach Falso. Down 3-1 at the half, the Reds scored two more at the top of the third taking a 5-1 lead. The Raiders returned in the last quarter to bring the game to 6-4.

The Pal Mac defense of Mike Converse, Eddie Anderson, Andy Hems, and Ryan Bills consistanly put pressure on the ball annd goalie Jon Reeves had another good performance, making 16 saves for Pal-Mac (0-2).

Scoring for the Raiders were Mike Christ (1g-1a), Will Mallia (1g), Derrick Piccola (1g). Jeremy Norsen (1g) and Dave Merritt (1a).

Scoring for Newark were Nate Johnson (2g), Dan Mizro (1-1), Alex Quku (2g) and Greg McBride 1g-1a. Senior goalie Anthony Cole player for three quarters and recorded six saves and junior goalie Josh Putman made four saves for the Reds (1-2).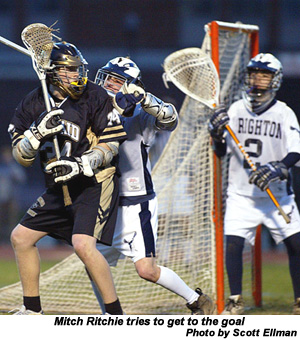 After an exciting 4th quarter the McQuaid Jesuit Knights came back to win their game against Brighton 11-10. The Baron's struck first with an unassisted goal from Ryan Conti at 8:23. The Knights scored next on an unassisted goal from Mark Hanna at 7:58. Brighton took the lead with goals at 6:53 and 4:50: the first goal in man-up by Colin Hickey with the assist from Robbie Asselin and the second, a goal from Asselin assisted by Ryan Conti.

The Knights then fought back with goals at 3:12 and 1:51. The first was a man-up goal by sophomore Mitch Ritchie assisted by Marty Farchione and the second scored by Gino D'Angelo, with the assists credited to Sean Conroy. Brighton scored again with 0:40 left as Colin Davis scored an unassisted goal to end the quarter 4-3.

The Knights fought back to win the second quarter 2-1 and left the game tied at five at halftime. The Knights scored at 10:46 (D'Angelo from Ritchie), followed by a man-up Baron goal at 8:02, (Davis alone). The second Knight goal was by Ritchie from Nick Cardillo with 3:05 left in the half.

Brighton scored two quick goals in the third (Davis alone and Kyle Warren alone). An unassisted goal from McQuaid Jesuit's Hanna at 4:29 brought the Knights back within one, but another man-up goal by Brighton's Davis (assisted by Hickey) gave the Barons a two goal lead with 3:56 left in the quarter.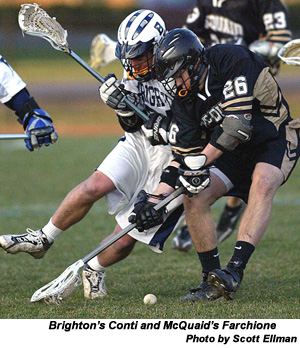 After another man-up goal for the Knights at 3:29 scored by Jeff MacDonald from Evan Gallina McQuaid Jesuit had come within one for the second time in the quarter, but the Baron's fought back again to recapture their two goal lead with an unassisted goal by Davis, his fifth and final goal of the night.

The fourth quarter belonged to the McQuaid Jesuit, winning the quarter 4-1. The Knights scored at 10:55, 9:39, 7:17, and 4:02 to go up 11-9. The goals were by Hanna (from Gallina), Hanna (unassisted), Gallina (unassisted), and finally D'Angelo from Cardillo.

Brighton, in a last minute surge, scored their final goal at 0:44 when Tim Williams hit the back of the nets after receiving a pass from Davis who ended the game with 5 goals and 1 assist. Goalie Noah Berg, made 12 saves (55%) for Brighton (0-3).

Mark Hanna ended the game with 4 goals for McQuaid Jesuit. McQuaid Jesuit (4-2) split goal time with Patrick Maguire making 5 saves (55%) and Dan Caufield making 7 saves (64%).

No report from Brighton.




Livonia improved their record to 5-0 with a 12-7 victory over host Waterloo. After taking a 3-1 first quarter lead, the Indians came back to within one as the Bulldogs were up 5-4 at the half. The second half belonged to Livonia as they outscored Waterloo 7-3. The rapidly improving Livonia man down unit of Jeremy Hudak, Oren Taylor, Luke Merritt, Shane Moran and Andy Kurtz had lots of practice as they held Waterloo to just two goals on eight tries.

Livonia's offense scored first with an unassisted goal by senior midfielder Chadd Britton who ended the game with five goals. The Indians Josh Mateo tied the score with an assist by Billy Jolly. A face off win by Britton and a fast break goal by senior attackman John Dalberth assisted by Brian Sciera put the Dogs back up by a goal. Britton won the next face off and took the ball to the goal to score his second of the game with five seconds left in the quarter. Livonia took a 3–1 lead at the end of the first quarter.

Britton's third goals of the game put the bulldogs up 4-1 about four minutes in to the second quarter. Waterloo came back scoring three unanswered goals. Billy Jolly, Mike Ruiz and Winston Boyd each scored for the Indians to tie the game. With just nine seconds left in the half, Adam Schaible scored to give the Bulldogs at 5-4 lead.

Livonia outscored Waterloo 5-3 in the third quarter to take a 10 -7 lead into the last quarter, and then shut down the Indians offense in the final quarter. Junior attackman Brian Sciera took over the offensive chores for Livonia, scoring all three of his goals in the third quarter. Britton added a goal and an assist. Senior middie Luke Merritt added another goal for Livonia with an assist from Scott Mosher. Waterloo junior middie Josh Mateo scored two goals and assisted on a goal by Stephen Kuti (1g-1a) for the Indians in the third quarter.

The Livonia coaching staff credited the win to consistent defense and good goal tending by senior goalie Aaron Jamison. "Aaron was especially good in the second half when we needed him to be," stated Livonia Head Lacrosse Coach John Sciera. Jamison made 19 saves in the game including nine saves in the fourth quarter.

Scoring for Livonia were Britton (5g-1a), Sciera (3g-1a), Schaible (2g), Dalberth (1g), Merritt (1g), with Mosherand Tyler Russell each adding an assist.

Scoring for Waterloo were Mateo ( 3g-1a), Ruiz ( 1g), Winston Boyd (1g-1a), Jolly (1g-2a) and Kuti (1g-1a). Senior goalie Andy Riegel made 11 saves for the Indians (3-1).


Penfield improved to 4-0 with their 16-5 win over host Churchville-Chili. The Patriots took a 5-1 lead at the end of the first quarter and ended the half up 9-3. Nine different players made the scorebook for Penfield and face off middie Kelly McKenna went 7/12 on face-offs and added 10 groundballs. Alex Nowak and Mike Arvan each had 7gbs for the Patriots.

Scoring for Penfield were Dave Malone (4g), McKenna (2g-3a), Scott Serron (2g-2a),
Connor Rice (2g-1a), Mike Arvan (1g-2a), Mike Cummins (1g-2a), Dan Huntington (2g) while Ben Foster and Kevin Green each added 1g-1a. Senior goalies Brian Dell (7s) and Ryan Nicoletta (4s) were in the nets for the Patriots.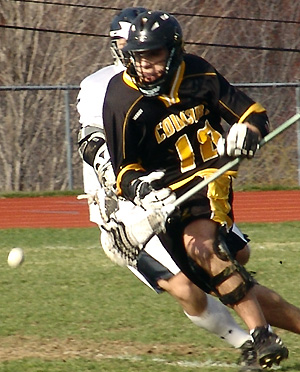 Scoring for the Saints were defenseman Brian Briggs (2g), Ben Rossignolo (2g), Jaime Englert (1g), and an assist each from Doug Hemink and Gino Marcello. Ryan Grogan and Cory Mee led the team with 6 ground balls each. Goalie Evan Williams made 23 saves for Churchville-Chili (2-2).


The HFL offense was productive and its defense played a physical and smothering game as the Cougars scored its first win this season at Pittsord-Mendon High School.

HFL was up 4-0 at the end of the first quarter and led at hafltime 10-4. The Cougars outscored Pittsford 3-1 in the third quarter and 5-1 in the last quarter.

The Cougar defense of Buster Mulcahey, Brian Zavitz and Mike Howlett all played solid team defense, and cleared the ball well. Patrick Roache in goal for HFL made several dramatic saves.

Scoring for HFL were Dan Layfield (5g-3a), Connor Burgasser (1g-5a), Zack Whyte (6g), Cade Norris (3g-2a), Ian Griffan (2g-2a) and Matt Garvey (1g-1a).

No report from Pittsford.