Saturday: Four OT Games - No Foolin'
April 1, 2006

- Fourteen game were scheduled for Saturday, and although it was in the low 80's yesterday in was in the 40's today. Brockport, Victor, Schroeder and McQuaid Jesuit each had overtime wins.


For the first time in the school's history Victor beat Canandaigua and it took a goal in the second overtime by junior midfielder Andy Savage that gave the Blue Devils a 6-5 win.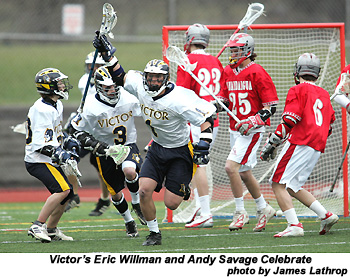 The game was close throughout the game with a tie at one at the end of the first quarter and Canandaigua up 3-2 at the half and 4-3 at the end of three quarters. The real excitement was saved for the last quarter as Victor's senior middie Erick Rogemoser scored with just 34 seconds left in regulation give the Devils a 5-4 lead. Canandaigua's junior midfielder AJ Groot found senior attackman Eric Klein with just 0.6 seconds left in the game to send it into overtime.

Both teams traded shots and face-off possession but it was Victor's Andy Savage who dodged to the cage to net the game winner with 2:12 in the second overtime.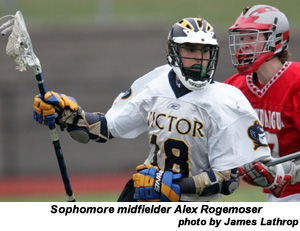 The goaltending was outstanding for both teams. Victor's Mitchell Liegerot had 20 saves and Canandaigua's Dan Serafine had 15.

Scoring for the Braves were Klein (1g-1a) while junior attackman Jeremy Brown, senior middies Chris McWilliams and James Regan and sophomore attackman Connor Henderson each scored one goal. Junior attackman Jordan Mnzer, Groot and sophomore middie Austin Rogers each added one assist for Canandaigua (1-1).

Scoring for Victor were Rogemoser (3g), Savage (1g), junior middie Eric Willman (1g) and senior defenseman Pat Sullivan (1g). Junior midfielder Jason Houtenbrink added an assist for the Blue Devils (1-1).

No report from Canandaigua (1-1).




Waterloo was the 8-5 winner over Newark as the Indians scored two manup goals and a total of four goals in the first quarter while holding the Reds scoreless.

The second quarter started much the same as Waterloo expanded their lead to 5-0 on goals by Nelson Boyd from Winston Boyd and another unassisted by Winston Boyd. Newark closed the quarter on two Greg MacBride goals both assisted by Alex Quku.

The third quarter found Newark keeping the momentum and tying the game on goals by Dan Mizro, Alex Quku and Greg MacBride. Waterloo reclaimed the lead on an unassisted goal by Winston Boyd at 6:44 and pulled away to a 2 goal lead with :39 in the quarter on an unassisted goal by Bill Jolly.

There was one last score by Stephen Kuti at 3:12 as Newark attempted to apply heavy pressure and get the ball back.

Scoring for Waterloo were attackmen Winston Boyd (1g-2a), Mike Ruiz (1g) and Nelson Boyd (1g) and midfielders Bill Jolly (2g), Josh Mateo (2g-1a) and Stephen Kuti (1g).

Scoring for Newark were midfielders Alex Quku (1g-3a) and Greg MacBride (3g) and attackman Dan Mizro 1g. No report from Waterloo.


Spencerport was the 14-1 winner over visiting Greece Arcadia/Olympia in the game played at Irondequoit. The Rangers took a 5-0 first quarter lead to 10-1 at the half.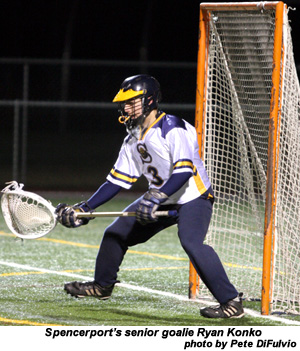 Spencerport goals were scored by senior attackman Andy Morgan (4g-1a), junior attackman Phil Schmid (3g), sophomore midfielder Kyle Breach (3g), senior attackman Rob Stojanov (2g-2a), senior midfielder Steve Difulvio (1g) and junior middie Jeff Konko (1g-1a). No report from Arc/Oly (0-1).


It took two overtime periods for Webster Schroeder to break the tie and beat Fairport 7-6 in a game played at MCC. Scoring the game winner was junior middie Andy Winslow.

The first quarter saw a single goal by Schroeder's junior attackman Grant Catalino with an assist from senior midfielder Jay Wilmes. Scoring in the second period was sophomore attackman Mike Tota for Webster with an assist from junior middie Andy Winslow. Fairport's first goal was scored in man up as senior attackman Pat Reilly scored on a feed from senior attackman Pete Burkhardtt. The half ended with the Warriors up 2-1. The first half was dominated by the both defensive units and strong goal keeping from senior goalies Dennis Costanza from Webster and Geoff Mayor from Fairport. Both goalies made several point blank saves.

Although the Red Raiders controlled the ball most of the third quarter Schroeder increased their score to 3 - 1 on another goal from Tota with an assist from Catalino. Fairport scored their second goal on a shot from Burkhardtt assisted by Reilly to close the gap to 3 - 2.

Both teams saved the excitement for the last quarter. Schroeder scored two more goals; the first by Tota (from Winslow) and the second by Catalino (from Wilmes). Fairport then saw an unassisted goal from Mike Danylyshyn taking the score to 5-3 for the Warriors with four minutes left in the game. Webster turned the ball over and Danylyshyn scored. The Raiders won the ensuing face off and a score by Reilly tied the game.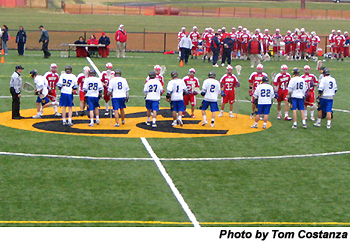 Fairport won the face off and Reilly scored again to give Fairport it's first
lead of the game. With about 15 seconds left and the Warriors down by a goal, Schroeder's goalie, Costanza got the ball and heaved it down the field where Winslow controlled the ball around 10 yards out and fed the ball to Tota who turned and scored with 7 seconds left sending the game into overtime.

The first overtime was controlled by Fairport who had a number of point blank shots that were stopped by Costanza and the teams remained tied. Costanza recorded two more point blank saves and after the second, cleared the ball to junior defensemen Drew Palmer who threw a long clearing pass. Andy Winslow scored the game winner on a bounce shot which touched off a wild Schroeder celebration.

Scoring for Fairport were Reilly (3g-1a), Burkhardtt (1g-1a), Danylyshyn (2g). Senior midfielder David Burke and junior middie Dillon Wheatley each had an assist for Fairport (1-1). Senior goalie Geoff Mayor recorded 16 for the Red Raiders.

Scoring for Schroeder were Tota (4g), Catalino (2g-1a), Winslow (1g-2a) and Jay Wilmes (2a). Defensemen Drew Palmer, Tim Winslow, Eric Horeth, LSM Chris Nicodemi, Short Stick defensive midfielders John Pawluk and Anthony Stirpe played an excellent game limiting Fairport to 3 goals the first 45 minutes of the game. Costanza had 20 saves for Schroeder (2-0).



Livonia scored the first 13 goals on their way to a 14-1 win over visiting Bath.

Junior attackman Brian Sciera jump started the Livonia offense with an unassisted goal just one minute into the game. Junior Midfielder Adam Schaible scored Livonia's next goal and senior attackman John Dalberth ended the first quarter scoring on an assist from junior middie Oren Taylor. Bath goalie Jeremiah Wilder saw 14 shots in the first quarter alone.

Dalberth scored the first two goals of the second quarter with the second assisted by senior attackman Brent Simpson. Sciera picked up a goal and an assist in the second quarter. Senior middies Luke Merritt and Scott Mosher also scored for Livonia.

The third quarter looked like the second with Livonia scoring 5 goals while shutting out the Rams. Sciera scored another goal and add two assists. Goals were also scored by Simpson, Schaible, Merritt and, sophomore attackman Tyler Russell.

Defensemen Andy Kurtz, Shane Moran, Shane Ward, Jeremy Allston, Gabe Recchio, Jeremy Hudak, and Mike Vetrano did an outstanding job of shutting down Bath's offense. The Ram's had on six shots on cage. Bulldog goalies Aaron Jamison and Zac Berger split time in the cage and made one save.

Livonia and Bath played an even fourth quarter, each team scoring one goal. Junior midfielder Gaelin Walsh scored for the Bulldogs (3-0).

Junior attackman Brad Fuerst scored Bath's lone goal. Senior goalie Jeremiah Wilder recorded 14 saves for Bath (0-5)


Irondequoit scored four unanswered goals in the last quarter, but it was not quite enough as Penfield won 7-6 at Irondequoit.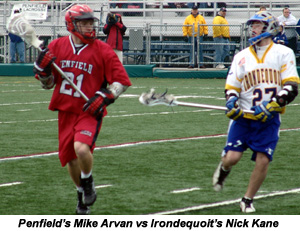 Irondequoit scored first at 8:06 when senior attackman Derek Pino scored on a feed from sophomore attackman Greg Wright. Penfield came back with a goal by senior attackman Scott Serron (assisted by senior attackman Dave Malone) at 7:38. Irondequoit ended the quarter up 3-2 on a goal by Wright from Pino at 4:50.

The second quarter belonged to the Patriots who scored four unanswered goals to take a 5-2 lead into half-time. Scoring for Penfield were senior midfielder Mike Arvan from sophomore attackman Connor Rice, Serron from Arvan, senior middie Ben Foster from Arvan and Serron from Malone.

Each team scored one goal toward the end of the third quarter. Penfield's senior middie Kelly McKenna scored at 1:37 with a pass from Rice and junior midfielder Nick Kane scored for the Eagles at 0:32 on a feed from Pino.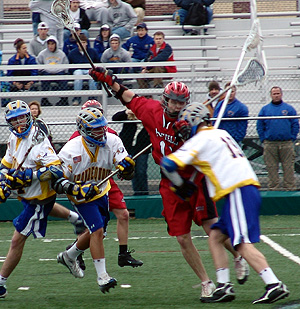 The Eagles continued their scoring streak with three more in a row at the top pf the last quarter. Pino scored again on an assist from Wright at 11:20. Junior midfielder Kevin Coholan scored the next two with assists from Wright and Pino to tie the game with 5:31 left in the game.

Penfield's Mike Arvan scored the unassisted game winner at 3:52 and although each team would have shots, the game ended with the Patriots up 7-6.

Sophomore defenseman Alex Nowak had a number of dramatic clears for Penfield and was the team leader in ground balls with seven. Senior goalie Brian Dell had five saves for the Patriots (2-0).

Junior goalies Tyler Watkins and Zach Nash combined for 14 saves for Irondequoit (1-1).


It was Churchville-Chili 15-10 over Greece Athena/Odyssey at Irondequoit. Churchville scored the first five goals and after a Greece timeout, it was back and forth for the remainder of the game.

Scoring for Ath/Ody were junior attackmen Dave Rodriguez (5g-1a) and Matt Machucki (3g-2a), junior midfielders Nick Kulzer (2g-1a), Jeremy Fitzgerald (1a) and Nick Ryan (1a) and sophomore middie Joe Prestigiacomo (1a). Junior goalie Dave Turana recorded 8 saves and senior goalie Nick Bellucco made 1 save in the last five minutes of the game for the Thunder (0-3).

The scoring for Churchville-Chili came from junior attackmen Ben Rossignolo (6g-1a) and Ryan Grogan (4g-2a). Also scoring were junior middie Doug Hemink (1g-3a), sophomore attackman Gino Marcello (2g-1a), junior midfielders Jaime Englert (1g-1a) and Cory Mee (1g). Ben Rossignolo also led the team in ground balls with 7 and Ryan Cantrell led the defense with 4 ground balls while senior goalie Evan Williams recorded 5 saves for the Saints (1-1).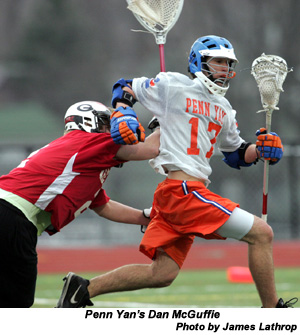 Penn Yan was the 10-7 winner over visiting Geneva as seven different players made the scorebooks. Leading the charge was senior midfielder Dan Mesler and junior middie Steven Carlson with 2g-1a each. Senior attackman Dan McGuffie and freshman attackman Matt Osgood each added 2g. Junior attackman Brian Odell added 1g-1a, junior defenseman Mike Manley added and assist and freshman midfielder John Linnan scored 1g for the Mustangs (1-1). No report from Geneva (0-2).


Junior midfielder Brett Allen scored the game winning goal with an assist by Adam Nauerth in the first overtime period to give Brockport a 6-5 win against host Gates Chili.

Brockport scored first with an extra man goal by Sean Bittner (1g) with an assist from Bohdan Klymochko (1a). Gates Chili then tied the game at one when Andrew Hilton (3g) scored on a feed from Tom Sudek (2a). The Blue Devils scored four unanswered goals to take a 5-1 halftime lead. Scoring were Adam Nauerth (1g-1a), Brett Allen (2g), Jeremy Toscano (1g) and defensive midfielder Tucker English (1g).

The Spartans scored four unanswered goals in the second half to tie the game at five. Scoring were Andrew Hilton (1g) from Kyle Lynah (1a), Jimmy Drabin (1g-1a) from Andrew McEntee (1a), Charlie Giehl (1g) from Tom Sudek, and Hilton from Drabin.

Connor Mykins had 9 saves for Brockport (2-0).

Scoring for Gates was junior attackman Andy Hilton with 3g-2a, sophomore attackman Tom Sudek with 2a and senior midfielder Jim Drabin with 1g-1a. Senior attackman Chaz Giehl scored 1g and senior midfielder Kyle Lynah added 1a for the Spartans (0-2).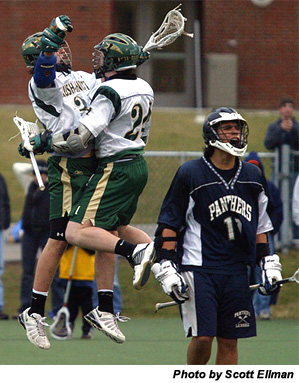 Rush-Henrietta was the 12-4 winner over Pittsford in a game played at Nazareth College. The Royal Comets took a 3-2 first quarter lead and then scored the next nine goals before Pittsford scored with 7:01 left in the third quarter. Each team scored one goal in the last quarter.

Coach Gottko was excited by the rare win against Pittsford, "We played a consistent game which we have been stressing to the players from our first practice. We hope to learn from our mistakes and improve as a team. We were able to see an improvement from our first game until now. Hopefully, we can continue to get better with each game."

Leading the scoring for R-H was junior attackman Brian Hantzis (4g-3a), senior midfielder Tony Henriquez (3g-1a and faceoffs 6/8), junior midfielder Justin Rose (2g-1 a), junior attackman Matt Moran (1g-3a), sophomore attackman Nate Delone 1g-1a) and sophomore midfielder Aaron Bethmann who scored his first varsity goal. Junior goalie Matt McShea made 7 saves in 3 quarters while junior goalie Andrew Widanka made 5 saves in the 4th quarter for the Royal Comets (2-0).

Pittsford's scoring came from Joe Pekich (1g), Mike Peacock (1g), Doug Milano-Johnson (1g). Fred Morse (1g), Jamie Moran (2a) and Cam Edmiston (1a).


Watertown IHC was the 13-7 winner against visiting HFL at a game played at CNS. HFL led at the end of the first quarter, 3-2, but fell behind, 8-4 at the half. In the third quarter, HFL was outscored 3-1, and both team traded two goals in the 4th.

IHC scoring came from M. Bulger (5g), E. Prevost (3g-4a), M. Lazore (2g-1a), C. Boulio (2g), K. Plante (1g). T. Prevost (2a) and M. Scheris (1a) rounded out the IHC scoring.

Scoring for HFL were Dan Layfield (3g-1a), and 1 goal each by Chris Stanton, Cade Norris, Ian Griffin, and Zach Whyte. Defenseman Buster Mulcahey had 1 assist.


Hilton was the 11-9 winner over host Eastridge at a game played at Irondequoit High School. Eastridge took a 7-5 lead at the half. Junior midfielder Kyle Hayward scored 2g, sophomore attackman Jay Clifford scored 2g-1a and senior midfielder Cory Blackburn had an assist and 7 ground balls. Junior goalie Aaron Donahey made 10 saves for Hilton (1-1).

Scoring for Eastridge were senior middie Sean Sawyer (5g-1a), sophomore attackman Matt Driffill (1g) and sophomore middie Kevin Mahler 2g-1a. Sophomore goalie Eugene Ferrera recorded seven saves for the Lancers (0-2).


In a 6-5 comeback battle, the McQuaid Jesuit Knights (2-2) edged out the South Jefferson Spartans of Section 3 with 0:09 left in overtime as senior attackman Marty Farchione scored the game winner.

Farchione scored the first goal of the game at 10:17 followed by senior attackman Mark Hanna at 9:47. The Spartans fought back with their own goals by Mike Ross (unassisted) at 9:09 and Tony DeFranco from Taylor Jennings at 7:30. The First quarter ended in a tie which continued through the second quarter and into half time. Spartan goalie Tony Behling accumulated 16 saves in the first half.

At 11:09 in the third quarter Ross struck again scoring an unassisted goal for the Spartans. The Knight's answered with a man-up goal at 4:37 as junior midfielder Evan Gallina scored on a feed from sophomore attackman Mitch Ritchie. DeFranco added another for South Jefferson with 2:44 left which gave them the 4-3 lead.

With 7:06 left in the fourth quarter Ross added his third of the day, again unassisted, increasing the Spartan lead to 5-3. After a success ride, senior defenseman Alex Caton scooped up a ground ball and made a pass to Ritchie who scored with 4:22 left. Gallina scored again (at 2:02) on a pass from senior middie Sean Conroy tying the game at five and sending play into overtime.

Senior face off man Gino D'Angelo controlled the face off and won the ball for the Knights when Gallina scooped up the ground ball. After a couple missed shots by McQuaid Jesuit and some successful rides by their attack, McQuaid Jesuit's Farchione put in the game winning goal (unassisted) with 0:09 left in overtime.


Thomas was the 15-1 winner over Brighton. Thomas Boys Varsity had to wait a little longer to get their game with Brighton started due to bus problems for the Barons but the wait was well worth it as the Titans finally got their offense rolling.

Getting the scoring stared was sophomore attackmen Max Gurowski(4g-2a) on a goal assisted by junior attackmen Dom Scalzo (2a). The Titans scored the second goal when Gurowski found senior midfielder Brandon Reeners open on the crease. Brighton answered with a transition goal to make the score Titans 2 Barons 1. That would be the last goal Brighton scored. Scoring next was Gurowski on an assist from junior midfielder Dan Hinderland (1g-2a). Thomas's next goal came from senior midfielder Kevin Kemp (1g) who was received the ball from Gurowski with just 0.5 seconds left in the first quarter.

The Thomas defense was led by junior defensemen Ryan McGrath, and sophomore Jake Ziegler, along with senior AJ Laffin. Also involved were juniors Pete Hart, and Spencer Marsh in the defensive midfield along with senior defensive midfielder Jordan Tracey. The long stick midfield position was on a rotational cycle with seniors Fenton Smith, Steven Hondorf and freshmen AJ Glagolev. Junior Alex Mosher got the start in the cage and played a terrific game only allowing one goal over three quarters and making numerous big plays in the field on the clearing game. Junior goalie Kevin Ryan finished the game in the fourth quarter allowing no goals. Also helping on defense were juniors Brian Clifford, James Frommert.
The second quarter saw some more scoring by the Titans. Junior Dan Hinderland started the quarter of with a goal assisted by Scalzo. Then it was Gurowski on a goal assisted by sophomore face off specialist Pat Maloney (10W/4L). Scoring the next two goals was senior midfielder Kurt Detwiller (4g). Thomas finished the second quarter up 8 to 1. Coach Ruller stated "This is the great part of our team, so many of our offensive guys can score and the more they gain confidence the better they will become."
The third quarter offense started when Detwiller scored a goal after a great dodge from up top. As the Titans began to get more players involved the intensity didn't let up. Coach Ruller stated, "this was a great chance to get some of the new younger players a chance to get some experience against a good Brighton team." Scoring their first goals of their varsity careers were junior attackmen Mark Schoemacher and sophomore midfielder Pat Maloney. Also getting involved in the offense were junior midfielder Steve Kent, and Dave Gertain. Kyle Lavallee also contributed on the offense and in the clearing game. . No report from Brighton (0-2).