Saturday: We Begin on Turf
March 25, 2006

-

Thanks to the generosity of a number of schools with turf fields, the Section Five season began in earnest today with a full schedule of games on a cold Upstate New York day.


Churchville scored the only goal in the first quarter when junior attackman Ben Rossignolo scored at 4:40 on a pass from junior middie Brian Traugott. At the start of the second quarter Spencerport's senior middie, Tyler Hintz scored the first of his three goals at 9:10 to tie the scored at one. The Saints went ahead at 8:27 when Rossignolo scored (unassisted), but that would be their last goal until the final quarter as the Rangers scored the next seven goals at game played at Monroe Community College.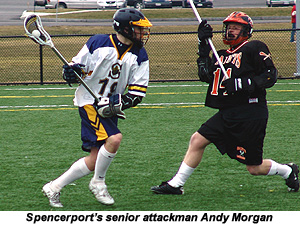 Spencerport senior attackman Rob Stojanov scored two in a row, each assisted by senior attackman Andy Morgan at 6:00 and 2:28. Senior middie Stephen DiFulvio scored at 1:18 (assisted by junior attackman Pat Decker) to end the half with the Rangers up 4-2.

The third quarter belonged to Spencerport as they scored two goals while holding the Saints scoreless. Senior defenseman Cameron Sformo after clearing the ball, took it right to goal, scoring unassisted at 10:59. Junior attackman Phillip Schmidt scored at 4:21 on a pass from Morgan in man up and the third quarter ended with the Rangers up 6-2.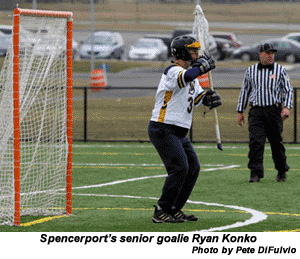 Spencerport scored two more in the last quarter, both by Hintz with assists by Morgan. With 2:40 left in the game the Saints started a come back when junior middie Cory Mee scored unassisted and 0:18 later sophomore attackman Gino Marcello scored a man up goal with and assist from junior attackman Ryan Grogan.

Spencerport was able to control the tempo of the game as a result of a number of quality saves by senior goalie Ryan Konko who recorded 22 saves. No report from Churchville-Chili.


It was Irondequoit over Gates Chili as new Head Coach John Van Etten's team won 13-3 at Irondequoit High School. This first half was evenly played ending at 4-2 as Gates spread the field and patiently awaited their opportunities. The second half belonged to the Eagles. Senior midfielder Mickey Haight won 9 of 13 faceoffs for Irondequoit.

All but one Irondequoit goal was assisted and seven different players were recorded in the book. Sophomore middie Greg Wright scored 3g-5a, senior attackman Derek Pino added 3g-3a and junior attackman Andrew Hart and senior midfielder Joe Parker each added 2g-1a. Height scored 2g, junior middie Kevin Coholan added 1g and junior attackman Todd Laemlein added two assist for the Eagles.

For the Spartans, junior attackman Andy Hilton scored 1g-1a, senior middies Kyle Beikirch and Jim Drabin each scored once and senior middie Andy McEntee added an assist.


Geneva played a close one with host Henninger of Section 3, but lost 9-7. Henninger went right to work, forcing early season errors and took a half-time lead of 5-1. The Panthers settled down after the break and placed more closely but ran out of time. Leading in scoring for Geneva was sophomore attackman Kyle Boncaro 4g-1a. junior midfielder RJ Gringeri, junior attackman Greg Bonney and sophomore middie John Warner each added 1g while senior attackman John Manion added an assist for the Panthers.

Leading the scoring for the Black Knights were Taylor Boltar with 3g-1a and Tim Rommel with 1g-3a.


Livonia beat Newark at Aquinas 10-7 in spite of a last quarter run. The first quarter seemed even as each team traded face off and had about the same number of shots. The Bulldogs had a slight edge on ground balls and led at the break 2-1 behind goals by junior attackman Brian Sciera (won assisted by senior middie Chadd Britton). Newark's goal came from senior attackman Nate Johnson, assisted by senior attackman Dan Mizro.

Livonia scored three more in the second quarter; the first by senior attackman John Dalberth (from senior middie Scott Mosher)in man up; the second from sophomore attackman Tyler Russell (assisted by Dalberth) and the third by Mosher from Russell in man up. The half ended with the Bulldogs ups 5-1

The third quarter saw two goals from each team as Livonia scored a goal by Mosher with a pass from Russell in man up and an unassisted goal from Dalberth. The Reds saw senior midfielder Alex Quku scored on a drive and another from Mizro (unassisted). The third quarter ended with Livonia up 7-3.

Newark scored four goals in the last quarter and Livonia added three. Newark's goals came from Quku (from senior middie Greg MacBride) in man up and senior attackman Nate Johnson (unassisted), also in man up. Senior attackman Jon Shanley scored a fast break goal on an assist from MacBride who added the last goal of the game for Newark (unassisted).

Livonia's goals came from Britton (unassisted), Dalberth from Russell and Sciera from Russell.

Following the game Livonia Coach Sciera gave special praise to his defensive midfield line of senior Luke Merritt, juniors Oren Taylor and Gaelin Walsh, as well as junior lonstick middies Mike Vetrano and Jim Crowell for doing an outstanding job defensively for the bulldogs.

Newark's face off man, Alex Quku had a great performance, winning 11 of 13 for the Reds. Freshman defenseman and long stick middie Robert Camblin played well in his first varsity game for Newark. Senior goalie Anthony Cole made 16 saves for Newark.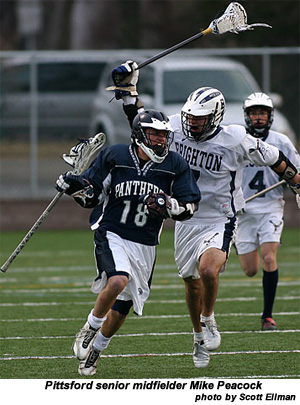 Pittsford won its opener with a 10-3 win over Brighton at Irondequoit High School. Junior attackman Cam Edmiston led the Panthers with 3g while junior attackman Chris Kist, senior attackman Joe Pekich and senior midfielder J.J. Postel each added 2g. Senior goalie Chris Jacobs made 7 saves in the goal for Pittsford.

Although the Barons scored the first goal , Pittsford answered with four goals before Bright ended the first quarter with a goal by Robbie Asselin with 1:57 left. Pittsford scored two more in the second to end the half up 6-3. Asselin scored the last Brighton goal with 0:13 left in the half. The Panthers scored two goals in each of the last two quarters while holding the Barons scoreless.

Brighton saw goals from senior attackman Colin Davis and Asselin. No Report from Brighton.
It took overtime, but Aquinas was the 13-12 victor over Nichols of Section 6 in the 11:00 game at the Aquinas Institute's Wegmans Field. The teams traded the first two goals as Nichols scored first on an unassisted goal by Mike White. Aquinas returned two minutes later with an unassisted goal by senior middie Pat King. Nichols came back with two more (Dan Deacon from White) at 5:44 and Nick Rockwell (unassisted) at 3:35. Aquinas scored the last two goals of the quarter as senior attackman Nick Vincent scored on a feed from senior middie Nick Berkompas and then Vincent scored again assisted by senior attackman Chris Roland. The quarter ended in a tie at three.

The Big Green outscored Aquinas 5-1 in the second quarter with scores by Will Genery, Peter Marlette and Ryan Walker including two in man up. The single goal from the Little Irish came from senior attackman Dave Schmandt on a feed from Roland. The half ended with Nichols up 8-4.

Aquinas scored first after the half time break with goals from Roland (from King) and senior midfielder Mark Pincelli from Berkompas. Nichols came back with two (Genery from White and Marlette unassisted). before Roland scored (assisted by King). The third quarter ended with the Big Green up 10-7.

A determined Aquinas fought back hard in the last quarter with scores by Pincelli (from King), Schmandt (from Pincelli), King (alone) and Pincelli (alone) to tie the score after a Nichols goal from White (unassisted). Pat King scored a go-ahead goal for Aquinas with 1:56 left in the game, but Nichols came back with a goal from Mike White just 0:25 later to send the game into overtime.

Nichols won the face off at the start of overtime and moved down field, but the Aquinas defense forced a turnover and moved the ball down the field to Dave Schmandt, who scored the winning goal at 0:21 into OT.

The Little Irish midfield and defense turned in a solid performance; senior defenseman Carroll Kennedy turned back Nichols numerous times. Junior goalie Alan Antinarelli made key saves in the second half and ended the game with a total of seven.

Mike White of Nichols ended the game with 3g-4a and won 15 faceoffs.


Brockport won its school's first Varsity game with a 11-6 victory over Eastridge in a game played at MCC. Sophomore attackman Justin Klymochko and junior attackman Adam Nauerth each scored 2g while sophomore attackman Andrew Willis added one more. In the midfield, sophomore Sean Bittner and junior Bohdan Klymochko each scored 2g while junior Eric Gallert and senior Kevin Selig added one goal each. Brockportsophomore goalie Connor Mykins recorded 13 saves for the Blue Devils.

Leading the scoring for Eastridge were junior attackman Todd Horne (1g-3a) and senior midfielder R.J. Pixley (2g). Sophomore goalie Eugene Ferrera recorded 18 saves for the Lancers.


Rush-Henrietta was the 15-7 winner in their season opener with Athena/Odyssey at a game placed at MCC. The Royal Comets took control in the first quarter, out shooting the Thunder 13-2, winning the faceoff match up 6-1 and winning the ground ball game 18-3. R-H was ahead at the end of the quarter 6-0.

The second quarter was more evenly matched with R-H scoring three goals and the Thunder scoring two, including one by junior attackman Jared Bennett on a pass from senior attackman Dave Rodriguez and a goal by junior middie Nick Kulzer (assisted by Rodriguez) in man up. The half ended with R-H up 9-2.

The Royal Comets scored three more goals in the third, and gave the Thunder one goal (assigned to the In-Home) when an R-H defensive player scored an "own goal". With plenty of R-H substitutions, the Thunder scored four goals in the last quarter including two unassisted goals by Rodriguez and one by sophomore midfielder Joe Prestigiacome and a goal by junior attackman Jared Bennett on a crease pass from junior attackman Matt Manchucki. Thunder junior goalie Dave Tarana 10 recorded saves.

Scoring for Rush-Henrietta were junior middie Justin Rose (3g-2a), junior attackman Matt Moran (3g-2a) and senior middie Tony Henriquez (2g-1a). Sophomore middies Nate Delone and Colin Cornaire each added 2g, senior attackman Josh Pfluke scored 1g-1a while junior attackman Brian Hantzis and senior middie Frank Miller each added 1g for the Royal Comets. No report from Rush-Henrietta.


Mynderse was the 12-3 winner in a game over Bath-Haverling played at Aquinas. Junior attackman Anthony Clark and senior attackman Sean McGrimley led the offense with 3g-1a each. Junior midfileder Kevin McCully added 2g-2a while sophomore middies Chris D'Amato and Dustin Lickinbill each scored 2g. Senior defenseman Eric Davids and senior attackman Jon Young each tallied assists for the Blue Devils.

The defensive unit of Davids, senor Justin Mawhir, junior Pete Hawyrschuk and sophomore Mike Sanderson played well. Senior goalie Zac Rescort, who was previously a baseball catcher, recorded six saves (2 goals allowed).

Scoring for Bath were sophomore midfielders McKenzie Durham (1g-1a) and David Harris (1g) and junior attackman John Pruyn (1g). Senior goalie Jeremiah Wilder recorded 17 saves for Bath.


After taking a 7-1 halftime lead, McQuaid Jesuit beat visiting Canisius of Section 6 by a score of 9-3 at the 5:00 game at Aquinas. Six different players scored for the Knights and more than 50% of the goals were assisted.

The Knights scored first at 10:40 when junior midfielder Evan Gallina hit the nets on a pass from sophomore middie Clint Masterson. Thirty-three seconds later sophomore attackman Mitch Ritchie scored (unassisted) the first of his three in a row. Canisius scored at 8:59 on an unassisted goal by John Devine. Ritchie came back with another unassisted goal at 5:04 and then hit again at 2:37 on a feed from Gallina in man up. The quarter ended with McQuaid Jesuit up 4-1.

The Knights scored the next three goals as senior middie Nick Cardillo scored an unassisted goal at 10:59, senior midfielder Sean Conroy added one at 6:09 in man up (assisted by Ritchie) and sophomore attackman Jeff MacDonald scored in man up with an assist by Gallina. The half ended with McQuaid Jesuit up 7-1.

Junior attackman Dan Sturnick added two goals for the Knights in the third quarter. The first (unassisted) was at 7:24 and the second was on a pas from Cardillo with 0:27 left in the quarter.

Canisius scored the only two goals in the last quarter. Devine ended with 2g to lead the Crusaders.

McQuaid Jesuit Head Coach Scott Bryson was pleased with his team's first outing."I'm very pleased with the play of our team this evening. Certainly it is nice when you have lots of different people contributing on offense, but I was particularly proud of the effort and focus the kids exhibited at the defensive end of the field."

Senior goalie Pat Maguire recorded 11 saves and sophomore goalie Dan Caufield recorded 3 saves in the 4th quarter for the Knights.


Penfield won the last game of the night with a 19-1 victory over Hilton. The game was played at 7:30 at the Irondequoit High School. Junior middie Kyle Hayward scored for Hilton.

The Democrat and Chronicle reported that senior midfielder Kelly McKenna scored 3g-2a and junior attackman Kevin Green added 1g-3a. Senior midfielder Mike Arvan scored 2g. No report from Penfield.