Thursday: Out Brackets
May 19, 2005

- Most games were runaways. The exception was Thomas 8-7 over host McQuaid Jesuit which went right down to the wire.


Rush Henrietta had the biggest offensive day of their season with a 21-7 win over Spencerport. Leading the scoring for the Royal Comets were Sam Hillman with 7g-1a, Brian McShea with 6g-1a and Justin Rose with 3g-1a. Tony Henriquez scored 2g and won 14/18 face offs for R-H who will at Penfield on Saturday.


McQuaid Jesuit played six games to a one goal win or loss. Tonight visiting Thomas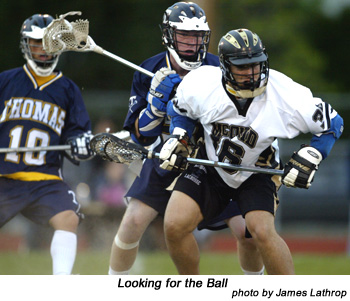 won an 8-7 game and will advance to play Canandaigua on Saturday.

After a 2-2 quarter and 4-4 half Thomas came up with four goals in the the third while holding the Knights to two. McQuaid Jesuit scored one at 10:19 in the last quarter and although there were numerous attempts to tie, the one goal advantage was enough for the Titans.

Scoring for Thomas were Kevin Kemp (4g), Dom Scalzo (2g-2a), Kurt DetWiller (1g-3a), Dan Hinderland (1g) and Brendan Rothfuss (1a).

Scoring for McQuaid Jesuit were Scott Rubino (2g-3a), Kevin Dacey (1g-1a), Mark Hanna (2g), Tyler Rubino (1g) and Marty Farchione (1g). Stephen Koscumb added and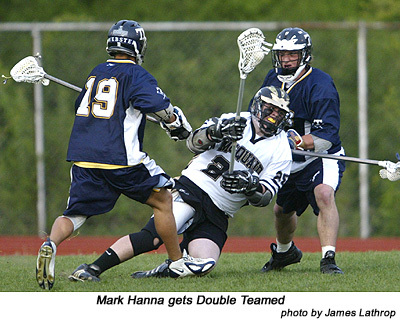 assist for the Knights.


Pittsford won their out bracket game 16-2 over visiting Churchville-Chili as Dylan Bittlingmaier scored 2g-4a, Greg Gans scored 2g-2a and Mike Peacock added 3g. Scoring for the Saints were Jamie Englert and Cory Mee. Pittsford travels to Fairport for an 11:00 game on Saturday.


Irondequoit had a 4-1 first quarter followed by an 8-1 half on their way to a 14-2 win over visiting Hilton. The Eagles outshoot the Cadets 43-5. Scoring for Irondequoit were Derek Pino (3g-3a), Zack Pixley (2g-3a), Cory Bottiglier (1g-2a) and Greg Wright (2g). Mark Magro added 1g-1a while Kevin Coholan Mickey Haight and Mark Crean 1-0 ache added 1g. Joe Parker scored 2g-1a, Andrew Hart added 2a and Paul Spatola add 1g for the Eagles who will face host Schroeder on Saturday.

Brett Bridges scored both of Hilton's goals.


Fairport took a 10-0 halftime lead and won 17-1 against the visiting Greece Thunder. Fourteen different players contributed to the win. Jeff Sanna and Tom Rynn combined for 10 face offs while giving up 2. Fairport out shot Greece 41-8.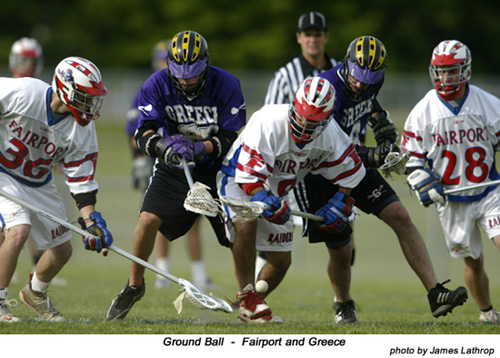 Scoring for the Red Raiders were Pete Burkhardtt (1g-3a), Jake Fricano (3g), Mike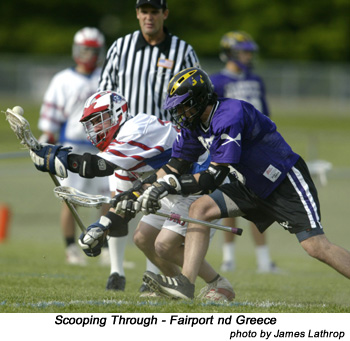 Danylyshyn (2g2a) and Max Keil (2g-1a). Ryan Lowe scored 2g while Pat Reilly, Brian Sanna, Ted Mierzwa and Dan Scarazzo each added 1g-1a. Ton Rynn, Dan Pfeifer and Craig Nairn each added 1g while Chris Lindner added 2a and Chris Atkinson added 1a for Fairport. Zach Harris made 5 saves for the Red Raiders who will host Pittsford on Saturday morning. The game time was moved to morning to accommodate players going to a Junior Prom.

The Greece goal was scored by Dave Rodriguez. Orlando Villegas had 15 saves for the Thunder.


Victor went right to work with a 5-1 first quarter and 12-1 half. It was 16-2 at the end of the third and the game ended at Victor - 17 and Eastridge - 2. Scoring for the Blue Devils were Jason Houtenbrink (5g-1a), Eric Willman (4g), Jon Hankin (3g-1a) and Erick Rogemoser (2g-2a). Cory Benulis added (2g-1a), Kyle Sullivan added (3a) and Tim Rose added 1g. Matt Schmelzlen made 13 and Max Wade made 3 saves for Victor who moves forward to play HF-L on Saturday.

Eastridge saw scoring from Brian Sutton (3g), Nick Savine (1g-1a) while Kevin Kimber and RJ Pixley each added 1g and Sean Sawyer added an assist. Mike Matteo finished his senior season with 13 saves for the Lancers.


Gates Chili played a good first quarter as trong>Schroeder scored only two goals, but the Warriors went right to work in the second quarter and maintained a shutout all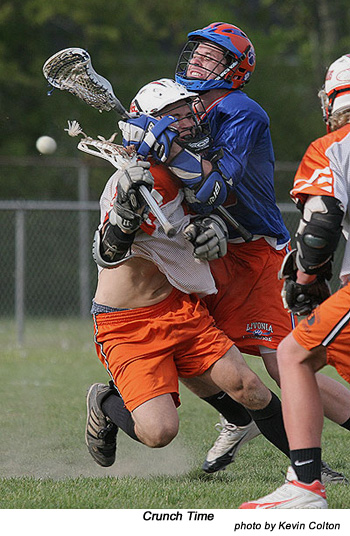 the way through the third quarter while scoring 11 of their own. Eleven different players made the scorebook for Schroeder including Jay Wilmes (4g), Grant Catalino (2g2a) and Tom Costanza (1g13a). Chris Ferry scored (2g-1a), Jack Mooney added 2g and Mike Catalino scored 1g-1a while defenseman Matt Crandall and midfielder Andy Winslow each added 1g. Steve Hollis, Joe Didia and goalie Dennis Costanza each added one assist for Webster. Mike Catalino won all 11 of his face offs. Dennis Costanza had 4 saves through 3 quarters play and Andy Peter had 2 saves for the finish. Schroeder hosts Irondequoit on Saturday.


Livonia met their Waterloo in more ways than one Thursday afternoon in a section 5 quarter final lacrosse game at Waterloo. Livonia never seemed to get started as Waterloo fired in 13 first half goals, 9 in the second quarter. "We just never got off the bus," said a disappointed coach Sciera. "I give Waterloo a lot of credit, their kids came ready to go to the next round, and proved it on the field."

Gordy Lahr led the Indians with 5g-1a, Winston Boyd had 3g-2a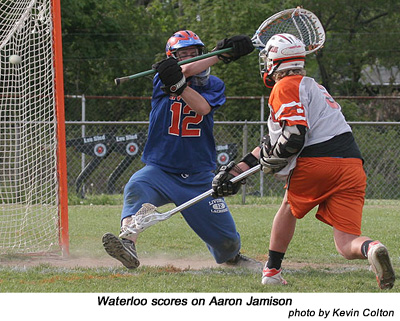 and Josh Mateo had 1g-3a. Matt Kaiser (1g-1a), Bill Jolly (1g-1a), TJ Radka (2g-1a) and Josh Lewis (1g) also hit the scorebook for Waterloo. Matt Haws and Jason Johnson each added 1g and Steve Kuti added 1a for the Indians.

Josh Mateo and Dave Everett did a very good job at face off for Waterloo. Pat DeBolt had 6 saves through three quarters while Matt Liily had 2 saves in the last quarter to the Indians who will play at Aquinas on Saturday.

For Livonia Chadd Britton, Adam Schaible, and Josh Hendrickson each had a goal, and Scott Mosher had an assist.


It was Penn Yan over Newark at Keuka College last night as the Mustangs used ten players in their 18-2 win. Leading the offense were Jon Van Houten (4g-4a), Steven Carlson (3g-2a), Dan mesler (3g) and Dan McGuffie (3g). Dan Wolfe scored 2g, while Kyle Jensen and Mark Kratochvil each added 1g-1a. Jon Folts scored 1g and Ryan Cook and Michael Manley each added 1a for the Mustangs. RJ Wickham and Adam Galusha each had one save for Penn Yan who will host Pal-Mac on Saturday in the quarter final round.


"It was a great sectional win for us. We were able move the ball around and find the open man. The kids played unselfish team lacrosse," said an excited Head Coach Enzo Falso after Pal-Mac won their out bracket game against Mynderse and won their first sectional game 16-0.

Scoring for Pal-Mac were Owen Campbell (4g-3a), Dave Bennett (3g-3a), Matt Christ (1g-5a), Matt Walker (2g-1a) and Jaimie Sinopoli (4g). Steve Depew and Dave Merritt each scored 1g and Jaimie Gross and Ryan Buckley each added 1a for Pal-Mac who will travel to Penn Yan on Saturday. Ben Dlugosh had 5 saves for the Raiders while Nick Tiaskkum had 7 saves for Mynderse.


It was a great defensive effort for Aquinas in their 10-2 win over visiting Bath with Don Bringley, Joe Edd, Ed Giorgi, and Alex Gray playing very well. Jason LaShomb had 12 saves and Alan Antinarelli added 3 big saves, including two at point blank range. Nick Vincent scored and Pat Eyre each scored 2g, Pat King added 1g-2a, while David Schmandt, Kevin Oberst, Ian Urquhart, Mark Pincelli and Marc Brondon had 1g each. Chris Gionta very well and led some excellent play by the man down unit.